A small camping and glamping site in the Shropshire Hills where on-site activities ranging from arts to adventure sports
If Bear Grylls and Kirstie Allsop went in to business together they might come up with something like The Old School Campsite. By English standards it's remote; "a 10-minute drive from everything," according to owner Stuart. He's the Grylls of the place, with a background in the military and outdoor education, while his wife Rachel, a former art and design teacher, is more Allsop – with a touch of adventure thrown in. Stay at their campsite and, in addition to a place to pitch your tent, you'll be able to join their range of art and adventure activities: from crochet to climbing, batik to bushcraft.
Camping and glamping pitches are tucked behind a former school house, now home to Stuart, Rachel and their two children. It's hard to think of a more appropriate place for this pair of teachers to combine their camping and creative-outdoor education businesses. And though the 19th-century classrooms have gone, the teaching continues with lessons now taking place on the site's climbing wall or in Rachel's studio. Situated in the Shropshire Hills, almost atop the Welsh-English border, it offers a taste of Wales' great outdoors in a location that's conveniently connected. And, once you're on site, it's just a short stroll to the top of Corndon Hill from where you have views to the area's most famous peaks and plateaus, Stiperstones and the Long Mynd included.
The campsite is open to all (though large caravans and motorhomes might find the site's dimensions tight) with grassy pitches for tents, electric hook-ups and dogs welcome. Glampers can choose between a furnished bell tent (there are three in a small separate meadow) or the glamping caravan which has its own shower room and toilet. With an on-site shop selling the basics, as well as organised activities and easy walking in to the hills, there's no real need to go elsewhere.
Having said that, if you do fancy exploring further afield, you can go kayaking or mountain-biking with Stuart, Rachel or one of their other instructors – or go it alone to discover the sights. Big-name attractions, including Ironbridge Gorge, are within reach but there are plenty of pretty villages, market towns and smaller attractions closer by. The Shropshire Hills' Bog Visitor Centre and Snailbeach Lead Mine are good places to start and both are, of course, about a 10-minute drive from site.
Our Coronavirus Booking Guarantee
Book with complete confidence at The Old School Campsite with the Cool Camping Coronavirus Booking Guarantee. We guarantee the following clear policy for your booking:
A low deposit of 30% to secure your booking
Balance due 30 days before your holiday
Complete flexibility to move bookings up to the end of 2021 in the event of Coronavirus restrictions
Due to the flexibility provided we are unable to offer refunds
This guarantee supersedes any other policies
Details
Facilities
12 of the pitches have electric hook ups. 1 shower (50p), 2 toilets, BBQs. Glamping bell tents are kitted out with a futon-style double bed and camp beds with duvets, pillows and linen provided. Each has electric hook-up with an electric heater, a 2-ring gas stove for use outside and a box of cooking equipment, tableware and washing-up essentials. Outside, each tent has an awning, dug-in firepit and a picnic table. The glamping caravan has a double bed and 2 singles, all with linen provided, a kitchenette, cooking equipment and tableware as well as an en-suite shower room and toilet. The site has a small shop, a washing-up area, a laundry with a washing machine and tumble dryer as well as a communal-use freezer. There's also a chemical disposal point on site. Campfires are permitted in off-ground fire pits.
Suitable For
Everyone! Campers, glampers, campervans, caravans, motorhomes, groups, dogs...
Nearby
Creative Outdoors is Rachel and Stuart's own arts and outdoors education specialist offering all sorts of activities on-site from jewellery making and printing to climbing and archery and off-site activities including kayaking, canoeing and mountain biking. You can also head off on walks in to the Shropshire Hills straight from site. The Bog Visitor Centre (01743 792484) is 4 miles away with information on the area and local walks. Snailbeach Lead Mine (07716 116732) is 7 miles to the north. A similar distance south and a drive of 15 minutes gets you to the market town of Bishop's Castle where there are cafes, shops and galleries. For a Welsh market town, hop over the border and head for Montgomery (11 miles away), which also has a model car museum and a ruined castle. Powys Castle (01938 551944) is 12 miles away. The Welshpool & Llanfair Light Railway (01938 810441), Shrewsbury, Wroxeter Roman City (01743 761330), Hoo Farm Animal Kingdom (01952 677917) and The Ironbridge Gorge Museums (01952 433424) are all within an hour's drive.
Food & Drink
You can stock up on the basics or treat yourself to a smores kit, pail of ale or basket of bubbly from the campsite's own shop. There's also a convenience store in the village of Stiperstones, 7 miles away. The farmers' market at Bishop's Castle, also 7 miles away, takes place once a month (third Wednesday) and there are plenty of shops and eateries including Thyme Café – recommended for scones, cakes and lunches. There's also a café at The Bog Visitor Centre (01743 792484). Pontesbury (10 miles away) has takeaways including Zenna Chinese Restaurant (01743 791848) and Balti Spice (01743 791848). If you're heading to Shrewsbury, Eat at Eight is recommended.
Open
All year (except February).
Why book with Cool Camping?
Coronavirus Booking Guarantee
Best Price Guarantee, with no fees
Instant booking confirmation
Trusted for over 10 years
A chance to win prizes in our regular competitions
The Owner Says
The site is close to the Welsh border and on the edge of the Shropshire Hills Area of Outstanding Natural Beauty, so expect lengthy walks through pretty hills and dales as well as splendid views all around.... and plenty of peace and quiet next to firepits in green fields, setting the barbecue smouldering for dinner and taking in the starry night sky.
The site is approximately 2 acres in size and, although small, has been described as 'a gem of a site' by previous guests and is well equipped for your needs.
We have grass camping pitches as well as touring pitches with electric hook ups for campervans and caravans. We have a stone and brick built building containing toilets, wash basins and shower, available for all visitors. Separate washing up facilities with both hot and cold running water. A chemical waste disposal point is available. We have on site BBQs for your use. You can have relaxing evenings watching the sun setting, while listening to the birds singing as dusk descends, then as the darkness falls you can gaze at the wonderful display of stars in the night sky. Directly accessed from the site, you can be immersed in the wonderful Shropshire countryside within seconds.
By day, stroll over to the site's activity centre for a host of arts and crafts workshops: guests can embrace their artistic sides with silver jewellery, felt, knitting, enamelling or batik workshops on site, to wrap up stays with handmade souvenirs to boast about back home. If that sounds too laidback, spend time at the activity centre chatting to owners Rachel and Stuart instead. They'll help guests to organise rock climbing days, paddleboard lessons, canoeing trips on the Severn and the Montgomery Canal, and mountain biking excursions on the trails nearby – or venture out solo on wanders along the long-distance Shropshire Way, which passes within minutes of the site.
Accommodation
3 bell tents, 1 glamping caravan and 18 pitches (12 with electric hook up).
Ellesmere Glamping Bell Tent
Bell tent
Sleeps 5
6 Available
Our largest glamping bell tent sleeps 2-5 people with beautiful views of Corndon Hill
---
Large Grass Tent & Touring Pitch
Grass pitch with electricity
Sleeps 6
7 Available
9m (L) x 7.6m (W) pitch with 16 amp hook up. Room for 1 vehicle. BBQ available and fire pits permitted.
---
Check Availability
Extras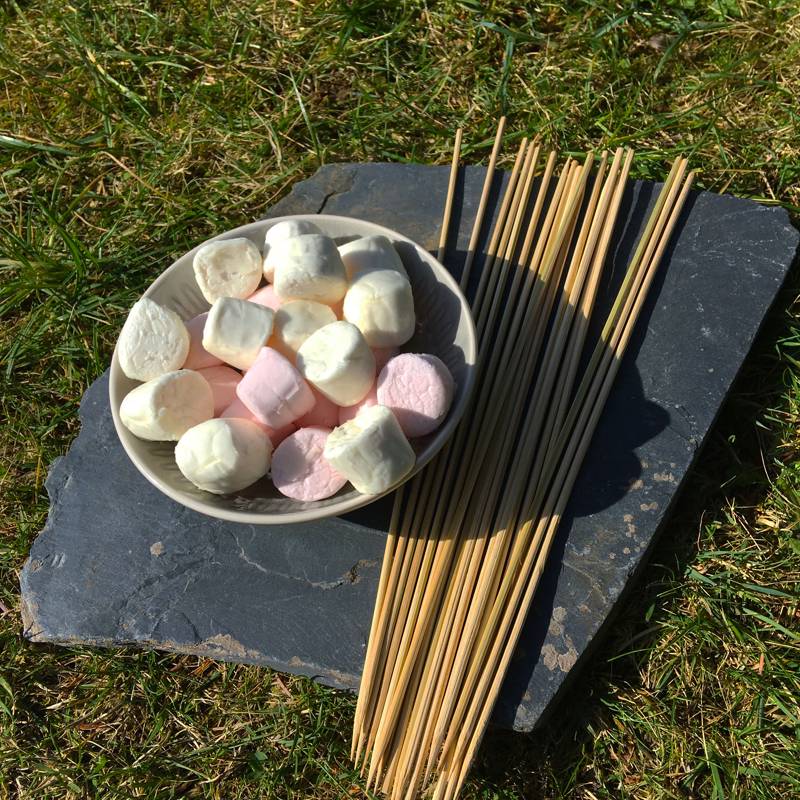 Smores Kit
Marshmallows, chocolate biscuits and skewers. Just get melting!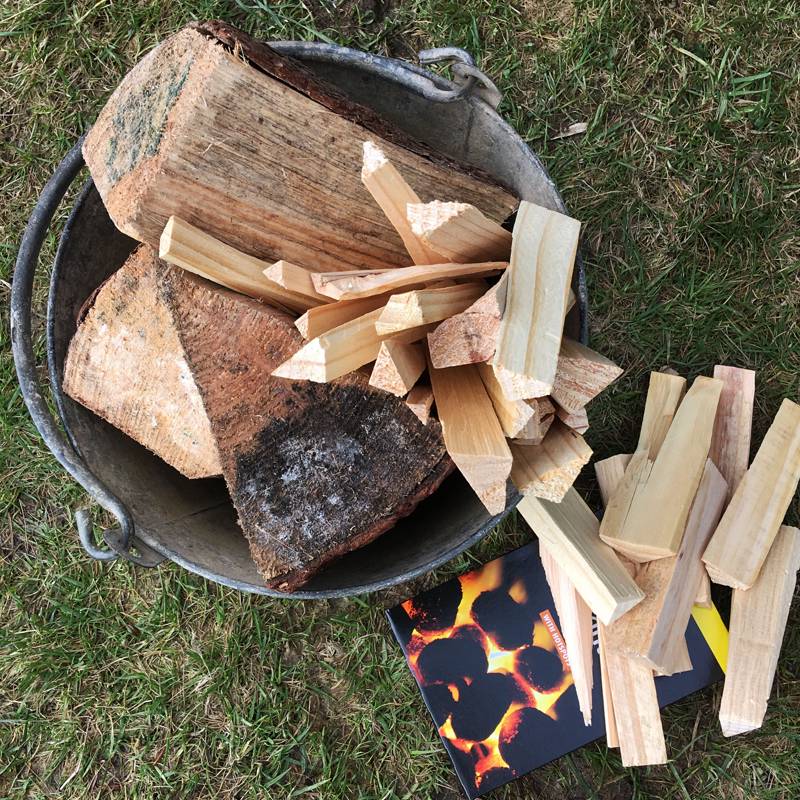 Fire Pit Kit
Logs, kindling, fire lighters and long matches. All you need for an evening around a roaring fire.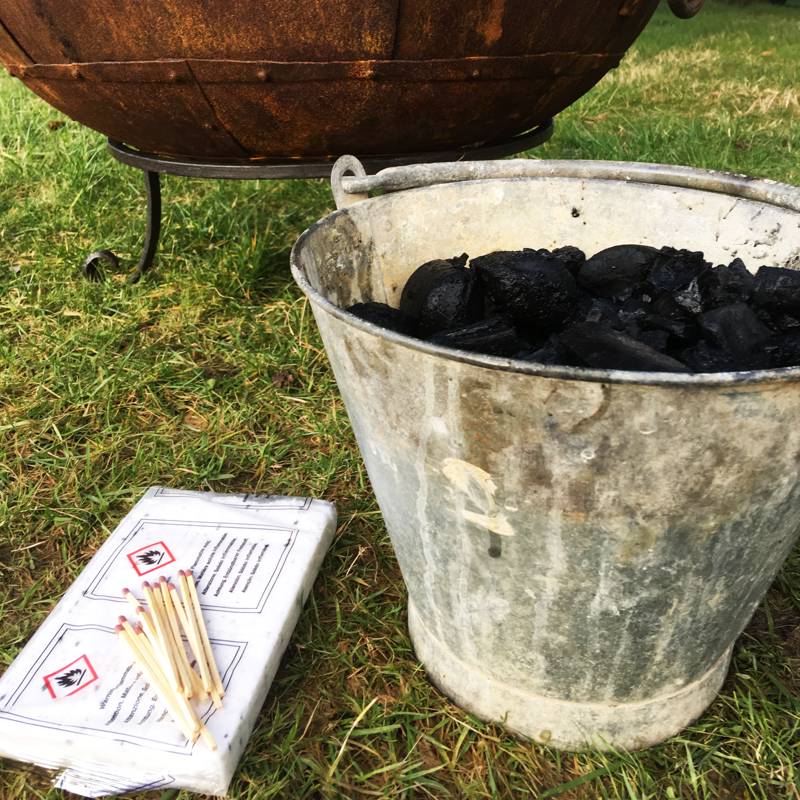 BBQ Kit
BBQ charcoal, firelighters and long matches. All set for a delicious BBQ.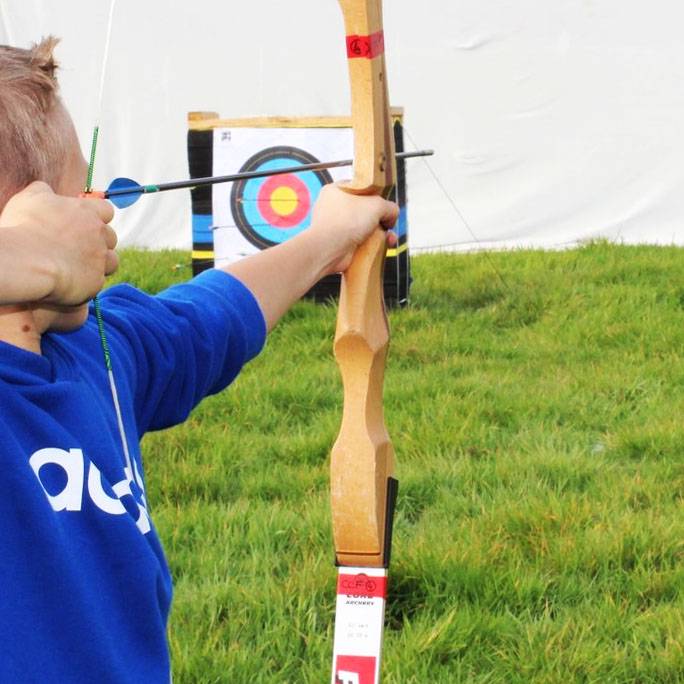 Archery Taster Session
Duration: 1.5 hours
Learn how to use a recurve bow and attempt to hit the 'gold'.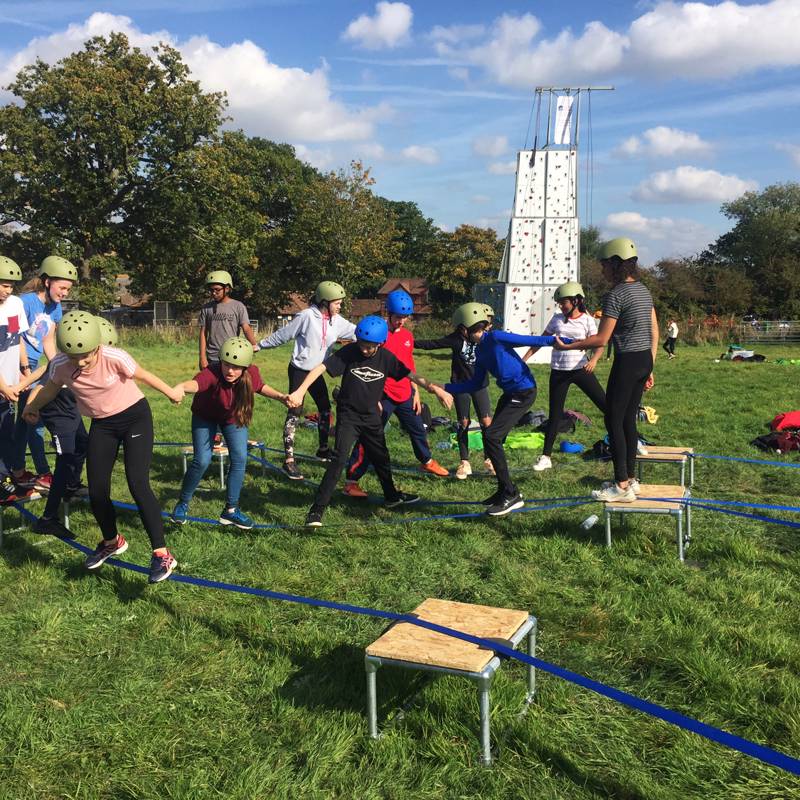 Team Challenges
Duration: 1.5 hours
We offer a whole range of exciting mental and physical challenges on site to work on team building, leadership, planning, logistics and most importantly having fun! All instruction and equipment is provided.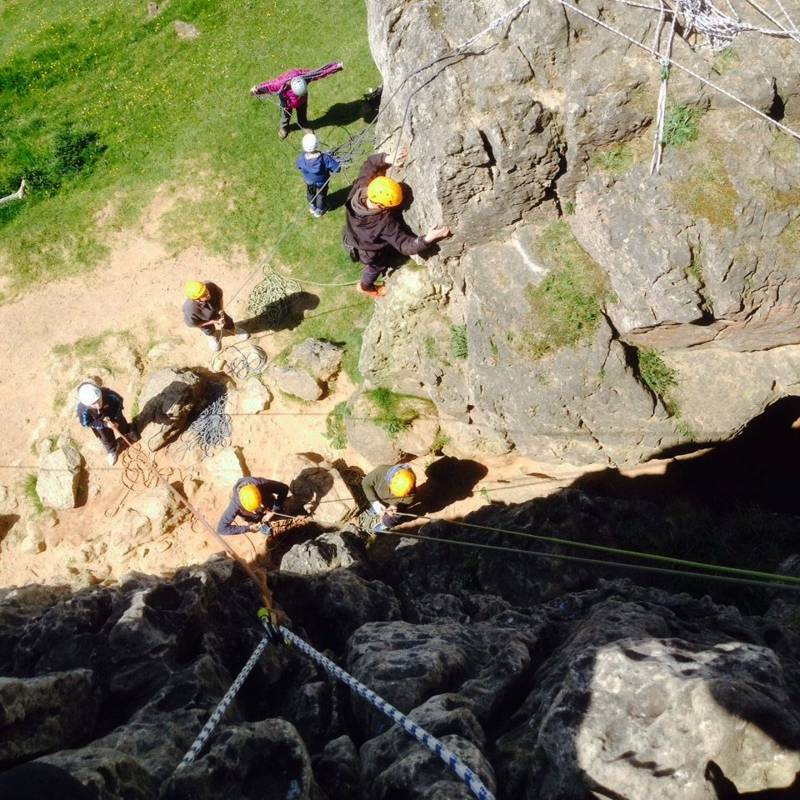 Rock Climbing Taster Session
Duration: 2.5 hours
Whether you have some experience of climbing indoors and want to progress to the outdoors or you have never tried climbing before this
taster sessions is for you. We will cover the basics needed for you to be a safe climber which will include learning how to put on your harness and helmet, tie in as a climber and safe belaying techniques. You will then get a chance to put into practice what you've learnt by climbing. Whilst you are fitting in as many climbs as you want your instructor will give you technical hints and tips to help you get better and design a programme around you and what you want to get out of the day.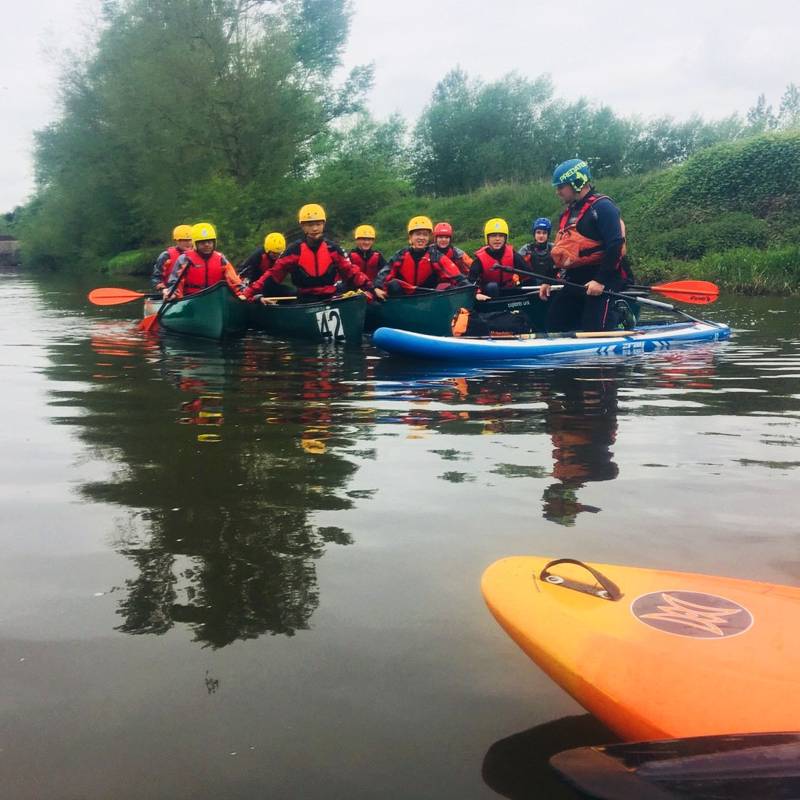 Paddlesports Taster Session
Duration: 2.5 hours
Description: Experience the sites and views the Montgomery Canal whilst having fun and games along the way. Canoes can be paddled by one, two or three people meaning they are ideal for families and groups. Paddleboards are very accessible for all ages and abilities as you can sit, kneel or stand. Kayaks are fun boats for individuals. If you want a relaxing and different way to see the sites of Shropshire then you can't get much better than this. You could even get your British Canoeing Paddle Start Award!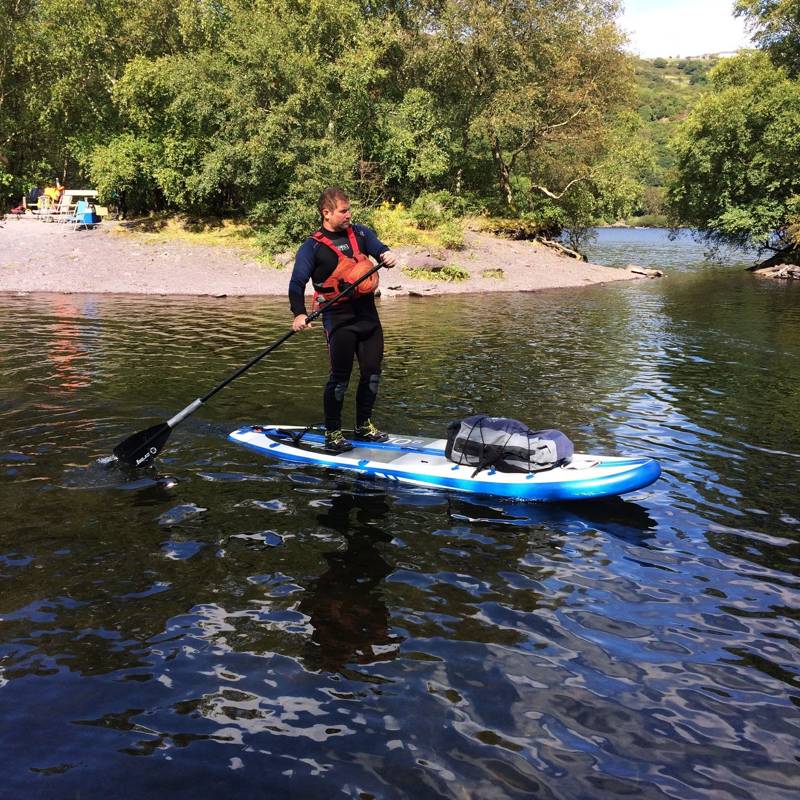 Stand Up Paddleboarding Taster Session
Duration: 2.5 hours
Experience the sites and views the River Severn has to offer and learn how to paddle along the way. Paddle boards don't have to be paddled standing up, you can work on that! They are great fun meaning they are ideal for families and groups. All instruction and equipment is provided.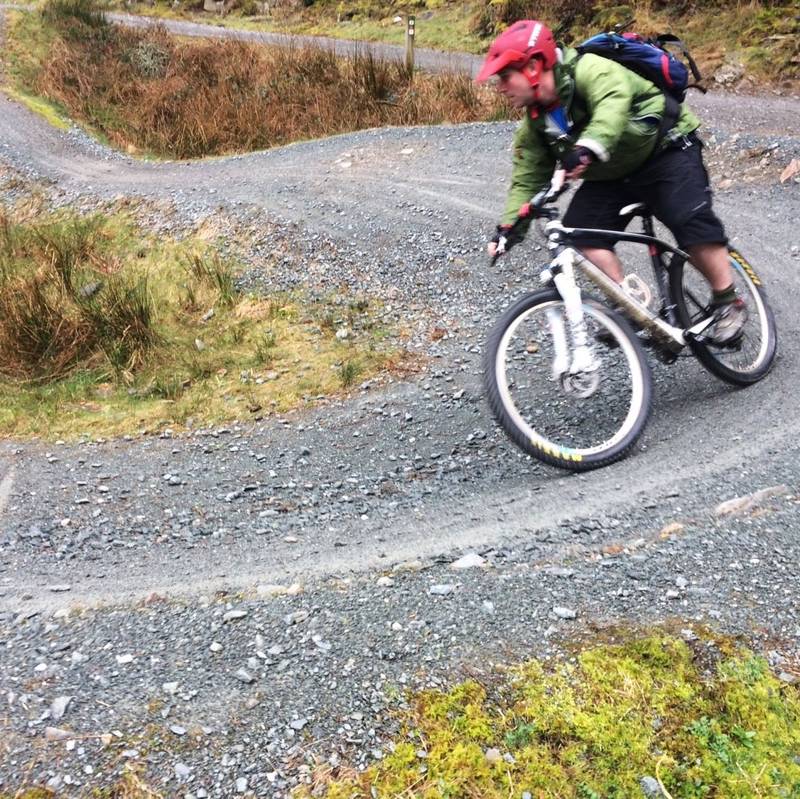 Mountain Biking Taster Session
Duration: 2.5 hours
We offer mountain sessions at trail centres and routes in Shropshire or wales. There are some great local routes. We can provide equipment for you or bring your own. It doesn't matter if you've never been off road before, we can give you all the skills you need.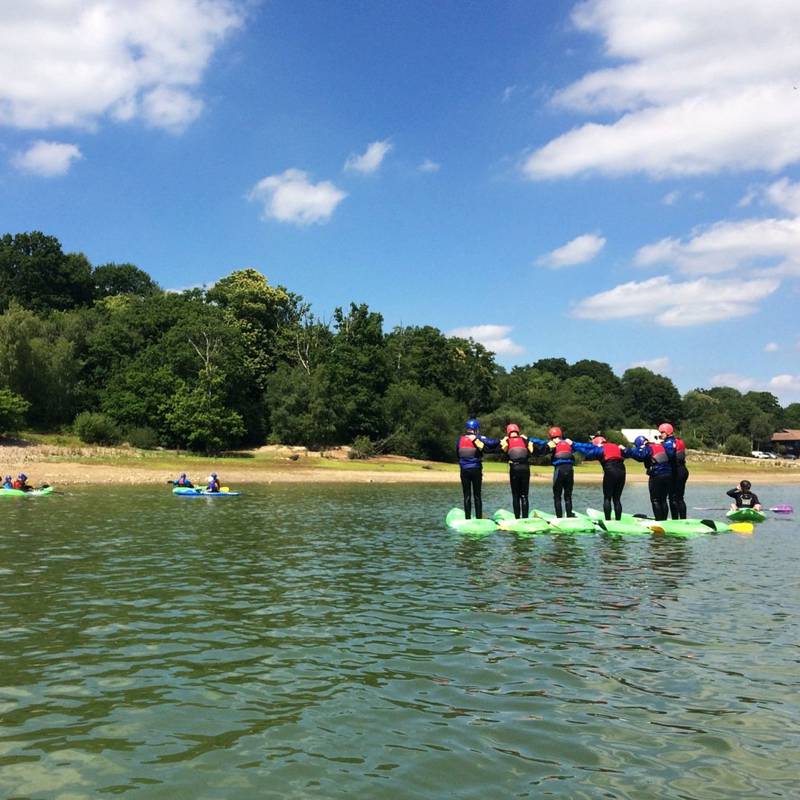 Kayaking Taster Session
Duration: 2.5 hours
Experience the sites and views the River Sever has to offer and learn how to kayak along the way. If you want a relaxing day out, you can't get much better than this! We aim to provide you with the basic knowledge to enable you to safely get in and out of your boat, make it move and return to your start point. This is your first step into the world of paddling, ensuring you feel safe, confident and ready to progress.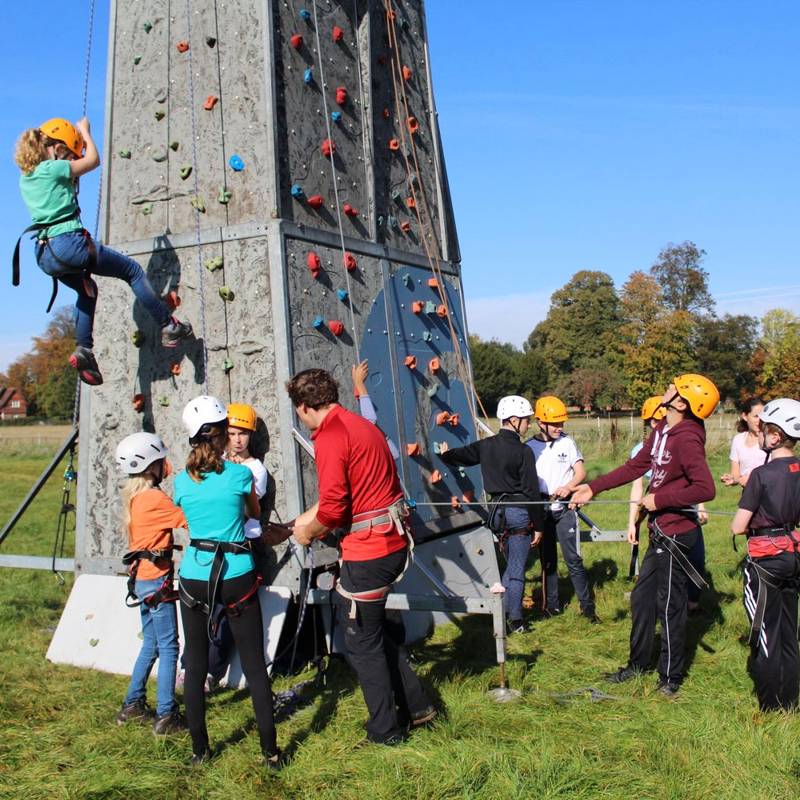 Climbing Wall Taster Session
Duration: 1.5 hours
Our 9 metre wall is on site for all your climbing needs. 6 walls to choose from, including slabs and over hangs. You can learn how to ice climb or even abseil off the top after admiring the Shropshire views.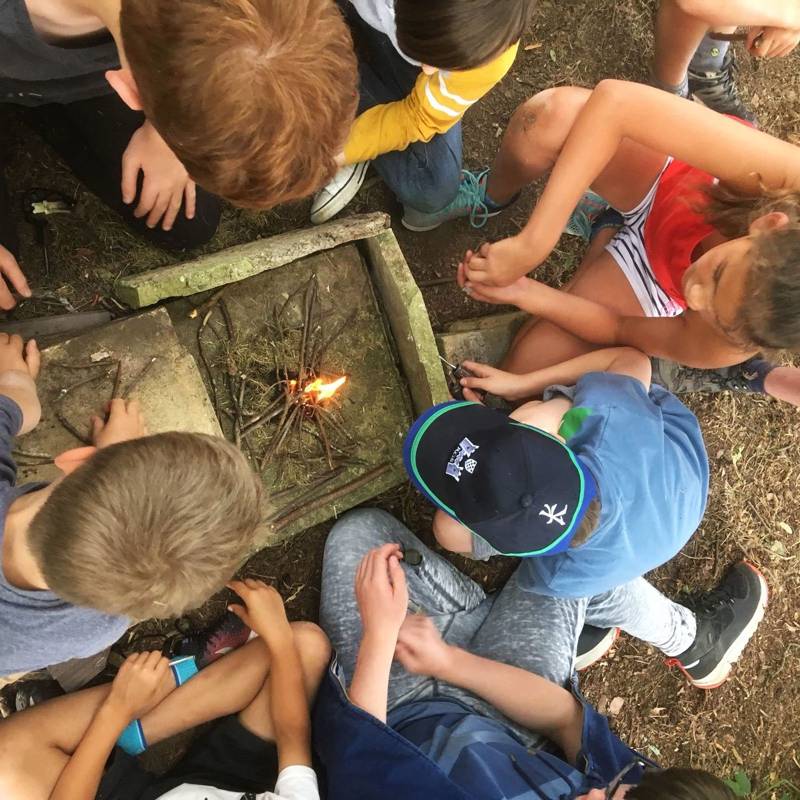 Bushcraft Taster Session
Duration: 1.5 hours
You will learn how to build shelters and fires and attempt to start a fires using just a flint and steel.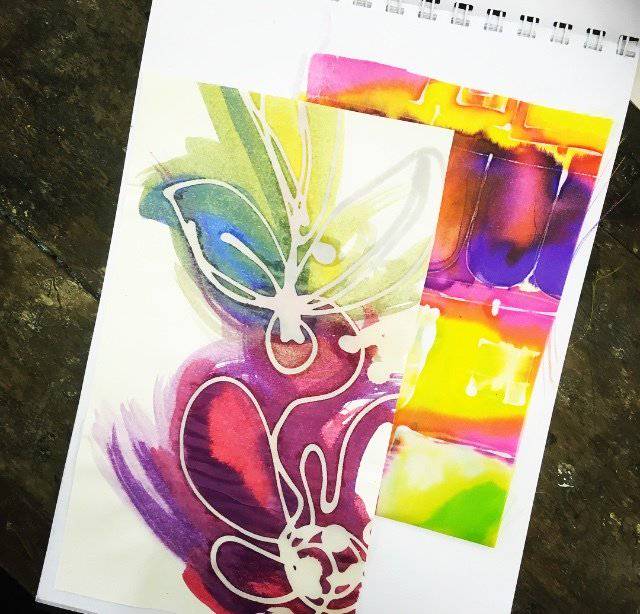 Batik Workshop
This expressive art technique uses wax and ink to create beautiful pieces on paper and fabric.
Duration: 3 Hours
Minimum age: Age 8 or Age 5 with an accompanying adult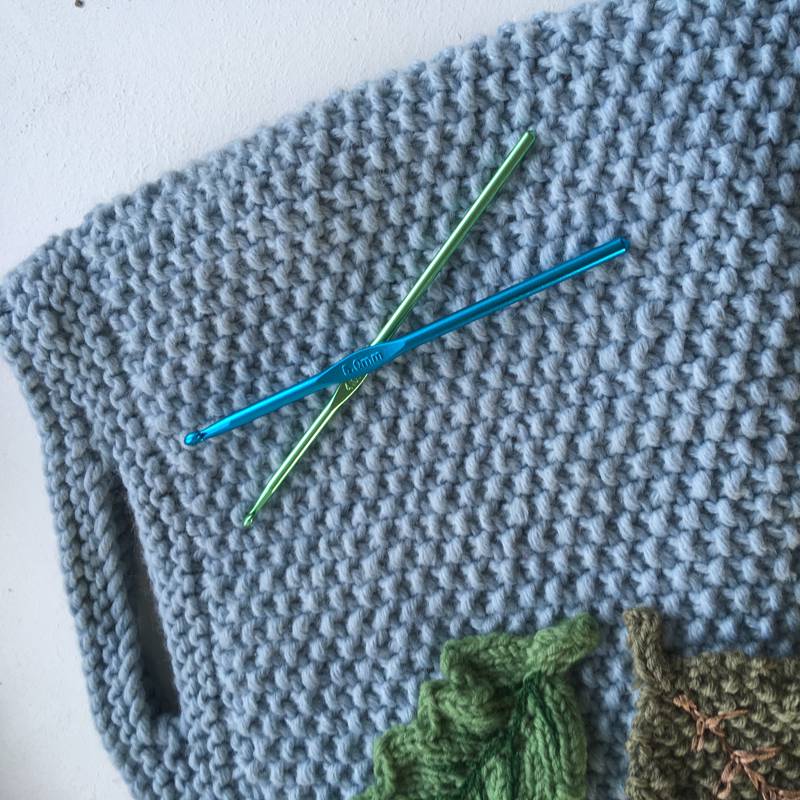 Crochet Workshop
Anyone can learn to crochet in just 3 hours. We haven't failed yet! Learn the technique, leave with a lovely gift you have made yourself and a basic kit to carry on your new hobby.

Duration: 3 Hours
Minimum age: Age 8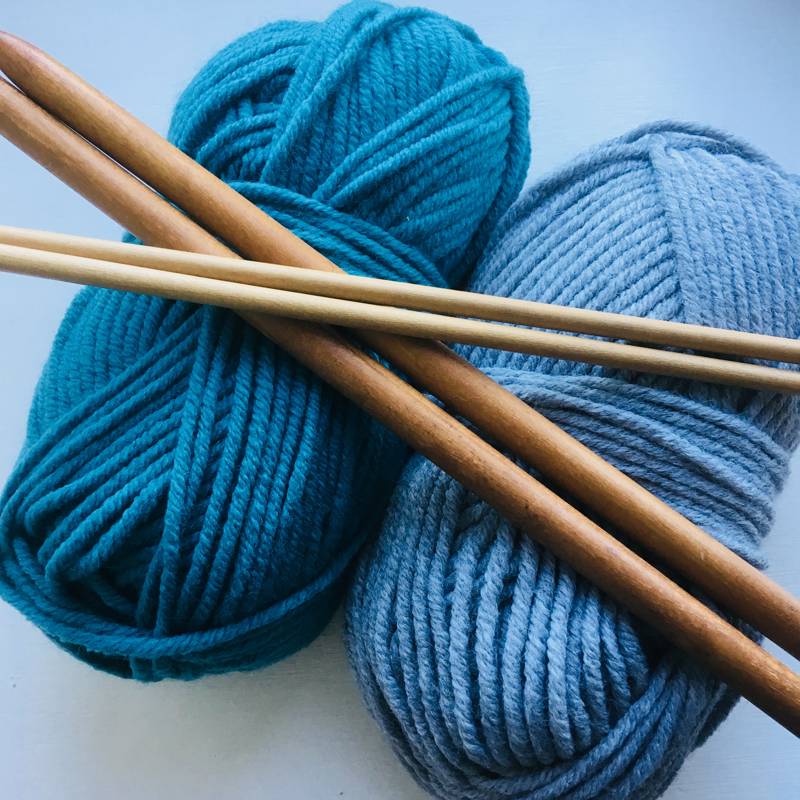 Knit Workshop
Anyone can learn to knit in just 3 hours. We haven't failed yet! Learn the technique, leave with a lovely gift you have made yourself and a basic kit to carry on your new hobby.

Duration: 3 Hours
Minimum age: Age 8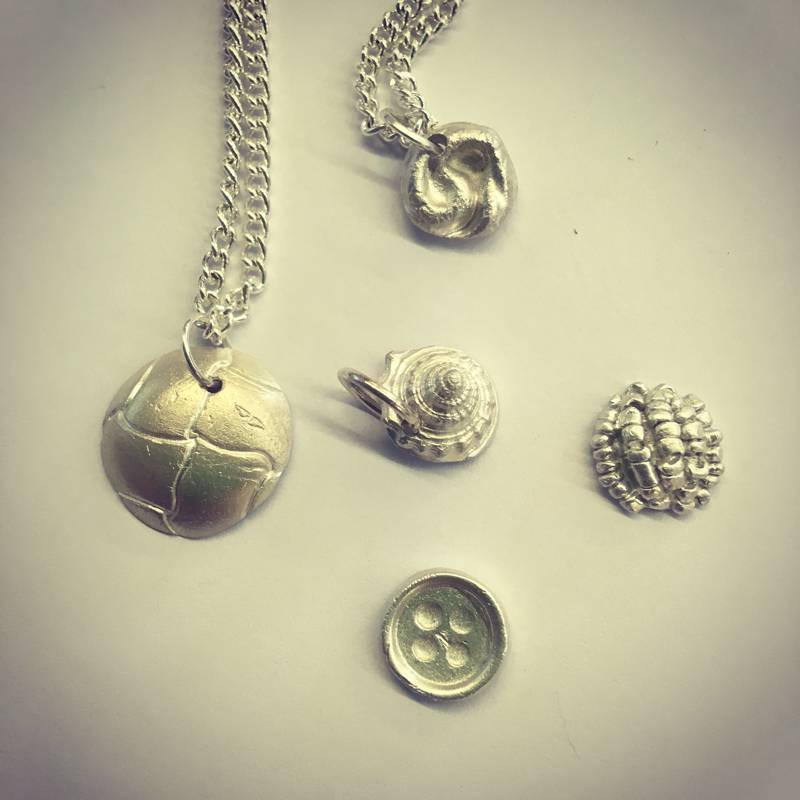 Silver Jewellery Workshop
Making genuine silver jewellery is easier than you think. Come and find out how and take home your own gorgeous pendant or bracelet.
Duration: 1 1/2 Hours
Minimum age: Age 8 or Age 5 with an accompanying adult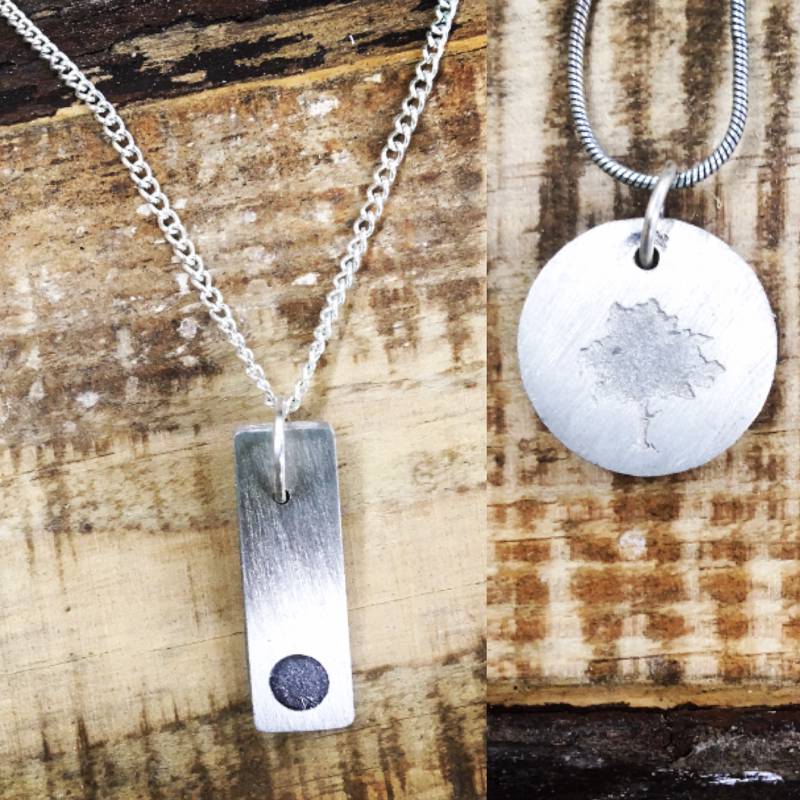 Pewter Casting Jewellery Workshop
This is a wonderful technique for hand crafting jewellery. You will choose or create your own mold and after it has been cast, you will cut, file and polish your piece ready to take away. Producing fantastic results even for the youngest artists.
Duration: 1 1/2 Hours
Minimum age: Age 8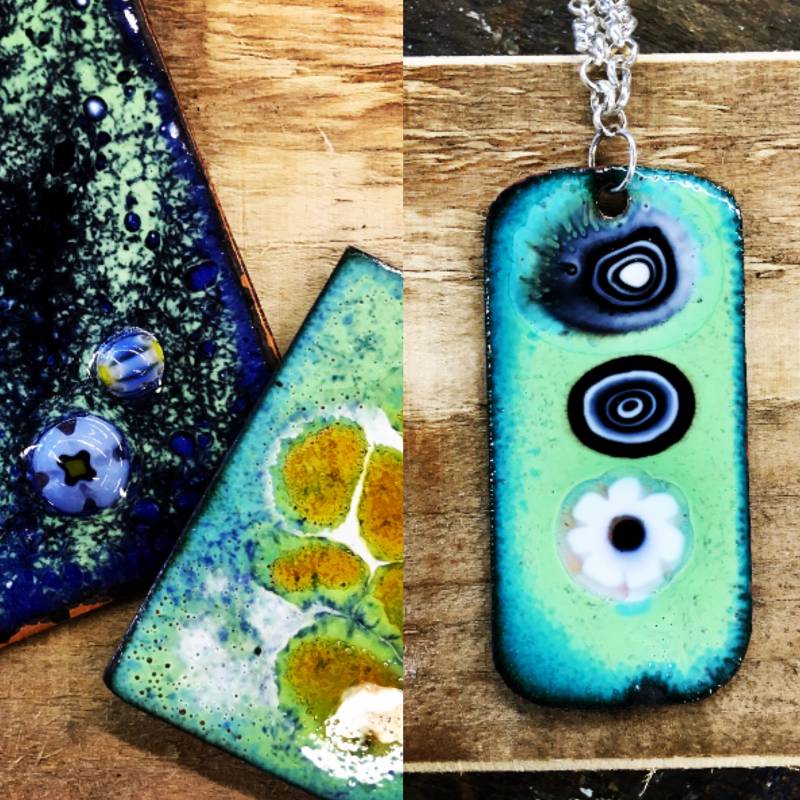 Enamelling Jewellery Workshop
An exciting process that uses vivid colours and beautiful textures to turn into jewellery or to keep as miniature works of art.
Duration:  1 1/2 Hours
Minimum age: Age 8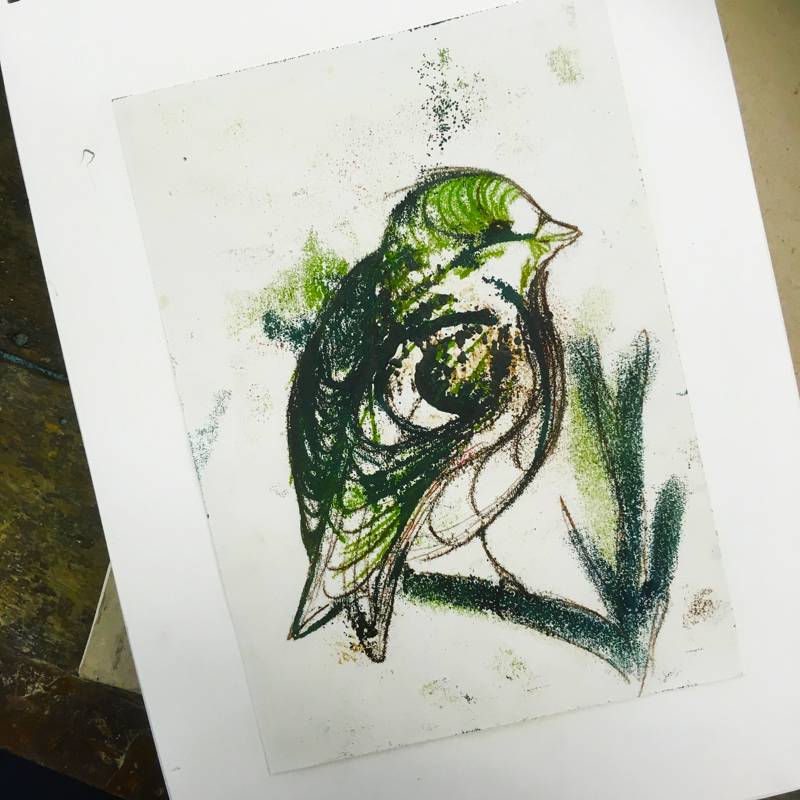 Printing Workshop
With something for everyone this accessible process turns a simple image into your own work of art.
Duration: 3 Hours
Minimum age: Age 8 or Age 5 with an accompanying adult
Felt Workshop
Try out this beautiful craft by making felt beads, felt pictures or even a 3D bird.
Duration: 3 Hours
Minimum age: Age 8 or Age 5 with an accompanying adult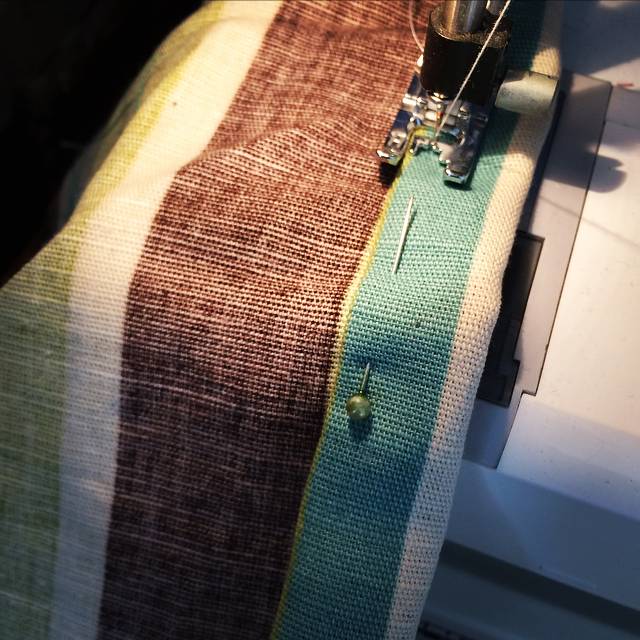 Sewing Workshop
This simple but valuable skill can allow you to make fab things for yourself, your home and your friends and family. You'll leave with at least 1 item and the skills to take this technique further when you go home.
Duration: 3 Hours
Minimum age: Age 8 or Age 5 with an accompanying adult

Free Form Embroidery Workshop
Create a piece of decorative textile art or embroidered fabric to turn into a sewn item. A lovely technique that allows you to show your creativity while letting the machine do the hard work!

Duration: 3 Hours
Minimum age: Age 8 or Age 5 with an accompanying adult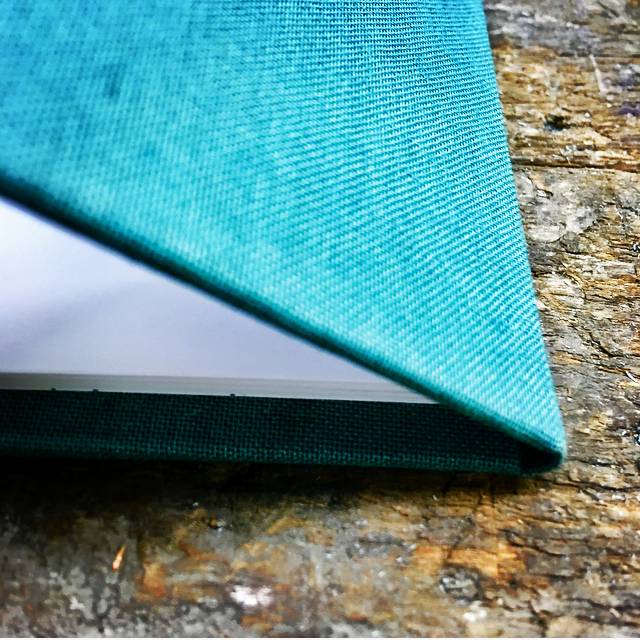 Book Binding Workshop
Learn to make your own traditional bound book to treasure and use as a sketchbook, note book or great gift.
Duration: 3 Hours
Minimum age: Age 8 or Age 5 with an accompanying adult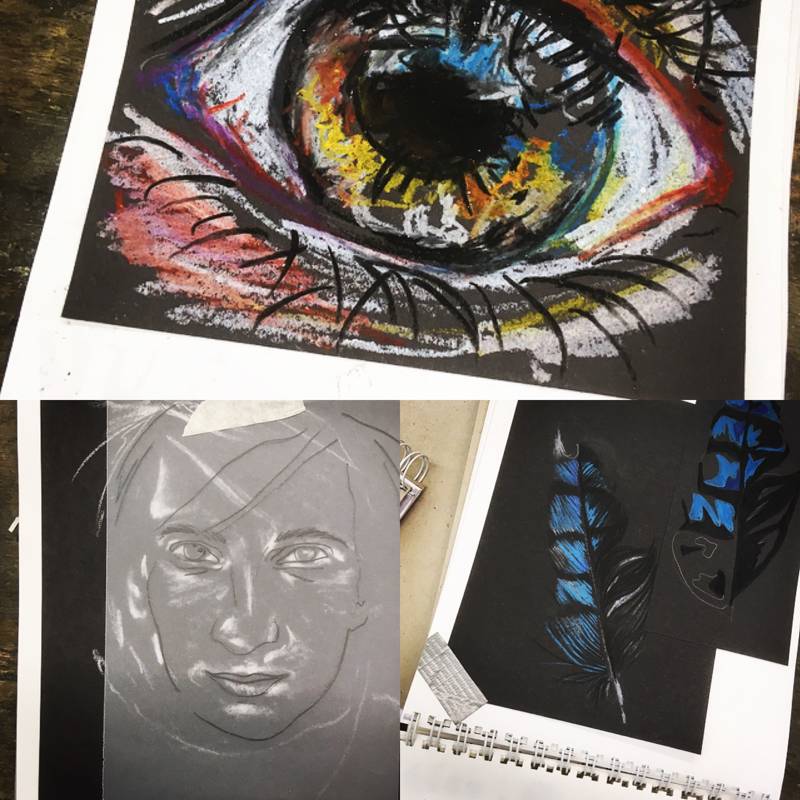 Drawing Workshop
If you've always wanted to learn to draw, or just develop the skills you already have, this workshop will help you immerse yourself in a variety of enjoyable and creative drawing techniques.
Duration: 3 Hours
Minimum age: Age 8 or Age 5 with an accompanying adult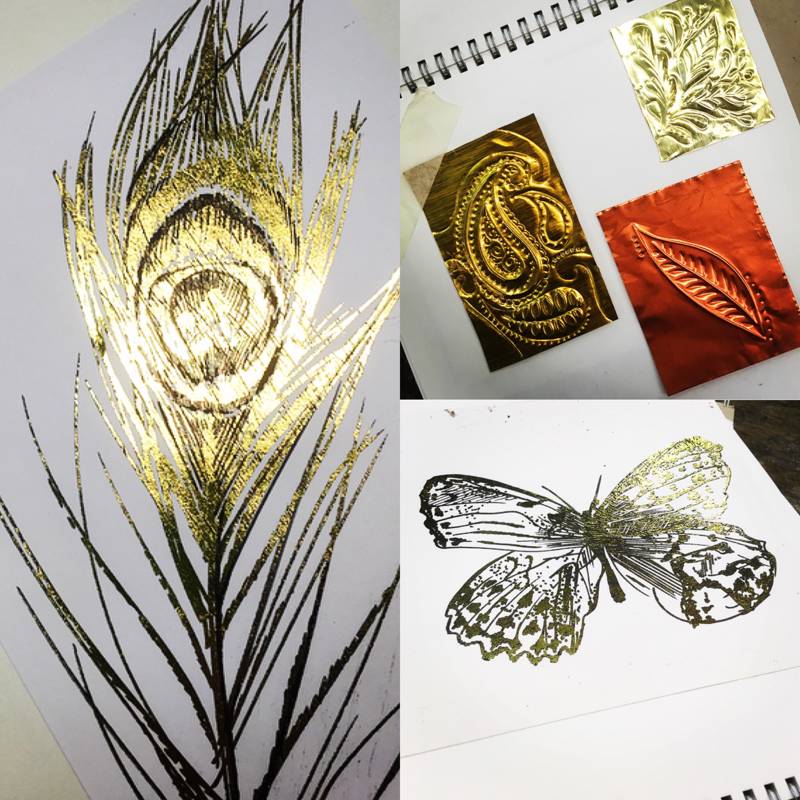 Foiling Workshop
Using both embossed foiling and heat transfer techniques you can create sophisticated and ornate designs.
Duration: 1 1/2 Hours
Minimum age: Age 8 or Age 5 with an accompanying adult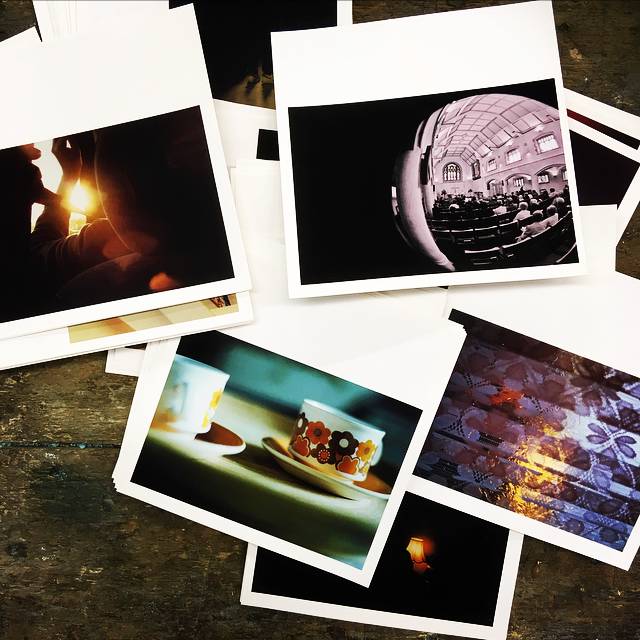 Photography Workshop
Learn how to make the most out of any camera (whether its the one on your phone or a digital SLR you cant quite work out) and exploit light and composition to create shots you are proud of.
Duration: 3 Hours
Minimum age: Age 8 or Age 5 with an accompanying adult

Archery Tag Session
Duration: 1 1/2 hours
Archery Tag is a mix of laser tag, archery, airsoft etc. so if you like these activities you'll love this safe and fun team sport. Minimum of 6 participants. You can book as individuals but please bear in mind, as a team sport, we would need to achieve the minimum number to run the session.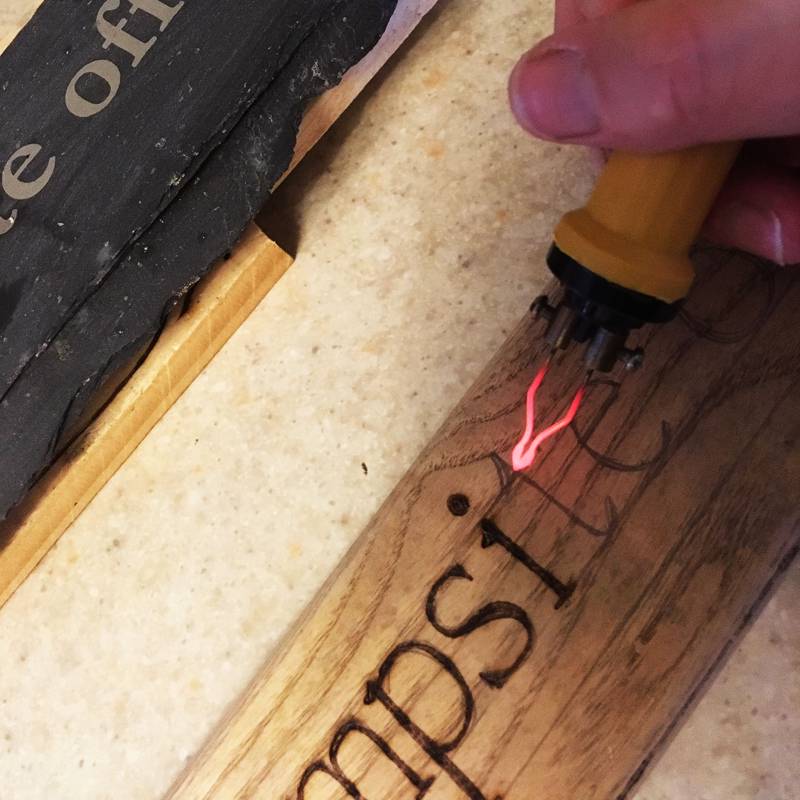 Sign Making Engraving Workshop
Duration: 1 1/2 hours
Make your own plaques and signs in this engraving workshop. Decorate your home, give as gifts, just enjoy the process.
Marbling
Duration: 1 1/2 hours
This is such an accessible, fun and easy technique and you get great results whatever your age or ability.
Location
Contact The Old School Campsite, Shelve, Shrewsbury, Shropshire, SY5 0JQ
Getting There
From the A5 take the A488 towards Bishop's Castle. Stay on the A488 and go through Pontesbury, Minsterley and Hope. Stay on the main road and you will pass an 'Old School' brown sign. Stay on the A488 for another 1½ miles and the campsite is on the left-hand side (opposite the fishery) with a grey flag at the driveway.
The nearest railway station is at Shrewsbury. The limited 553 bus service runs from Shrewsbury to Bishop's Castle with a bus stop just outside the campsite.
Reviews
Add Your Review
Rated ★★★★★ over 12 reviews
Lovely, well organised campsite.
We had a lovely couple of days at the Old School Campsite. The facilities are very clean. It has everything you could possibly need from a campsite. The owners have adhered to all the Covid rules and communicated these to us effectively via an email before we arrived and with signage on the site. The owners were friendly and accommodating. We were lucky enough to arrive on a Thursday night when they were serving homemade pizzas! We had a lovely walk up to the Stiperstones on the Friday which was accessible directly from the campsite. The only thing I would warn about is that I am with O2 and had no network or internet on site and the WIFI signal was weak (not necessarily a bad thing sometimes). My husband was with EE & had signal. However, a well deserved 5 stars & would definitely like to visit again.
Clean, well organised, covid friendly, good eco credentials
Easy to organise details of out stay online. Carefully thought out for social distancing/ covid. Very quiet. Excellent location for walking on the Long Mynd. The owners have worked hard to make a delightful site.
Wonderful stay
The old school campsite is a lovely little campsite! Staff are excellent, accommodating and helpful. Toilets/showers are spotless. We really enjoyed our trip and plan on coming back - highly recommend pizzas and bakery! Beautiful!
Wonderful campsite
We had a fabulous time at the old school campsite. The owners made us feel so welcome. The facilities were clean and had everything we needed. We had a great time rock climbing and there were many more activities that could have kept us occupied for days. The breakfast baps were delicious too. Looking forward to our next visit...
Lovely campsite
We had a great short break at the old school campsite. Facilities were lovely and clean, and we really appreciated the warm showers. Our morning rock climbing with Stu was great fun and the range of activities in offer will have us coming back another time. Oh, and the breakfast baps were delicious!
Lovely relaxing stay
Had 6 days and it was lovely The owners are very friendly and make u feel very welcome We felt very safe knowing all the covid restrictions were in place and hand sanitizer bottles everywhere Out 3 granddaughters played lovely with their daughter so relaxed watching them all play together We had pizzas on the Thursday and they were gorgeous We also ordered an easy breakfast on our departure day which was lovely so we could pk everything away early The area is beautiful and within 10 mins i could find shops pubs take aways Fire pits were available to use u just needed to buy wood We enjoyed a fire every night Definitely going to rebook again Thank you
Lovely site; very clean and friendly
We stayed for 4 nights at the beginning of August. It was the hottest day of the year followed by huge thunder and lightening storms! In the middle of the storm, the hosts were out checking on everyone, making sure the campers and the site was ok. That's how you run a campsite!!! The facilities were clean and tidy with plenty of safety precautions in place for COVID-19. The eco-toilets were great as were the family bathrooms. The pitches are a great size with easy access to electrical points and facilities and we had a picnic table next to us. There is WiFi but it wasn't very strong. It dropped in and out quite a lot, but didn't affect our stay in the slightest. Location was great - we visited Stiperstones, Shrewsbury and evening had a beach day with only an hour and twenty minutes drive. The nearest shop we found was a co-op in Minsterley which had everything we needed! The only downside was the site is on the A488 which is quite busy. We had a pitch on the road side and were only separated from the road by a fence and hedge. The first night, the noise from the road made sleeping difficult but we were used to it by the next day! All in all, this campsite was excellent! We will be back and would recommend to others!
Hardest working Hosts ever!
Such a lovely couple run this little site. Facilities were clean tidy. Loved the fire pit. Stuart and Rachel run all the activities as advertised as well as The on-site Pizza oven. Only downside is it's a drive to shops pubs etc but we would go again.
Great camp site, great host
What a fantastic weekend regardless of less than fantastic weather. There is a great vibe about the place, our 2 children had the best time roaming free and have not stopped talking about Spy School. Rachel was a great host, even finding time to make us a brew on our first morning. It's a lovely place to visit, highly recommended.
Really poor experience. Not helped by the weather!
We booked for 2 days, but ended going home after the first. The pictures on the website completely oversold the site to us. There was no shop of which we could see, despite signage to the contrary. The shower in room 3 which we had been allocated didn't work. The BBQ was absolutely filthy, I'm not sure how anybody was meant to cook food on it(we had pre paid for coal to use it for 2 nights so the least that could've been done was to have it cleaned). The bed was held together with 1 cable tie and 1 broke tie which we had to replace with a bin bag to keen the back board in place. Overall we were extremely underwhelmed and won't be visiting again unfortunately.
Gorgeous site, friendly owners and superb activities
Gorgeous small campsite which is ideal for families, individuals or groups of friends. Good sized pitches and great facilities, especially with the introduction of eco toilets and showers. I've stayed in the bell tents (everything you need, beautifully set up & with the lovely additions of a fire pit and picnic bench) as well as camping "properly". Facilities are great with either option. The owners, Rach and Stu, are incredibly friendly and helpful, providing extras such as maps of the local area and a book swap for those rainy days. The campsite shop stocks a good range of essentials, plus loads of extras you might not realise you need (handmade hats!), and the option to buy freshly baked cakes, pastries and bread is a great addition. Particularly love the focus on eco solutions, from recycling and eco showers / loos, to paper bags in the shop. Would recommend taking advantage of the activities offered by Creative Outdoors, based on the site and offering everything from climbing and paddlesports to jewellery making and engraving. Excellent instruction in all of these by Rach, Stu and their team of skilled instructors, providing a fun addition to your holiday. A small site, packed with activities and facilities to provide an awesome holiday experience. Highly recommended & I will definitely be returning.
Excellent overnight stay
We booked three bell tents for 6 couples for my husband's 30th birthday celebrations with friends - we wanted a relaxed and cost effective location close to beautiful scenery and good walks, which was exactly what we got! Each tent was really well equipped with crockery, cooking utensils, tea and coffee etc, and we all had an excellent time. Thank you!
Why book with Cool Camping?
Coronavirus Booking Guarantee
Best Price Guarantee, with no fees
Instant booking confirmation
Trusted for over 10 years
A chance to win prizes in our regular competitions
Book campsites near The Old School Campsite