A trio of luxury shepherd's huts and an isolated, off-grid cabin lost down a long country lane in rural Shropshire
From the old Iron Age hill fort on the top of 1,335-foot Wrekin Hill you get the best views of Morrells Wood, a working beef farm that sits isolated among the green meadows below. It's a pleasingly tough climb to reach the summit, following farm footpaths through the fields before delving into the native woodland that flanks the steep hillsides. Owner Derek has worked on the farm all his life and it's only in the last ten years or so that he converted the old out-buildings into small farm cottages for guests, who generally make the Wrekin a conquering point during their stay. The hilltop is a thoughtful place to sit and watch the sunset over Shropshire before you head home, sullenly leaving your holiday behind.
It was in 2012 that the first shepherd's hut was added to the farm, perched in its own quiet corner with excellent views of the hill. It was swiftly followed by two more, well-furnished huts, each in their own private space, though a short enough walk from one another that they could also be booked together. Inside, each has thoroughly modern fittings, with electricity throughout, plush double beds and even a television, while a wood-burning stove is supplemented by electric heating. All have their own private bathroom and kitchen facilities, either in an adjacent cabin or converted barn. One bathroom even includes its own original stained-glass window, a lasting feature from the barn's olden days of use.
While the shepherd's huts perfectly combine luxury and functionality, not to mention their setting in amongst the farm's tumble-down, stream-side garden, there's also an extra option for those really seeking seclusion. Derek and his friendly sheepdog, Molly, will lead you across two cattle-grazed meadows, to a private, three-acre field where you can park your car beside a wooden, two-person cabin in perfect isolation. The entirely off-grid unit does slightly limit you – there is no shower or running water and only a basic composting toilet – but, for the setting alone, it is worth it. A few metres away, a reed-fringed pond is enlivened by dragon-flies and birdlife and you have the whole meadow all to yourself.
Whether you pluck for the on-farm comforts of the shepherd's huts or the off-grid tranquility of the cabin, the local attractions remain a constant highlight. It's just over two miles, via the local footpaths, to historic Ironbridge Gorge – a UNESCO World Heritage Site and birthplace of the Industrial Revolution. And, further afield, the charming town of Much Wenlock, famous as the home of the modern Olympic games, is well worth a visit for its stunningly beautiful medieval architecture. If you need directions you could even climb back up the Wrekin. From the top you can see for miles tracing your ways along the back-roads with your finger. It's the closest to a bird's eye view you'll find.
Best Price Guarantee
Easy and Secure, with instant booking confirmation
Trusted for over 10 years
A chance to win a brand new Coleman tent!
Gallery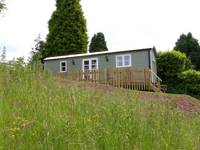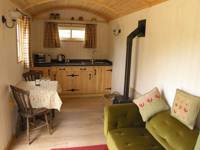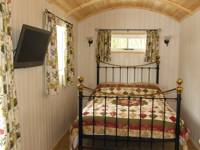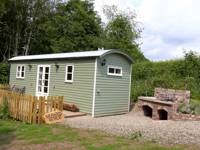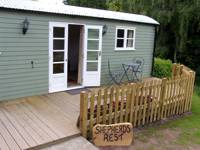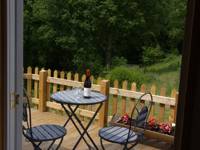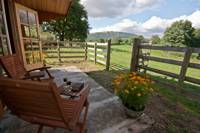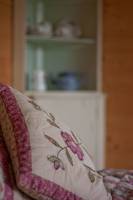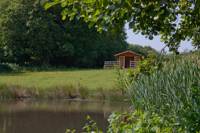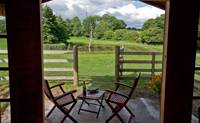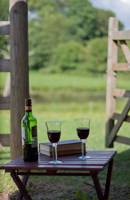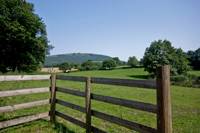 The Owner Says
Morrells Wood Farm is a family run, working beef cattle and sheep farm set in the picturesque countryside of Shropshire.
We offer 3 bespoke quirky Shepherd huts and a Cabin by the lake, all with unique views of the Wrekin and the various Shropshire Hills. You can dine outside with seating areas located in a peaceful and tranquil setting, a perfect place to relax and unwind and enjoy nature's simple wonders at their very best.
Reader Reviews
Add Your Review
A peaceful and relaxing break to get away from the stresses of daily life!
I booked this cabin for me and my teenage daughter for 3 nights to take a break from studying. No internet, journal articles or books! It was just what I needed to clear my mind. We had total seclusion and the freedom to play games in the field. The cabin has a covered outdoor camping cooker with gas which came in handy. There were plenty of things to do in Ironbridge, but we chose not to leave the cabin, except to buy more water from Tescos (a 20 min drive away). The only noise we heard was from cows, birds, and dogs - total bliss! The only downside to such a peaceful and secluded break - I want to quit my life to live in a secluded cabin!
Little piece of heaven....
From the moment that we arrived to a very friendly welcome from Molly (the dog) and Derek (the owner), we knew we were in for a treat. The location is so tranquil that it would be very difficult not to relax....and relax we did. The homemade rock cakes (thank you Jean!) and little backstory in the welcome pack were a charming addition to the very clean and comfortable cabin (Shepard's Rest). We took a lovely walk up to The Huntsman for an Easter roast and I would definitely recommend popping there if you fancy a change from cooking. All in all, we can't recommend more highly.
A beautiful and secluded place, great for a relaxing break.
This is a lovely site. It was a large and comfortable shepherd's hut with a private bathroom round the back. Great bed and amenities and very central for exploring the Ironbridge Gorge. Beautiful views of the Wrekin. This hut only had a steamer and Combi oven, but this was perfectly adequate for a short stay.
Beautiful setting
Stayed in the shepherds rest and the whole experience was fantastic. Set in a beautiful spot with everything you need to have a truly relaxing experience. Even homemade cakes on arrival 😊
Book campsites near Morrells Wood Farm
Available:
3 Pitches
1 Shepherd's hut
5 Pods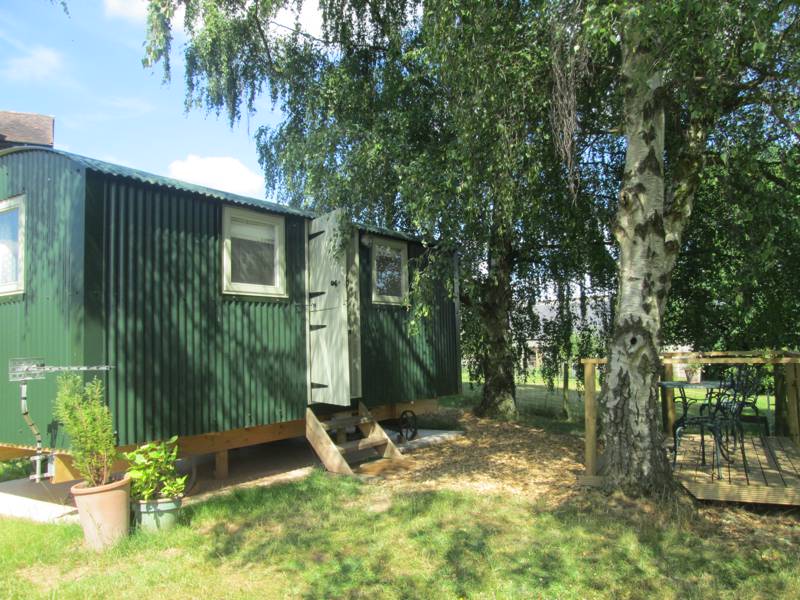 i
Glamping in Shropshire
Glamping in West Midlands
Glamping in England
Available:
1 Shepherd's hut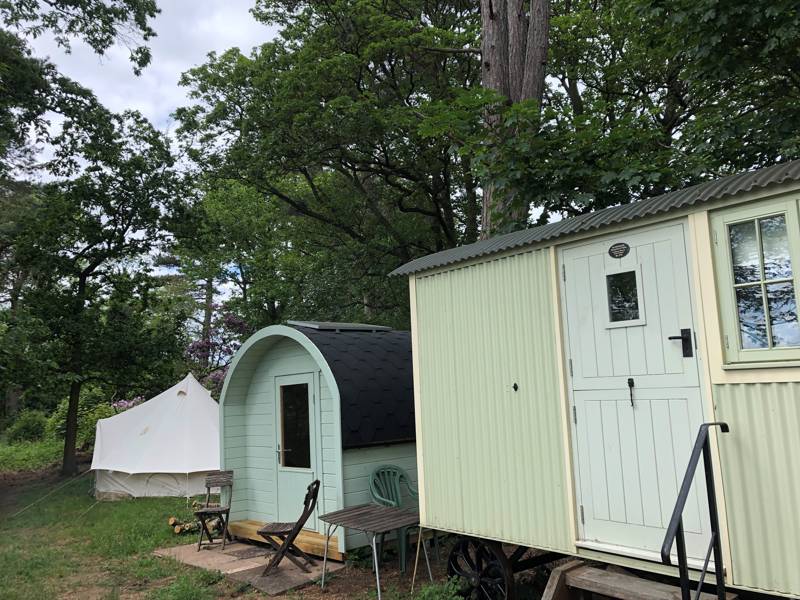 i
Glamping in Shropshire
Glamping in West Midlands
Glamping in England
Available:
1 Shepherd's hut