Rural glamping on the farm with the perfect combination of luxury and real hands-on outdoor fun
There are two types of middle-of-nowhere. The first is a leafy, inaccessible backwater. The second is somewhere that's easy to get to, but once you arrive there's not much there, save for the birds and the bees and a pleasant country breeze. Off the beaten track but thankfully so, Drover's Rest is just such a place and a truly idyllic glamping destination. With easy access to Hay-on-Wye and the expansive Brecon Beacons yet retaining its own secluded space in the open Herefordshire countryside, it's glamping the way you want it to be.
A working farm since the 16th century, Drover's Rest has only relatively recently begun converting it's out-house buildings into cosy, modern cottages but they've long been welcoming guests. Even when the farm began, shepherds (drovers) used to stop off here as they herded their way to London markets and it's fitting that today the more modern accommodation on offer keeps up that old tradition. It is the five brand new safari tents, though, that tickle the Cool Camping taste buds, letting the outside in and providing a real on-the-farm experience.
The creamy canvas cottages really thrust guests into the outdoors and are set in a grassy meadow, overlooking pastures dotted with sheep. Outdoor furniture lets you prop yourself up on the deck and breathe in the fresh country air as you admire the scenery, whilst inside the glamping-style accommodation pushes the boundaries of where exactly camping ends and hotel living begins. Rooms (divided by the inner canvas lining) separate two sleeping areas from the open plan living space, which comes complete with a log burning stove, fridge, gas stove and pretty much all the kitchen wares you could need. If you still want that more rustic safari vibe then there's a 3-legged pot outside for cooking on the campfire. Bliss.
The oldies are still the goodies, though, not just the original hayloft – now converted into a chill-out barn with an honesty shop, WiFi and giant TV – but, moreover, the simple rusticity of general farming life that's been plodding along here for centuries. This is a thoroughly hands on place and perfect for kids. Anything you can imagine of a farm is something you can get involved with, be it collecting eggs, herding sheep, milking the goat or churning the cheese. Indeed, those wanting the perfect family team can let little ones pick apples, before together pressing it ready for cider and finally the adults finishing off with that all important tasting!
Offsite, step back into reality (yes it's out there) and zip down the road to Hay-on-Wye, an attractive riverside town where winding streets are lined with old stone buildings. For every stone you're likely to find a different book – it seems to be all the place exists for – but between the shops some top quality eateries are also tucked away. A no brainer, if you haven't got one, is for the first purchase to be a good Brecon Beacons guide, next on the hit list while you're here. The endless trails, cycle routes and riverside fun present a real treasure trove of local activities – ever accentuating the middle-of-nowhere yet middle-of-everything feel of this care-free rural campsite.
Best Price Guarantee
Easy and Secure, with instant booking confirmation
Trusted for over 10 years
A chance to win a brand new Coleman tent!
Gallery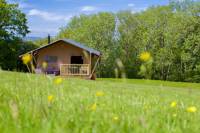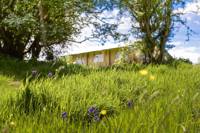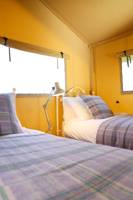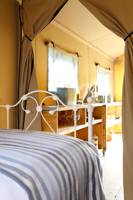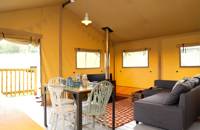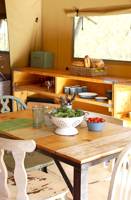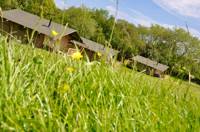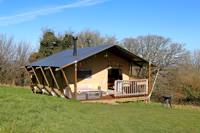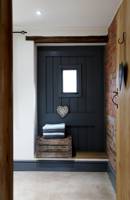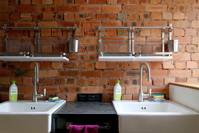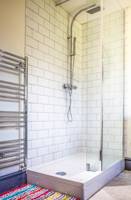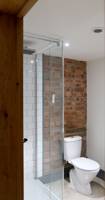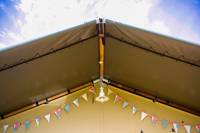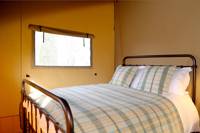 The Owner Says
Come Free-range with us at Drovers Rest!
Our beautiful 16th century Organic Farm, tucked away in the Welsh Hills. Known for our 'Cool Farm Stays and Gatherings in the Sticks' and our passion for food grown the proper way. Drovers Rest is a relaxed, hands on kinda place. We pride ourselves on being much more than just posh award winning accommodation. Here it's all about the experience you have! We believe in the magic that happens when people gather. That's why a big part of what we do here at Drovers, is gather people. Around our farm activities, our dinner table, camp fires, walking the old Drovers paths and our Epic Events. Once you've experienced our convivial gatherings, you'll never want to leave! You'll also feel a definite African type of vibe going on here. From the Lush Safari Tents and Country Cottages, to the Guinea Fowls roaming the land, from the menus and our food cooked outdoors on open fires to the staff uniforms, table styling and warm African hospitality. Having grown up in South Africa, the beat of the African drum still lives strongly in our hearts and we thought a touch of Africa in the Welsh hills would be kinda nice!
At Drovers Rest
We host the best Farm Stays, Group Gatherings, Workshops and Events! Well-behaved dogs can Free-range too! Although we are self catering we put on food nights, secret supper clubs, breakfasts and fully catered events so you can have a break from cooking and taste the delicious organic produce we grow right here on the farm. We have 2 lush recently converted, Drovers cottages and 5 Super Posh Safari Glamping Tents, dotted around the Farm. Each unit sleeps 4 in 2 separate bedrooms (ask about a 3rd child!). Located at the foothills of the Black Mountains, off the beaten track within stones throw to our village, the famous book-town Hay on wye, and the majestic Brecon Beacons National Park. Borderland between Wales and Herefordshire. Be sure to follow us on Instagram or Facebook to be first to hear our news, special offers and events. Or our blog to follow our story. We have won several awards for tourism, interiors and decor, being green, hospitality and food produce. And we are very proud to have received the Trip advisor 2017 excellence award too. Yay!
Book campsites near Drover's Rest Glamping