Glamping pods, Scandinavian lodges and first-class camping and caravanning in 25-acre's of Herefordshire countryside, covered by pockets of woodland
Who needs a playground when you've got a pond? That seems to be the attitude at Woodside Country Park, where the focus is more on camping's natural pleasures than installing a raft of artificial flimflam. The result is a 25-acre space that's covered by pockets of woodland and no fewer than nine different ponds. In the summer, the largest, Cider Mill Pool, is a central convening point for families as children hurl themselves from a small jetty and dabble like oversized ducks among its waters. It's a scene more reminiscent of rural France than middle England.
Yet rural is certainly what Woodside Country Park is. Despite being just two miles from the amenities of Ledbury, this is a real countryside site with excellent views and a peaceful, partially 'wild' ambience. It really is a 'country park', home to over 500 native water plants, trees and shrubs, planted alongside swathes of wild flowers, giving colour and variety all year round. As well as swimming, kids will love dipping around in the smaller ponds for insects and bugs (you can even buy a net in reception) and looping trails among the trees provide great bird spotting opportunities.
Camping-wise the site has something for everyone. Weather worriers who want to travel light can pluck for one of their wooden camping pods or a bed in the large, bunkhouse. The former, nestled among tall pine trees, are simply furnished (bring your own bedding and camping gear) but are well insulated and spacious, featuring a heater, double plug socket and lighting. The bunkhouse, meanwhile, also features a dining and cooking area, with five different rooms each sleeping up to four people. They're more functional than luxurious – cosy indoor options particularly popular during the winter months – but are a wonderfully handy option if you don't fancy pitching a tent.
Out in the open, there are two different camping meadows, situated either side of a country lane that runs through the middle of the park. Near the pods, Orchard Field has room for just 15 pitches, well spread out and almost all with electricity, while over the road the larger camping meadow (near the swimming pond) is geared more towards tent campers, with space for 40 tents but only a dozen electrical hook ups. It creates a field coloured by canvas and campervans – a classic camping vibe, aided by views across the pond to rolling fields, climbing into the hills around Hereford 10 miles to the east.
The sheer size of the place means much of the day can be spent on site. In the woods the most gargantuan trees house fairies, with tiny doors to be discovered among the roots, and in a far corner of the site yet more pools are accompanied by picnic benches in a designated conservation area. Along the opposite perimeter of the park, meanwhile, the long distance Herefordshire Trail runs. It's an excellent route that skirts the county and is just one of the reasons the site is so popular with walking groups – along with the nearby Malvern Hills. If you're still in need of ideas the reception hut has a big stash of brochures, too. So there really is no excuse not to get out there!
Best Price Guarantee
Easy and Secure, with instant booking confirmation
Trusted for over 10 years
A chance to win a brand new Coleman tent!
Gallery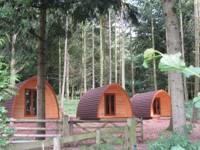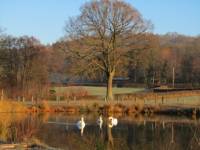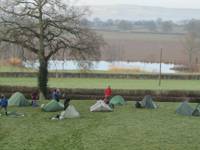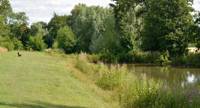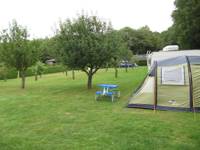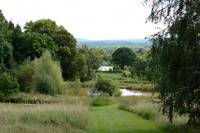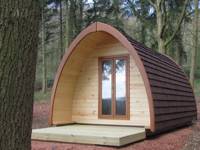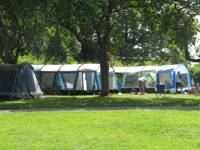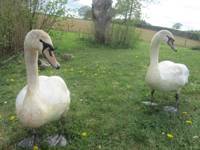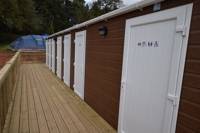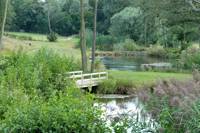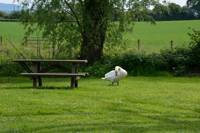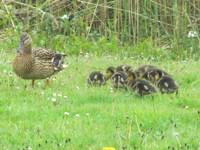 The Owner Says
Tranquil 28 acre site for camping, caravaning, pods and bunkhouse, with 10 Scandinavian lodges also nestled within the site. An abundance of wildlife can be spotted around, with fishing and wild swimming also available. Despite being just two miles from the amenities of Ledbury, this is a real countryside site with excellent views and a peaceful, partially 'wild' ambience.
Reader Reviews
Add Your Review
Great family site
We've stayed twice now with 2 children aged 7 and 3 and each time it's been great. The new shower facilities are great to use and are nice and clean. There's a pond for pond dipping and a larger pond for wild swimming. There's other ponds too for fishing. We love that you can hire a fire pit and have a camp fire. Loads to do in the local area and the supermarket really is only a 5 minute drive. We'll be going back again later in the year, can't wait
Highly recommended
Me & my partner stayed in a Pod for 1 night. On arrival was very welcoming & helpful, the grounds & views are lovely, toilets & shower area was clean. We will definitely be going back, highly recommend this place.
Perfect
We stayed in the Orchard. Scenery was stunning, site facilities were very clean. Staff bent over backwards to help and nothing was too much trouble. Site not overly crowded this plenty of personal space. A fully relaxing setting and we can't wait to return. Well done Woodside
Lovely campsite
We stayed in the Cidermill field (non electric). It's a beautiful setting, great if you like fishing and wildlife. The field wasn't over filled so there was plenty of space for the kids to run around. Amenities were clean and well kept. Plenty of showers and toilets so no queues. The staff were really friendly too. No noise after 1030pm was respected by all. We'll be going again.
Fantastic pod!!!
We stayed in the family pod.. it was perfect.. lovely and warm plenty of room.. it was so windy but inside was lovely and cosy.. and it rained all through the night.. but again we were cozy , warm and dry!!! Lovely area plenty of walks.. highly recommend ... much easier than camping with a tent!!!!!
Peaceful site with great views
We stayed on an electric pitch in the Orchard field, in a tent with two young children. The field isn't completely flat but we pitched at the bottom and had no problems at all. The their field was very flat and great for kids to play on or larger groups to pitch together. It was a lovely quiet site which was ideal for our little ones. They loved exploring the lakes, woodland areas and sitting areas in the large outbuildings, so much so that we didn't bother to leave the site on one of the days (and everyone in the family agreed this was the best day of the holiday!). The owners were very friendly and helpful but left you to your own devices too - the perfect balance! Toilets and showers were always clean and the site was very well maintained. We hired a fire pit and bought marshmallows to toast from the onsite shop. No complaints whatsoever and we will definitely be returning
Lovely friendly site
We were only there for 1 night, but found the whole experience lovely. The campsite staff laid on a tv, chairs and gazebo's for watching the World Cup match - which they didnt have to do - and went out of their way to shelter us from the blistering sun as much as possible! Electric Hook ups all worked great, great facilities for toilets, showers, washing up etc. Shop could have stocked a few more basics (eg. Bread!) but other than that the whole stay was great!
Very pleasant & friendly campsite in a countryside location
I went with my 2 boys (8 & 10 yrs) for the May bank holiday weekend. We were blessed with the hottest May bank holiday for about 50 years. (27 deg in early May!) We had a great weekend, and - because it was so hot - really enjoyed being able to swim in the small fishing lake. As did all the others kids on the campsite! The views and countryside around the campsite are stunning. A lovely location. So why only 3 stars then I hear you ask? My eldest son had just had a birthday where he received a new bike so I spent ages choosing a location that would be good to take him out on rides. This site boasted loads of great cycling in the vicinity. I think this was a huge over sell as you'd need to drive 20 miles to get to any of it. There was none nearby. Not really very practical for a weekend with 2 young boys. :o( I found this pretty disappointing given the description. Also on the downside, it was advertised that open fires were ok. They were not. Fires in a BBQ style bases were ok, and you could even hire these at £5 / night. Not really what I consider 'open fires'! Every campsite in the UK allows a BBQ base with a fire in it so you can hardly advertise it as a special extra feature. Finally, the field was on a bit of a slope which was a pain with the caravan to get level. Overall, we had a great time but I think much of that was because we got lucky with the weather. The campsite owners were very friendly too, which was nice.
Excellent
We stayed for a 2 night camping adventure over the weekend on the lower camping field and can truly recommend this site to all. As a family of three, with a young toddler, we were impressed by the care and attention given by the all the staff. The site grounds are excellent and well maintained, showers and toilets cleaned regularly and views wonderful. We had a lovely relaxing break and will surely return for more!
Fantastic!
A fantastic location in stunning countryside, we thoroughly enjoyed our stay at the friendly and welcoming Woodside Country Park. We were completely relaxed, enjoying the beautiful surroundings and tranquility of the site. A wonderful rural family experience, our children loved the freedom, going for walks, riding their bikes, jumping off the jetty, swimming, catching their first fish in the lake, finding fairy doors, seeing cygnets, swans, ducklings and ducks - we had a great time and would highly recommend this place!
Relaxing and peaceful
Lovely place to get away from it all and yet still close enough to Ledbury for bits and bobs that we needed. No set out pitches so we could pitch in a circle with our friends around the camp fire toasting marshmallows! Definitely be back!
Best Price Guarantee
Easy and Secure, with instant booking confirmation
Trusted for over 10 years
A chance to win a brand new Coleman tent!
Book campsites near Woodside Country Park