Westermill Farm Holidays
Exford, Exmoor, Nr Minehead, Somerset TA24 7NJ
















A secluded, riverside valley in Exmoor. Lush green hills and trout inhabited waters, plus rope swings and dam-making keep children happy indefinitely.
In 1938, fed up with army life, Great Grandpa Edwards paid a visit to an unkempt farm hiding in a Somerset valley. On stepping inside, he said simply,'This'll do'. Within a few years he'd planted thousands of trees, made a home for his cattle and sheep, and transformed the boggy land into something nearing the subtle splendour of today's farm. 
Today, Oliver and Jill run the site from an office lined with an impressive display of rosettes overlooking the farmyard, where chickens scratch around and pigs snooze peacefully in boxes. 

Split into four adjoining fields at the base of the valley, where Aberdeen Angus cattle and Suffolk sheep graze on the land near by, Westermill enjoys the clear, trout-inhabited waters of the River Exe as it swishes past, and the sturdy protection of mottled hills on either side. Furthest from the farmhouse, the fourth field is perfect for those fancying a late night by the campfire. Awaken neglected hunter-gatherer instincts by foraging for wood and then building a crackle-tastic fire. By the time you settle down to sleep beneath a star-spattered sky, the neighbouring cattle may have morphed into woolly mammoths.
If you're a dedicated rider, this is the perfect place to bring your horse on holiday, as cosy stabling is provided for four-legged friends. There aren't any designated play areas at Westermill, but this doesn't mean that it isn't a brilliant family campsite. Far from it. Children can really get stuck in and pretend they're Huckleberry Finn: the river is part of the considerable appeal of the site. They can have a go at dam-making, paddling and swimming and it's a good location for a spot of fishing. 
In the evening the furthest field is scattered with families in front of their campfires, but by lights-out time the site is usually pretty quiet: there's no mobile reception and a no-radio policy, so peace and tranquillity reign supreme. And with Exmoor providing a backdrop of scenic eye- candy, to use Great Grandpa Edwards' words,'This'll do'.
Gallery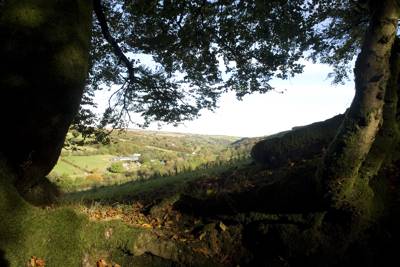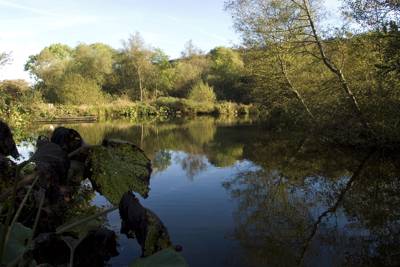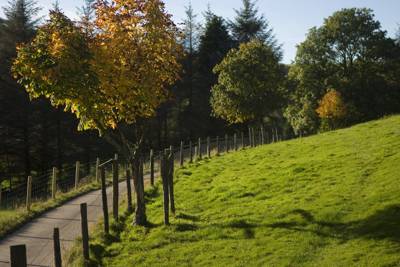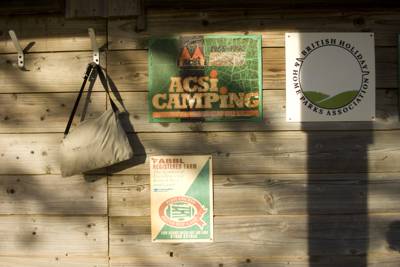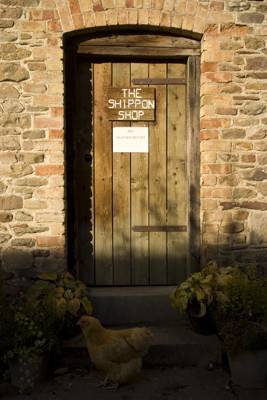 The Owner Says
Reviews
Sign up or sign in to leave your review of Westermill Farm Holidays
A great weekend
I've been to Westermill Farm several times now and it never disappoints so this time I decided to take some friends with me, four families in all with six kids. The friends are all seasoned campers, more so than myself and all of them thought the site was wonderful. Set in some of the most beautiful scenery the UK has to offer. The site facilities are excellent, shower and tower blocks are always kept clean and the water was always hot. The small farm shop sells everything you would need for a good breakfast and an even better BBQ, the steak, burgers and sausages are excellent quality, better than any supermarket offerings. We stayed in the fourth firecamp field which is a must for the evenings. All of the other campers including the children behaved impeccably and we're all very friendly. It is a fantastic base for exploring this part of the world, Lynton, Lynmouth, Dunster, Porlock Weir for a couple of pints in the Ship Inn should be on your list of things to do and the walking is as good as anywhere. And at the end of the day the River Exe which runs along the edge of the camp site will send you gently to sleep.
Disappointing.
We were looking forward to this campsite and spending time in Exmoor. The site is as lovely as described in and wonderful valley alongside the River Exe. The facilities were excellent and regularly cleaned. So why disappointed? Well as two adults going camping without children we understood that most campsites would be busy in summer half term and that there would be lots of children about. We have no problem with that. What we were not prepared for was how incredibly crowded and noisy it would be with kids running wild and screaming around our tent and pitch from early in the morning to late at night, including right in front of it and in front of us while we are eating. Dogs running wild across our pitch. Adults with and without children just walking back and forth right in front of our tent while we are changing etc. Music being played out loud in spite of the no radios rule. These people had no manners or courtesy at all. When we set up we saw there were some groups of tents but we set up away from them by the river with empty pitches around us. By the time we left there were so many tents around us that we struggled to leave the field because they had set up so close to us. This is because we went to field 4 where you can pitch anywhere and people did pitch anywhere! When we told someone about this they said that we had set up in the 'party' field! Had we known this we never would have set up there and we were not guided in any way by the people there. Obviously many of the families were wonderfully behaved but a large minority showed no respect to anyone else. Be warned, if you want any sort of privacy, peace or quiet avoid field 4! I am sure had we pitched in the first field we would have liked the place better.

Rural Idyll
Just come back from camping/hiking break around Exmoor and stayed the first night here, right in the centre of the beautiful countryside. The farm was perfect for me with hot showers, clean toilets and friendly and welcoming reception. The mooing of the cows, bleating of the sheep, squawking of the pheasants and babbling of the stream were a very welcome change to the bedlam of the city. The crisp September night was clear and sharp and once the camp-fire had died down the moonless dark night sky was visible in all its glory, there are only a few times I've seen the milky way and this was one of them! I will be back next year to visit more places I just didn't have time for this visit.

Highly recommended!
Wet Bank Holiday Weekend
Camped at Westermill Farm with two other families for two nights over the bank holiday weekend. Despite the horrendous weather while packing up on the Monday we had a fantastic time. The site is spacious, easy going and great for kids. The stream was a huge hit and it was lovely to allow the older ones to have an adventure on their own. It is a trek to the facilities from field 4 but worth it to have a fire, especially as the temperature dropped to almost zero. Take plenty of changes of clothes, shoes and towels. We'll definitely be back.
Excellent rural retreat despite the drama!!
It started with a flat tyre, proceeded to a burnt blanket on the open fire, followed by the dog falling from a small cliff and ending in a trip to hospital with our son who was diagnosed with Shingles in his eye and us cutting the holiday short!! Despite this we would absolutely love to return! This is a gorgeous site with space for 'proper' camping! We stayed in the furthest field which allowed for camp fires (hence the burnt blanket, please be careful when having an open fire) we camped right next to the river with our three children and well behaved dog. To be able to walk from the site straight on the the moors was fantastic, the scenery and walking is superb. The site has excellent facilities, no flashy (trashy) entertainment, stories around the fire and games with the children are much more fun. It had been very wet before we arrived and therefore the site had become a little like Glastonbury festival, but as a regular of muddy festivals this was not an issue. You should always pack wellies when camping in the UK. The local area is a favourite of ours, Lynton/Lynmouth is a must with a trip up or down the cliff railway! Watersmeet National Trust is a lovely place and do great cream teas. Ilfracombe is a gorgeous town with Tunnels beach being well worth a visit, also a small museum with lots of oddities! Despite the drama we WILL be back :) 
p.s. camping by the river in summer = attack of the midges..take plenty of citronella or camp further back
Best Price Guarantee, with no fees
Instant booking confirmation
Trusted for 10 years
Chance to win camping goodies in our regular competitions!
Westermill Farm Holidays
The fact that it rained for almost half the week we were at Westermill but still had a great time says it all. We ended up persuading half the campsite to don wellies to chase orange peel boats down the shallow 1/4 mile stretch of the Exe that borders the site - simple pleasures and a real highlight of the holiday! Good advice is to pick one of the paddocks nearest the farm if you want to avoid the noisy campfire crowds. It's harder to escape the roar of the farmer's bulls calling each down the length of the valley - even at night - but it's all part of the atmosphere. Trips out to the coast are a long trek across the moor and not always worth it - Porlock Weir is great, even stunning, but other coastal resorts (Ilfracombe in particular) are an expensive disappointment (watch parking charges). Stay on the moor, do the walks, have a cream tea at Tarr Steps and you can't go wrong - even in the rain. We rarely visit the same place twice but we may be back at Westermill one day.

Lovely Spacious Site
Lovely spacious site - open fires, a stream for the kids to paddle in, shop with all the essentials and walks from the tent. We were lucky with the weather otherwise the trek to the loos and washing up would have been a pain. We were in the furthest field so we could have an open fire but this did mean the longest walk to any of the facilities. On the upside it also allowed us to play cricket without hitting any other tents! Shower and toilets were adequate rather than spotless but the laundry and freezers were welcome. Very friendly and easy going. Would recommend and will return.
Westermill Farm Holidays
What's not to love about Westermill?? the open countryside, the river running through the site and beyond, the abundant wildlife, teh campfires, the opportunity to camp in a big group with all your friends?? all of this and more! We camped here with a massive gang of long-time fans of Westermill but it was our first visit (and the first outing for our Pipsqueak Stove).... Unfortunately we'd picked the Bank Holiday and therefore it rained, pretty much solidly, for 3 days! Luckily we had the stove and we were able to stay warm and dry in our cosy den.... The weather cleared long enough for us to head out for a walk along the river which is a really lovely walk, you get to see all maner of flora and fauna and there is an abundance of wildlife both in the river and on land. It's glorious! The shower/toilet block was a bit of a hike which wouldn't have been a problem if the weather were better BUT after a couple of days of foot traffic it was a quagmire (not quite as bad as the best of Glastonbury but heading that way!) Because the weather was so awful, lots of campers headed off during the daytime and this meant that the tracks got pretty muddy also (so I was super-pleased that I remembered my wellies and waterproof!) The toilets ended up showing the signs of heavy use (because a lot of folk were camping here on the May BH weekend) but the showers were good (and free) and HOT (which is always the most important thing!) Wash up facilities were good (but we managed everything locally with boiled kettles because it was a bit far to hike with your bowl of dirty dishes!) especially in the rain!) The major plus point of Westermill is that you can have smashing camp fires in lovely surroundings and hang out with your pals so it was unfortunate that this was hindered by the weather but our group had come prepared with a spare (empty tent) for communal gatherings which meant that we still managed to have a lot of fun. I'll definately be headed back to Westermill and won't the rain put me off (I might monitor the forecast though!)