Book campsites near Stowford Manor Farm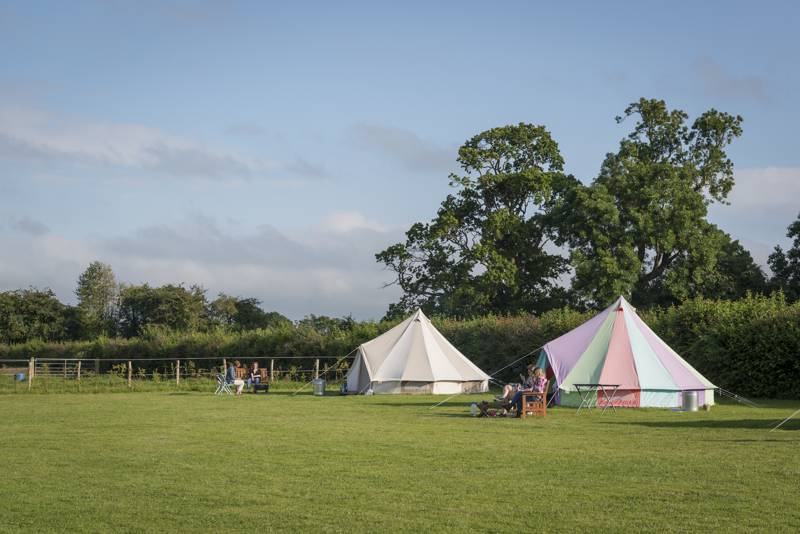 Campsites in Warminster
Campsites in Wiltshire
Campsites in South West England
Available:
25 Pitches
20 Bell tents
1 Yurt or Ger
Campsites in Frome
Campsites in Somerset
Campsites in South West England
Rural England at its finest. A peaceful site with river swimming, in an unknown but interesting area on the border of Somerset and Wiltshire.
We can't all be to the manor born, but camping in the grounds of Stowford Manor – a delightfully relaxed campsite on the verdant Wiltshire/ Somerset border – gets you close. A stunning 13th-century farmhouse, with accompanying mill and assorted workshops, provide the backdrop to two camping fields bisected by a stream, itself a great little spot for boating and paddling. If this seems like too much effort, afternoons at Stowford Manor can instead be whiled away in the garden, where sumptuous cream teas are served. From here you can watch hens peck around the millpond as the gurgling River Frome flows by. Bliss...
The facilities are good without being anything to write home about, but they are obviously well cared for. The site has a remarkable feel, being overlooked by the assembled old buildings of Stowford Manor Farm, which positively ooze authentic antiquity. This perfect vision of a bygone England has escaped any tasteless tarting up and simply stands there, radiating its dignity and elegance into the camping field.

Camping here isn't about being completely indolent, though.The local River Swimming Club is a half-mile downstream; many wild-swimmers stay here, and campers are allowed to use the club for £1 a day. Alternatively, you can cycle along the canal to Bath, less than an hour away. A little further afield lies the more intimate delights of Bradford-on-Avon. Southern icons such as Stonehenge and Longleat are easily accessible from here, yet so is the west coast at genteel little Clevedon, where the famous pier provides a nostalgic look at seaside pleasures.
Knowing what makes their campers tick, the Bryants have also printed a map of three pubs within walking distance, all of which have views and serve good ales and terrific food. What more could you want? Another cream tea? Oh, go on then...
Details
Facilities
Campfires allowed off the ground. Washroom with 2 showers (50p coins), washbasins and washing-up area; plus 3 loos. Tea and scones £4.50, served 3–6pm.
Suitable For
Tents, campervans, caravans, dogs, groups – yes.
Nearby
Farleigh Hungerford Castle (01225 754026) is just up the road in Norton St Phillip, but if you fancy a spot of water-bound activity, head to the Kennet and Avon Canal (0800 1214679) in lovely Bradford-on-Avon, itself a sort of Bath in miniature. Treat yourself to one of the VIP packages at Bath Racecourse (01225 424609), including champagne, canapés, afternoon tea and that all-important member's badge.
Food & Drink
There are 3 super pubs (all with good food) in close proximity:
The New Inn
(01225 863123), less than a steep mile's walk away in Westwood;
Poplars
(01225 752426), in Wingfield; and the
Hungerford Arms
(01225 754949) in Farleigh Hungerford. In Corsley, 4 miles up the road, The White Hart (01373 832805) dishes up gastropub nosh at more imaginative prices. White Row Country Foods (01373 830708) in Frome is famous for its highquality foods and tea room. The nearest genuine farm shop is about 1 mile from Stowford Manor, at Springleaze Farm (01225 720006) where everything is sourced within a radius of 20 miles.
Opening Times
Easter – October.
Location
Contact Stowford Manor Farm, Wingfield, Trowbridge, Wiltshire BA14 9LH
Getting There
From Bath take the A36 south, then turn east on to the A366. The site 3 miles west of Trowbridge, near Bath.
Reviews
Add Your Review
Rated ★★★★★ over 8 reviews
Beehive
A super campsite in pretty and idyllic surroundings. We visited during a blistering week in August, the girls loved the river, and the rope swings. Faciliites were very good. Two showers , two washing up stations, set in cobblestone building alongside beautiful farm buildings. We didn't visit the tea rooms, but they looked lovely set in a little shaded garden. Bring lots of 50p (as suggested by previous reviewers). We ventured on a big walk towards Avoncliffe with some canals and pubs by the river. Have a fab time. Will definitely be back and would recommend for families. Great place for the children (able swimmers) to roam by themselves with the river for added value.
Just lovely
A friendly, quiet and peaceful place. We loved the morning visit from inquisitive chickens. Children loved the river and swing.
stowford manor farm
Myself, husband and 9 year old son stayed here for a week in august. 
We arrived mid morning and pretty much were left to pick our own pitch which suited us fine. Its a medium sized field situated next to the River. Lovely old manor / farm house and outbuildings with a rope swing over the river.
Field was a bit overgrown around the perimeter, full of nettles, not great for little ones but fine for us.
1 set of Loo's that did get a bit dirty & messy at peak times but had worse. Showers were in old cow shed, 50p but for enough time to do both myself and my son.
Great location for Bath. Decent walk to Bradford on Avon which is gorgeous.
Also good location for Longleat.
Our boy made lots of friends and played football well into the night with head torches!
Overall, nice site.
Stowford Manor Farm
Just back from a great couple of nights at this lovely little campsite with me and my 4yr old son. Friendly and clean with good facilities and a laid-back atmosphere which was a perfect introduction to camping alone with a small child! Great having the river to play and swim in, cream teas at the main house and space to relax. You are aware of the noise of the road and weir but in such a beautiful site and so close to Bradford-on-avon, Bath and Longleat it was perfect for us because it wasn't isolated but still felt in the heart of the countryside. 
Stowford Manor Farm
A delightful site! Very pretty and simple with a few lovely features! We just weren't there long enough to really benefit!
Rope swing for the children (and daddy!) over the stream was enjoyed by all. The unpasteurisedJersey milk for sale delighted me!
Shower rooms shared with dishwashing area intially seemed unusual...but that feeling passed! 50p for showers were the most expensive we had this holiday....but were probably the best (warmest, cleanest, hottest, longest)...and we were told at the outset that we needed 50p's so forewarned to have change! Very cool personalised OS map up on the wall! A hairdryer would be a welcome addition...but hey we were camping! No clothes washing facilities :-( Toilets perfectly presentable - clean & basic - but dark at night (switch inside door so bit of a dark approach)
We sampled the fare offered by each of the three local hostleries - highly recommend either The Poplar's Inn,Wingfield or The New Inn, Lower Westwood - both excellent. The Hungerford Arms was disappointing at prices charged.
Would definitely return .... for longer!!
Stowford Manor Farm
Our children - aged 11 and 12 - absolutely loved this site. Great river location, caught fish with nets, chub with rods, went river swimming and visited the Roman baths. They made friends with a great group of kids and played out in the space on site (even though fully booked, this still left loads of room for games in the area in the centre of the field). The toilets weren't for those with cobweb phobias amongst us :0) and there is no on site shop (although a Sainsbury's 2 miles away) but the cream tea and the laid back athmosphere more than compensated. Great trip for us, and the children say it's their favourite in our camping history.
Stowford Manor Farm
Great campsite, a little understated in the description on this site. It's actually very pretty in summer and late summer. It is very quiet and peaceful (we were the last ones up at 11pm), although the site is next to a relatively busy road, so car noise can cause a disturbance, although personally I thought the foxes, badgers and owls were noisier! Great site, friendly hosts, lovely walks right from your tent. A very peaceful site to recharge batteries. You need 50p for the shower so make sure you have some - you can easily shower 2, perhaps more for that - the shower runs for about 10 minutes, hot too. There's a nice place to eat at Woody's farm shop (5 minutes away) which has a playground for kids. Also very handy for stocking up on provisions for cooking back at the tent. Also Brokerswood is just round the corner. Recommended for a walk with the kids - it has a little train and lots of playgrounds.
Stowford Manor Farm
Just came back from this delightful little campsite! Would highly recommend. We stayed in our vw no problems. Shower block was really sweet, it's an old barn, complete with stone floor! Short walk though the fields gets you to a quaint local pub that does food! All in all we would stay again for sure!