Rushall Organics Glamping
Two authentic workmen's wagons lovingly restored to modern glamping standards and set amid acres of beautiful Wiltshire farmland
It seems to come as no surprise, that on the banks of this pristine glistening river some of the most fertile farmland is found and in the heart of it all Rushall Organics resides. Spread over 5,000 acres of the Salisbury Plains, the farm can boast not only swathes of golden fields, herds of Sussex cattle and flocks of roaming sheep but now too it claims its own little pocket of paradise open to all us cool campers. Snuggled up in traditional workmen's wagons, charmingly well restored and full of welcoming warmth, you won't be bothered wherever the rain may fall.
Mention the River Avon around these parts and you may find yourself a little confused. On the cusp of two drainage basins, a raindrop here is left to the devices of the wind. A gust north-west and it's bound for Bath, merged amid the depths of one Avon. A puff south-east and it's running for Salisbury cathedral, glistening through the chalky plains in another Avon altogether. Those who know the difference well aren't just the locals but also members of the dedicated fly fishing community. It is the latter Avon, flowing south from Wiltshire to Salisbury before skirting the New Forest to Dorset, that earns fame for its angling credentials; it is thought to contain more species of fish than any other river in Britain.
When we say traditional we mean it in the most fitting sense of the word. Despite Rushall Organics being farmed by four generations of the Wookey family, the glamping wagons are older still, parked up in a corner of the farm since well before the first generation arrived. Pulled from their weed-woven past, they have been tastefully brought back to life with the original framework still intact but now a modern rebuff making them a cosy place for up to four people to hide away.

There are just two workmen's wagons in total. The first, aptly named Angler's Retreat, is right on the riverside. Inside campers are greeted with a long, colourful landscape painting of one of the farm's Sussex cattle a wonderful touch in itself but even more impressive when you realize it is in fact the hand crafted bunk bed which can be folded down from the wall to accommodate a fourth person. Likewise the second beautifully placed hut, Mayfly, has a quaint 'ode to self' style painting, depicting the hut and the countryside all around. The interiors also boast a fitted kitchen area with a proper oven, a fridge, Belfast sink and a fold out table with the same elegant wooden finish, while a small wooden cabin houses the eco-friendly compost loo, and the al fresco gas-powered shower offers an invigorating start to the day.
Onsite keep hushed down by the river and you can catch a glimpse of the elusive local otter, a frequent visitor to the area but difficult to spot if he knows you're around. Or, should you want to talk fly fishing with Nigel and spend some time learning about the farm, ask if you can organise a tour. He is the current farmer here, following the Wookey tradition, and welcomes anyone keen to learn their Avon from their, ummm, Avon. He may also recommend a good local pub, a contribution that's always welcome.
Details
Facilities
Huts comfortably sleep 4 each, in a double bed and bunk bed. They are, however, easily adapted into a romantic shelter for 2. A fifth additional person can be accommodated in a tent. Solar panels on the roof power electric lighting, a 'mobile-phone car socket' (for phone charging), a small fridge, a small oven and 2 ring hobs. Both come furnished with proper storage, a Belfast sink with running water and even a wine rack. Bedding, linen and towels provided. Just outside a seperate smaller hut houses a composting toilet. There's also an open-air gas-powered shower. Fly fishing and tutorials for all abilities can be arranged as can tours of the farm.
Suitable For
Anglers and non-anglers alike welcome. Glamping only, however a tent can be brought to accommodate an additional person. Campervans, caravans, motorhomes – no.
Nearby
The immediate vicinity is mainly open countryside and it is a drive to the nearest tourist spots, namely Salisbury to the south with its famous cathedral (01722 555120) and historic old centre. This is no bad thing, however, as those looking for a quiet countryside site should look no further and the surrounding area is excellent both for walking and for cycling. Off-road there are good cross-country bridleways while road cyclists will also find the place quiet, the M4 sucking away any busy traffic. North of Salisbury is famous Stonehenge (08703 331181), best saved for a day of good weather, but while it may get all the hype – and daytrippers – campers who head north from the campsite to Avebury (01672 539250) will find another stone circle which has the edge in atmosphere. The silent stones, surrounding ditch and 6m-earthwork wrap around a pretty Wiltshire village, only adding to the sense of tapping into an ancient past.
Food & Drink
When in season you can get fresh organic veg onsite by request or head a mile to Upavon Village Shop, the nearest place for supplies. Plank's Farm Shop (01380 848691) is another good place for stocking up on locally produced goods, 4 miles away. When it comes to eating out The Red Lion Freehouse (01980 671124) is at the top end – a Michelin – starred restaurant 2 miles away, perfect for special occasions. Closer by Woodbridge Inn (01980 630266), in Pewsey, is a couple of minutes walk from the site or try the Seven Stars Inn (01672 851325) serving excellent food.
Opening Times
1st April – end of October.
Accommodation
2 beautifully restored workman's huts on the banks of the River Avon.
Check Availability
Location
Contact Rushall Organics Glamping, Rushall Organics, Devizes Road, Rushall, Pewsey, Wiltshire SN9 6ET
Getting There
From Marlborough and the North, on the A345 heading towards Pewsey, go through Pewsey, and carry on for approx 2 miles. To access the huts, turn left approx 25 yds before the Woodbridge Pub on the Pewsey Rd. Go through the green metal field gate - you have arrived! Continue along the grass track and you'll see Mayfly immediately in front of you after about 500 yds. Angler's Retreat can be found a little further on in its own private space. You can park next to the hut to unload and then park back on the track in the glade, near the wooden post and rail fencing.

Reviews
Add Your Review
Rated ★★★★★ over 5 reviews
Ab Fab...
Three friends and I had wonderful Wiltshire weekend at Mayfly. Bit of fishing, BBQ, some good local ale (husbands - you can get it straight from the brewery in Netheravon on Saturday mornings), then murdered the noble game of golf at Upavon. This is a beautiful area and you are very close to nature - we saw kingfishers and kites and you can book a secret trip to see the nearby great bustard project if you plan ahead. This is the land of white horses on hillsides, standing stones, flint and chalk and the wonders of the Salisbury Plain landscape. The huts have been beautifully crafted and are extremely comfortable. Proper hot outdoor shower makes you feel alive. All round good healthy detox and relaxation. Go on...book it.
Matts birthday weekend!
Omg this place is a brilliant little find it was perfect for our weekend away  
I loved every minute of it, perfect close to all the things we had planned the sun was shining which was perfect bbq weather! Which they supplied us with!!! 
The local pub was great! And it was great coming over the field a little tipsy on the way home! Perfect! 
And we all miss the out door shower already! See you soon!!
A little piece of heaven!
My husband, two small children and I just got back from a wonderful 2 night stay at Rushalls Organics. We stayed at the Anglers Retreat and we found it utterly blissful. Right away from it all, steps from a trickling river and completely secluded it is a truly beautiful spot. The setting coupled with a gorgeous kitted out hut with everything you could need meant we had a much treasured and very relaxing experience. The hosts were fab too, very accommodating and happy to spend time showing us how everything worked. Very clever space saving (and comfortable) beds and a compact but fully equipped kitchen inside the hut and the added bonus of not having to bring a bbq or charcoal! It has all been brilliantly thought through. Our children were utterly beside themselves with excitement and had a brilliant time running around, exploring the hut and the environment and looking for fish in the river. There is no doubt in my mind that we will be returning! I'm looking forward to it already! 
Rushall Glamping
We (8 of us) have just got back from staying in both the 'Mayfly' and 'Anglers Retreat' @ Rushall Organics Glamping. From the moment we arrived and were greeted by the lovely Sam (hut manager) we felt at ease. The huts which are so well designed and had ample space even for 8 adults. Inside they are very comfortable and finished to the highest of standards, not a single stone is left unturned, very impressive!

The huts are situated in idyllic riverside locations where we spent most of the day relaxing and enjoying the weather. Sam and Joe (owner) were both so helpful in recommending things to do locally. So taking their advice we went to the 7 Stars at Bottlesford for a wonderful meal and a few drinks in the evening. 
Thank you to everyone there for making it such a special weekend. We will definitely be back to see you and the huts again this summer.

Can't recommend it highly enough!
Riverside Retreat
Following an excellent day fishing at Rushall Organics last year, my husband thought it would be fun to try "Glamping" in one of the Shepherds Huts that he had spotted beside the river. 
So this year we booked a 2 night stay. It was amazing!  "Anglers Retreat" was our choice of hut... extremely comfortable, furnished very tastefully and well equipped. On arrival we were made to feel very welcome by the owners, who were happy to show us around, answer questions etc. 
Situated only a few yards from the river bank in a stunning quiet location it was like fishermans heaven  as the river holds a good head of wild brown trout. Though if fishing is of no interest, the abundance of wildlife and beautiful rural setting make for a lovely relaxing break for anyone!!
We will definitely visit again, hopefully this year!!
Book campsites near Rushall Organics Glamping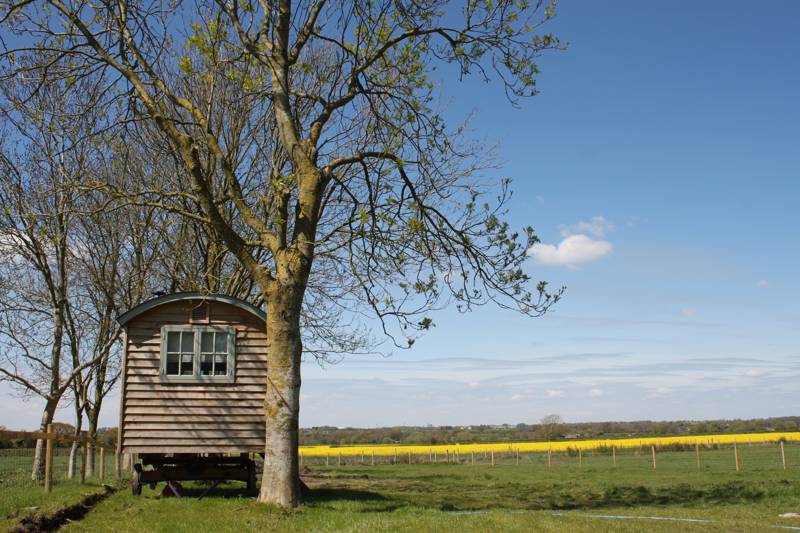 i
Glamping in Avebury
Glamping in Wiltshire
Glamping in South West England
Available:
3 Shepherd's huts
2 Bell tents