Situated amidst beautiful Wiltshire farmland, Botany Camping offers spacious grass pitches furnished bell tents just a stone's throw from Longleat House and Safari park
The grand Elizabethan architecture of Longleat House vies for the public's attention with the exoticism and fun of the safari park behind. The first of its kind outside of Africa, the 500-species-strong park is kept slightly separate from the house, so those planning to admire the crystal clad ballroom won't find monkeys on their bonnet, grasping at the windscreen wipers. On particularly still evenings, though, the roar of male lions can still be heard beyond the encolsure boundaries, carrying over the house to the surrounding Wiltshire countryside.
Beyond the range of the lions' roars and the chattering of howler monkeys lies a small, new campsite with a top location. Three miles from Longleat and ideally situated for exploring the rest of the county, Botany Camping is a charmingly simple campsite that also boasts a colourful cluster of bell tents for those looking for a more effortless stay. Chose this glamping option and you needn't bring much at all, other than your duvet and a devil-may-care attitude. Guests will find futon-style beds, eco-fuel heaters, cooking facilities, and all the utensils required, while campers and glampers alike still share the composting toilets and conventional flushing loos, along with four family shower rooms in a separate shelter.
Each pitch offers plenty of space and includes a firepit where campfires are not only allowed, but positively encouraged, with guests arriving to a thoughtful 'starter pack' including firelighters, wood, skewers and a hefty pack of marshmallows. The site also boasts a small shop at the entrance for buying essentials, while a supermarket in nearby Warminster is well placed for a larger shopping session.
The size of the campsite gives it a friendly, sociable atmosphere, but much of this is also down to the relaxed personality of Crispin, the ever-present, yet unobtrusive, manager, whose welcoming and helpful nature makes him a go-to man for queries of all kinds. It's no surprise then that such niceness has seen him charm his neighbours into offering 30% off Longleat tickets, very handy for family visitors.
Cycling, walking and fishing in the local countryside, along with Stonehenge, Bath and Salisbury, all 30 minutes away, makes Botany Camping a pleasant base for would-be explorers. And if you're there on a clear night you can even use the North Star to guide you. With a proper rural setting and no light pollution, this is the perfect place for admiring the night sky.
Gallery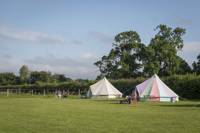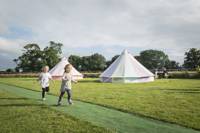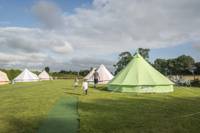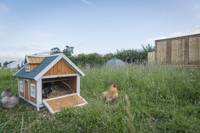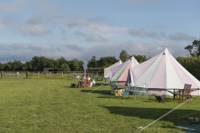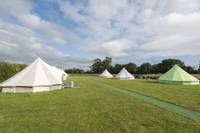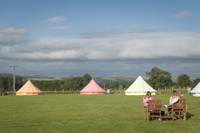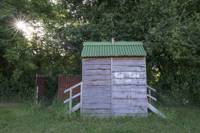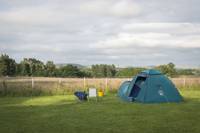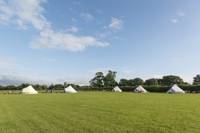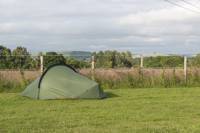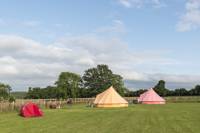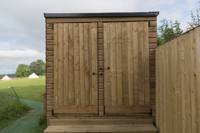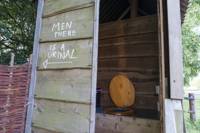 Video Tour
The Owner Says
Botany Campsite is set in the rolling Wiltshire countryside, an ancient landscape of beauty, with stone circles, white horses, and stunning Wessex scenery. Our campsite offers family friendly camping (pitch only) and eco glamping in 5 m bell tents ideal for a family of 4/5, furnished with all the goodies…..
Reader Reviews
Add Your Review
Lovely quiet campsite with fabulous breakfast!
We were staying in our campervan, and had a whole field to ourselves! The BBQ pack was fab, with the option of Thai if we were extra hungry! Showers and toilets were spotless, washing up facilities had everything you need, including washing up liquid and tea towels! The eco loo was handy for night time visits with the kids. The Thai rainbow bus was great, would recommend the pancakes with bacon! A real treat! Campsite is perfectly placed for visits, including five minutes from Longleat and 1/2 hour from Stonehenge. All in all, a well resourced campsite with excellent facilities. We will definitely be returning!
Great little getaway!
Just came back from a lovely weekend at Botany Campground. The site itself was fine - loads of space in the centre for kids and adults alike to engage in a bit of frisbee or football. What I loved was the 'barbeque pack' option - marshmallows included! There was loads of wood and the fire built up quickly and easily. The site was quiet through the night and if one did happen to stay up to look, it's dark enough to see a glimmer of the Milky Way :) We didn't eat the Thai food or the breakfast baps because we barbequed, but loved that it's an option and my partner and I are dead keen to try it when we come again - just remember to bring cash!!
Stunning location, friendly staff
On arrival the staff were prompt to greet us and make us feel entirely welcome. They showed us where to park up and even brought us over a wheel barrow so we could move our things easily. The facilities were brilliant- the loos were so clean and the food availability was fantastic. Camp fires being allowed was such a plus! Would definitely recommend!
Fantastic views
Botany campsite is very charming. Nice big open fields with great views of the country side. This camp site is completely off the grid (so no fridge facilities or any where to plug in a hair dryer ect) Thus is very eco friendly and complete with eco toilets and solar lighting. Every thing was kept very clean and topped up. There's a charming restaurant/tea room in an old bus on site. The owners and staff were very jolly and nice and food was good. There's also some animals onsite. Our pitch was a great size and came with a bbq to use. Great for a few days camp over the weekend. Also just a stones throw from Longleat safari park. Would come back again :)
Something different
Ive never been glamping before so it was a fun experience. It was great that we did not have to take anything apart from our bedding as everything was provided. We got a good deal with 2 nights for 1 but i wouldn't of paid £150 per night as its still quite expensive for what it was. The camp site was in a good location also. A couple of downfalls was that our zip on our tent did not do up properly but this was soon resolved the next morning when we found someone to help fit it. Another is that the string on our tent broke 2 times that resulted in the tent collapsing slightly. This was also resolved as soon as we reported it. The service was great and they helped with everything we asked. Great for familys and friends. Like i said i wouldnt pay that much per night but it was a fun experience and something different.
Great Family Weekend
We returned yesterday from our first glamping experience and it was fantastic. We were greeted on arrival and shown exactly what to do, we unpacked, made our beds and we were ready. We went for dinner in the recommended Snooty Fox which was nice and sat in their lovely garden. We then toasted our marshmallows and thoroughly enjoyed ourselves. We had the best thunder and lightening storm to entertain us throughout the night which our 4 year old slept right through. We took advantage of the discounted Longleat tickets and spent all of Sunday having a brilliant time. Everyone is up early cooking their breakfasts, the kids are able to roam free and play. The showers are clean and warm and plenty to choose from. You really only need your bedding, towels and clothes as there really is everything else you need! I would highly recommend Botany Camping, it's been a proper treat!
Great weekend at Botany Camping
We spent the May Bank Holiday weekend camping at Botany, in a group of five families. This was in our own tents, rather than the glamping option. We were really pleased and impressed with the site, which suited us very well. We had the space to pitch our tents in a circle in one corner and there was loads of space in the middle of the field for all the kids on the site to run around and play. The facilities were also very good, and in some cases brand new! Crispin was very helpful and good to chat to. The proximity to Longleat and Stourhead means that there is plenty to do in the area and the facilities of Warminster are close by. We enjoyed ourselves so much we want to book for the same weekend next year!
Perfectly pitched
We loved this campsite.  Lovely owners, fantastic facilities kept immaculately clean.  pretty campsite with lots of Eco charm.  Great location for Longleat and Stonehenge and good local pubs.  We have two young children who found plenty to occupy themselves and the campfires provided were perfect for a family evening.  We cannot wait to return.
Beautiful and charming
Botany camping has everything we could wish for from a campsite. Crispen was always happy to help and looked after our needs. He and other family members were friendly and knowledgeable about the many local opportunities to enjoy.
The facilities were of a high standard and kept clean with extra toilets and showers being installed ready for this season. I hope this development doesn't go too far as this site is a great example of a lovely small family run site with a whole lot of charm and stacks to do and explore for any camper. 
Loved our stay and can't wait to visit again.
Best Price Guarantee, with no fees
Instant booking confirmation
Trusted for over 10 years
A chance to win £50 of Cool Camping vouchers!
Book campsites near Botany Camping
i
Campsites in Frome
Campsites in Somerset
Campsites in South West England
Campsites in England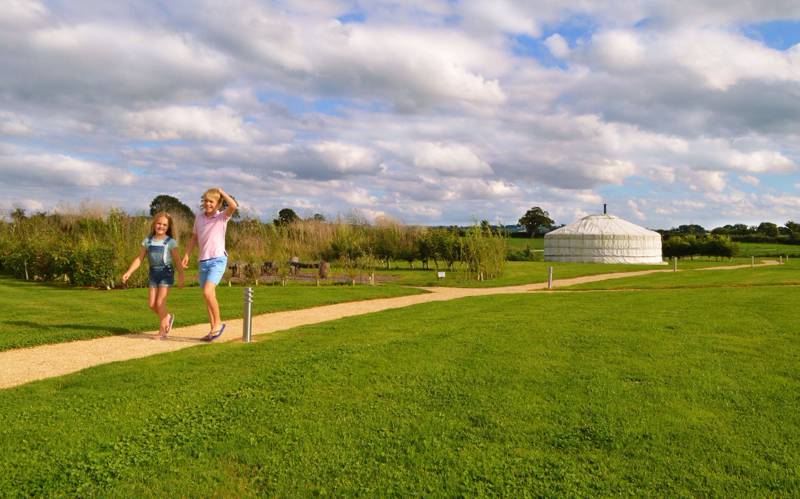 i
Glamping in Shaftesbury
Glamping in Dorset
Glamping in South West England
Glamping in England
Available:
6 Yurt or Gers