A hauntingly beautiful haven of peace and tranquillity
The first time you enter this secretive place is a memorable moment. As the lane reaches the hill's crest it drops suddenly to reveal a breathtaking view of a veritable Shangri-La – a slice of heaven, dropped into the midst of rural Somerset, that is Batcombe Vale – where the camping is not so much 'cool', as 'chilled-out-to-the-point- of-being-horizontal'. Around here, rabbits scoot across the grass, buzzards soar on thermals above, and herons pose majestically on the lakesides. Listening to the plops of fish in the water, you half expect the cast of The Wind in the Willows to come marching out of the hedges.
Batcombe Vale sits in a valley, and within this intimate, hidden, green fold in the countryside lies a single house (belonging to the owners), a stream, several large ponds (or small lakes even), a host of magnificent trees scattered about the valley floor and about 30 patches of ground where you can pitch a tent.
The 30 variously sized pitches are positioned on different levels, with caravans and campervans allocated spots on higher ground and the tent brigade safely tucked away among lush tropical- looking vegetation lower down – though the views are glorious from wherever you are. The four small lakes – one of which has four colourful rowing boats for Batcombe's campers to mess about in – and hidden paths snaking off through the valley's rampant undergrowth.The central patch, meanwhile, is a small oasis of green, with wonky wooden posts positioned at either end for those all important football matches.

The campsite facilities are good, but again a certain, and certainly appropriate, outdoor eccentricity runs through them. Whilst younger campers will find adventures aplenty on the lake and in the wooded valley, the soothing atmosphere of Batcombe Vale will be all the entertainment sensible adults will need.
There are numerous activities to undertake beyond this sheltered enclave: walkers have a choice of paths radiating outwards from Batcombe Vale. Alternatively, within half-an-hour's drive, there are the magnificent Stourhead Gardens, and Longleat Safari Park.
Within half an hour's drive (if you have to get in an ecounfriendly vehicle) are historic places like Wells (with its amazing cathedral) and Glastonbury. At the other end of the spectrum, there is the Fleet Air Arm Museum at Yeovilton or in Sparkford there's the Haynes Motor Museum.
Batcombe Vale is a whole (and better) world in itself. It's hardly surprising that once they've bashed the last peg into the ground, many campers stay put in this bucolic Somerset paradise.
Best Price Guarantee
Easy and Secure, with instant booking confirmation
Trusted for over 10 years
A chance to win a brand new Coleman tent!
Gallery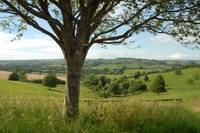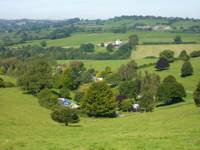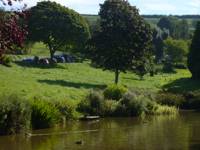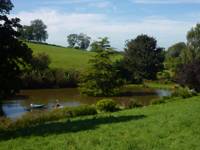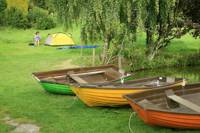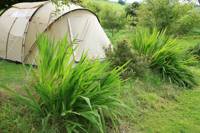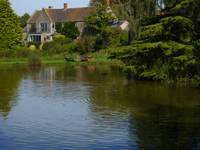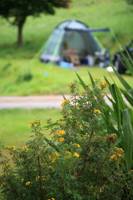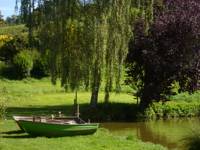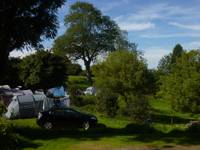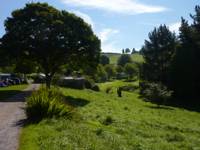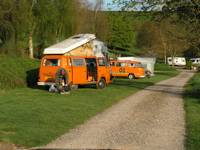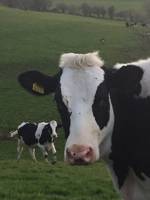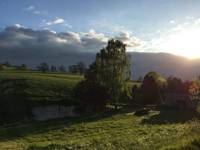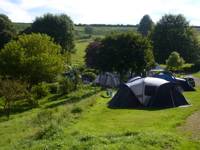 Video Tour
The Owner Says
Batcombe Vale is a small, friendly and relaxed campsite set in an 'Area of Outstanding Natural Beauty' in the rolling hills of Somerset.
There are wild gardens, wooded areas, shaded glades, lakes and a river to explore or simply relax and observe the abundant wildlife. Free rowing boats provide fun for children and adults alike.
Camp fires are permitted but only when hiring one of our own Kadai Firebowls.  Only kiln dried firewood can be used in the Kadai Firebowls, which can be bought on site. The Kadai Firebowls can also be used as a barbecue.
Walks of varying lengths can be enjoyed from the campsite, including one to the local pub, The Three Horseshoes!  This is a quiet and restful campsite.
There are many National Trust properties in the area including Stourhead House and Gardens, Montacute House, Tintinhull Garden and Lytes Cary Manor. The wonderful beaches of Weston-super-Mare, Burnham-on-Sea, Lyme Regis, West Bay and Weymouth are an hour's drive away.
There are also lots of other outdoor leisure activities nearby such as swimming, cycling, golfing, horse riding, caving and many others.
Reader Reviews
Add Your Review
Gorgeous location
Beautiful cozy campsite. Not too many pitches, gorgeous location in a valley and clean facilities! The kids loved being able to run and explore the surrounding area, and the row boats were a hit!
Stunning campsite
Visited this site at the weekend for the second time in a month.  I'd say it is one of it not the loveliest campsite I've visited.  Generous pitches, stunning location, clean facilities, somewhere you can really relax.  This really is a very special place.
perfect rural getaway
This was a joint camping trip for my family and my sister so we met in the middle, my son loved the cows everywhere!  We stayed for 3 nights in August 2014 which was a little damp unfortunately but that didn't ruin our visit at all.
Everything you need is there and kye is the perfect host, the walk to the local pub was fab, through fields with horses cows etc the setting is completely rural and the scenery blows you away. 

if you want remote and quite this is the place for you

Idyllic and Nostalgic Setting
Being let down and double-booked by another campsite was a blessing in disguise! We booked Batcombe Vale last minute for a 2 night stay and ended up wishing we could've stayed longer. 
It is in the most idyllic setting, set in a valley surrounded by the beautiful lush green rolling hills of the west country.
We received a warm welcome when we arrived and were shown to our very ample sized pitch and told that all the surrounding land was owned by the same person and that we were welcome to explore wherever we liked.
After getting settled we started exploring. There is a beautiful picturesque lake with ducks and duckling and row boats which are free to use at any time (our 11 year old spent almost the whole stay on these boats).
There are little glades where families played football and cricket and an even smaller secluded glade with a picnic table. 
In terms of facilities they have washing up sinks, a freezer for freezer blocks, and well looked after toilets and showers.
We had such a lovely time and the only fault I can find is a really minor one which is that the toilet/shower block lighting is on a timer which requires pushing a button near the entrance to turn the lights back on (not great if you having a shower in the evening when it is dark).
Our favourite place to camp
We have stayed here three times.  It is a very well-kept site with spacious pitches, and lovely outlooks. There is a very special feel to the site, instantly relaxing.  The setting is simply idyllic and the walk through countryside to the pub is bliss.  It's recently changed hands, I understand, and we found it a little less organised than previous years (we'd booked six months previously and requested four pitches together - only two were) but the place is so lovely we let them off!
lovely site and clean
We came to camp with family friends and their kids over the Easter weekend. It was freezing, but that's no fault of the site, just our overenthusiasm to camp this early in the year.
The site is very picturesque and winds down a valley with small lakes at the bottom. one with rowing boats which the kids enjoyed. The pitches are mostly level and stepped. The first few along the entrance lane are all in a row and looked a little cramped, but we had 2 pitches around the corner numbers 28 and 29 and they were lovely with great views. It seemed the campervans/caravans used the sites along the main entrance. We didn't have hook up, but there are hook up pitches if you need.
The pitches are a little closer than I'm used to, but perhaps that come with having allocated pitches, as we usually camp in fields. There is a field for kids to kick a ball and run about and I felt it was safe for my children to play, although kept an eye on the little one due to the lakes being accessible.
Ky is the new site manager and he was very friendly, laid back and helpful. We did pack up late and he didn't have any issue with that - probably they weren't booked the following night and he made an allowance for the weather I suppose. The lady who replied to all my emails was very friendly too. Perhaps ownership has changed since some of the earlier reviews.
The facilities were basic, but very clean, which is important to me. Only 2 toilets and 3 showers in the ladies, but I didn't have to queue at all and it was well stocked. Loved the fresh flowers. The washing up facilities also have hot water and the showers were of decent pressure (not power, but better than I've experienced before) and hot - not much area for changing especially when showering kids too, but they looked pretty new shower attachments.
It's not signposted from Batcombe, but is just down the rd from the pub near the y junction. It is signposted from Prestleigh. We got a little lost, but the area is beautiful so didn't mind driving about in circles.
The only negative is that you can't have wood fires, which in the very cold temperatures we experienced would have made sitting out more enticing and as a result I went to bed pretty early. I believe from my husband that they didn't see any fish in the lake so went elsewhere to fish.
On the whole a relaxed and pretty site with clean facilities and friendly manager. We had a good couple of nights.

John Wacott
Fantastic!!! What a beautiful place. Chilled out and surrounded by ducks and trees, like camping in a park – chilled and cosy, can`t wait to come back next year!! A great price and you don`t have to leave the area (except for supplies) as so much countryside around and walking to be done. Thank you very much. 
Lovely site
We have recently returned from a one night stay here and we loved it. The staff were friendly and helpful and there was no problem when we had to cut our stay short due to campervan issues. The facilities are of a very good standard and kept extremely clean. The boats on the lake are brilliant fun and the walk to the local pub is beautiful. The pub is also worth a mention - serves very good food with friendly, attentive staff. Shame we couldn't stay longer.

The most beautiful campsite I've been to.
This campsite sits in beautiful gardens that are well maintained, in an peaceful rural valley. The couple that look after the campsite are very friendly and were more than helpful when we realised we didn't have a map of the area and no idea where the nearest pub was. The campsite and facilities are kept very clean. The pub (The Three Horseshoes) produces very good quality food, it is a little pricer than usual but certainly not overpriced for the quality and freshness of meals. A small but good selection of ales and ciders. Very pleasant. I have been camping for years now and this is definitely my favourite campsite so far. I am just looking forward to going back there soon hopefully, to get a chance to have a row on the lake. I can't recommend it enough.
Batcombe Vale Campsite
We stayed for five nights and had a great time. The campsite was beautiful, the owners were friendly & the whole campsite had a lovely ambience. We went to the local pub (short walk along a footpath) and it was nice, although a bit pricey for food. The facilities were great & always clean. The owners were friendly and helpful and their home-made scrumpy was fab! Would highly recommend this campsite.
Batcombe Vale Campsite
Beautiful campsite, lovley relaxing week, welcoming and helpful couple. Pitches are well maintained, the grounds are tranquil, a really perfect place to stay.
We left the site reluctantly to go to Tesco's and on the day it rained we went to Wells to see the filming location of Hot Fuzz. Otherwise we floated around the site, enjoyed watching the birds, sitting by the lakes and on the boating lake, absorbing the slow pace of life in the Vale.
Hoping to return very soon for another dose of Batcombe magic.
Batcombe Vale Campsite
Maybe the people running the site have changed because they were lovely to me! This place is amazing. So idyllic. I had my campervan hooked up looking over the tiny lake with the rowing boats. It is just so beautiful. heading back there again to explore the area more and because two days weren't enough. If you're looking for someone chilled out and idyllic then head here - it is breath taking. Facilities were nice and clean with really hot free showers. @selinabarker - 6 months travelling around the UK living and working from my campervan, Beryl
Batcombe Vale Campsite
This is a fantastic site. Really peaceful and relaxed in a beautiful part of the world. The site is well looked after without looking manicured or regimented. We stayed here for 12 days this summer and thoroughly enjoyed our stay. Barbara and Gary could not have been more hospitable and gave us lots of info about the area. Our daughter particularly loved the boats and would have spent all day messing about on them given the chance. We have visited this site twice so far and will definitely visit it again as it was worth the 8 hour drive from Scotland.
Batcombe Vale Campsite
What a wonderful idyllic campsite!!! We stayed for 6 nights in July and absolutley loved it. Barbara greeted us on arrival and showed us to our pitch and explained the layout of the site, very friendly. There are just over 30 pitches set in a valley in the middle of beautiful countryside. Our pitch was plenty big enough and although the electric hook up pitches seemed smaller, they were still sizeable. We were in pitch no. 33, in the back corner under a tree, flanked on 2 sides by a small bank, with fields beyond and had a great view of the site. The site facilities are clean, free showers with plenty of hot running water, the ladies had 3 showers, 2 toilets, 3 hand basins with mirrors and also 2 electric points should you need to take a hair dryer. There are 2 sinks for washing up at the shower/toilet block but there was also a uncovered sink and a drinking water tap at our end of the site for rinsing, only cold water here though. The surroundings are stunning, take time to have a stroll around the fishing lakes. The nearest pub is the Horseshoes in Batcombe, it's a 20-25 min walk through fields, and not too hilly, nice on a summer evening (Good food but a bit more a la carte and not so cheap). The campsite will provide a map. We found for other pubs, we needed to drive, but we ate at The Bell in Evercreech (basic pub grub but good), The Old Red Lion at North Brewham (quirky, but great home cooked food) and Strode Arms in West Cranmore (good pub food) If you need supplies, we went to the large Tesco at Sheppton Mallet, roughly 10 miles away. If you want to get away from it all, this is the place to go!!
Batcombe Vale Campsite
Peaceful, well-kept, truly beautiful campsite... Surrounded by stunning countryside... Run by a lovely friendly couple... Made a blissful week away...
Best Price Guarantee
Easy and Secure, with instant booking confirmation
Trusted for over 10 years
A chance to win a brand new Coleman tent!
Book campsites near Batcombe Vale Campsite