Book campsites near Pool Bridge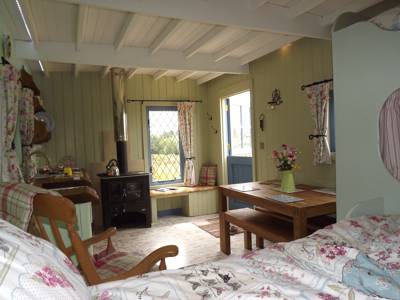 Campsites in Lynmouth & Lynton
Campsites in Devon
Campsites in South West England
Available:
18 Pitches
1 Yurt or Ger
2 Shepherd's huts
Riverside campfires and a magical woodland setting in the Exmoor National Park
You can throw all the bells and whistles you like at a campsite but, in our experience, there's just a handful of things that make a place really special; a beautiful, out-of-the-way location, somewhere to start a campfire, and a warm and friendly welcome. Which is why we love Poolbridge.

Located just outside the pretty Somerset village of Porlock at the top of the Horner Valley, Poolbridge is spread over two meadows and surrounded by ancient oak woodland, through which runs the burbling River Homer. There's plenty of space for tents and motorhomes to set up camp and the riverside is the perfect spot to start your campfire. Facilities are minimal but the campsite is all the more special for it. Even so, all the basics (showers, toilets, and washing-up facilities) are covered and there is a small shop for the essentials as well as firewood, kindling and firelighters. Be sure to stock up on local produce while you're here such as milk, bacon, sausages and steaks from the nearby farm.
If you'd rather avoid pitching a tent on arrival, there's a bell tent or camper available to hire which can be positioned next to the riverbank to enjoy it's gentle flow beside an open fire. The bell tent comes with a wood burning stove, beds and bedding, lighting and outdoor seating, and the camper comes with heating, beds and bedding, lighting and outdoor seating.
This unspoilt south-west setting is truly nature's playground. The river (shallow and stream-like rather than gushing rapids) is a great place for kids to hone their dam and bridge-building skills, while the rope swings in the woods will keep them entertained for hours. Poolbridge is also a great base for a walking holiday with plenty of routes direct from the campsite. Head up to Dunkery Beacon, the highest point on Exmoor or walk down along the river and reward yourself with a cream tea at the end.
Porlock village, 2.5 miles away (which you can walk to by following the river through the woodland), has a great little shop and plenty of decent options for eating and drinking.
Poolbridge has been keeping campers happy for 32 years and it's easy to see why. If you love the great outdoors, peace and tranquility in a beautiful setting, and sitting around the glowing embers of a campfire late into the evening, this gem of a campsite is for you.
Details
Facilities
Showers (1M, 1F), WCs, washing up facilities, A small shop stocking the essentials as well as logs, kindling and firelighters.
Suitable For
Tents, motorhomes, groups, dogs – yes. Caravans – no.
Nearby
There are numerous bike trails and walks direct from the campsite through nearby woodland and onto Exmoor where you can spot wildlife including red deer, birds of prey and the fampus Exmoor ponies. Head up to Dunkery Beacon, the highest point on the moor, or follow the Homer River for a more level walk. Experience Exmoor (01271 889316) offer four-wheel drive excursions through some of the south-west's most remotest tracks. The National Trust-run Dunster Castle (01643 821314) and Holnicote Estate (01643 862452) are both nearby and the West Somerset Railway (01643 704996) is a must for steam train enthusiasts. Historic Porlock Weir – where Exmoor tumbles into the sea – boasts a charming tidal harbour and buildings dating back to the 17th century. Or get up close and personal to some impressive birds of prey at the Exmoor Owl and Hawk Centre (01643 862816).
Food & Drink
The campsite shop stocks farm produce including milk, sausages, bacon and steak. The nearby village of Porlock is 2.5 miles away where you'll find pubs, restaurants and a village shop. Try The Ship Inn (01643 862507) with good beers, decent food and a lively atmosphere, Mrs Jackson's Victorian Tea Room (01643 862794) for delicious cakes or a traditional cream tea, The Home Cook Cafe (01643 862015) for tasty, good value lunches, or Piggy in the Middle (01643 862647) for a fish and chip supper.
Open
Mid March – end of October.
Location
Contact Pool Bridge, Pool Bridge Camp Site, Nr Porlock, Minehead, Somerset, TA24 8LX
Getting There
Take the A39 Minehead to Porlock road and turn left at sign to West Luccombe and Horner. In 500 yards turn right, then take next left and keep left until you get to the river. Before the bridge turn right and you will see the entrance gate.
Reviews
Add Your Review
Rated ★★★★★ over 7 reviews
Beautiful scenery across the whole campsite
We love Pool Bridge, tranquility and beautiful surroundings make for a relaxing break every time! Proper campfires and the potential to make your own personal bathing pool are definite winners. Plan to keep coming back for years to come!
Lovely campsite
This campsite is like something out of a storybook: the children in our group ranged from 6 to 1 and all had a great time at the rope swings, in the river and generally making their own entertainment. Although it got busy over the weekend it wasn't too crowded and each pitch had a reservation sign so it didn't get cramped. The little shop is great and Simon and Tracey, the owners, are excellent hosts. I read lots of reviews that mentioned the descent into the site; it's not as bad as I feared, to the extent that I was bracing myself only to realise we'd already done it. There's a lovely trail just outside the gate which follows the river and we saw lots of butterflies including some huge fritillaries. The only tiny downside was the smell from the chemical waste disposal; I don't think I'd like to be pitched too near there but otherwise, no complaints whatsoever.
Heaven in a valley
Pool Bridge is the most beautiful campsite I have been to. My two children age 8 and 5 had the time of their lives playing on the steep wooded slopes on either side of the burbling brook that runs through the campsite. They spent most of the holiday ankle deep in the water, splashing and generally having an amazing time. There are beautiful walks from the campsite (the campsite owner very kindly told us about lots of walks we could go on) along the river to Horner where there are two tea rooms. Along the way there are some lovely spots for bit of wild swimming too. The best things for me about Pool bridge are the night skies and the wildlife that you see and hear.
Hidden valley, happy kids!
Lovely little site in a great Exmoor location. 3 dads plus 6 little kids and not a complaint from any of us. It's chilled out, simple, basic camping with rope swings and river dams, but watch out for the ninja squirrels in the early morning rummaging through your stuff! If you are used to mega fancy wash blocks, cleaned every 10 mins, and rubber floored play areas, this will bring you back to earth. If you are happy using a plastic box in the river for a fridge for milk, you'll love it! Make sure you: visit Porlock and Porlock Weir, see the highland (lost?!) cows up on the moor, bring plenty of marshmallows for the campfire and a comfy chair to just chill out.
Beautiful, perfect little gem
We try to get down to what we consider our secret little hide away at least three or four times a year. Builders van, bed in the back, gazebo tacked to the side and a couple of old leather arm chairs for good measure. And every time we stay we have to pinch ourselves at how beautiful this magical place is. A level grassy strip of paradise next to a babbling river set low in a steep wooded valley. We always try to get down midweek Sunday eve to Thursday when at times we are the only people there. In all seasons and all weather it doesn't matter it always seems perfect. Of course weekends and summer holidays are busier but always with campers that are considerate (mainly groups of posh families!) we have never been disturbed or put out by fellow campers.  Its lovely to sit on the river bank next to an open fire, sparks flying into the starry night, quaffing wine, leaving the hustle and bustle of the world behind. we love the fact that there is no phone signal. If you need to connect to the rat race there  is perfect signal on top the hill, a few hundred meters back up the lane that leads down to the site.  The owners are great, really friendly and always make us feel very welcome. There is a little shed from where they sell large bags of split logs, kindling and other little essentials. The facilities are simple but spotless. Lots of piping hot water in the showers, and new washing up sinks to boot. 
I could go on and on.... best tip,  farm the kids out to the inlaws, throw a sickie and go midweek, from early spring to late autumn, and take lots of nice food and plenty of plonk. Oh, and an axe.
Amazing must visit
My family stayed here recently for 10 nights. This is truly an amazing campsite so beautiful. There are no marked pitches , there are no campers on top of each other , there are lots places to tuck yourself away if that's what you want. We arrived on a Sunday and the site had lots of spaces we decided to camp by the  stream at the end so we could keep an eye on our children in the steam ( very safe) we had a perfect stay until the Friday - weekend campers. The weekend campers were large groups (5+ tents ) the groups understandably camped all close together - the groups themselves were not youngsters and were not noisy at all it was nice to see the site busier, the problem I found having large groups was that for families such as mine going on holiday the whole social part of camping was lost. My children couldn't play with other children as they were all part of the group so they weren't interested in making friends- they were disappointed . Also as adults we also like to make friends and join other families for an evening chat/drink etc - this lovely part the camping experience was lost at weekends. Again though mid week was perfect! 
Lovely to have a camp fire in the evenings and walks in the woods( saw 2 wild exmoor ponies on one walk) there was a couple of mornings we were greeted by 3 sheep outside our tent ( they had escaped from near by farm lol) thought thus was fab! Not something you see every morning! The squirrels well they are very clever little things be warned - do not leave food about they will find it! First 2 night had cool box in porch of tent , they raided every morning until I moved it into the car- and that is were it stayed lol 
Facilities are basic but perfectly adequate the owners work hard to make sure it's clean and you have the best time possible. They are there in the mornings and early Eve when they open their little shop! The owners also sell meat ( from there own farm) which cannot be missed you must try the burgers and lamb!!!
Site is perfect for exploring North Devon and Somerset . We had a fabulous time and would definitely  return again and recommend to others ( although I may keep it to myself as I would hate to see it over populated and noisy as lots of other sites are) no seriously I would and have passed this site on to others as totally fab!!! 
Amazing location, what a hill!
Fantastic and beautiful site, however be warned driving there with our Clio was interesting! The valley down into the campsite is incredibly steep and windy. Campsite is really stunning and has loads of varied walks straight from the site.Stayed Thursday to Sunday and shared the campsite with some very well behaved students on the Thursday. However be aware it was fully booked on the weekend with some large groups which were very noisy and played music from their cars etc. not quite the rural retreat we had hoped for with that in mind, but would be incredible if larger groups were not allowed. (The owner told us they have many duke of edingburgh students stay there and the ones we met were no bother, it was the larger parties with multiple children that caused the disturbance!) Oh and zero signal for miles, you have been warned!
Response from Pool Bridge
Thank you Abigail for your structured review. Your right, it is an amazing location, at the top of the beautiful Horner valley. The Exmoor National Park is a hilly area and the road to the camp site fortunately has more passing places than a lot of roads on Exmoor. Weekends can be busy, but we do have families that join together that have forged relationships at the campsite over the many years of visiting. If there is a noise problem, people would speak to myself or Simon and we deal with it. If, on the rare occasion someone is being a nuisance, then they will be asked to leave. The phone signal can be obtained, if you really want it, at the top of Ley Hill, about half a mile away. Any messages for the campers, we are quite happy for people to ring the farm and we will relay. Pool bridge is a riverside campsite set in an ancient oak woodland, probably mobile signal and wifi is best left at the top of the hill.