Thought and attention put into every detail, resulting in an exquisite and exclusive hideaway
It was around the time Em and Andrew were thinking about a shepherd's hut that Em began to consider designing and selling interior accessories. It's now easy to see why. "The hut is like a five-star hotel in a field", she explains as we swing open the grey-blue, two part door and inside the living arrangement certainly echoes that very sentiment. The eye for detail is incredible with not only every item you could possibly need but also the likes of artwork on the walls, rustic bronze fittings, candles, ornaments and a stash of comfortable pillows. It doesn't feel cluttered either. There's a wealth of goodies waiting in store but everything has its place – even the steaming welcome tea tray that's there on your arrival!
Perhaps we gush a bit. Afterall, this is hardly humble shepherd's camping, what with an en-suite toilet and shower, but that's precisely the point of the incredible glamping setup! There's still a very tangible element of the outdoors here too. Outside there's a barbecue and firepit accompanied by a hanging grill, or grab the telescope under your bed to make the most of the night skies. It's a top spot to enjoy relaxing on the farm and if the weather's bad you can still shut yourself away, read a book and listen to the raindrops tapping teasingly on the rooftop.
"We wanted something that would suit the style of our 500 year old farm", Em goes on, gesturing towards the animals and describing the "mosaic of countryside". There's something fitting about the shepherd's hut within the rolls of open landscape. The Blackdown Hills have been a designated Area of Outstanding Natural Beauty since 1991 and here on Beetham Farm, Dimpsey Glamping does manage to match it all for beauty. The manor house interior of the hut, like something out of Country Living, emulates the beauty on the doorstep and the traditional types of activities that are best enjoyed here like walking, cycling or horseriding. It's also an easy escape down to the coastline, half an hour away – there's a flask in the shepherd's hut so you can bring a cuppa with you.
It all fits into place like hand in glove. A place that shepherds of old could probably only dream of. If you look over the cupboard that's in front of you when you very first step inside, though, there is a quaint ode to all their hard work – a tiny postcard painting of a shepherd in the field, leaning peacefully against his crook. Small, unnoticeable yet wonderfully well placed, it's just another little feature that shows the thought that's been put in.
Best Price Guarantee
Easy and Secure, with instant booking confirmation
Trusted for over 10 years
A chance to win a brand new Coleman tent!
Gallery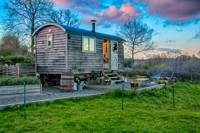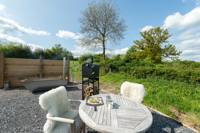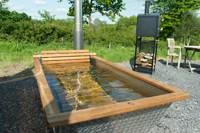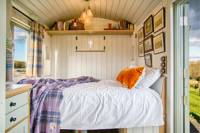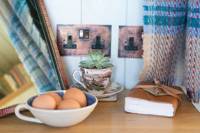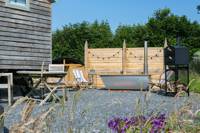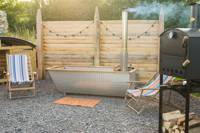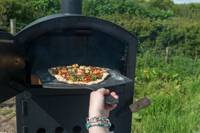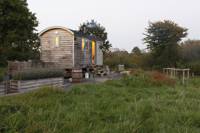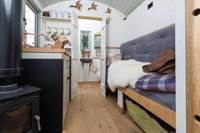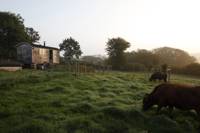 Reader Reviews
Add Your Review
Lovely retreat
We stayed at Em's shepherd's hut for a last minute getaway in October. The email from Cool Camping promised a lovely retreat from the digital world, and it didn't disappoint.
We had a relaxing break in the beautifully furnished lodgings. We ate out locally, following the good advice given by Em.
We would recommend Dimpsey to any couple wanting a romantic break, although the hut has enough room for children too.
Donna and Jon   
Perfect introduction to Shepherd's Huts
Having not been "glamping" before, my girlfriend and I decided to treat ourself to a 2 night stay in a shepherds hut. Having looked around on Cool Camping and other sites we kept returning to Dimpseys take on an old classic. From looking at the pictures of the beautiful interior, picturesque surroundings and the informative website, it all sounded perfect. All was booked and we received a lovely email from Em welcoming us and giving additional arrival information. Upon arrival at the farm we followed the track around to a gorgeous shepherd hut all by itself over looking stunning views of the Blackdown Hills. Em and Andrew decided to have only one shepherd hut on the farm which adds to the exclusivity of the stay. Surrounding the hut is a little paddock with some dexter cows, some chickens and some geese. 
The hut itself have been very well thought out and no expense has been spared in creating a charming but practical retreat. Inside there is a table with bench chairs covered in Sheep skins which can be converted to a double bed, a log burner (with unlimited logs), a belfast sink with copper fittings, a powerful shower, toilet, stone sink, fridge and all the utensils and crockery you could need. They have really made an effort to help you reduce the items you need to bring to simplify your stay. The interior is very warm and homely and with lovely country pictures on the wall, tartan rug curtains, countryside related books and magazines, a games basket and fresh towels. The attention to detail in the hut is like nothing we had seen anywhere else even down to all the copper light switched and plugs. Great effort has also been put into using British products throughout the hut. When we opened the door to the hut there was a tray waiting with tea and homemade biscuits and fresh milk, butter, bread and bacon left for us for the next morning. Outside there is a firepit, table, chairs and a lovely wooden coffee table.
Other than seeing Em briefly one morning we were very much left to ourselves to enjoy our stay although she is very happy to advice on things to do in the area, places to eat and shops to get food. 
On our first day we visited Barrington Court which was not far away and was a lovely little National Trust Property with extensive orchards and a unique empty house with an interesting story. In the evening we had dinner at the Candlelight Inn about 5 mins down the road which we can both recommend. The portions were a little small but the quality was excellent and the interior is just how pubs should be. It was a little cold on our stay so was lovely to have a pint in front of the fire too. The hut is also not far away from the coast with the closest being Lyme Regis at 45 minutes. 
I feel it is going to be hard to top Dimpseys Shepherd Hut for a special stay and hopefully look forward to returning in the future. 
Book campsites near Dimpsey Glamping