A tiny, homely campsite just a few miles fro Glastonbury Tor
Hundreds of years ago these low, Somerset Levels were deep under water and, legend has it, that the teenage Jesus came by boat here with Joseph of Arimathea – an unlikely event that inspired William Blake to pen 'Jerusalem'. Alas, at that stage Bridge Farm would have been well below the depths, so don't expect to find any heavenly footprints between your guy ropes. The place does still boast its fair share of 'green and pleasant' pastures though, the tiny, one-acre campsite included.
Set amid the wider 600-acres of Bridge Farm, the simple square campsite is bordered on three sides by hedges, while the generously sized loos and shower are a short walk away through an adjoining field. The quiet, flat roads around the farm are perfect for novice cyclists or, indeed, experienced cyclists who want to take it easy. There's a National Byway Loop very close by that uses minor roads to form a circuit taking in Glastonbury and Wells (turn left out of the farm then left again to join it). Alternatively, you could make up your own local route, perhaps touring the many vineyards and cider orchards that strew the area.
To the east, Glastonbury Tor pokes above the hedge top and can be easily reached via five (almost car-free) miles along the back roads. When the sun sets behind its simple church tower, it makes for what is undoubtedly one of the great iconic views of England. It's also home to the King of the Fairies, Gwyn ap Nudd, so it's nice to know that such a regal spot can still be enjoyed from an unfussy field on a Somerset farm.
Best Price Guarantee
Easy and Secure, with instant booking confirmation
Trusted for over 10 years
A chance to win a brand new Coleman tent!
Gallery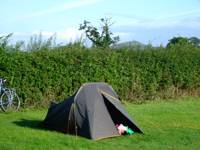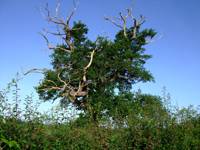 The Owner Says
Reader Reviews
Add Your Review
Beautifully peaceful!
We stayed here for one night in our motorhome at the end of September 2013 on our way to Cornwall, and what a lovely peaceful place it is!  There was only one other guest staying at the campsite, so we more or less had the field & facilities to ourselves.
The toilet & shower facilities are a short walk from the camping field itself past a field with some lovely horses, and are clean & more than fit for purpose.  The field itself is just far enough from anywhere else to ensure that the only sound that will wake you in the morning is the cows on the farm, yet it's in a perfect location to explore the nearby attractions of Glastonbury town & the surrounding area.
If you're looking for a peaceful retreat in the middle of the countryside, with just the basic amenities that you would need for a campsite, then this is perfect for you; 
Book campsites near Bridge Farm