Book campsites near Pitchperfect Camping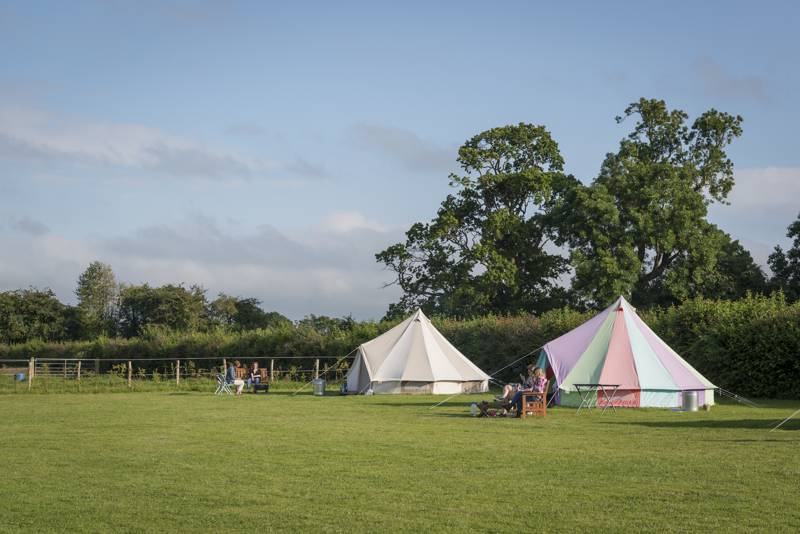 Campsites in Warminster
Campsites in Wiltshire
Campsites in South West England
Available:
25 Pitches
20 Bell tents
1 Yurt or Ger
Campsites in Frome
Campsites in Somerset
Campsites in South West England
A rural tent-only Somerset campsite, in a top location for visits to Bath, Salisbury and Frome
Few sites can better convey the draw of the Somerset countryside than Pitchperfect Camping – a site whose origins spring from evocative memories of the surrounding land. Yearning for a lifestyle back amongst the pastures, James and Emma gave up their jobs in bustling Brighton to craft their perfect campsite. With nothing but a dreamy image of sunsets, campfires and rolling hills, they bought an empty plot of land, rolled up their sleeves and set about creating what is now one of Somerset's most charming sites; a slice of rural bliss in a prime location.
Set in a grassy meadow, surrounded by a paddock where horses nose amongst the daisies, Pitchperfect has 42 tent-only pitches, centered around a children's play area. There is ample space at each pitch and the abundance of toys and ride-on tractors make this a paradise for kids. Sparkly new facilities are kept immaculately clean and well maintained, while clever touches like the hairdryers or fridge-freezers show that Emma and James have really thought the place through.
Head to the onsite shop, well stocked with a bounty of local produce, and have a browse through the handy "ideas board" where previous guests have pinned their recommendations. The colourfully scrawled tidbits will point you toward spots like Frome, with its yellow-stone cottages and attractive centre, or Longleat, one of the UK's most magnificent stately homes, joined improbably to a drive-through safari park. Further afield the historical towns of Bath and Salisbury make for excellent day trips, with the latter just a short distance from Stonehenge.
The owners enthusiasm is infectious and with your plan made, the only challenge is dragging the kids away from the onsite fun and games. The free-roaming chickens, sociable ponies and evening marshmallow sessions around the campfire make it an easy place to lose track of time. Not that it's a bad thing. There are few better places to kick back and enjoy being on holiday. Grab a local cider, fold out a chair and enjoy the tranquility of this bucolic little bolthole.
Details
Facilities
6 showers, 5 mens toilets, 7 women's toilets and a family unit. The washing up area has sinks, 2 fridge freezers, a kettle, microwave, book swap, kids toys, washing machine and tumble dryer. There's a trampoline, wooden pirate ship, swings, grass mound for kids to play on and ride-on tractors and scooters. There are plenty of animals to be found. Small ponies in the top field, horses the other side of the fence and free range chickens and ducks roaming around. An onsite shop sells all the camping essentials, including local beers and wine.
Suitable For
Tents only. Dogs, families and groups on prior arrangement – yes. Motorhomes, trailer-tents and caravans – no.
Nearby
Pitchperfect Camping lies in an excellent location, with the local villages of Rode and Woolverton boasting five pubs between them. It's also a short drive into Frome (01373 465757), one of Somerset's most attractive towns. The 14th century built Nunney Castle (08703 331181) vies for your attention along with Longleat (01985 844400), an Elizabethan stately home with a safari park in its extensive grounds (the campsite can offer discounts). Wardour Castle (01747 870487) and Stonehenge (08703 331181) border historical Salisbury, while in the opposite direction the elegant city of Bath is based around England's only natural hot springs. Bristol, beyond, also makes for a good day trip, while lovers of the outdoors should instead head for The New Forest (01590 646600), North Wessex Downs (01488 685440) or the Mendip Hills (01761 462338), all within a hour's drive.
Food & Drink
The Red Lion (01373 830350) serves excellent pub grub within short walking distance. The Mill (01373 831100) in Rode is another mile down the road and is great for families. There's two award-winning farm shops just a 5 minute drive away, both of which have beer gardens and kid's play areas. There's also a good Indian restaurant at the end of the lane called The Bay Leaf (01373 474825).
Opening Times
Easter – end of September.
Location
Contact Pitchperfect Camping, Pitchperfect Camping, Woolverton, Nr Bath, Somerset BA2 7QU
Getting There
From Bath – heading south: from the A36 heading towards Warminster you'll pass the villages of Hinton Charterhouse, and later Norton St Phillip. Enter in to the village of Woolverton and pass the Red Lion pub on your left hand side. There are 3 right hand turns, you will need to take the 2nd, towards Lullington, be careful as it is on a bend, and so indicate early. This road will take you straight to the campsite, you will drive straight over a mini crossroads and pass Sleight Farm on your right hand side, and the site is 300 yards from Sleight Farm on the Right.
From Frome – heading north: on the A361 heading towards Bath, you will enter on to the A36 there are a series of roundabouts all of which you head towards Bath. The final roundabout, at Beckington (which has a Texaco petrol station & Little Chef) keep in left hand lane to go straight on to Bath, approximately ½ mile down the road you will pass over the River Frome and on the left hand side after the Toll House turn left towards Laverton. You'll approach a mini cross road, at which point you turn left, passing Sleight Farm on your right hand side. The site is 300 yards from Sleight Farm on the right.
The nearest train stations are Frome, Warminster or Westbury. All will be a taxi ride from there though. There is a bus stop outside the Red Lion in Woolverton which is about a 10 min walk away but they have regular services.
Reviews
Add Your Review
Rated ★★★★★ over 4 reviews
Falls short of online promise
Pitch Perfect has received some great reviews so I feel sad to add a negative one into the mix. When we visited this July, the new toilet/kitchen/reception block was still under construction. Whilst the facilities (which are extensive) were open and available to use, the area around the block was a mess: builders on site every day, construction tools including a circular saw left lying around on the floor, uneven grit pathways with wobbly plywood stepping stones. The owners described these as 'finishing touches' but if I'd known in advance how unfinished it was I wouldn't have booked.
The field is bordered along one edge by an equestrian centre and it was nice to see the horses close up. However the campsite's own free range chickens were left to scavenge food and had no qualms coming into our tent and car. There didn't seem to be any invitation for children to feed the animals or collect eggs from the chicken coop as suggested online. The owners' unattended dogs were left to poo on the grass.
The playground, was a key factor in picking Pitch Perfect. Centrally located it's great that the children can play while you keep an eye out for them from your tent. However, it was in need of repair and was dangerous in places. No attempts were made to fix or prevent children playing with partially broken equipment (including a trampoline, rope bridge and pirate ship) while we were there. I'm all for children experiencing risk when camping, but not with equipment that they would not perceive to be dangerous. Pitch Perfect's playground feels like it has been left to deteriorate, it's not like a rope swing from a tree which you would naturally approach with caution. Ride on tractors, tricycles and scooters - very exciting at first glance - were all broken too as was the table football in what might have been a brilliant games summerhouse.
Pitch Perfect is a campsite that is trying hard to be 'cool' but falls short. The positives - which include a family bathroom, shop and a tie-in discount for Longleat - felt undermined by the state of the site for which the owners made no apology; we were not asked if we'd enjoyed our stay as we checked out. It all felt pretty soul-less really, a shallow attempt to create a boutique camping experience that didn't live up to its online promise.
Response from Pitchperfect Camping
Thank you for your comments and we are very sorry you didn't enjoy your stay as much as we would have liked. In our defence, at no point have we ever tried to be 'cool' nor offered ourselves as a 'boutique' campsite. We are, on the whole, a back to basics, family orientated campsite and are proud of that. All of our equipment is not left to be unsafe, deteriorate, nor left deliberately broken, and as soon as we notice or are made aware, it has been fixed. It's a shame that these things break but kids will be kids and tend not to look after the toys as they would if they are their own. We have also made our customers aware of current upgrades to our facilities and at no point were they ever described as finishing touches.I do, however, agree about the chickens and I fully apologise for that.  They are now kept inside an electrically fenced area to stop this happening further.I 'm sorry we did not offer you, personally, the opportunity to feed the animals or collect eggs but when children or parents have asked to do so, we have happily obliged.Whilst we appreciate constructive criticism, we do like to be told about issues face-to-face so we can rectify immediately rather than through online comments after the stay and to be called soul-less very unfair indeed.

Fabulous for kids!
We visited for a week as a group of 5 with 3 adults and 2 children, plus our puppy and it was a perfect site for our children! To the degree that no sooner had we stopped the car, the children ran toward the swings and pirate ship and that was the last we saw of them for ages!! The layout of the site was perfect, with pitches all around the edge and masses of open space in the middle with swings, slide, pirate ship and trampoline for all to enjoy. We didn't venture too far from the site through the week and our children spent a great deal of time enjoying being able to fly kites, riding their bikes, and playing with toys. We didn't need to worry about where they were as they could be seen pretty much anywhere in the field.

The pitch itself was spacious - we had plenty of room for a large 6 man tent, a small 2 man tent, 2 cars, plus space for putting out tables and chairs. Some of the pitches had picnic tables which was a welcome addition for us and well used. The field is very open and on a couple of hotter days, we needed to make shade for our puppy as there are no trees on site, but it wasn't really a problem.

The facilities on the site were great - we stayed in a busy summer holiday week and didn't have to queue for toilets or showers. These were kept incredibly clean - at least twice a day and well stocked. I felt guilty on the rainy day we had about going in with muddy boots! The family bathroom was very welcome for us as it made showering the children much easier - the main showers didn't really have enough space to accommodate a child too! The freezers were great for re-charging our freezer blocks throughout the stay and many people used the fridges too. There is also a kettle, microwave and toaster and although we used the kettle a couple of times to make a quick cuppa, at the time of year we were there, it was better not to rely on using any of these 'extras' as they were very popular! The shop on site stocks essentials and very good value ice creams - we managed a few whilst we were there. On a couple of evenings (weekend), a local ice cream van came on to the site and we all enjoyed enormous ice creams from the friendly lady :)
Pitchperfect is a site which allows off the ground fires, and this was a lovely aspect enjoyed by us and many others too. We took our own burner but did buy wood which was very reasonable and if you hire a pit and/or wood, they are delivered to your pitch for you.

The site is in a lovely area with plenty of places to walk nearby - we managed a few short ones including up to the white horse at Westbury (which can be seen from the site - from the top of the pirate ship if you are 3 years old!). It is also close to Longleat and although we didn't visit, many of the other campers on site did. We did also visit one of the local farm shops - White Row Farm which was literally only a few minutes drive from the site. It stocks every type of food you can think of and also has a little restaurant, fish and chip shop and a lovely outside play area and animals - would thoroughly recommend it.

The only negative aspect of our entire visit was cars driving on site. The owners do ask that people drive considerately but there were a few people who sadly didn't take notice of this and drove up and down unnecessarily both far too fast and also through the middle of the site rather than around the edge. Although there is a 'slow' sign as you immediately enter the site, we wondered whether a couple more at the actual entrance to the field might help remind people.

Overall, this is a fabulous field camping site which is family friendly (and pet friendly too - our puppy loved watching everyone go by!) and in a great location. The facilities are great and the owners obviously put a lot of effort in to make sure everyone has a positive camping experience.

Cannot fault it
Stayed here for one night to test our new tent in early June. There is nothing to fault on the site, fantastic owners and brilliant facilities, the dog loved the pigs and running ducks! We felt very welcomed and will definitely go back. Some lovely walks along the local footpaths and very peaceful in the evenings.
Bank Holiday Bliss
Our family stayed at Pitchperfect for the less than sunny 2014 August bank Holiday weekend.  The weather may not have been perfect but this campsites name certainly describes what we all found, a real gem of a tent only family friendly site.  The very friendly owners had obviously given a lot of thought as to what makes a camping holiday comfortable and enjoyable.  Plenty of loos, hot showers, access to fridge freezers, kettles, free wifi and even a microwave.  The latter we saw being put to use by a fraught parent of a small child one evening.  We also made use of the kettle to fill our hot water bottles including one for our spoilt cockerpoo and make tea when the wind proved too much for our small stove.  However the icing on the cake for us were the fire pits which were available to hire delivered to our tents along with fire lighters, kindling and logs but much to ours and our kids delight marshmallows and wooden skewers to toast them on.  This is a great family friendly site with lots of room for the kids to run around and I would certainly recommend giving it a go we loved it!