6m x 2m - 3m Small woodland pitch No.2
Vallis Veg, Egford, Frome, Somerset BA11 3JQ
Sleeps 4

(max 4 adults, 3 children)
Book camping accommodation at Vallis Veg
The Owner Says
This unit has young trees around it and a woodchip base.  It is 6m x 2m widening to 3m x 3m at one end so you can fit a couple of backpacking tents on it.  You can't drive right up to the pitch, but it's only a short way from the car parking space - please pay for a parking space from the extras menu.
READ THE ESSENTIAL INFORMATION FOR CAMPERS BEFORE BOOKING and FOLLOW THE DIRECTIONS CAREFULLY TO AVOID DISTURBING OUR NEIGHBOURS (see bottom of page)
ESSENTIAL INFORMATION FOR CAMPERS
Facilities are very basic - sinks with cold drinking water, compost toilets and private cubicles for bucket washing (no showers), but it's very beautiful and you can have a campfire (in the pits provided only).  We have firewood available to buy. Pay for car parking as an extra if you drive here - it costs the same as one person per night.
GETTING HERE - VERY IMPORTANT:  Directions to our site are at the bottom of this page.  Our neighbours don't like to be disturbed so please follow the directions carefully and make sure that everyone travelling to the site has a copy.
YOUR PITCH: Make note of which number pitch you have booked. You will need to know this so you can find your pitch when you arrive.
WASTE!  We ask campers to take their non-compostable waste home with them, both landfill and recyclables. Access for the business waste collection and recycling trucks is difficult and we haven't been able to find anyone who can collect it. We welcome all food waste onsite - even meat and dairy - as we have some wormeries to turn it into lovely compost. So please leave it in one of our food waste containers. We would be delighted if you would help us with this. Thank you!!!
COMPOST TOILET: Please read the instructions in the compost toilet carefully – and follow them.
OUR NEIGHBOURS: When you are exploring the area please don't continue along the private road past the gate to our field - it only leads to our neighbours - the ones that don't want to be disturbed!  There are lovely walks if you go down the hill from our gate.
FIREWOOD: Fires are only permitted in the firepits provided - see Terms and Conditions for more info. You are welcome to help yourself and pay later, (please return the empty bag to the wood store so we can reuse it).
PARKING: Please pay for a parking place from the extras menu if you're driving here. Is costs the same as one person per night. You can't drive right up to the sites, but we do have a wheelbarrow you can use to move your stuff.
NOISE: Please be considerate of other people on the site. Quiet time starts at 10pm – do stay up late and enjoy a fire into the night if you wish, but be sure to keep the noise right down after 10pm so other people can sleep. We don't allow amplified music.
DOGS: Sorry, no dogs.
We look forward to meeting you!
Cordelia
07870 704299
It is essential to follow DIRECTIONS to Vallis Veg, you can find them here:
http://vallisveg.co.uk/camping/travel-directions-to-vallis-veg/
BY CAR
Important:  please note that we are Vallis Veg, not Vallis Farm.
From Frome: Follow the A362 West through Frome, past a graveyard on the left and then a row of shops on the right. Then take the first exit at the mini roundabout. Continue over the crest of the hill and down the hill out of town. Take the first right onto Elm Lane.
After 200m the road turns sharply left, but you need to go straight on over the old cattle grid (past the Vallis Farm sign but please don't go to Vallis Farm) and start going up the private road.  You will pass a small car parking area on your right, and go up the short, steep hill.  Look out for our Vallis Veg sign hanging in a tree by our gate.  Before you get to the cottages at the top of the hill turn right through the gate (with the sign the tree).  Please don't go past the cottages, the neighbours don't like people to go beyond our gate.
Do call if you have any trouble finding us.
Cordelia    07870 704299        Chris   07870 217513
View Gallery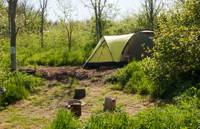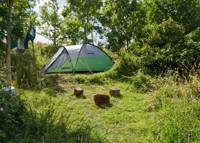 Search all availability at Vallis Veg
Back-to-basics, natural camping with campfires encouraged and easy walks to the local attractions in Frome
The Owner Says
At Vallis Veg we love natural camping spots and we love campfires. These are what we aim to offer our campers. Our site is not a conventional site with lots of tents squeezed together in a flat field. We are a small farm and the camping is little bit wilder – we have levelled spaces among our young trees and we have more open field sites for people with larger tents.
IMPORTANT: READ THE ESSENTIAL INFORMATION AND TERMS AND CONDITIONS BEFORE BOOKING AND FOLLOW THE WRITTEN DIRECTIONS ON OUR COOL CAMPING LISTING CAREFULLY TO AVOID DISTURBING OUR NEIGHBOURS
Site Facilities
Facilities are basic, compost toilets, mains drinking water (cold only) no showers at present. Campfires permitted, with bags of wood £5 each. Occasionally they run Forest School days onsite for kids (organised by Shared Earth Learning – check their website for details). Come in spring/early summer to see the lambs.