Back-to-basics, natural camping with campfires encouraged and easy walks to the local attractions in Frome
Vallis Veg is like a camping version of The Good Life. Well, sort of. When you pitch your tent beneath the dappled shade of an ash tree, and explore the self-sufficient set up of this vegetable-growing, seed-sewing and life-bestowing campsite, you can't help but envisage a haphazard Tom and Barbara strolling out to meet you. Thankfully, though, the farcical happenings of the classic sitcom are left to the realms of fiction. Life here may be good, but it's also wonderfully easy.
Vallis Veg is a back-to-basics, tents-only campsite with rustic facilities. The individual woodland pitches are each surrounded by green and growing young trees and provide a sense of privacy. The leafy site sits on a slight slope but the camping spots have been carefully flattened out and have a light covering of woodchips to ensure some extra comfort.
The ethos of the place can't help but suck you in. If you don't like a little dirt beneath your fingernails, then it's probably not the one for you, but even the most disinterested of gardeners can't help but look on the stripes of the campsite's vegetable patch with envy. Excess produce is occasionally sold on site – just ask what's in season – and owner Cordelia is a wellspring of knowledge on where to go locally to stock up on wholesome, tasty goods.
Frome, for starters, is a pleasant walk away and full of independent food shops. On Cheap Street in the centre of town, Frome Wholefoods and Sagebury Cheese, are excellent and The Old Bakehouse is perfect for breads and cakes. But, if you follow the East Mendip Way along the river in the opposite direction, the walk to Mells (7km round trip) is particularly beautiful and similarly rewarding. Along with taking in the most beautiful stretches of the waterside, the route passes the remains of an ironworks just outside the village, a traditional settlement that's home to an excellent café, a gastro pub and The Walled Garden, serving superb stone-baked pizzas.
Our Best Price Guarantee
We guarantee our prices at Cool Camping are the same, or lower, than booking elsewhere. If not, tell us, and we'll match it or beat it. Full terms here.
Details
Facilities
Facilities are basic, compost toilets, mains drinking water (cold only) no showers at present. Campfires permitted, with bags of wood £5 each. Occasionally they run Forest School days onsite for kids (organised by Shared Earth Learning – check their website for details). Come in spring/early summer to see the lambs.
Suitable For
Tents only (sometimes the odd, small campervan is allowed), couples, families, groups (in their own field) – yes. Caravans, motorhomes, noisey folk, dogs – no.
Nearby
It's a short and pleasant walk to Frome (01373 465757), its compact size belying the range of activities on offer. There are two theatres, ample pubs and cafés, a cinema, several great music venues, a museum and more. Head to the library for tourist information. On the first Sunday of each month The Independent Markethas become a bit of a draw – a colourful and eclectic range of stalls with a buzzing atmosphere. In the very centre of town, the innovative Share Shop sometimes runs free craft workshops (though it's worth a visit anyway). Elsewhere, walkers can head in the opposite direction treading the East Mendip Way to a beautiful bridge at Great Elm. From here you can either carry on to the village of Mells, or join the Macmillan Way south towards Whatley – home of The Grange cookery school (01373 836522) – and on to Nunney, with its own castle (03703 331181), a fab pub (01373 836458) and a small café.
Food & Drink
The campsite can sometimes sell veg or other farm produce direct to campers, just ask what's available when you arrive. There are endless independent shops in Frome, including two butchers in Badcox. H.E. Williams (01373 462797), which is down a little side street and whose family has run the business for approaching 100 years, is a great option, while Cayfords (01373 462701), again a long term family-run affair, is another great choice. Both are about 20 minutes' walk from the site and on the way into town. For pubs, The Griffin (01373 467766), on Milk Street, often has live music and games nights and hosts a microbrewery onsite. The Three Swans (01488 682721) is at the top of Cheap Street and is also very popular. The Lamb and Fountain (01373 463414) at the bottom end of Castle Street is a third pick, wonderfully unpretentious and a little more undiscovered.
Opening Times
May to October
Why book with Cool Camping?
Best Price Guarantee, with no fees
Instant booking confirmation
Trusted for over 10 years
A chance to win prizes in our regular competitions
The Owner Says
At Vallis Veg we love natural camping spots and we love campfires. These are what we aim to offer our campers. Our site is not a conventional site with lots of tents squeezed together in a flat field. We are a small farm and the camping is little bit wilder – we have levelled spaces among our young trees and we have more open field sites for people with larger tents.
IMPORTANT: READ THE ESSENTIAL INFORMATION AND TERMS AND CONDITIONS BEFORE BOOKING AND FOLLOW THE WRITTEN DIRECTIONS ON OUR COOL CAMPING LISTING CAREFULLY TO AVOID DISTURBING OUR NEIGHBOURS
Video Tour
Pitches
5 small woodland pitches, 1 woodland pitch big enough for a 4m bell tent

Check Availability
Location
Contact Vallis Veg, Vallis Veg, Egford, Frome, Somerset BA11 3JQ
Getting There
Please note that we are Vallis Veg, not Vallis Farm.
From Frome: Follow the A362 West through Frome, past a graveyard on the left and then a row of shops on the right. Then take the first exit at the mini roundabout. Continue over the crest of the hill and down the hill out of town.
Take the first right onto Elm Lane. After 200m the road turns sharply left, but you need to go straight on over the old cattle grid (past a sign to Vallis Farm) and start going up the private road.
You will pass a small car parking area on your right, and go up the short, steep hill.
Look out for the Vallis Veg sign hanging in a tree by a gate. Turn right through the gate with the sign in the tree, (before the cottages). Please don't go past the cottages, the neighbours don't like people going beyond the gate.
Frome is served by trains from Bath Spa, Bristol and Weymouth and by a bus service (the 267) from Bath. The train station is about 2 miles away and the 267 bus stops a short walk from the site, so if you are coming by train it may be easiest to get off the train at Bath Spa, walk a minute or two down the road to the bus station, and catch the 267 bus to Frome. The closest bus stop to the site is at the top of Broadway, just before the Royal Oak pub.
Reviews
Add Your Review
Rated ★★★★★ over 16 reviews
Amazing!
Absolutely amazing place. A true back to basic campsite. We are camping a lot and usually we are looking for semi-wildcamp sites. This one was the best so far💕🤘
Loved it!
So much better than camping in a fieid! Private sites each surrounded by young woodland, basic but clean and adequate facilities, quiet. Nice flat site even though the ground is on a slope. Birds galore
Secluded yet communal
Each pitch is separated by trees so although they are pretty close, you still feel like you have a sense of privacy. Simple but fully functional facilties are a short walk from all sites. A really nice place to spend camping with friends or family.
Totally Enjoyable getaway
I thoroughly enjoyed my camp here. Instructions are well laid out on a notice board when you arrive. Facilities (toilet and water) excellent. Very clean and tidy no litter anywhere. Pitch was clean, tidy, and secluded. Fire area was lovely managed to cook a decent chilli con carne. great fun toasting marsh mellows later on in the night. If your gonna stay up late recommend 2 bags of fire wood. Only one minor issue and really this is nit picking I couldn't find any newspaper in the log pile. But just pinched a toilet roll from one of the toilets ( as there were a few in each one). Great experience and would Highly recommended.
wild and safe
We camp here as part of our Forest School summer experience and it is perfect. The darkness, trees, wildlife (bats, owls, foxes....) yet freedom to have a fire and for our excited children tosafely go off on their own on a slug watch with torches cannot be beaten. Wild and safe.
Perfect
I couldn't recommend this campsite more. As camping novices I knew from the off that I didn't want to be squeezed together in a field with other tents and our experience at Vallis Veg was far from that. The pitches were perfect, far enough from other campers but close enough to see them, this added a feel of privacy but security (first time camping with myself and a child) at night time all you could see was the distant fires of your neighbours it felt completely wild. The toilets looked brand new and for compost toilets smelt rather clean! The fire pit area on your own pitch was fantastic and we was always only a short walk away from our car. It was just perfect, we will be back again for sure.
Just perfect
What beautiful campsites, secluded and private in young woodland glades. Facilities all you need and very eco, fires allowed (essential camping requirement for me), and couldn't be further from the standard marked out pitches in a flat field! Lovely walk across the fields to great pubs. Saw a barn owl! Just perfect.
A hidden gem!
A beautiful setting with secluded, carefully thought out and peaceful pitches. Each level pitch has its own campfire spot which really adds to the feeling that this is 'proper camping'! Excellent location. A short distance and brief walk to Frome (lovely town with plenty to do and see). Also, very close to the cycle route up to Bath. A great site, friendly and helpful owners. Highly recommended.
Peaceful and idyllic
Quiet, nice walk into mells, short drive to shops. Friendly host and other campers. Personal campfire area next to tent - made the experience. Trees and bushes etc... make you feel like you have a personal private area - although you could see next door campsite Charge for car park a little pricey - considering no public transport links to the site itself and short walk from nearby towns. However pitches close to car so easy to walk back and forward if you leave things in your car. Toilet bit unusual - as a first time camper was strange not to have a flush
Exactly what I love in a campsite. Quiet, friendly owner and fires allowed. Don't need anything else
Not for people who want all mod cons but that's not what camping is about. Compost toilet is fine once you just accept it. Beautiful riverside walk into Mells and we went to Longleat which was a great day out. Lovely few days. Thankyou
It is like a private wilderness
The pitches are so far from each other and surrounded by woods so you hardly know anyone else is there. A beautiful spot and beautiful streams and woods and walks nearby. Of course, because you are in the thick of nature, you have to be happy to share your space with nature; plenty of slugs, snails and spiders...
Bank Holiday Beauty!
I was given a campsite request (demand) by my wife for a secluded pitch, nice walking spots & good cycle routes and I couldn't have picked a better place that Vallis Veg! Pottered in Frome for a couple of beers Saturday evening, Sunday we strolled around Cheddar Gorge & Monday we cycled the Colliers Way bike route from Bath to Frome; all of which contributed to a superb weekend & topped off by a stunning pitch at the super friendly campsite. Highly recommended!
Amazing camping experience!
This campsite was everything I could have asked for an escape to nature. The surrounding areas to for for walks were stunning, the vegetable patches and grounds on the campsite were great to explore, and the pitches were secluded with eveything you need! Our pitch was up a little path, then up another little path past our tent was an area to have campfires and logs to sit on. The whole setup was perfect, can not reccommend enough!
Beautiful, peaceful campsite
Absolutely perfect to get away from it all. The pitches are a good size and seem fairly private due to surrounding trees Despite only having one toilet and the whole site booked up it was never busy and never had to wait. Will definitely return for another break and explore more of the area next time - apparently there is a river close by which is ideal for hot weather!
Really beautiful back to basics site
I camped here for a single night and just loved the quiet basic setting. A composting toilet and a sink are the only amenities you need, and although I could see two other tents from my site I felt secluded and it was very quiet. I would definitely book Woodland Site No. 2 again, or book a field pitch if I came with my family. The walk to Frome was quick and very pretty across the fields. The public parking lot at the bottom of the lane is the top of an absolutely stunning footpath leading to Great Elm and Mells, the latter being equipped with a gorgeous community run shop and cafe. The only thing missing was that I would have loved to join in on a communal campfire or social experience in the evening, but you can't have everything in life! I'll be back!
could be improved
Pretty surroundings and friendly owner but really very basic facilities and we didn't think all that suitable for children. Not really enough room in the group camping field for the kids to run around without getting stung by lots of nettles. (beware ticks too, had to pull quite a few out!) Could be improved by maybe a simple play area for the kids and a better set up washing-up area (if they could organise hot water, even better). Compost toilet a nice idea but needs to be better done, as it blocked up quite quickly. We were not impressed by having to pay £7 per vehicle per DAY. Great to discourage driving but pretty tricky to take children and camping stuff to the countryside without a vehicle. We've never had to pay a vehicle charge per day before anywhere else and this felt a bit cheeky and made the overall experience seem overpriced for what you got. Still managed to have a nice time with friends but definitely room for improvement.
Why book with Cool Camping?
Best Price Guarantee, with no fees
Instant booking confirmation
Trusted for over 10 years
A chance to win prizes in our regular competitions
Book campsites near Vallis Veg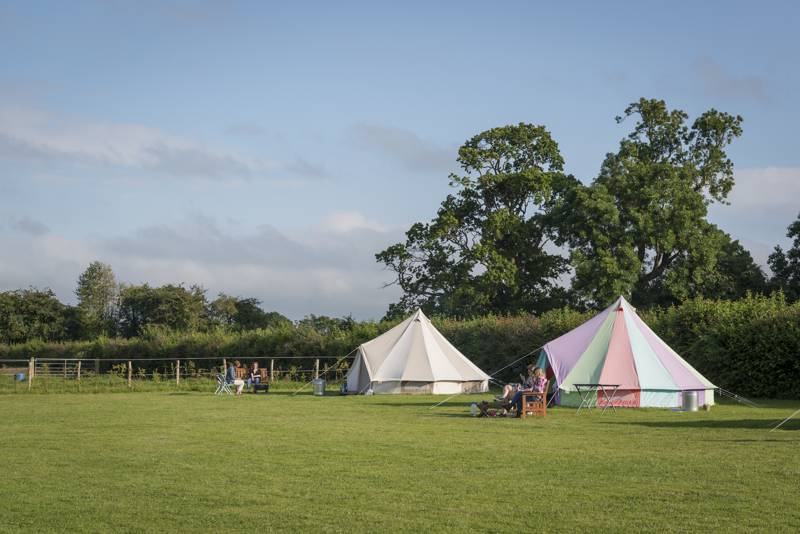 i
Campsites in Wiltshire
Campsites in South West England
Campsites in England
Available:
2 Pitches
1 Bell tent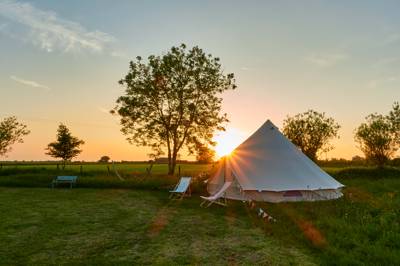 i
Glamping in Wells
Glamping in Somerset
Glamping in South West England
Glamping in England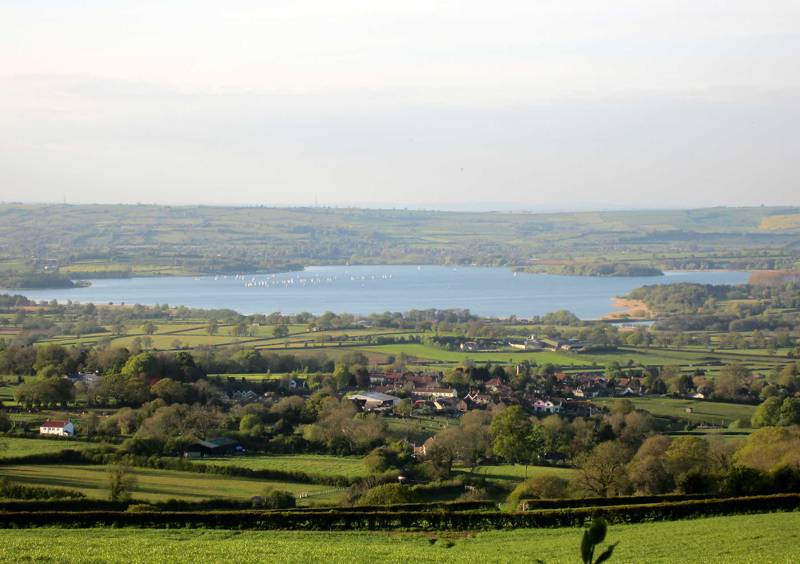 i
Campsites in Wells
Campsites in Somerset
Campsites in South West England
Campsites in England
Available:
1 Cabin
1 Safari tent
1 Pod