Book campsites near Cotswold Meadow Camping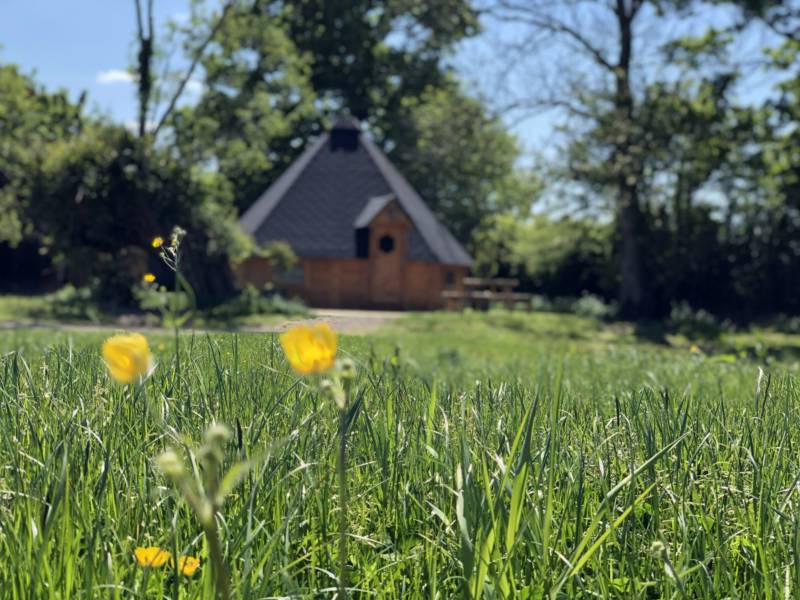 Glamping in Wickwar
Glamping in Gloucestershire
Glamping in South West England
Available:
2 Pods
1 Shepherd's hut
2 Cabins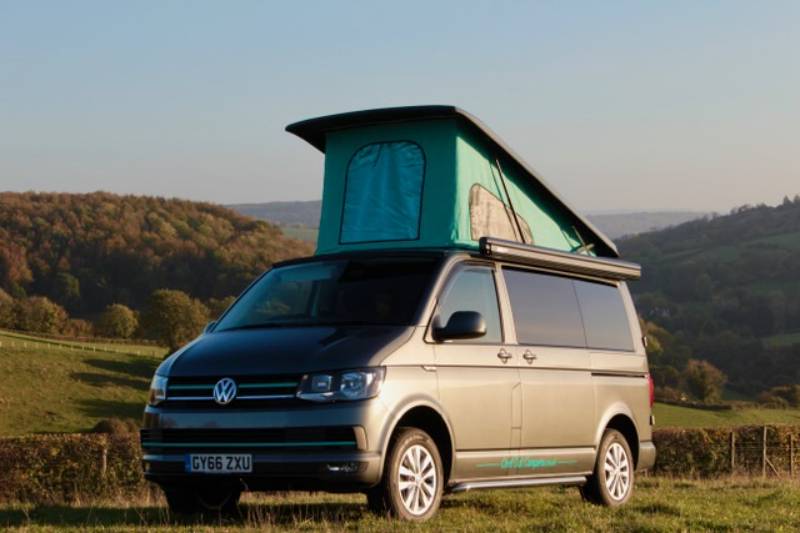 Holidays in Bath
Holidays in Somerset
Holidays in South West England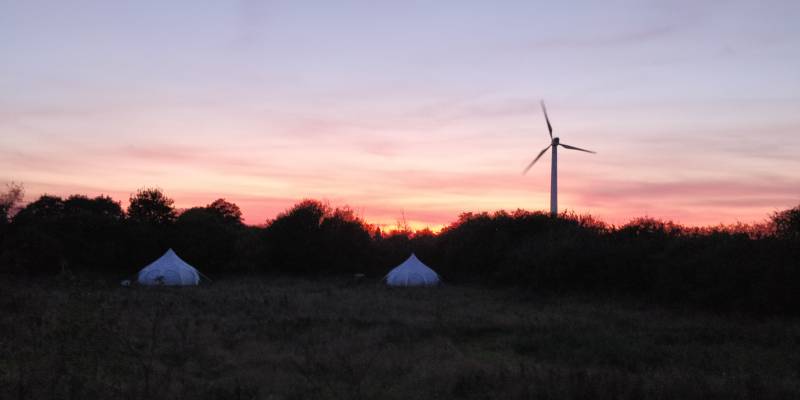 Campsites in Wickwar
Campsites in Gloucestershire
Campsites in South West England
Sociable camping and glamping on the edge of the Cotswolds, within easy reach of Bath and Bristol
With green hills, clear streams, cute villages and country pubs, the Cotswolds has a reputation for being rather lovely. So whether you're looking for camping or glamping in the area, you'll no doubt be after somewhere that lives up to that reputation. How about Cotswold Meadow Camping then?
Situated on a dairy farm just outside the market town of Chipping Sodbury, it certainly is rather lovely. It has just five spacious grass camping pitches and another five options for glampers. It's a relatively simple set-up with off-grid pitches and campfires allowed. But it's not quite back to basics here thanks to flushing loos, hot showers and the site's Gathering Barn. The barn offers an open-sided but undercover space for cooking, eating and generally hanging out. It's mostly used by glampers; the occupants of the site's four Lotus belle tents and single dinky shepherd's hut. It's a great space with gas hobs, fridges, freezers and wooden dining tables that mean serving up supper is easy, whatever the weather.
With cooking facilities taken care of elsewhere, the pre-erected Lotus belle tents and the little shepherd's hut are uncluttered and comfortable sleeping spaces. Three of the tents are kitted out with beds and bedding for four, one (Maple) is offered unfurnished and the shepherd's hut is just for two. All of them have solar and battery-powered lighting, outside seating and a fire pit for nights under the stars.
Everything you need is within walking distance of the site. There's the market town of Chipping Sodbury, a mile and a half across the common, where there are plenty of shops, eateries and no less than eight pubs. In the other direction, there's a single good one in the village of Old Sodbury, which offers a little more charm. Of course there's plenty more of that in the honey-stone villages of the Cotswolds; Lacock and Castle Combe are two of the best and a short drive away. This area has long been regarded as a place for quintessentially English countryside getaways and whether you like walking, running, cycling or horseriding, all are available in the vicinity. But with a location on the southern side of the Cotswolds, it's also close enough for day trips to Bath and Bristol. Both are just 30 minutes away, making Cotswold Meadow Camping not just rather lovely, but rather convenient too.
Details
Facilities
There are four toilets and two showers for shared use as well as a large open-sided shelter, The Gathering Barn, with space and facilities to cook, eat and relax undercover. There are gas hobs, kettles, a fridge and freezer. Fire pits and barbecues are available to borrow and logs, kindling and firelighters are available to buy from an on-site honesty box. The shepherd's hut (which sleeps two) and three of the Lotus belle tents (Willow, Hazel and Oak) are kitted out with beds, bedding and towels and have outdoor seating and fire pits provided. Maple bell tent is a large, unfurnished Lotus belle tent but does have a carpet and a few beanbags.
Suitable For
Campers, glampers, campervans, family groups, dogs (in your own tent or the shepherd hut) – yes. Caravans, large motorhomes, large single-sex groups – no.
Nearby
Cotswold Meadow Camping is close to the market town of Chipping Sodbury and surrounded by countryside that's great for walking, cycling, running and horse riding. If you need some inspiration, The Cotswolds Way National Trail and the Frome Valley Way are good places to start. Westonbirt Arboretum is within 10 miles of the site and Lacock Abbey and the Fox Talbot Photography Museum (01249 730459) are 20 miles away. Bristol and Bath, and their many attractions, are both under 20 miles away and about a 30-minute drive from site. It's about the same distance to The Wave, a man-made inland surfing lagoon (333 0164133). If you're at the campsite in May, you might like to know that the Badminton Horse Trials take place just under four miles away.
Food & Drink
It's a short walk into the medieval market town of Chipping Sodbury from the campsite where there are lots of independent shops, plenty of coffee shops and a choice of pubs. It's a 15-minutes walk to Old Sodbury where you can find The Dog Inn (01454 312006), which is family and dog-friendly (of course), has a beer garden and serves tasty pub grub – including great Sunday roasts.
Reviews
Add Your Review
Rated ★★★★★ over 5 reviews
Lovely site
Really loved our stay here. Lovely location with walks from the site; gorgeous touches such as the wildflower planters around the communal areas, bountiful well-seasoned firewood to purchase, well-maintained facilities, and in a spacious uncrowded field with wonderful sunsets. Fantastic neighbours (cows) who were considerate (only there mid-morning). Would recommend.
Lovely setting, more info would have been useful
We had a lovely first time camping as a family here, and found the site to be clean, safe and quiet. Our two children were perfectly happy running off and playing, and we were more than comfortable letting them abandon us. The only reason that this isn't a 5-star review is because I found some of the confirmation information a little vague. For example, we paid for some wood in advance, but didn't realise that we'd need to collect it ourselves from the wood shed. We'd certainly consider visiting here again, and would recommend Cotswold Meadow Camping to others.
Best equipped campsite ever!
We do lots of camping around the UK, and this little gem was by far the best equipped, cleanest and well managed we have been to. Lots of little details including places to hang out in the rain, toys and games, dart board, fridges, free fire pit use, wood available on an honesty system, cooking facilities and all utensils etc, washing facilities, plus tea and coffee etc.... Really lovely atmosphere, not trying to cram in too many people. Lizzie was great and helpful. And due to COVID some of our guests couldn't come, and we were refunded no questions. Excellent value, lovely small spot. Totally flat, and walking distance from Chipping Sodbury and Old Sodbury. Not the most gorgeous part of the Cotswolds, but still a perfect t base to explore from!
Fully equipped, friendly, great location
Lizzie was brilliant, answered all our questions, easy to book and accomdate our group. The site is lovely, not to big with plenty of space. It has everything you need in the communal space with cooking facilities, utensils, fridges and freezers, power points and lots of toys for the kids! Everyone who stayed we're really friendly too. Lizzie was there cleaning the site regularly. Couldn't ask for more! We'll definitely be back!
A relaxing camp site with a great vibe
What a great find! Quiet but really well equipped. There is s communal covered area where you can cook, eat, charge devices, read, meet other campers. There is a free shower; you can borrow fire pits and barbecues; your food is cool in the fridge. Excellent value for money! Oh….and a visiting vixen!