Camping and glamping in the heart of the Cotswolds with an incredible onsite climbing and activities centre
Sometimes with camping, you have to make your own fun. Not so at Far Peak. Set in 25 stunning acres just off the Fosse Way, this is a true outdoor adventurist's retreat thanks to its onsite climbing and activities centre. As if the multitude of stunning walks provided by the surrounding Cotswolds wasn't enough, Far Peak offers a whole host of high-up activities including a range of indoor and outdoor climbs for all ages and abilities, all centred around the 15-metre woodland tower (the view from the top really hammers home why this region is an Area of Outstanding Natural Beauty). There is a playground and low rope courses for little ones (five years and up), and if you don't have a head for heights, archery, bushcraft, nature trails and orienteering can all be enjoyed strictly on the old terra firma.
With such a wealth of onsite fun, you could be forgiven for thinking the camping at Far Peak was an afterthought. Wrong. Over 100 un-regimented grass camping pitches are spread across two vast fields, with ample space for family-sized tents and plenty of room for games. Flat ground and a scattering of electric hook-ups mean its campervan-friendly and, because the site sits atop a chalky wold, drainage is excellent. An car-free adjacent field, known as The Glade, is ideal for families – wheelbarrows are kindly provided so you can trundle your gear to camp from the car park. It's this tranquil, refreshingly understated spot that also hosts the trio of luxury glamping domes. Each geo-dome comes complete with king-sized bed, wood-fired stove, outdoor dining set and BBQ on a spacious sundeck.
Facilities-wise, the twin amenities blocks in either field offer more than adequate ablutions with hot showers provided, while the domes have their own private en-suite eco washrooms. Best of all, the onsite Hayloft Café opens daily, providing campers not just with a varied menu of hearty homecooked grub and sweet treats (including the most gloriously glutinous milkshakes this side of Graceland), but also a welcoming setting to chill and rest those weary fingers after a day's clambering. 
The best of the Cotswolds is eminently reachable from this prime location just outside the quiet market town of Northleach. Bike hire is provided on site so just pick a direction and get pedalling – there's innumerable lovely trails to enjoy. Quintessential chocolate box towns like Cirencester ('the capital of the Cotswolds') and Bourton on the Water ('the Venice of the Cotswolds') are all within reach, not to mention that most important of ingredients, a cracking pub within walking distance. All in all, as much of a bonus as the activities are at Far Peak, it really doesn't matter if you don't partake in anything more strenuous than a trip to that pub. Simply put, this is a stunning destination in itself, slap bang in the heart of the Cotswolds.
Best Price Guarantee
Easy and Secure, with instant booking confirmation
Trusted for over 10 years
A chance to win a brand new Coleman tent!
Gallery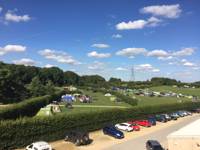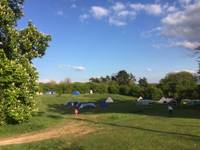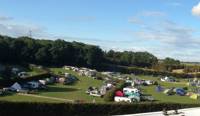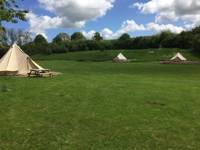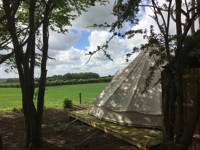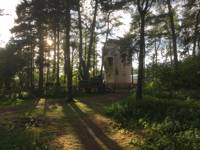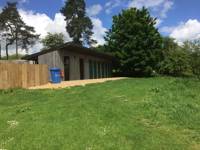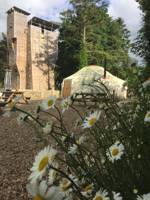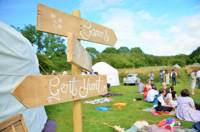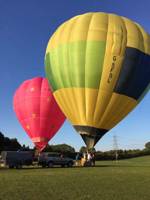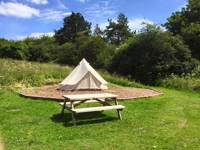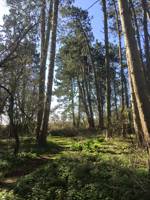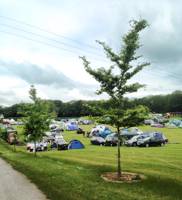 The Owner Says
Camping with us in the heart of the beautiful Cotswolds is a wonderful experience. We have everything from simple grass pitches and electric hook-ups, to shepherds huts, bell tents and glamping domes, all on 25 acres of woodland and parkland.  Our main camping area has an amenities block with hot showers, toilets and washrooms and plenty of space to spread out.  We have a mix of electric hook up pitches and standard pitches.
Reader Reviews
Add Your Review
Great place for camping with a group of friends
We've been coming to Far Peak for the last 4 years or so with our kids and various other groups of friends so I thought it was about time to leave a review! We were there last weekend and will be back again this weekend and one other in early July so we are definite fans of this site. We love the space on the main fields, even when busy it never feels jam packed and there's always space for the kids to run around. As mentioned we generally visit in largish groups with children ranging in ages from 1 to 18 and all ages in between. The site always feels safe enough for us to let even the younger ones off the leash a little bit. There have been a few reviews I noted that mark down the toilet and shower facilities, I would say that they are indeed basic but they are clean and well lit. I have to admit I've never used the showers (they allow fire pits so the smell of woodsmoke covers up most bad odours!) but the hot water can run out in the washing up area when everyone uses the sinks at the same time - the management does point out that hot water tanks do not have an endless supply though and again, never really bothered me or the people we've camped with. The wooded area, low ropes and new play area are a hit with the kids and the climbing centre is great too. Its definitely NOT a caravan club style site with hard standing pitches. mowed fields and loads of other caravanners, head elsewhere if this is you bag! If you want a chilled out site with lots of room for children to play in safety then this is the place for you.
Nice spot...shame about the neighbours!
Nice place to camp....climbing wall was excellent and Darren is a great host. Could do with a small shop or even better collaboration with one of the local farms for produce??!! Only reason it wasn't 5stars is because we were adjacent to a bunch of absolutely tools!.....noisy & obnoxious with terrible kids....not the sites fault,but just venting!!
Awful!!! Not the family holiday we planned
I will start with the campsite review, rather than the horrific night we had to accommodate with 300 bikers!! As other reviews, there is not a shop on site for simple grocery requirements, you are lucky if there is some milk left. Toilet block is very basic, cleaning could be improved as when you look up, all i could see was cobwebs. the shower cubicles got further damaged following the bikers brining in the bikes for repair 50% of the time we struggled to get hot water to shower in. 100% there was never hot water at the sinks or to wash dishes in, had to resort to boiling kettle. location, next to A road, so don't go if you want a nice quiet setting, the road noise is constant through the night. we were very unlucky the week we went, the manager/owners had decided to accept a party of bikers from Holland, approx 300 in the same field we were staying in. They had managed to clear most campers out apart from 4 family tents. The bikers gathered over a long period, so there was constant engine noise and the fumes where terrible, you could not eat outside. we were unable to use the toilet block, as it had bikes parked inside for the light. we, and the other families, would not let our children out of our sight. we were directed to another toilet block, however it didn't take long before the bikers found this one too. the manager was not apologetic and said 'well they are just campers, just 300 single tents, whats the problem'. some bikers, were riding around the field at 11pm, potentially under the influence of alcohol as the camp site operated a 'pop up beer bar', this was extremely dangerous as they could have drove into family tents. at 6am the following morning, the engines started again as they departed the site, the noise was horrific, for 3 hours we had to endure this noise as the last one left the site, my hearing still has not recovered. i can't believe that the Management thought this was okay, they never informed us that this was going to happen and give us a choice not to come or leave early. it was handled extremely badly, the other families i spoke to were also upset by the experience. there are plenty of other campsites in the area, so advise to look at them. if you want to go for the climbing wall or low ropes, then visit for the day... at least then you can retreat back to a quiet, clean campsite on the evening
Relaxed, spacious site with ability to have firepit
Camped with family for two nights on a basic no electric pitch. The main field is sloped but with a good area that is level enough. Pitches with electricity are by the hedges and the top hedge shelters from wind, which was surprisingly strong for August. Plenty of space for kids to run round and climbing centre gives a great no travel activity though you should book in advance. The café makes things easy for a morning sausage bap/batch and was well priced. Pizza available in a yurt on weekend evenings looks good but adds up quickly for a family of four. Had a great time camping and would go again. Only downside is toilet/shower block is a little basic with showers onto a concrete floor and door straight out onto field. Water hot in shower but lukewarm in the mixed sex basin area. Not enough to put us off but this is always going to be a two night pitch for us, not anything longer.
First Time Success
This was our first camping trip as family of five (plus dog). Far Peak was an ideal choice with the climbing centre, cycle hire and cafe on the site. The site has a very relaxed feel and we liked the fact that you could choose where you pitch your tent when you arrive as this allowed us the space we needed to figure out our setup. We also enjoyed our nightly campfires (all the necessary equipment is on sale at the site) which made for a lovely end to the day. The communal facilities were always clean and in good working order and the staff are very helpful (including jump starting our car one morning!). The children enjoyed their visits to the climbing centre including for one of the organised sessions. With some of The Cotswold's finest attractions nearby you won't be stuck for a day out either. For us, we couldn't have chosen better for our first time.
Great outdoor freedom and fun facilities
Staff were very helpful and relaxed straight away from our arrival. They leant us an extension as ours wasn't long enough for the electric hook up. They also came and did regular checks on the quad to check everyone was ok! Very good in the extreme heat! The climbing centre on site were also very good had very helpful staff all 3 children loved the bouldering and the climbing walls this was well priced and the free low ropes were great! The showers and toilets were good and clean a few may benefit from newer locks but this may be a problem only due to the extreme heat making a few difficult to lock?? although hot water to washing up was often lacking the area was good and even a freezer for ice packs was very useful! Massive bonus and can't believe we haven't seen anything about this in any brochure! Was that they set off hot air ballon flights from the field our tent was pitched in!!! It was an amazing sight! The kids got so closed and could watch the whole process! Lots of local attractions in easy reach also The Roman villla - bourton on the water- Cotswolds farm park- and the water park Sherborne ...... we also drove home via oxford a beautiful city!
Fantastic Experience - perfect bank holiday weekend
My partner and I booked a basic grass pitch at Far Peak Camping for the bank holiday weekend. We are a young couple who were looking to explore the surrounding Cotswolds countryside, and so used Far Peak as our base for the 3 days. Fantastic quality pitches, lots of space, good quality/clean showers and toilet facilities. Lovely atmosphere in camp; mix of young families, friends and couples. Fire pit was great although the wood was a little damp so difficult to get the fire going! I loved the little café for coffee/breakfast in the morning. Overall, good experience.
Nice and tranquil site with excellent facilities
Huge site with good facilites. Nice and peaceful too. Great shop and the climbing wall looked fun. Well positioned for lots of local activities:- Good local walking, couple of National Trust places nearby (Roman Villa and Lodge Park & Sherbourne Estate) and close to Bourton on the Water and Stow on the Wold. Would recommend and will return
Book campsites near Far Peak Camping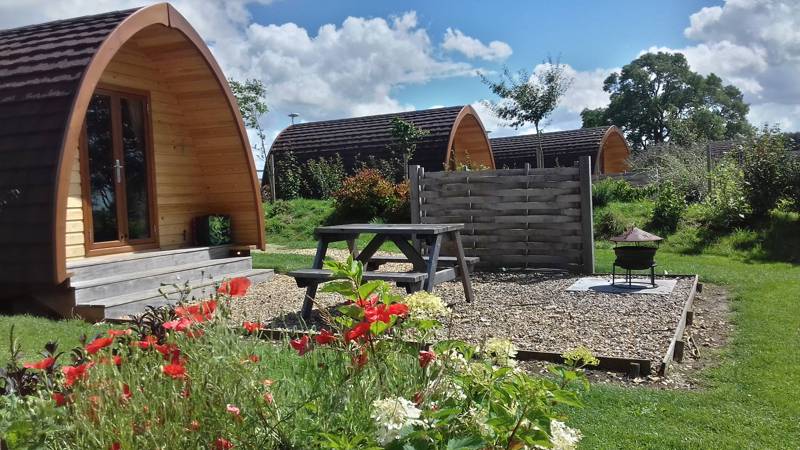 i
Glamping in Gloucestershire
Glamping in South West England
Glamping in England
Available:
1 Pod
1 Safari tent