Shortlake Farm
Shortlake Farm, Shortlake Lane, Osmington, Dorset, DT3 6EF









Sea views and organic farm goodies in a luscious camping meadow
With a certain atmospheric charm, the giant lump of limestone that is the Isle of Portland looms out of the sea, its landmass poking from the waters like the barnacled back of a humpbacked whale. It's a slightly strange place – where bumper stickers aptly read 'Keep Portland weird' – not quite an island but not quite a part of the mainland. It is connected to the rest of Dorset by a long causeway road that runs alongside Chesil Beach, a narrow strip of shingle stretching endlessly west into the distance.
Five miles toward the mainland perched on the southern edge of Osmington village, lies the grassy four-week pop-up campsite Shortlake Farm. The views from here are spectacular – out across Weymouth Bay and over the channel where tankers and dinghy's alike to and fro into the harbour. Such scenes are all set at the foot of the so-called island, its greening shores creating a protective natural shelter for the bay.
Cast your eyes down, away from the views, and closer to home there is plenty to delight at the campsite itself. Set up in allegiance with the campsite opposite, Eweleaze Farm, the owners know a thing or two about how to keep things sweet. The atmosphere is perfect, wonderfully relaxed with a campfire-welcoming environment and no designated pitches. Simply rock up, find a patch and settle down in the ample room provided. Despite the size of the field it remains a relatively quiet place to camp, a secluded spot, safe for kids to hurtle around making friends with other social scampers.
If you'd prefer to keep them occupied then there are a few easy and fulfilling options. A 10-minute stroll will take you the 800 meters down to the Eweleaze Farm beach, a tiny shingle cove only accessible on foot and, consequently, quiet and untouched by the summer crowds. Or five minutes further will take you to the farm itself where the kids can pet the tame goats, sheep and dogs.
The most rewarding walks, however, are reserved for those willing to extend their legs a little further. Skirted by the South West Coast path, Shortlake Farm is a gateway to some of the most scenic spots in Dorset. To the east walk to Durdle Door, a perfect rock arch that precedes Lulworth Cove, one of the most photographed and popular spots in Dorset. To the west head into Weymouth with its sandy beach, elegant sea front and lively old harbour. It all makes for a thirsty walker by the time you get back to camp, a welcome touch, then, that the Shortlake Farm shop sells a host of the best local brews alongside their organic produce… a pint of Durdle Door anyone?
Gallery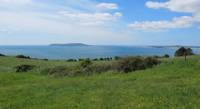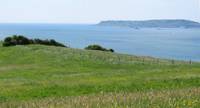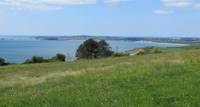 Reviews
Add Your Review
Loved everything
Loved the ability to set up camp where we wanted and with the number of tents we wanted, Loved the opportunity to have a camp fire. Loved the views Very relaxed Useful shop Clean toilets Dog friendly
Great Campsite for Proper Camping
We spent 3 nights at this site in August 2015, a group of 7 of us went ( one a first time dubious camper). We love the fact that you can rock up anytime you like (no check in check out times) drive around and pitch wherever you like and take up as little or much space that you want, which is perfect for groups.
You can park your cars right next to your tent's gazebos etc. The toilets are compost toilets in little sheds around the site ( I know that that sounds horrible) put they do not smell, are supplied with more toilet role than you can possibly need and are jetwashed cleaned between two and three times a day. 
You can have fires wherever you like with wood available from the shop, this also includes the beach
The showers are in blocks are the majority of us ( 6/7 had nice warm showers) there are plenty of hooks inside to hang all your towels and clothes.
On site there is a small shop selling camping essentials along with meet, veg and alcohol, next to this is the wood fired pizza oven van which make nice reasonably priced  small pizzas.
The beach is a 15 minute walk down the hills and finally some steps lead you down to the private beach which is shared with the sister campsite Eweleaze.
We have previously stayed at Eweleaze farm and unfortunately the secret of the great campsite got out and not only does it sell out rather fast especially bookings for the bank holiday weekend but it also feels and looks rather crowded.
Shortlake farm is the quieter, more sloped campsite with a slightly longer walk down to the beach, and yes it does not have as many of the facilities as the bigger sister campsite it is much more enjoyable for it.
We had some pretty bad weather on the 2nd night ( good old British summer) which left the occupants of one of the smaller tents rather soggy as the tent seemed to leak around the zip which meant our first time camper decided to check in to a local hotel for the night so they moved in to the empty tent. I think if it hadnt of been for the awful weather then it would of been a beautiful escape for it all
We have already decided as a group that we will be coming back next year, hopefully the secret doesn't get out to much about this site to much so that it can continue to be the beautiful relaxing fun escape from the busy world campsite that it is.
Win a £100 Blacks Voucher!
If you've stayed at Shortlake Farm campsite, please take a minute to tell us about your experience. Every month, one lucky reviewer will be picked at random to win a £100 voucher, courtesy of our recommended retailer Blacks. Each review counts as one entry, so get writing!

Best Price Guarantee, with no fees
Instant booking confirmation
Trusted for 10 years
A chance to win camping goodies in our regular competitions!
Book campsites near Shortlake Farm