Pop-up, tents-only, summer camping for the school holiday masses within striking distance of the Dorset coast
Few destinations could be better suited than this bucolic corner of the South West. Hugged by the dramatic Jurassic Coastline; dotted with a multitude of quaint seaside hubs and Hardyean thatched-roofed cottages, it is little wonder why this stretch of the south west coast between Lyme Regis and Weymouth has long been a popular pitchup point for campers. Nestled on the undulating slopes of Osmington Hill, Northdown Farm stretches through a lush landscape the locals Paradise Valley. It doesn't take much stretch of the imagination to see how it earned this celestial soubriquet – with expansive views taking in the South Dorest Downs, the sparkling Celtic Sea and the famous Osmington White Horse.
Taking their cue from the sister site at Eweleaze, the folks behind Northdown Farm have created a wonderful family-friendly tents-only campsite. Facilities are ample here with toilets, free hot showers and recycling stations. In a setting this sumptuous, content campers aren't likely to be hankering for the bells and whistles. But Northdown go above and beyond, delivering a first rate farm shop stocking produce from the organic farm's own reared livestock (Aberdeen Angus Beef Cattle and Soay cross Dorset Sheep) and an organic bakery boasting all manner of pies pasties and stone-baked pizzas. Your accommodating hosts even run a courtesy bus down to one of the surrounding area's many wonderful beaches.
With a wealth of things to do in the local area Northdown's relaxed atmosphere and old-fashioned earthiness makes it one of the best camping spots in a region already brimming with some splendid sites. What a shame it's only open for 4 weeks of the summer. But then, you wouldn't want too much of a good thing now would you?                              

Gallery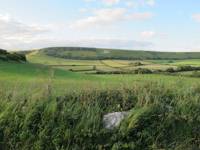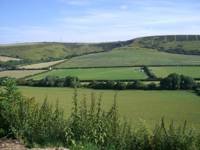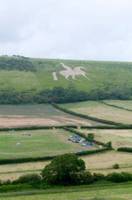 Reader Reviews
Add Your Review
Space & Sky
When we arrived it seemed like we had the whole field to ourselves, there was so much space that some people asked us if they were even on the right campsite. Loads of space for flying kites & other games & the kids enjoyed playing with our kids in the hay bales in th centre of each field. The composting toilets were some of the cleanest i've ever used & were cleaned & restocked with loo roll every day, which only really became necessary when the site became busy on August Bank holiday. We had tonnes of space, seclusion & privacy for at least the 1st week of our holiday & plenty of space for our friends to camp with us when they arrrived. The washing sinks have a gas canister and hot water anytime & the similarly gas heated showers were absolutely lovely. Very close to Weymouth & plenty of shops & supermarkets, near other beaches such as Eweleaze farm, Bowleaze Cove, & Durdle Door. Campfires are allowed anywhere in the fields & this is really important for us on our camping holidays, we had a lovely fire every night. The improvements I wld recommend are: Some kind of soap & water hand washing facilities closer to each toilet, or at least antibac gel in the toilet cubicles for a bit more hygiene. Maybe more signage to explain that you are in the correct campsite & to point you down the right track on arrival, some kind of explanation by sign or email or arrival that facilities such as shop & firewood are available for Eweleaze Farm campsite down the road. The campsite is 2mins Walk away (across fields) from a really good and large pub with a kids play area, serving a wide range of food and drinks up til 9pm, very child & dog friendly. We camped quite close to the pub which meant that when they were hosting events & Live music this was quite loud at our tent. But you could camp in the more remote fields of the site & this be further from this. During August 2018 there was also a building site quite close to the pub which meant that there was noise from this & the builders did also have bonfires on a couple of days where they burned plastic, my partner went round & had a word with them, we didn't report them as we were busy enjoying our holiday! The campsite went from being almost completely empty to totally packed on the August bank holiday, i'm not even sure that the 2 x toilets per field were enough to cope with this number of people! Also the site is marketed towards groups wanting to camp together due to the large amount of free space and completely unmarked pitched, this obviously meant that some of the groups were having parties & stayed up late into the night playing music or singing, but this only happened on 1 or 2 nights of our stay. All in all it's a great campsite & i'd def consider staying there again. :)
Location and space
Large site spread over several fields. Some large groups so tended to be noisy some nights, but possible to pitch well away. Facilities good with hot showers and hot water at sinks. Compost toilets good but sometimes subject to queuing.
Pretty good campsite
Down a steep, bumpy track this campsite is huge and you can camp where you like. The first field was pretty full so we went to the second field - further to walk to the lovely wooden-hut showers, but still had four eco toilets in the field (tip - don't look down into the pit!) which weren't too smelly and had a box of bark chippings to throw down afterwards. Other campers were even further away in other fields so you can be a good distance away from others if you choose. We had a fairly spacious plot which became even more so when the majority of campers left on the Monday. The ground is flat and the grass cut short and there are washing up stations at the corners of the fields. The shop has a few basics, including booze, freshly baked bread and some barbecue meats, some produce was reasonably priced, other items were a little expensive. The same can be said for the pizzas; tasty but definitely overpriced, although having a pizza oven on site is still a novelty and handy for when you've turned up without food and are too tired to take a trip to the shops.
On two of the days we were there, the courtesy bus wasn't running to the Eweleaze beach so we didn't see what that was like. We had a trip to the nearby Bowleaze Cove which was fairly busy and pebbly but the sea was lovely to swim in and the fish and chips were delicious. Definitely worth a visit is the village of Sutton Poyntz, which is 'chocolate box' pretty and has a great pub just by a stream with ducks and stepping stones. Sutton Poyntz is only a 5 minute walk away and is clearly signposted. 
The one negative point to mention about Northdown is the nearby Holiday Park which had live music blaring out on Saturday and Sunday night, it was incredibly loud! OK, so it finished around 11pm but, if you're after a camping stay somewhere which is peaceful and 'away from it all', it's not what you expect. Plus it seemed that quite a few of the other campers didn't think about others when they stayed up quite late making noise. If you're going to have a campsite that's in a location where you can enjoy being in the middle of the countryside, there perhaps should be some respectful rules?
Anyway, although there wasn't much in the way of information from the staff on reception - other campsites have told us where to go for sightseeing, walks, supplies or find dog-friendly pubs and beaches etc. - the price was good value for money and, if we want to visit that part of Dorset again then we will go back. 
Best Price Guarantee, with no fees
Instant booking confirmation
Trusted for over 10 years
A chance to win £50 of Cool Camping vouchers!
Book campsites near Northdown Farm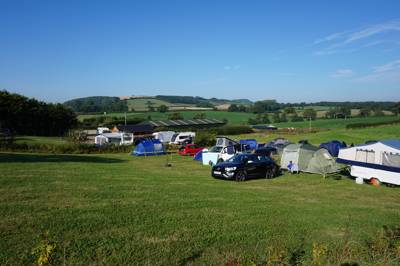 i
Campsites in Blandford Forum
Campsites in Dorset
Campsites in South West England
Campsites in England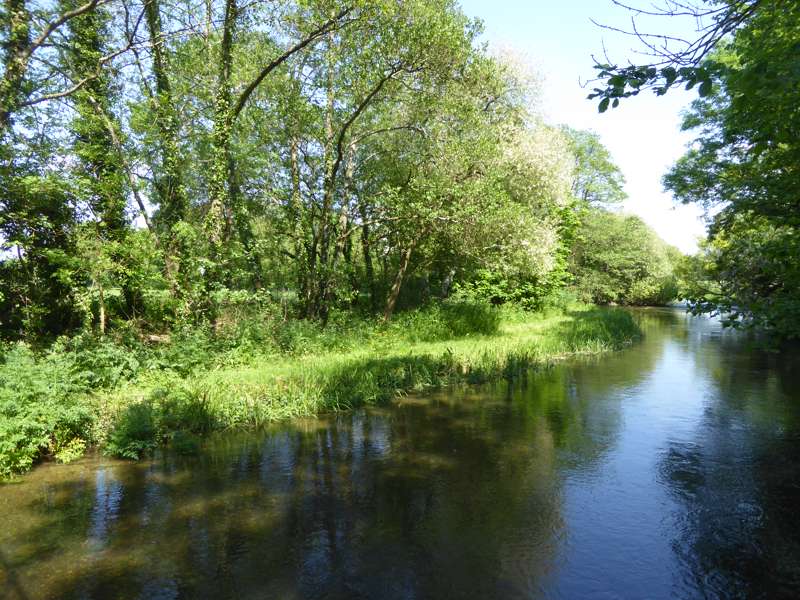 i
Campsites in Bere Regis
Campsites in Dorset
Campsites in South West England
Campsites in England
Available:
1 Pitch
1 Bell tent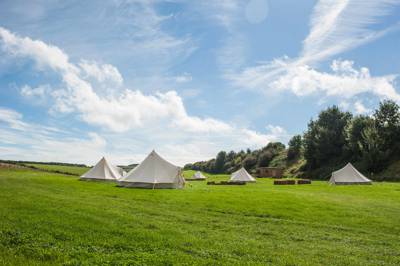 i
Campsites in Dorchester
Campsites in Dorset
Campsites in South West England
Campsites in England
Available:
2 Bell tents
1 Shepherd's hut