Simple camping and glamping in an unspoilt location with glorious views of the Dorset Downs
They say "less is more" – a good philosophy, we think, when it comes to camping. Nowhere does this ring truer than Haddon Copse Farm, a 30 acre organic farm where looking after the landscape is second nature and camping meadows feel as at home in the scenery as the grazing fields that surround them.
Life here is about the simple pleasures. Off the beaten track, with dark skies at night and excellent views of the Blackmore Vale by day, the most discerning feature here is the relaxed atmosphere and the plentiful space the farm provides. Large pitches are placed around the edge of a vehicle-free field, populated in the middle by children throwing a frisbee and acquiring more than few grass stains – a souvenir of time spent truly enjoying the countryside. Each pitch has a complimentary fire-pit and kindling, while charcoal and logs can be bought from the farm at a very reasonable price.
The newest addition to the site is the Retreat Hut – a cosy cabin for couples with comfy double bed and outdoor campers kitchen, plus lots of lovely extras like fresh towels, organic cotton bedding, complimentary breakfast for your first morning, and, of course, that all important firepit.
The owner's attitude, too, is exactly what you would hope for. "Settle yourselves in and we will come and see you at some point", is the opening gambit of Tom, who has to spread time between running the farm and the campsite. A herd of cattle is ushered into new pastures and a morning check of the lambs is all carried out while campers are still yet to unzip the tent flaps. When they do, the reward is freshly baked bread and the chance to buy the fruits of all this labour; award-winning organic meats and eggs from the freely roaming chickens.
Ablutions here are eco-friendly. A stroll through the newly-planted orchard, leads to the to toilets and the wet-room style solar-powered showers. While there are also washing-up sinks and a freezer for ice-packs, the site is refreshingly underdeveloped. Just the way it seems it should be here. The place is blissfully unspoilt and activities like exploring local footpaths or cooking atop the campfire provide wonderfully authentic camping entertainment.
Beyond the wooden farm gates, continue the back to nature experience by swimming in the nearby River Stour, one of the best wild swimming rivers in the country. Its meandering course through the Blackmore Vale, classic Dorset dairy country, makes for various good walking routes, while historic spots like Hambledon Hill are perfect for a summer stroll and countryside picnic. As at the campsite, it's best to let the setting do the work. Walks, swims, picnics, they all allow you to explore Dorset's wonderful countryside and, in between, the cosy, picture-perfect rural settlements aren't half bad either.
Best Price Guarantee
Easy and Secure, with instant booking confirmation
Trusted for over 10 years
A chance to win a brand new Coleman tent!
Gallery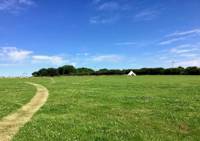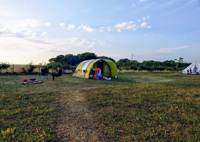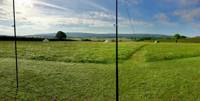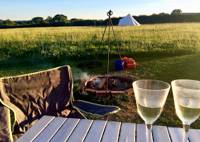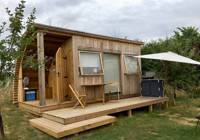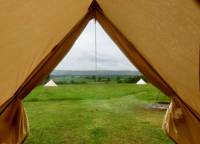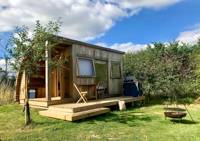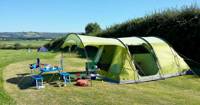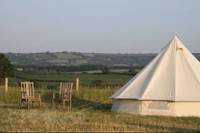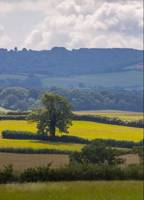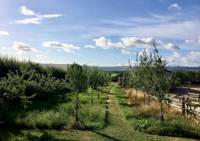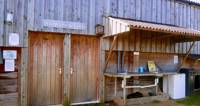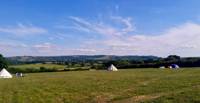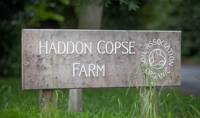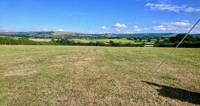 The Owner Says
We run a small, quiet site where you can enjoy the peace and beauty of the Dorset countryside away from the hurly-burly of everyday life. We hope you'll begin to switch off the moment you arrive whether you are pitching your own tent or settling into one of our three bell tents. That applies to your phone too - there's no electricity, no wifi and patchy mobile reception and we think those are all good things! Instead, you can relax and enjoy some of life's simple pleasures - take in the view, stroll round our farm walk, light a fire, watch the stars. The site has a relaxed atmosphere and with just seven pitches, never feels crowded or full. All the pitches are well spaced out and it's just a short stroll through the orchard to our two private shower rooms/loos. We hope you'll find the personal touches such as advise on where to walk or swim, warm bread delivered to your tent in the morning or help choosing some of the food we produce on the farm for your barbeque will all combine to ensure that a stay at Haddon Copse Farm leaves you feeling refreshed and full of the good things in life!
Reader Reviews
Add Your Review
nice and quiet, basic
Nice and quiet site, with lots of space between tents, and nice views. Squeeky clean toilet/showers, nice landscaping done by the lawnmower. Good fireplace, and very helpfull staff. Some downsides: no shade (bring tarp), no change of cooking in strong winds or rain (bring windscreen), no change of doing/drying laundry (pack well), bell-tents are very basic (bring chairs), can get boggy in places (bring wellies). Sea is at 30 mins, fresh bread 5 mins, supermarket 20 mins. Alltogether: nice concept, clean and quiet, but very basic and somewhat overpriced (compared to other organic farms where we camped).
Wonderful quiet wild camping
We stayed her for 4 nights over the August bank holiday 2015. From the minute we arrived we were made to feel very welcome by the owner/farmer, Tom. He could not do enough for us to ensure our stay was an excellent one. The site is a large field with only 7 pitches in it. The pitches are an excellent size, we had space for an 8 man tent, porch and large canopy easily. They were also well spaced. even when the site was full, it was never noisy. The facilities were excellent, much more civilised than we had expected. There are two toilet/shower room with hot showers and flushing toilets. There is also a covered washing up area outside with hot running water. All facilities were cleaned daily.
I can also highly recommend the farm produce that was for sale, we tried the eggs, sausages, pork and milk. All were extremely tasty and well priced. There was also well priced charcoal, wood and kindling for sale. Note there are no grills on the fire pits unless you hire one of the bell tents so you will need to bring your own if you want to cook on the fire.
A wonderful, quiet, back to nature camp ground. I would highly recommend.
Book campsites near Haddon Copse Farm