Book campsites near Camp Dartington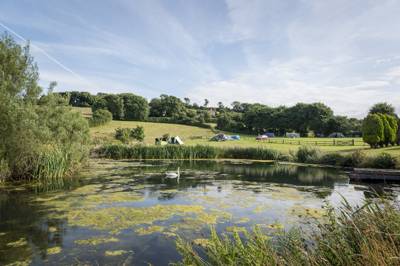 i
Campsites in Salcombe
Campsites in Devon
Campsites in South West England
Campsites in England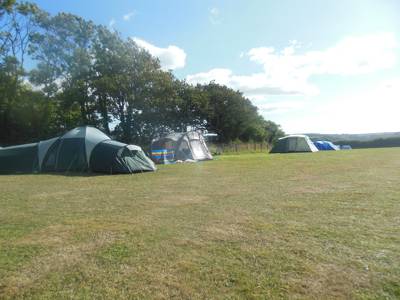 i
Campsites in Totnes
Campsites in Devon
Campsites in South West England
Campsites in England
Knock-out Dartmoor views and the rugged South Devon coast within easy reach – all within the grounds of a medieval manor house
In a tranquil pocket of the 1,200-acre Dartington Estate, lies an ancient manor house on the banks of the River Dart. Once home to the town's art college, the 14th-century Grade I-listed Dartington Hall is now run as a not-for-profit social enterprise promoting sustainability, social justice, and advancement of the arts. Not your typical English country house then. And in the adjoining campsite – where just 40 pitches enjoy brooding views over Dartmoor and easy access to South Devon's rugged beaches and cliff walks – plays host to one of Devon's most peaceful and best located campsites.
Facilities at Camp Dartington are excellent, with five new electric hot showers, five plumbed-in toilets, and next to the shower block you'll find a washing station with two large catering sinks. There's also a compost loo at the far side of the field and two water points. Better yet, you're only a hop and a step from excellent, locally-sourced food, as the onsite Green Table Cafe and White Hart serve lunchtime and evening meals, all in the splendour of the estates medieval surroundings.
And while the fine food is a major pull, once you've settled in you can begin to appreciate the rest of the site. Featured in many 'best gardens' lists, Camp Dartington's beautifully landscaped gardens – designed mostly by New York society landscape gardener Beatrix Farrand – feature azaleas, rhododendrons and magnolias, all set around a series of terraces on a steep hillside. Campers are free to explore the many tiny paths leading to a host of interesting features – from a 1,500 year old yew tree to a Henry Moore carved stone sculpture. Seriously, how many campsites can boast a Henry Moore?
As for days out, Camp Dartington is well-placed for exploring England's wildest expanse, Dartmoor National Park. However, it was not always so uninhabited, as confirmed by the Stone Age settlements that pepper the huge park (368 square miles in case you're wondering). Not finished there, the rugged beaches of South Devon are within easy reach and there are plenty of pretty towns and villages nearby – most notably Totnes which manages to combine the olde worlde Devon charm with a bohemian atmosphere.
Details
Facilities
Shiny new shower block with 5 electric hot showers and 5 plumbed in toilets, plus more facilities across the field. There's a compost loo at the far side of the field, 2 water points in the camping field and a washing up station with 2 large catering sinks next to the shower block. A beautiful timber frame picnic barn - specially designed and built by students at the neighbouring Schumacher College - provides a shady spot with dining benches and teak making facilities. Many other features, including a 14th - century barn, renovated into a cinema, are also located nearby.
Suitable For
Tents, families, couples, groups and dogs – yes. Campervans, caravans and motorhomes – no.
Nearby
Food & Drink
The Green Table Cafe (01803 847110) in open for breakfast, lunch and teas and cake and is a relaxed spot to hatch plans for the day. The White Hart (01803 847111) bar and restaurant is a top spot for lunch and evening meals in the splendour of the Dartington Hall dining rooms. Local and organic vegetables and eggs are available just over the road from Landworks veg stall and School Farm CSA, whilst goats milk ice cream and farm tours can be had from the neighbours at Dartington Dairy (01803 863987). Coffee and freshly baked bread can be purchased from the Almond Thief Bakery (01803 411290) in Dartington Village.
Opening Times
Mid March – late October.
Pitches
40 undesignated tent pitches with views of Dartmoor.
Location
Contact Camp Dartington, Totnes, Devon, TQ9 6EL
Getting There
From Totnes Train Station head south-west towards Ashburton Rd/A385, turn right followed by a sharp left to stay on the A385 and continue to follow the road. At the next roundabout, take the 3rd exit onto A384, go through one roundabout and continue for ½-mile. Turn right, and Camp Dartington will be on your left.
The nearest train station is Totnes, or the site can be reached by the 165 (Totnes-Dartington Hall), and 88 (Totnes- Shinners Bridge) bus routes.
Reviews
Add Your Review
Rated ★★★★★ over 9 reviews
Amazing weekend
We stayed for a weekend in September. The campsite is beautifully kept, clean toilets and washing up area and the best showers of any site I've been to. Our trip was made even more amazing by our children accompanying Farmer John to milk his goats and be shown around his farm including one day old calves, followed by goats milk ice cream for breakfast!
Average but has potential
The campsite is a large field on an estate and lacks the little touches and details that really make a difference. There is space, there are newish toilet and shower blocks, that is about it. There was no welcome or any contact with anyone over the 5 days we were there. I did text the number in the welcome email with a couple of questions but the response was radio silence. Before going we tried to call to book an extra night but either couldn't get through on the number or spoke to people who said they didn't deal with that. It could really do with little things like a place with details on the local area and even on the campsite itself, e.g. where to park to drop off, where the main car park is, where the bins are, where water taps are. A fridge onsite would also be a huge plus and seems fairly standard even on small campsites these days, fire pits, wood to buy, a small honesty shop, just a face to ask questions to or someone to actually reply to the texts on the number provided would be a start. It's also by a road which was surprisingly busy. We had a lovely week but it just lacked the magic of the other sites we've found through Cool Camping.
Fantastic staff, facilities and location
Simply cannot recommend this campsite enough. Admittedly, we stayed in glorious sunshine and dry weather. However, we loved the laid back, family feel to this site, set amongst the beautiful Dartington Estate. The facilities were excellently maintained and cleaned regularly. Staff across the estate were friendly, welcoming and helpful. The Green Table cafe was a huge bonus, with delicious meals, great service and it is dog friendly too. We made use of the outdoor pool, and enjoyed playing in the river Dart which runs alongside the Deer Park. We took a short walk along the river to nearby Totnes. Further afield, it was easy to get out onto Dartmoor or along the coast to Dartmouth and Slapton Ley. No dogs are allowed in the formal gardens, so we had to enjoy those in shifts, and the gorgeous weather meant that we didn't access the cinema or concerts - but we can save that until next time, as we will be sure to visit again.
Good location, quiet and plenty of room in August 2018
This is a great location for people who want a quiet camp with good view. There was a change in management going on so not many people around to meet and greet etc, which is why I gave a lesser rating. But the person on the phone was kind and helpful. You can't take cars onto the campsite at all and so have to wheel all your stuff from the car park. It's hardwork if it's hot, you are a single parent, have a heavy bell tent etc but want a good view. But its doable. Imagine it wouldn't be much fun in the rain. Good for dogs - a long grass patch for well behaved dogs to exercise. Fire pits for hire. Containers with loos and showers - so small but hot water available. Outdoor sinks with cold water for washing up. There's a covered area for when it rains. Good beaches about 30/40min away. Nice walks. About a mile away in one direction or the other there is a good cafe, small outdoor pool, river swim/walk, Totnes, Darlington Hall, Darlington shops, restaurant, cinema. It is misleading to say onsite because then you expect then to be on your doorstep. Only had three nights, but would go back for longer.
Very relaxed with stunning scenery
A great site, with a relaxed atmosphere. Family friendly, toilets could be spread around the field more and there is no hot water for washing up which needs addressing especially as it is costly compared to other sites we have been to. Wheelbarrows to carry camping stuff are a genius idea as no cars allowed on the field.
Stunning countryside
Fantastic spot. Very laid back. Simple and clean facilities. A little bit of Devon heaven.
Great location, quiet, good showers
We stayed just one night, but a longer stay would also be recommended. It's mostly just a large field on the drive up to the Dartington Estate, however the facilities are actually very good. The main block is a large shipping container converted to toilets and showers, however unlike other campsites we've stayed at, they're really nice and you get a 'proper' shower where you can control the temperature and don't have to keep on pressing a timer button. My only (very slight) criticism is that the shower block plus 4 other toilet blocks are all up at the top of the field - they could do with a second one down at the bottom as it's a long way across the field! Check in was at the main Dartington estate office and this could also be more clearly signposted at the campsite as the only sign points to the campsite and there was nobody there! The estate is lovely though - an evening walk up the hill and through the gardens was very enjoyable and highly recommended!
So much to do at walking/cycling distance
The camp site is absolutely beautiful with so much to do at walking and cycling distance. We will definitely come back again and recommend it to everyone we know. As we only live in Exeter it's really close-by but it still feels like you're far away from home.
Quiet field on artistic bohemian estate
We loved our stay here, great big field, mostly flat, free fire pits delivered to your tent, good showers and loos in shipping containers but unobtrusively places around field and properly plumbed in. And all on a really interesting estate with cafe, gardens, cinema in a barn, exhibition spaces, river to swim in, farm to visit and walks to explore.