Unpretentious camping with spectacular views and some of the best spots in North Devon within easy walking distance
The sea is a powerful thing and few places know this better than Devon. The swirl and churn of grey waves as they crash upon its rocky shore can make for a wonderful winter spectacle, a stark contrast to those still, summer evenings when all is glistening in calm and quiet. The full winter menace of the ocean was perhaps most memorable here in early 2014 when ripping waves slashed at Rockham beach, crumbling its slopes back into the murky depths. On the hills that rise above it, North Morte Farm would have been the prime storm-chaser's viewing point.
Today, this North Devon outpost, just 500 yards from the water, remains untainted by the barrages of winter weather thrown its way. Its spectacular views and unpretentious camping atmosphere make North Morte Farm a prize choice for seaside bound campers. And if your looking for a quiet patch to lay low, you can't go far wrong here. Ignore the static caravans as you arrive through the first field and follow your way out to the spacious camping area beyond, dotted with smiling campers and new comers pegging down their guy ropes. It is here, in the untainted grassy meadow, that you can park up your car or campervan and switch off from the rest of the world.
On first arrival in the field it is well worth taking your time to explore. There are no designated pitches onsite and the spaces available certainly vary across the area. Perched on the peak of a hill, there is a choice to be made between the higher levels, close to the toilets, or settling closer to the bottom for a quiet, secluded spot. Here and there some flatter spaces can be found and which ever place you chose there is one thing that's inescapable – the view. Sweeping vistas out towards the sea are an unbeatable aspect of this charming campsite and on clearer days you can relax in the sun watching boats to and fro from Lundy Island. The neighboring land is owned by the National Trust and remains a blissfully untouched stretch of countryside.
Once settled, the best way to explore is by foot, either taking the steep path down to Rockham Beach or wandering the ten minutes to Mortehoe, with three excellent pubs and a characterful rural charm. From here it's a further quarter hour walk into Woolacombe, its sandy two-mile beach stretching out toward the surfer dotted horizon. The beaches are certainly the main spectacle in North Devon, but trips to Lundy Island, exploring the coastal towns, lazing by pretty harbours or venturing back into nearby Exmoor mean there is more to life than just building sand castles. Be sure to spend at least one evening in the campsite, however. Sunsets here are outstanding and the stargazing is not too shabby either.
Gallery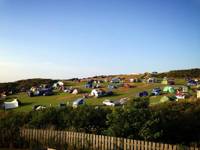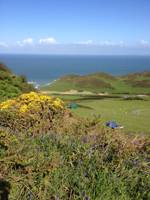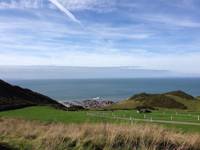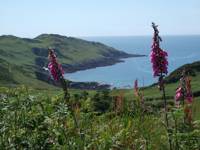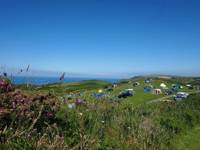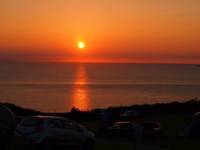 Reader Reviews
Add Your Review
Amazing Sea Views
A well kept and informal camp site with good access to the Rockham Beach (although a steep climb back to the camp site). Shower block is well kept and clean although some pitches for tents can be quite a walk.
Perfect quiet camping.
This goes straight into my top 10. Peaceful, scenic, spacious (in mid- September), ground and facilities in good condition. The steps to Rockham Beach have been reinstated.
An Amazing Spot
We have just got back for a Saturday night Stay at North Morte Farm, we stayed in our camper on the terrace. We had lovely views over the hills. The campsite is clean and friendly with loads of space, We took our dog, Stanley who also absolutely loved the local national trust walk from Morte Point to Bull Point, its 6 miles round trip filled with beautiful views!! We would definatley reccommend to our friends.
Spectacular views
This is an amazing campsite and mainly because if it's spectacular views. We've stayed there twice with our campervan. First time at the top with spectacular seaviews in three directions, which worked really well as there was no wind to worry about. Second time, VERY windy so stayed further down. All facilities are great including super fast laundry facilities and a decent on site shop.
Best Price Guarantee, with no fees
Instant booking confirmation
Trusted for over 10 years
A chance to win £50 of Cool Camping vouchers!
Book campsites near North Morte Farm