Book campsites near Cloud Farm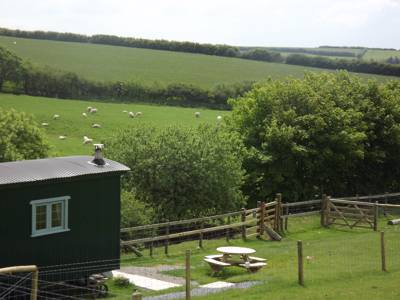 Campsites in Lynmouth & Lynton
Campsites in Devon
Campsites in South West England
Available:
18 Pitches
1 Yurt or Ger
2 Shepherd's huts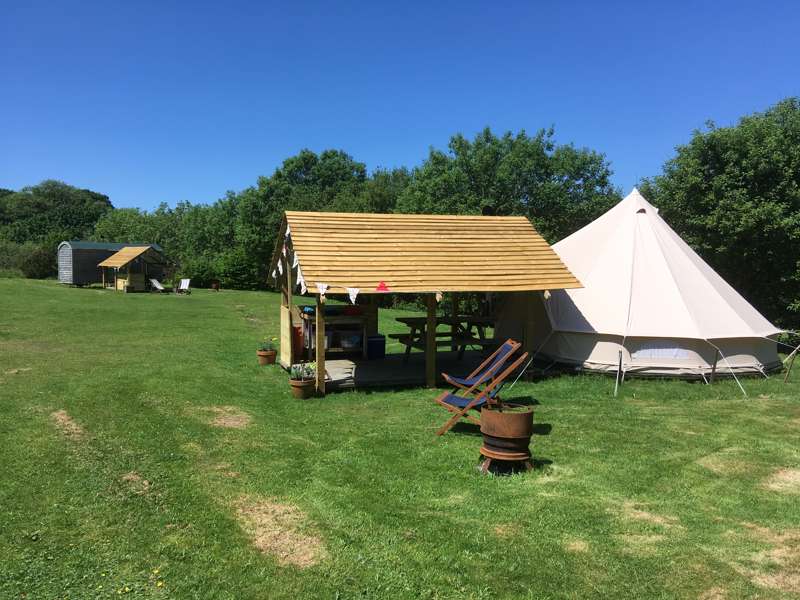 Glamping in Ilfracombe
Glamping in Devon
Glamping in South West England
Available:
3 Bell tents
1 Shepherd's hut
A river, a campsite and some cracking countryside. Oh and you can go riding from the site too.
Sitting pretty in its own self-contained hamlet surrounded by the purple haze of the famed Doone Valley, Cloud Farm's campsite occupies a prize riverside setting alongside Badgworthy Water. 
Since our last visit, a couple more fields have been opened, expanding the narrow strip of campsite along the greenery by the water to allow more space for all who visit this popular site. Further work has been done to level some of the fields for flatter pitching, and there are plans to open more showers, too. James is an attentive host and can be seen in the wood-smoke-filled evenings (yes, you can have real campfires here) wandering among the campers to check that all's well. 
Unsurprisingly, he has few complaints. Kids spend hours in the river, spotting fish, skimming stones and even managing a little doggy-paddle in the deeper pools. Parents are happy to just lounge about on the banks in the summer sunshine and marvel at the valley's walls of gold and green flecked with unmistakeable Exmoor heather. It's a little like sitting in a kaleidoscopic colour cocoon and, as there's no mobile signal here, you really can feel like you've escaped modern urban life. 
Meanwhile, the walking opportunities are fabulous; one rambler's treat is to follow the river all the way along the valley, past the stone monument dedicated to Lorna Doone author RD Blackmore, and on to the ruins of a medieval village, which lie resplendent in the afternoon sun.
Details
Facilities
It's all about the river: swim in it, paddle in it, sit and sunbathe by it, build dams in it or fish in it (£5 for a day). You can also head off on walks directly from the site. Ask James for details of some of his favourite routes. Look out for some of the area's wildlife, too; kingfishers and otters have been spied hanging out here in recent years. Kids delight in buying up all the water pistols and water bombs from the shop on hot days, so take care as you walk through the site.

The site is essentially comprised of narrow fields running alongside the river, as well as a couple of other fields set on higher ground. Campfires are allowed and bags of logs cost £5 (or special offer of 2 bags plus all the kindling and firelighters for £10). There are 4 water taps, mostly around the central hub of buildings that make up the facilities blocks, shop and café. The washing-up room has 4 sinks as well as a washing machine and dryer. At the time of writing there were 10 showers and 9 loos, with a further 2 of each in the pipeline. The showers are powered by a generator and so are only accessible in the mornings and evenings. Campers can charge phones in the onsite café, which serves hot drinks, cream teas and has breakfast, lunch and dinner menus if you fancy a break from the washing-up. The shop sells all sorts – from food and camping accessories to water pistols and dog toys.
Suitable For
Couples, families, groups and well-behaved dogs in tents, campervans or caravans – yes.
Nearby
You've all of Exmoor to explore – by bike, on horseback (Brendon Manor Riding Stables; 01598 741246) or on foot, and the North Devon coast, with its swimmer- and surfer-friendly beaches, is an easy drive away. Dunster Castle (01643 823004), near Minehead, is also nice for a day out, and Exmoor Zoo (01598 763352), half-an-hour's drive away, has plenty of animals to meet, some of which the kids can handle and help to feed.
Food & Drink
The onsite café does cream teas, full English breakfasts and burgers and chips (you can order takeaway too). At the end of Cloud Farm's lane, take a left for the Buttery Riverside Bar & Café (01598 741106) for an excellent pizza. The best local pub, which is relatively child friendly, is the Staghunters Inn in Brendon (01598 741222), while the food is pretty standard it's a fine place for lunch with the kids. Porlock Weir's Bottom Ship Inn (01643 863288) has stirring Channel views to admire while you're sipping from a pint of locally brewed Exmoor Ale or glass of cider.
Opening Times
All year.
Family Friendly
The river is delightful but could, of course, be dangerous for small children unaccompanied.
Location
Cloud Farm, Oare, Lynton, Devon EX35 6NU
Getting There
From the A39 Porlock to Lynton Road, take the road to Doone Valley and Malmstead which will be signposeted. At Oare Church turn right for Cloud Farm and you will come to the site.
Reviews
Add Your Review
Rated ★★★★☆ over 22 reviews
Have been coming for years
But it has gone downhill, we will be back because we love the setting but the shop shuts early used to do snacks but you are lucky if it is open these days for milk. Please put some time and effort into the place thats all it needs. Employ somebody who actually wants to do the job of running it for you. I can remember seeing walkers sat around your tables giving their ideas of where to walk while havng cream teas, but you are shut to often people dont stop anymore.
The location is wonderful, the campsite is lacking in everything, dirty and dangerous.
The Doone Valley is a wonderful place and me and my family have been camping at Cloud farm for many years off and on. Cloud farm has changed hands about 3 times and the last two owners plus lease owner have looked after the place but this owner...what a rip off merchant, the place is neglected with inadequate facilities that are bordering on dangerous and disgustingly dirty, hardly ever cleaned to any standard and must be breaking every health and safety rule going ! The owner is money grabbing and has no concern for people's well fair, don't drink the water use the showers and take disinfectant wipes before you use the toilets ! The place gets over crowded, to many camp fires going dangerously close to other tents, camping on a waste flow collection site, stinks in high season and over flowing, so if you want to catch something nasty then camp at Cloud farm !! never eat at the place if the owner is around and is helping preparing food...as his hygiene is suspect, sounds harsh but for some reason the authorities seem to turn a blind eye to any of the goings on there ! The site now has laylandi trees everywhere !! How the heck has that been allowed in the Doone Valley... We shall not be camping there again, there are other sites along that stretch of water that are excellent, not so scenic but better run. I'm sad that cloud farm has got to this, a place that over the years has meant alot to me and my family but now...a shambles. So...not recommended.
Fantastic location
I was at Cloud Farm the same weekend as the camper "Bee S" and can only assume that this stands for Bull S**t! Yes the campsite was busy and yes the facilities could do with updating but I did not see any "uncovered gone-off stinking abandoned food" in the fridge or freezer, although someone had vandalised the shelves in the fridge. There was an electrician there that weekend sorting out the showers, as they too had been vandalised, and they were hot with a good stream of water (and the lights worked). The staff were really friendly and helpful and the facilities were as clean as they could be considering the usage and the lazy campers who sat their kids, with muddy boots, on the sinks and then left the mud all over the sinks and taps. I didn't once have to queue for the toilet (or shower) and the toilets were cleaned and bins emptied regularly but people did dump their rubbish in the toilet bins instead of taking it to the main bin store making even more work for the busy staff. All-in-all it was a lovely campsite in a fantastic location with friendly and helpful staff and I would definitely go there again (and again).
Fantastic location - awful facilities
Very very busy being bank holiday weekend but even in less busy times I am not convinced the awful, dated, dirty facilities would have coped. I opened the fridge to see if I could keep my very expensive milk I had just bought from the on-site shop but was confronted with uncovered gone-off stinking abandoned food. Same story in the freezer. Try showering a 3 year old in the dark whilst holding the shower head with one hand because they are all broken, whilst a measly trickle of weather comes out. And what on earth was happening in the 4 loos and 3 basins there to supply the whole female population of the campsite?? Mud on the taps, filthy floors and overflowing bins. And that was every time we went in there. For the price I would expect functional and clean - which is what we got for £5 less a night when we moved next door onto Doone Valley campsite where the owner runs a tight ship and the facilities are spotless and working and there's not a spot of litter. So disappointed in Cloud Farm - it could be amazing but too many people crammed in to get the money without spending any of it on the upkeep of facilities is not going to get me back.
fantastic campsite with a beautiful setting
I camped here a few weeks ago with my brother and a mate of ours. We cant wait to come back here as we loved the setting of the place and found the owners very hospitable. Riding our motorbikes full of kit on the gravel road leading to the campsite was a bit hairy but well worth it when we got there.The facilities are what you would expect when looking to go camping at its basic and best and Its what camping should be all about.
Such potential, shame.
We stayed here just a week or so ago. It's could be a lovely site in an amazing valley, but the owners need to invest in some basic maintenance. There is a small shower block containing 6 showers, but only one is usable. The others have missing knobs, don't switch on, or the shower heads are broken. I reported this to the owner who said 'kids' had broken them, but there didn't seem to be any children there, the damage seemed long-standing, and he clearly had no intention of looking at the problems. The toilets are dirty, only one had loo paper, and if you choose to stay in the on-site accommodation (we didn't, but we had a sneaky look), the walls are mouldy and it's just dirty and smelly. There were not many people staying there, which is probably a reflection of the experiences of others. It is cheap though. My advice is to bring a shower with you, use the site as a basic base, and expect very little. This site could be a thriving business, but sadly, I do not think the owners care enough about it, for it to ever be more than a way of making a few quid.
a mess, but a extremely beautiful setting
If you don't mind showers, toilets, lights and hookups not working and if you keep your eyes on the river or the sky (and not on the mess along the campsite like abandoned machinery, caravans etc.) this is the perfect spot to relax. Children can play endlessly by the river. The skies at night are the best in the UK; if you really want to see the milky way....
However, we do like facilities to be clean and working, so therefore only a 2 * rating, sorry.

Facilities are well below par
We stayed at Cloud Farm last July for about five nights, and we are sorry to say, but it was a disappointment. This means, the facilities. We really had the idea that nobody cares about mending anything. More than half of the showers didn't work (or only with cold water), lights not to mention. Hygienic situation in toilets is really unacceptable (overflowing urninoirs, within half a meter from the sink). Btw, there is only one sink for all the men... 
So, if you don't need the facilities, it can be a great place, within a stunning scenery. But if you do, be warned.
Martijn 
Stunning Scenery
I just stayed here for one night (out of season) as I was hiking through Exmoor. The location is simply stunning - please if you stay here, take the opportunity to walk up the valley through the oakwood forest.The farm is in the middle of  a dark skies zone, so if clear weather is forecast take a pair of binoculars or a telescope.
I didn't have the need to use the facilities but I have to admit they didn't particularly look 5 star from the outside.The staff were very friendly and helpful and the tea room does a nice bacon sandwich and a cup of tea. There is the Lorna Doone Inn at the small village at the bottom of the drive which has limited opening hours out of season, bur the food is nice.
All in all very nice location but the facilities could do with a bit of refurbishment.
Cloud Farm
One of the most beautiful places I have ever had the pleasure to camp. Very near wild camping in the stunning Doone Valley at the foot of Exmoor.  Camp where you like insmall fields   next to Badgworthy water, a small river with pools and rocks and the odd small trout. Views over to the stunning cloud hill which was a vivid purple with the heather in full bloom at the time of our visit. Great spot to see lots of native wild life, bird life is particularly rich in the valley. Camp fires are permited which makes the experience all the richer. Very little  light pollution so we enjoyed evenings round the campfire, with a stunning starry sky over head. The camp owners where very friendly and helpful and very welcoming, whilst just letting you get on with it.  The on site shop sells wood for fires and simple food, and the luxury of great local cider too. This is a rustic campsite , come prepared for proper camping, and a view to fully experience the beauty of this rugged  and beautiful area.
Disappointing facilities
We have just got back from our 2nd visit to Cloud farm, 2 adults and children aged 13 and 15 and a dog. We visited the first time in summer 2011 and had a lovely 10 day break so came back again for a week this year. We love Exmoor and love the stream through the campsite and cooking marshmallows on the log fire.  It was disappointing that the facilities - toilets, showers and washing up area have not been updated since our last visit and had deteriorated considerably - please see previous review - we concur -   they were insufficient for the number of visitors, dirty and very smelly. The prices in the shop -TWICE supermarket prices!! 
Lovely location, let down by dire facilities
We first visited Cloud Farm in 2011 and decided to go back for 5 days last week. We have two children aged 8 and 6. First the positives - the location is truly lovely, with camping next to a beautiful shallow river that is pretty safe for paddling as long as smaller children are supervised. The owners are friendly and laid back and allow small open fires. The Doone valley is stunning and there is great walking from the site and further afield.  The site itself is spread out along the river so never really feels too busy. My children loved the place.
However, I think the site is badly let down by the state of the facilities, which are completely out-dated and inadequate, at least for families. The toilet facilities are cramped, with only one sink for the entire site in each. Four bog standard electric showers (described as 'power showers') are sited in an old portakabin, run off a diesel generator which shuts down after 8pm. Again these are cramped and in poor condition, with broken panels just at the right height to catch small children's fingers. Black mould is everywhere. The washing up area isn't much better. We skipped the 'tea-room' as our confidence wasn't very high as a result. 
Its difficult not to come to the conclusion that the owners are just trading on the location and can't be bothered to update the site to a decent standard. We paid £24 per night for a family of four - about average these days. We camp regularly every year and its unusual to find a site with such run down facilities for that sort of price now. The place really needs some money spending on it. 
We'll definitely return to Exmoor, but not to Cloud Farm. There is plenty of choice in this area and we have already visited some of the competition for next time. That's a shame, as it could be so much better.
2nd chance saloon
We decided to give Cloud Farm a 2nd chance this year following a terrible trip a few years back.
First time around the site was rammed, and we were very rudely dealt with. The facilities were horrendous, dirty and crowded. We vowed never to return.
We went this weekend with friends and our 2 young kids to give it a 2nd chance. What a difference a few years make.
We had a very friendly welcome, with advice on where to camp with the kids. We setup next to the river, gorgeous. (I highly recommend Jungle Lotion for the midges, works a treat). It was very rainy our first day there, however the toilets and showers were still kept clean. Every morning the owners came around I assume checking for payments, and also making sure we were all OK and enjoying ourselves.
The showers run on a generator, however as long as you want to shower at the time the shop is open(8-8) you are fine, as they will turn the generators on for you.
We only bought bacon from the shop, which was a very high quality. We had lunch a short walk away at Lorna Doone, also beautiful, I believe owned by the same people.
We thououghly recommend Cloud Farm now, very friendly, very beautiful site. We have seen better facilities, but we had no problem using them even with a 2 year old and 8 month old in tow. Also one of the few campsites I have seen that supply a full size fridge that you can use as you like, along with the chest freezer, tumble drier and washing machine.
One of my concerns was the 'no rules' approach, I had visions of rowdy groups staying up all hours, but we certainly could not hear anything after 9pm.. perhaps the sound of the stream blocks it out?
Lovely all round.. Bit of a pain to get to, but the isolation is part of the attraction...How caravans get there I dont know..

Shame
Yes the location is lovely, but the facilities are awful and every opportunity they get to extract money out of you they do. Wouldn't,t recommend at all.
a little bit of heaven but..................
 I'd be surprised to find a campsite in a more beautiful setting. There is a lovely, friendly, laid-back feel to the place and it's great to have no rules and regulations - and there are very few sites where you can both choose your own pitch and have a campfire. It's in need of a bit of tlc - yes - and it's not what it was 3 or 4 years ago - but the facilities are ok and the owner is friendly and helpful. Fabulous walking country without taking your car off the site.
Not what it used to be...
Haven't been to Cloud Farm for 3 years until a trip last weekend and I have to say that whilst the location is still utterly stunning, the site as a whole does feel somewhat neglected.
Having two young children the attraction to us of Cloud Farm was that you had the beautiful valley location and the stream right there for the kids to paddle in but crucially that the stream was fenced off so they couldn't get to it unless we were with them.  Now large sections of the fence have been allowed to fall down or are missing completely and this adds to the overall sense that the glory days of the site are behind it.
The shop/cafe is no longer really a shop as they only sell milk and a few drinks and chocolate bars.  We did try some of the hot food and that was fair but nothing to write home about.  As others have said the stables are no longer open for riding. The other facilities (loos, potwashing room etc) were all fine but had the same feel of just needing a bit of time and effort spent bringing them up to scratch
Wish I could be more positive as Cloud Farm has long been one of my favourite campsites, I just hope the owners feel the same and are planning to give the site some of the tlc it needs and deserves.
Cloud Farm
Visited Cloud Farm June 2013 based on write up in Cool Camping. On arrival we discovered the riding school part is now closed and it would appear the site may have changed hands. A little run down, basic facilities which were not particularly clean, but all that said we really thoroughly enjoyed our 3 night stay at Cloud Farm!  
The scenery is stunning and the owner of Cloud Farm is very friendly and helpful.  The kids loved the freedom, we took our dog and it was wonderful being able to have a camp fire in the evenings. No phone signal for miles! Although we were a bit disappointed when we arrived, this was our best ever camping experience and we will definitely return.
Pete
Cool? Ha. There's no denying this place is in a stunning location. The valley, the river running through it, the whole heart of Exmoor thing, I can't fault that. And it's great, these days, in a British campsite, to have your own little campfire. What I can fault is the fact that it's a dilapidated old farm with practically no facilities, and it's really, REALLY expensive. Now before anyone starts screaming "but this is real camping, not your modern 21st century all mod cons camping, but a farm in the middle of nowhere so you can't expect such facilities", I'll admit you're right. If they charged a tenner and didn't call it "cool," that would be about right. I love places like that. But a family can expect to pay a whopping £30 a night to stay at Cloud Farm. And the ripoff doesn't end there. When my missus bought a pint of milk she was charged a staggering £2 for a litre. No, it wasn't fresh from the farm cow or provided by a local organic dairy co-operative in the next valley and therefore worth every penny. It was the same stuff they were selling ten minutes away in Lynmouth for exactly half the price. This campsite isn't in the middle of nowhere. They don't have to fly it in. It doesn't cost anywhere near £2 in the Scilly Isles, and I doubt even the most flagrant ripoff kiosk in Covent Garden would try charging anything so brazen. And if you haven't brought your own logs and don't fancy foraging, they'll sell you two little bags for £10 (with free kindling!!). The owners must think we are stupid. Perhaps we are. For this kind of money you'd expect great facilities. For chaps, you get one sink in a ridiculously cramped gents building with a stinking urinal less than 18 inches away (admittedly there are two more in a ruined lean-to next to the farmhouse if you search for it). There are virtually no signs anywhere, so it takes some time to find anything – when I finally located the rubbish dump was just a towering pile of refuse spilling out over the top of an inadequate screen. Needless to say there are zero recycling facilities. The showers, in a big steel container, are open from 8-10 in the morning, and 6 to 8 in the evening. That's it. So if you've got a three year old covered in mud and it's lunchtime, you just hose em down or wait and join the evening queue. Fancy a quick shower at 7am before your hike on Exmoor? No chance. Oh, and the litter. We picked at least a dozen crisp packets, tent bag labels and drinks cans out of the hedge next to our tent. I've camped all over the UK, and all over the world, from Alaska to Zimbabwe, and this sort of thing really pisses me off. There are only a so many middle class townies happy to kid themselves that it's all so real, having a proper campfire, and being on a farm and all. Sooner or later people will start seeing beyond the Emperor's new clothes and notice that there seem to be plenty of other campsites in the area in just as enviable locations, but, one presumes, more appropriate facilities for the price. Come on Cloud Farm. Drop your prices, or provide some facilities. The lemmings won't keep jumping off the cliff forever.
Cloud Farm
Great camp site. They now do evening meals of fish and chips so if you arrive and need a quick dinner its very easy. We have been going for the odd weekend for years and although its busier now it is still a fantastic location. Spent a happy day splashing about in the river with the kids. There are lovely walks from the camp site but mainly we seemed to spend far too much time cooking things on the fire.
Cloud Farm
We went to Cloud Farm for our first camping trip in years and what a place we picked (thanks to you, Cool Camping!). We had a gorgeous spot by the river despite it being a busy, sunny weekend. We had a gorgeous 4 hour walk over the Exmoor straight from our tent door and a fantastic breakfast in the on site cafe in the next morning. What more could we want! The whole place felt friendly and welcoming, and everyone staying there seemed as happy as we were. The only problem we encountered was that we set off walking a little late and by the time we returned at about 7pm the on site cafe and local pub had both closed for food so we went to bed a little bit hungry. All was remedied in themorning with our cooked breakfast though!
Cloud Farm
Easter 2007: I only just got in! It was heaving, the phrase 'peg sharing' sprung to mind. That said, the location was awesome! They have wooden boxes dotted about the site, full of rocks, so that you can build your own campfire, and the walks from the farm are great. It has a really handy little shop on site and a cafe. The facilities are good and they sell bags of logs and kindling, at a really good price. I was in the overflow field, so didn't get much of a view of the stream. The only thing that really annoyed me, they charged me based on the 'Berth' of my tent! I went alone, but had to pay for 4 people! What should have cost me £5 actually came to £20. Feb 2009: The ground was saturated and I don't think it got above freezing! At least I got a pitch near the stream this time. Took the same tent, but only got charged for 1 person this time. Although there was only one other camper there! Its a great campsite, but be prepared for it to be busy.
Cloud Farm
Well, what can I say. We try to go camping a couple of times each year and like to pick a different spot each time. However, after our stay at Cloud Farm I think we might have met our match... This is one of the best site I've visited in a long time! We went to stay at the beginning of April, attempting to miss the holiday madness. The location of this site is absolutely second to none. We pitched right on the riverside, literally 4 feet away! This meant the kids could go for a dip whilst we sat by our tent and I could keep an eye on them. We had a big fire each night we stayed there, the staff were very relaxed about where we set ourselves up and where we had a fire. In fact I think that word best sums up our experience at Cloud Farm... relaxed! We always enjoy getting away from the hustle as we live in London, but this is one of the most relaxing camping holidays we've had in a while. One thing I will say is that they dont seem to be running the horse riding at the moment but we spoke to one of the staff and they said they were going to try to get it going for next year. The staff there seemed to go out of their way to help us with anything they could (even when I got a puncture... ooops! They leant me an electric pump to pump up my tire!) Even without the horse riding this is one of the best, if not THE best site we've been to. I thoroughly recommend it to anyone that is considering a relaxed get away in the countryside.