Well-tended terraces providing magnificent ocean views
The ancient South American tribes of Inca and Maya might have invented terracing to help with their crop cultivation, but seldom can they have done it so well as the folk have here at Little Meadow. By levelling off the land in a series of flat lawns they've ensured that campers benefit from being plumb-line level with the well-tended soft grass for easy tent pegging,while still enjoying views of the stunning North Devon coast. This Area of Outstanding Natural Beauty has everything: dramatic cliffs, wide sandy beaches and quaint little coves and harbours.
The terracing also helps create privacy – you'd never guess there are 50 pitches on this unassuming, environmentally friendly campsite, all set in a beautifully kept 100-acre organic farm. Part of this is down to their sensible policy on dwelling size, with the campsite owners actively discouraging mega-size tents or massive motorhomes. Everywhere you walk brings another unexpected delight, whether it's a rabbit hip-hopping across a nearby meadow, or a set of swings for kids tucked away in a corner. There's also an outdoor table tennis-table set up for use by all guests, and you can buy bats and balls at reception. While here, why not pick up some of the store's lovely regional products – from bacon, eggs and local meats to truly moreish homemade cakes. Bright splashes of flowers border the pitching areas, providing colourful framing to the views over Watermouth Bay, the Bristol Channel and the cliffs of Hangman Point. Its proximity to all things nautical is also in evidence, with huge old anchors, carved driftwood and colourful floats and buoys scattered around the reception area. It's a magnificent spot in which to settle comfortably into a deckchair, or one of the giant hammocks, and survey the scenery – you might even spy a seal or a basking shark if you're lucky (and in possession of a good pair of binoculars).
If you can drag yourself away, though, there are several must-dos in the area. A day trip to Lundy Island, by ferry from nearby Ilfracombe, offers outstanding views of England, Wales and the Atlantic. It might be just 11 miles from the mainland, but the sense of remoteness is incredible. There's no ferry between November and March, but well-heeled folk can always opt for the daily helicopter service (Mon–Fri). You should also consider taking a fishing trip from Ilfracombe to catch bass, pollack, whiting, cod and mackerel, which are all plentiful here. Gut them on the boat – under the tutelage of the skipper, of course – and you could have your breakfast, lunch and dinner sorted for the day. Alternatively, spend a day learning to ride the waves at one of the many surf schools in the area, at Woolacombe, Croyde or Saunton Sands; or take a beach horse-riding lesson courtesy of Woolacombe Riding Stables.There's also Exmoor on your doorstep, of course, which is fabulous for walking. Plus it's not far from the site to the Hunter's Inn pub, from where there are any number of glorious treks you could do, including an easy stroll to the sea at Heddon's Mouth, after which you'll definitely have earned yourself a pint at the pub.
Gallery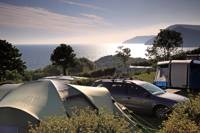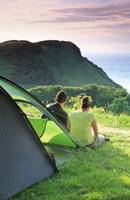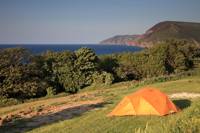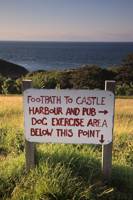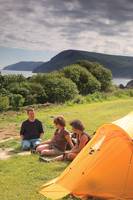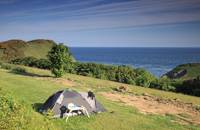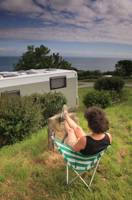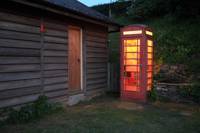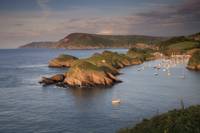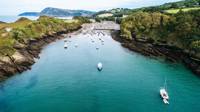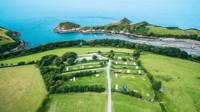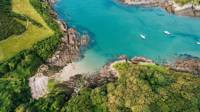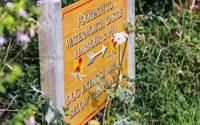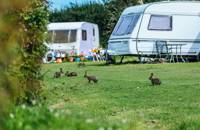 Video Tour
The Owner Says
Little Meadow is a small, uncommercial camping site with panoramic views over Combe Martin bay and the Bristol Channel. We offer quiet, peaceful camping in North Devon's tranquil surroundings. The campsite is set on a 100 acre organic farm with 50 individually marked pitches, each with stunning views. Children are welcome at Little Meadow and we have a quiet, traffic free, wooded play area. We do also welcome well-behaved dogs and there is a large dog run field on site. A small shop on site offers freshly baked croissants, pain au chocolat and baguettes daily, local bacon eggs, milk and other basic groceries, and WiFi is also available on site. We accept tents, touring caravans and motor homes, and are open between March and September every year.
Reader Reviews
Add Your Review
Wow Great Sunsets/Views
We stayed for amazing very hot !! 10 days in June. There were 2 of us plus 3 dogs and 2 friends who later joined us with their caravan. The washing-up & shower blocks we extremely clean and tidy with loads of hot water. There was more than ample pitch space with great views. Large field for dogs. The sunsets were amazing.The site for us was ideal, small quiet very helpful owner and staff. It was easy to get to most places in the area either by car or on foot. There are regular buses that pass the site. This site IS a MUST to stay at. We would be happy to give it 10 out of 10. We will go back again.
Simply Superb
This simple, tranquil campsite is beautifully kept. Stunning sea views from every pitch and because they are so cleverly tiered you feel you have the place to yourself. The staff are super friendly and more than happy to share their local knowledge of the abundant beaches and walks along the coast. The facilities are clean and eco friendly with spacious showers and plenty of hot water at all times. The shop is stocked with essentials, fresh baked bread every morning, farm eggs and delicious local dressed crab available by order in the evening. No phone reception which gave us the perfect excuse to switch off. You are spoilt for choice for beaches but you do need a car. This is not the place of pizzerias and hectic nightlife. This is the place to sit back and relax and enjoy one of the most beautiful campsites in the country.
Wow
We spent a week at Little Meadow. It rained...a lot! Despite this we had a fantastic time. Sitting in our tent, disco lights flashing (the kids love them, not us adults of course :-) ) and the rain beating down we had real, old fashioned fun. The owners are fantastic and went out of their way to make sure that our lives were made easier despite the rain. The shop! The shop, my word. Warm baguettes, pain au chocolate and croissants in the morning and a good supply of camping gear and food and run by the nicest person in the world.
The views! All I can say is superb. Dolphins in the morning chasing their breakfast in the bay, sunsets by the fire cold glass of beer in hand and the sound of the kids playing in the park. Bliss.
Will we be back. Oh heck yes!
Hmmm..not so sure
We had a slightly uncomfortable stay at this site. On arrival we thought it was amazing. The pitches are great, the facilities are beautifully clean and maintained, the views are incredible. We were delighted to get a pitch right by the play area as we have two kids (8 and 5), the youngest of whom has learning disabilities (Down's Syndrome) so we couldn't believe our luck at being able to watch him from the campervan (he has a tendency to do a runner occasionally) while he played in the park. On our second day we took off for the beach leaving our camping chairs on our pitch to save it. When we came back, our pitch had been given away to someone else! While I totally understand that mistakes happen, the attitude of the staff and the owner was shocking. There was no apology and a phone call was made in front of me by a staff member who said to the owner "the woman's being a bit funny and refusing to move" when I asked if we could have our pitch back, which we had booked and paid for.The owner came to speak to me and said that there was nothing she could do. In truth, there wasn't at the time. Our pitch-nickers had also gone out in their camper but luckily for them had pitched a small tent instead of just leaving camping chairs and a modicum of trust! She told us we would have to move to another pitch as we were more mobile (not having a tent as well as a van) and. to be honest, if she had just said sorry at some point or thank you for moving it wouldn't have bothered us so much.Instead we were made to feel like they were doing us a favour letting us stay there. This is an attitude I've noticed before in other cool camping sites. It's an experience that has sadly confirmed a longstanding suspicion that cool camping campsites are now becoming the places to avoid. Seriously uncool camping.
Devon Heaven
This site is just so peaceful with the most amazing views,  the pitches are very generous so you feel like you have your own little plot on the site.  The showers and toilets are always beautifully clean and feel really eco friendly and the shop has a fantastic selection of goodies. The view you have from the washing up area makes it a really pleasurable experience. It really is a place where you can truly unwind and recharge your batteries. Nick, Sian and Linda are  lovely people who make you really welcome and they are full of advise of where to go and what to see.   We have been coming to this site for 10 years and it has NEVER disappointed, the only disappointment is having to leave.
Lovely few days at Little Meadow
We have just come back from 4 fab days at Little Meadow.   This is a really lovely site.  With the terraced pitches it never seemed crowded and the views were just amazing.
A quiet family site and for the kids the big tree down by the playground gave hours of amusement and joy.  The little extras of ordering your freshly baked croissants and baguettes were a added bonus too.  The children enjoyed the freedom, the adults the peace and all in all a fab few days.  Good beaches around, if you have dogs try Saunton Sands. Also good for lunch on the terrace by the cafe!  We'll be back.
Just what we needed!
Just back from a short break where we stayed at Little Meadow Campsite............... after we had gotten over the stunning views we pitched and settled in for a lovely few days. The owners are 'unobtrusive' and you are left alone, which is just what I wanted :) Facilities are 'enough' and everything is kept clean and tidy. The absolute best bit though is waking up to a beautiful view over the sea and hills of North Devon. We had sunshine all weekend which just made everything perfect

Great Views!
The site is set up a hillside above Watermouth cove between Ilfracombe and Combe Martin. The pitches are in terraces which give spectacular views of the North Devon coast. 

Facilities at the site include hot showers, washing up sinks with a superb view, washing machine, and freezer for ice blocks. There is a shop at the reception which stocks a few basics items only - although we were off season so this may improve as the site gets busier. Also has wifi and a phone box - the mobile coverage for all networks is very poor if not non existent!

There's a dog walking area and a children's play area. The majority of the pitches have access to EHU. 

A few minutes walk down a private footpath will take you to Watermouth harbour and castle (theme park) and a further 15 minutes walk will deliver you to the Sawmill pub - a friendly family pub serving decent beers and meals. Of course if your up for more of a walk the South West Coastal path passes right by the site which will take you to Combe Martin to the north and Ilfracombe to the south

The site is extremely well maintained with clean facilities. It has a chilled out feel to it with recycling encouraged. The owners are very helpful and friendly. 

The pitches are a very generous size with plenty of room to get your car and caravan/large tent side by side. Although we stayed off season at Easter 2013 with only another dozen or so occupants, I would imagine the site would not particularly feel over crowded when at its full capacity of 50 pitches helped by the large pitches and terraced layout. 

Only downsides to the site are that it can get pretty draughty due to its hillside location and also there's not a great deal within easy walking distance apart from what's mentioned above. It's also quite pricey but I guess your paying for the views. 

All in all a lovely site which has superb views. This is not a commercial site with lots of hustle and bustle but instead has relaxed and friendly feel - definitely worth a visit!

Little Meadow, Watermouth
What a beautifully laid out, peaceful, wondrous campsite. Most of the pitches are very large and carefully terraced to offer terrific views of the nearby coast. The coastal footpath to Ilfracombe and Coombe Martin is only 400m away as is the local pub. The manager/owner, Lynda, is extremely helpful and we'll certainly be going back again in the not too distant future.

Best place to wash up EVER
This was our 2nd visit after 6 years and if anything the site is better than recollection. From the moment we turned up with 2 energetic kids, we were made part of the family and made very welcome. The plots are perfectly level with great "peg conditions" and amazing views across the North Devon coast to South Wales. The showers/ wc's are clean and uncrowded. Located close to Watermouth Bay makes a great early morning walk and Ilfracombe is only 10 mins drive away with plenty to do. The site is between Exmoor and the great surf beaches of Croyde Saunton and Woolacombe so it's great for an active holiday. Sian is a font of local knowledge knowing plenty of pubs, cafes to eat at. Oh, and the washing up - uninterupted views of the coastline and sea - Fantastic. 
Stunning
We've just returned from staying at Little Meadow over the August Bank Holiday weekend. Echoing other reviews, the views are simply stunning. Washing up & brushing teeth - you simply can't fault the views. Even though it was the bank holiday weekend, the site didn't feel swamped with people, unlike other sites I've been on. Having the tiers really helps, it means you've all got plenty of room and each have the stunning view. Another great point about the site is that it's so quiet. Kids need to be back in their tents by 9pm. My 11 year old was fine with this. The walk to the the washing block is quite steep, so be warned but you quickly get used to it. My only wish was that the owners cleaned the washing block more than once a day in such high season.
Dreamy Views
Washing up will never be the same again! Those who have visited will know what I mean, you find yourself staring out at the sea, mouth open wide, with a very clean plate in your hand. The setting is excellent, with the South Coast Path just across the road. Keen walkers will enjoy the challenge of hilly opportunities for exploration and runners will delight in the reward of a stunning view as they catch their breath at the top of a cliff - I ran towards Ilfracombe on a few of the mornings we were there, and smiled all the way. 
The site is very well tended with some great touches such as the rows of jolly hydrangea hugging the pitches, the swings with a sea view that children have to edge their parents off if they want a go and I particularly liked the mismatched mirrors in the loos with a vase of freshly picked flowers positioned next to them. The shop is great and we enjoyed some freshly baked croissants a few times. The location is excellent for a number of days out and, if you are feeling energetic, you might try the walk we did: over to Combe Martin along the coastal path (we paused at Broadsands Beach for a dip...), up the hill towards Hangman's Point and down the many steps to Wild Pear Beach - we would have had it all to ourselves if it wasn't for the three other people across the expanse of rock pools and sand. Perfect!
Great Last Minute Trip
Just back from a last minute trip to Little Meadow. We only just made it as they don't accept arrivals after 9pm and we arrived at 9.02pm but they were very friendly and showed us to our pitch. 5/5 all round. Good facilities, clean and didn't queue for anything. Amazing views and great location. A short ride in the car and we were on Woolacombe beach at 8.30am body boarding with the more professional looking surfers. Quiet at night, wi-fi signal depends on your pitch and ours was just too far away to get a constant signal. Dog friendly. Great last minute trip!
Quiet, family-friendly site in stunning location
We've just got back from a fantastic week at Little Meadow. The biggest draw has to be the location - stunning sea views from every pitch where you can watch the sea, the sunset and (if you can stay up late enough) the stars. The facilities are excellent - well-tended, terraced pitches (think back garden rather than field), clean toilets and shower blocks, a shop and washing up area. No bar, no pool, no nightly entertainment, and the wi-fi and mobile phone signals are very temperamental. So if a fully functioning wifi signal and a karaoke session are top of your priorities on a camping trip, you need to either adjust your demands or find a different site. My top recommendation of somewhere to visit - make a day of it, take everything you need and have a blessed-out day. Broadsands beach - an absolutely idyllic beach about 20-30 minutes' walk from the campsite. Head down the footpath to the castle, cross the road at the harbour, turn right and follow the path to Watermouth Valley Campsite. Go though the campsite following the signs for the coastal path. The path goes uphill and hugs the coast, then goes into a wooded area. Look for the sign for Broadsands beach on the left. The path down is pretty steep at times and has 232 steps, so don't expect an easy walk! There are no faciilities on the beach so take what you need. Once on the beach you will be rewarded with some of the most spectacular coastal scenery in the UK - wooded cliffs, rock pools, a deep water beach perfect for swimming, and views to Exmoor and South Wales. You won't find the world and his wife here so there's plenty of space. It's a shingle beach rather than sand, so wear something to protect your feet unless you're an intrepid explorer like my 10-year old. A beautifully located, well looked after site, with friendly and helpful owners and staff. Highly recommended.
Great Weekend
This was our first time camping in Devon. The first thing that you notice on your way through Devon is there seem to be campsites on every corner. I can only imagine it must be heaving in there summer! We arrived at Little Meadow in torrential rain and high winds with a tent we had never erected before - not the best combination! Having read the reviews we had high expectations and were not disappointed in any way. The pitch was generous, the site was quiet and friendly, the shop was adequately stocked, the shower block and facilities were perfectly clean, and the view when washing up in the evening was unlike anything I have ever experienced before. We would not hesitate to give this a 10/10 and will definitely be back as soon as we can. Thank you Little Meadow for a lovely weekend break.
Little Meadow
Stayed here with our 3 small children (4 months-6 years) and dog. Made to feel very welcome, lovely owners and staff.
Beautiful small campsite and lovely views of the coast, especially when washing up. Immaculately clean shower block and I particularly liked the recycling facilities.
Dog was very keen on the dog walking field as she could run around in long grass off lead!
Probably my favourite campsite and planning on returning as the area around is lovely too with lots to do.
Little Meadow
Ah I loved it here. Spent two nights just me on my own and felt very safe. Lovely friendly welcome and the campsite is just gorgeous. Incredible views out to sea with plots terraced all the way down so EVERYONE gets a great view. They've really done the place up beautifully. Eco facilities, clean, wooden, stylish. enjoyed washing up looking out at the rain pouring down on the sea in front. Free wifi which is great but also necessary because there isn't much phone reception. I didn't explore much because I was mainly in my camper making use of the free wifi and working (I live in my camper) but there were some lovely coastal walks around there and there seems to be a lot to do. @selinabarker - 6 months travelling the UK, living and working from my campervan, Beryl
Best Price Guarantee, with no fees
Instant booking confirmation
Trusted for over 10 years
A chance to win £50 of Cool Camping vouchers!
Book campsites near Little Meadow