OCEANFEST Pitch 10B - (Size 6.5m x 5.5m)
Ocean Pitch Campsite, Moor Lane, Croyde, Devon EX33 1NZ
Sleeps 4

(max 4 adults, 3 children)
Book camping accommodation at Ocean Pitch Campsite
The Owner Says
ATTENTION: As per below all pitches are halved for the festival weekend and therefor your TENT/CAMPER must fit within half of the pitch;
(Half dimensions for this pitch are 6.5m x 5.5m)
During this specific weekend Ocean Pitch runs festival style camping. Each pitch will contain 2 tents or 2 Campers & cars will be parked in the festival car parking field just 50 yards from the campsite, unless you're in a campervan which can obviously stay on your pitch. However, cars will be allowed onto the campsite upon arrival to unload.
Please note: Every Group MUST be accompanied by at least 1 adult. Due to the nature of the weekend we do not allow young teenage groups on site.
Search all availability at Ocean Pitch Campsite
Stunning views over Croyde Bay – the beach is a stone's throw away
The Owner Says
OCEAN PITCH CAMPSITE
Welcome to Ocean Pitch Campsite in Croyde, Devon. Ocean Pitch offers idyllic camping & deluxe Glamping with outstanding views & within touching distance of North Devon`s finest beach, Croyde Bay.
Ocean Pitch offers a friendly, premium camping experience in Croyde with a location ideal for surfing, walking & cycling and provides perfect access to the South West Coastal Path.
The campsite is family run by a couple with a fantastic supporting team who are always there to help for any of your camping needs. The campsite is fairly small in size which creates a relaxing, chilled out vibe - idllyic whilst looking out over one of the UK's most stunning beaches' & surf break.
The toilets and hot showers are not only modern, but they're spotless & there is also free Wifi as well as mobile phone/ tablet charging facilities.
Ocean Pitch also offers a deluxe Glamping experience, Pod Glamping, which is Croyde's answer to quality, luxurious camping and offers a premium, idyllic experience. Located at the top of the campsite, our pods allow you to unwind and enjoy the stunning views of Croyde Bay. Whether you're looking for a romantic weekend getaway or simply fancy the idea of camping but with the luxuries of home, Ocean Pitch Pod Glamping has it all.
Come & experience North Devon's best kept campsite secret for yourself - we looking forward to welcoming you on-site.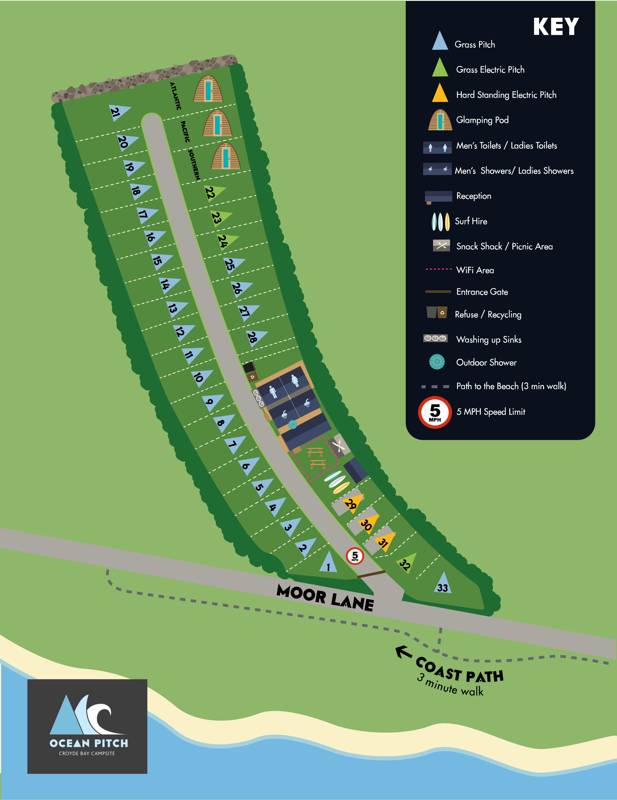 Site Facilities
Hot showers, immaculately clean toilets, outside cold showers for washing wetsuits, outside washing up basins, free WiFi internet access, mobile phone/ tablet battery charging in reception, on site catering (The Snack Shack), surf hire, friendly staff on site 24hrs.