A small, green, pop-up campsite in the heart of North Devon
Like all the best campsites, there's not much to see at Bales Ash for most of the year. It has a quietly ephemeral feel that almost makes you wonder whether a campsite really calls this patch of Devon's Taw Valley home at all. There's no playground and just a few faint lines traced in the grass by vehicles that disappeared in mid September.
But summer is an altogether different story. Alive with the colour of canvas tents and infused by the sound of children's laughter, the distant strumming of a guitar and the evocative aroma of smouldering barbecues, you realise that the campsite is perfect entirely because of its lack of all things permanent. This is a lesson in how all campsites should be: pop-up, fuss free, sheep-mown aprons of grass and refreshingly understated.
Camping at Bales Ash is very much of the chilled-out variety. There are a handful of electric hook-ups for small campervans that don't mind the country lanes and two spacious fields where up to 30 families or groups can spread themselves around. After that. It's up to you to find the excitement, whether that be impromptu games of football that rope in strangers from the sidelines or communal evening campfires where kiddies gorge themselves on marshmallows.
That being said, animal lovers will enjoy checking in with the rabbits in 'The Bunny House' opposite the shower block, while parents and young children alike will revel in Hungry Gorilla's Story tent where a friendly life-sized gorilla (don't worry – he's stuffed!) has taken up residence for the summer with a selection of children's books for you to enjoy together.
Yet for all its simplicity, Bales Ash still has everything you could possibly need. Campfire pits are rented out at just £3 for your entire stay, high spec hot showers and top notch compost toilets are available for use and there's even Wi-Fi. It's the very antithesis of the holiday park scene, right down to the beautifully furnished bell tents (aka 'The Belles of Bales Ash') nestled against the hedge in the small field. If you don't fancy putting up your own tent and seek a bit of luxury then one of the Belles may be the girl for you! And whilst we're talking about luxury why not treat yourself to one of Ann, Debbie and Caro's unbeatable cream teas whilst enjoying the view from outside their Victorian summer house shop and café? (Remember we're in Devon here – cream first, jam after).
Beyond, views over the hedges to Exmoor draw you out from your camping cocoon. It's a half hour drive to the national park, though footpaths closer to home offer similarly pleasant rambling routes even if not feeling quite so 'remote' – after all, who's going to complain if you take in a few pubs en route? To the north, Barnstaple and the coast are closer still (about 20-35 minutes in the car) and boast some of the best surfing beaches in the country, with Croyde, Saunton Sands and Woolacombe all sharing the spoils of the swell that rolls in across the Atlantic. By the time winter comes back around you'll never look at an empty field the same way again.
Best Price Guarantee
Easy and Secure, with instant booking confirmation
Trusted for over 10 years
A chance to win a brand new Coleman tent!
Gallery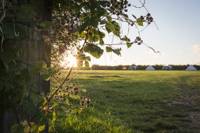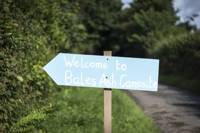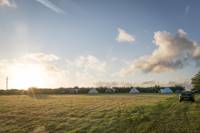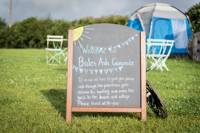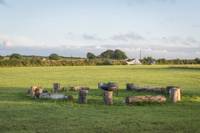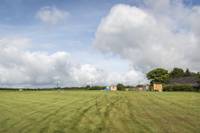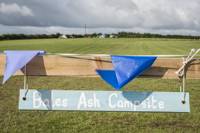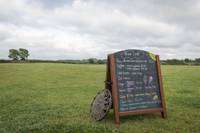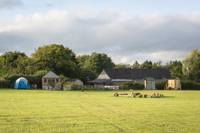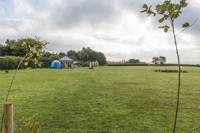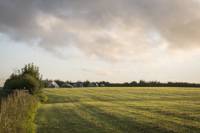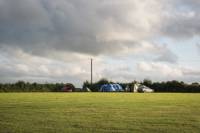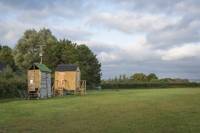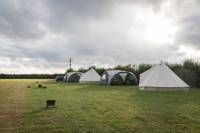 The Owner Says
Bales Ash Campsite sits above the Taw Valley in beautiful North Devon countryside with views across to Exmoor providing complete escape from the pace of modern life. We offer relaxed camping in two beautiful sprawling fields for just 3 months each year. We welcome all types of tents and camper vans, awnings and you can even bring a gazebo or event shelter.  Sit and chat around a firepit, enjoy gazing at the stars and experience the complete stillness of being away from it all. Bales Ash is a place to chill out and get in touch with the other side of you. 
Reader Reviews
Add Your Review
Lovely short stay
That it catered for our old dog with the beech huts fenced in area and gate. Private but at the same time we used the fire pit in the field with other campers! Comfortable stay and private toilet convienient!we couldnt use upstairs to sleep because our dog cant use the stairs but futon downstairs fine and used upstairs for storage. Kitchenette fine and great there was a heater. Lovely people and useful shop. Showers clean and gd! Thanks!!
Laid back site with lots of space!
This campsite was a great find! We were looking for a relaxed site that would be happy to allow groups and Bales Ash was very accomodating. The large size of the fields and limited number of pitches mean you can camp far away from other campers so making a bit of noise wasn't an issue! We loved sitting round the fire-pit in the evenings and looking at the stars. The owners Caro, Ann and Debbie were all very friendly and even invited us to join them round the big fire-pit one evening. The compost toilets are kept clean but take a bit of getting used to - instructions are provided - don't pee in the back! The showers were very good and clean. They could do with somewhere to put your contact lenses in, clean your teeth etc as the only sink was also for washing up but we managed ok. Overall, the vibe is very inclusive and laid back. We loved the lovely, quiet inland location away from the crowds but with good access to all the sights - great beaches, cute Clovelly, lovely Lynton/Lynmouth etc. It was also a lovely walk to the local pub in the village (Debbie provided great directions!), and not too far away, so we were able to go for an evening meal and walk back during the sunset. Also, don't miss the cakes and scones in High Bickington at Tea on the Lawn - I have never seen such large pieces of cake...and lots of gluten free options too. Thanks for a great experience Bales Ash - we will be back!
This was our first camping.We were 3 couples ,All married in the last couple of years. The place was amazing,we had 2 nights stay.
Really enjoyed the time spent on your site. I recommend it to all the camping lovers.
Friendly welcome and personal experience
Well what a gem! We booked last minute and stumbled across this lovely campsite in the Devon countryside, a short drive (30mins) from the coast. We received a very warm welcome, and were offered good pitch advice before Ann kindly mowed our pitch (the grass had sudden started sprouting again after the long dry spell) - was such a lovely touch! We pitched up and felt very much at home. There's plenty of room for personal space but also the chance to chat with our neighbours. Showers are warm and clean, and the compost loos are practical, clean and quirky! For those that like cake and maybe (or maybe not) vegan and / or gluten free there are options! Much to our surprise in the Devon countryside, but also very much to our delight!! Highly recommend the cake and camping!
A hidden gem
We had a really lovely 5 night stay at Bales Ash. We normally stay on larger sites with pool, bar, café, games room, entertainment etc, etc but wanted to try a more back-to-basics experience this year – a decision we didn't regret for one moment. Beautiful, peaceful location, relaxed atmosphere, very friendly owners and loads of green space for kids to run free (and for our huge tent!) plus a giant cuddly gorilla! Evenings spent sitting round the fire pit chatting, playing games, toasting marshmallows and stargazing. Perfectly location that is close enough to the coast to not have to spend too long in the car but away from the crowds. Can't recommend Bales Ash highly enough. Thanks to Debbie. Ann, Caro and Kane – we hope to be back some day.
Lovely campsite, very dog friendly
We booked a weekend at Bales Ash for our wedding anniversary, to do something different and get away from the lure of technology while you're at home. When we arrived, Kane helped us check in and showed us around the site. We stayed in Annabelle, one of the bell tents, which was furnished beautifully. The kitchen tent (next to the bell tent) had everything you would need in it so you don't have to bring any kitchen items other than food. We loved sitting out next to the fire pit in the evenings. Showers were lovely and warm, with a board to tell you about the nearby area. They also had a shop on site although we didn't buy from there other than stuff for the fire pit. They also lit the big fire pit in the middle of the site one night for those that fancied a bit of a get together. Debbie made delicious homemade scones and we enjoyed sitting out in the sunshine in the main field and having cream tea. Best of all Bales Ash is incredibly dog friendly. I have never been at a campsite that is so wonderful for dogs. You can let your dogs off lead to play together providing that they are under control. We would definitely stay here again. Thank you to Debbie, Ann and Kane for a lovely weekend. Very nice people who clearly enjoy running such a nice site.
Lovely break away with the pooch!
We stumbled upon Bales Ash campsite - The Beech Hut, after weeks off scouring the internet for somewhere cheap and cheerful for our first wedding anniversary and also somewhere we could take our puppy! When we arrived we were greeted by such a lovely lady I think her name was Karen, and her adorable pooch LuLu. With our puppy still learning to come back when she's called, we were reassured that the campsite is secure and she wouldn't be able to get out anywhere, and they had a lovely run round and play together. We were shown round all the areas of the campsite, and then into the Beech Hut where we were staying. It was small and cute and we just loved it. It was very basic inside but had everything we needed: pots, pans, cutlery, bed, fridge etc. We had our own private Eco-toilet (which I tried so hard to embrace) and our own little bbq area. Inside the camp shower block, there was a huge board filled with places to go: pubs, restaurants, shops and beaches including dog friendly! This was so helpful as we had no idea what was where. The weather on our first day was beautiful and hot, we went and had a pub lunch at the New Inn (one of the boards recommendations!) they made a big fuss of our pooch and we had a beer or two in the garden and some beautiful food! After this the weather took a turn and was horrible wind and rain. The rain finally stopped and we took a drive out to Saunton Sands, a dog friendly beach (again we got from the board recommends!). It was still wet and abit cold but it was fun and Rosie (our puppy) loved having a splash in the sea, a run around and there was plenty of other dogs for her to say hello too! There was also a beach side bar and grill which allow pets to sit outside, we sat down ready for something to eat and the heavens opened! Unfortunately the dogs weren't allowed inside and we had to leave. The rest of the weekend was rainy and cold and silly me only packed summer clothes because of the heatwave we were having (I've learnt my lesson!) so we went to the nearest supermarket, brought loads of goodies and relaxed in our little hut and pigged out. We had a lovely time, the hut was perfect for what we needed it for, the staff & people around the campsite we didn't get to see to much because of the weather but who we did meet were very smiley and friendly! It is a lovely place, and there are plenty of places to go in short driving distances. I would recommend this place to other people 100%, I just need to convince myself to use an Eco-toilet again!
Plenty of space, friendly owners, great facilities
We're just on our way home from 4 nights at Bales Ash, and we will definitely return. We travel to Devon every year from Worcestershire to get family from Cornwall, and Bales Ash has is now our favourite Devon site. From the moment we arrived we could tell this was a little gem. Facilities are basic (although the shower block looks new and well maintained) which is how we like it, and the composting toilets were kept clean and odour free. We have used many composting toilets in our time, and these are some of the best we have seen. The dogs and kids were able to run free all week, and with fire pits and wood to buy onsite, plus a couple of pubs within walking distance, what more could you ask for? We will be back :)
A fab few days
The kids and I had a fab few days at Bales Ash, all the staff were lovely and so helpful. Useful info for dog walks, local beaches and places to eat were all on display. We will definitely be returning - and with the dog too!
"Fabulous fun"
I have just got home from a long weekend camping " Camping Out Event, totally and thoroughly enjoyed my time there, great facilities, food was excellent, and the entertainment was fab, lots of laughter and met a lot of great women !! Highly recommended :)
Stunning simple camping with great fires
Our first proper camping with the children (Age 9 and 5) and it was huge success and we all loved it. From arrival you are struck by the laid back, welcoming vibe and immediately the kids were running around in the stunning, flower filled field. Facilities are basic but all you need with excellent showers and a shop to stock up on the important things you might run out of (Marshmallows/ milk/ croissants). Very welcome. We made up a campfire every night which kept the boys busy while my daughter collected a few of the flowers for our table. The kids made friends and were off playing football and exploring the other tents etc. The pace of the whole place just slows you down - an amazing break (there is still wifi and phone signal though). So much to do near by. The Tarka trial is great for all with flat cycling and plenty places to hire/ start and stop if the full 100 odd miles not for you! We recommend starting outside Barnstaple and going south, very pretty. Did not take long to get the stunning beaches of Saunton Sands and Crowde where it is £7 nad £6 for the day for the car respectively but with hours of entertainment. Take a wettest or hire one really cheaply and you can all play in the water all day like we did. On our only wet day we went to Tarka Pottery and the kids and I did the potter wheel experience which was fabulous fun. A stunning setting - we planned on a few nights and stayed 5 .... highly recommended.
A Brillant Experience
Had a great time glamping at bales ash, we stayed in a bell tent which was really cool and a new experience for us. Great facilities, electric hook up in our tent, private kitchen with all the necessities, hot showers and even a portal loo in the corner of our field ( which was great in the middle of the night ). A massive storm hit us one night and we stayed very dry & warm! The owners are very friendly and welcoming, Oh and extremely dog friendly! my girl loved it :)
The best Camp site ever!!
We had the best time at Bales Ash on the August bank holiday 2017 - Beautiful campsite with a chilled atmosphere. Our two children who were 9 & 2 at the time had am amazing time and could run free while we relaxed as it was so safe! Lovely hot showers & although we were a little dubious of the compost toilets - we needn't had worried...one of the hottest weekends of the year but thanks to the regular cleaning etc, there were absolutely fine! Lovely little extras like cream teas & the home made cakes were amazing ( My daughter has already expressed her delight at returning this year by letting us know she will be purchasing a cake as soon as we arrive!) The ladies were all wonderful & extremely helpful, nothing was too much trouble. Overall we cannot wait to return in May this year and I'm pertty sure that will also not be our last visit.
Fantastic campsite
We had the most wonderful time at Bales Ash during the bank holiday weekend in August. Extremely spacious campsite with a very chilled out atmosphere - thanks to Debbie, Ann, and Caro. They are just wonderful ladies for whom nothing is too much. Extremely friendly and home-like, with campfires adding to the charm. Loved the fresh croissants for breakfast. Composting loos are the slight downside, but one knows that before going there, and it's a pop-up campsite so doesn't have permanent toilets obviously. On the day of departure Caro even told us a "secret" route back to London, savings us hours of motorway misery! Overall one of the best campsites we've been to. Will definitely go again!
lovely serene place and lovely people
We all loved staying here (July 2017).. it suited us to have peace and quiet, with loads of space to run around and a location that felt deeply rural and far away from the crowds on the coast. We could choose where we pitched (in a huge field) and were never too near another tent, but with the advantage that the vast space in the middle was a playground for all the children. There was a football goal and that's it. Great! They made their own fun and games. Our 9 year old also enjoyed feeding dandelion leaves to the rescue rabbits and shopping for milk, matches and chocolate at the nice little shop in the summerhouse. She also had a guided tour of the cattery and loved helping the very obliging and kind owners get the glamping accommodation ready. We were rather unlucky with the weather, but had a great time in spite of the rain. The very civilised hot showers were a bonus, the board with local info was helpful, as was the freezer for ice blocks and the composting loos were fine and rather cute. It's a shame that some people didn't follow the simple instructions on how to use them .. On our last night, to avoid packing up a wet tent, we were kindly offered the use of a spare bell tent, which was fun and much appreciated. If you enjoy simple, peaceful camping, with few rules and regs and lighting a fire at night, this is a fantastic place. We took one of the owners' recommendations and visited the WONDERFUL Broomhill sculpture garden on our last day and would really urge everyone to go there. It's fantastic and they do really fab afternoon tea (and lunches).
Fantastic experience!
I absolutely loved this campsite. Our family aren't interested in big commercial campsites, and this one was perfect! (Friendly staff, composting toilets, WiFi, clean showers, dog friendly, washing up station, wild camping, washing machine etc.) All staff were so kind and were relaxed with us arriving a couple hours late due to traffic. Having the small summer house/shop on site was so useful and a brilliant idea, especially when we'd run out of matches & marshmallows and fancied some chocolate! The only reason why I am giving a 4 star review is because of the toilets. I know that composting toilets aren't always fabulous and clean, but the smell and hygiene of these ones impacted our stay. We would never leave the toilets feeling clean and we'd often hold it until we could go to an off-site toilet in a nearby village. I don't blame the staff for the condition of the toilets, I think that its due to people not reading the obvious signs about how to use their toilets. I'm sure that this problem could be easily resolved with a set of air fresheners and staff cleaning the toilet seat at least once a day, also tell people how to use the toilets at the start of their stay, as some people don't read them if they're with little ones etc. Maybe a second set of toilets on the site would be a good idea, so the amount of people using them is distributed and they don't become as dirty and full, plus it would make parent's lives easier not having to walk to the other end of the campsite when their children need the loo at 4a.m! I hope you can improve this problem, we'll be back nevertheless!
Excellent!
When we arrived it was the first week in June and it was raining sideways! We were shown to our tent (Annabelle) and had a full and detailed explanation of what was where and given everything we needed for our stay. The tent was so cosy inside and surprisingly secure in the howling gales! The kitchen area again sheltered you really well from the awful weather so we could cook in comfort and absolutely everything had been thought of, there was all the equipment you'd have in your home kitchen. The showers were frequently cleaned and I was very pleased that they were inside a brick building after our last campsite having theirs in a wooden shed! The compostable toilets are a brilliant idea, and if you're worried about them smelling etc then don't, they really are perfectly hygienic! There's plenty to do within short driving distance and lots of information is up in the shower area which is really handy. We had a wonderful stay and would certainly recommend it.
Perfect!!
We've just left for home with three incredibly miserable boys. They have had the time of their lives at this stunning little campsite and desperately didn't want to leave. From the moment we arrived we could not have been treated better. A beautiful welcome from Debbie and Anne, gorgeous homemade cakes, fresh hot pastries and coffee each morning. Nothing was too much trouble. Three great showers, with copious amounts of hot water, spotlessly clean compost loos. We pitched our 8 man tent in record time, thanks to the lovely flat pitch and high hedges providing shelter, yet we still had a beautiful view. Both the boys and dog were allowed to free range, some campsites bombard you with rules, not at Bales Ash. We made friends with another family and enjoyed time together around the campfire, and on our last night we saw a meteor!! A magical end to a perfect camping holiday. There's so much to do in this part of Devon we'll definitely be back and Bales Ash is where we'll be heading to.
Brilliant!
An amazing 5 days spent in the Devon countryside. Unfortunately we managed to get a flat on the last day, but thanks to some friends of Carrow's, they managed to fix it for me (I have no idea about any sort of car mechanics at all - I'd be stuffed without them!) Thank you so much - we had such a great time.
A Real Find
We arrived at the campsite late in the dark of evening, tired and disorientated. We were warmly greeted by the owners with a cup of tea to lift our spirits. The hospitality at this site is excellent. The owners are friendly, their dogs, rabbits and cats are friendly, and so too are all the relaxed campers. Our young daughter quickly made friends with other children and set off on her own adventures. Even our dog was made to feel welcome! Bales Ash is a very large site with much space between tents and stunning views of Exmoor, plus great walks amongst the hedges with gaps providing more rural views. We were able to find many blackberries and wild strawberries along the paths. One of the evenings provided a crystal clear night sky where shooting stars and satellites were clear to the naked eye. A campsite well worth another visit.
Quiet and relaxing!
We are just traveling home from our second stay in he Beach Hut. For us it's the perfect retreat. Good value for money, homely, walking distance to the pub and great for the dogs. The beach hut is compact and bijou and has everything you need for that home from home feel. Debbie and the ladies are friendly and always make sure you have everything you need while you stay at Bales Ash. Don't miss out on this peaceful retreat.... The only reason we aren't giving 5 stars cause they have compost loos... We don't mind and understand they are becoming very common now and are good for the environment:-)
The perfect stay with a personal touch
We stayed in a the bluebell tent for 2 nights. On arrival we got such a warm friendly welcome and felt instantly comfortable. The tent itself was lovely, spacious but still with a cosy feel and we had everything we needed. The attention to detail was considerate and made it feel even more homely. Showers are lovely, warm and clean. Little shop for basic and firewood is a great extra. The best thing about this site is the owners, Such lovely welcoming people. We will be staying here again on our next trip to Devon and recommending to friends. Thank you for the perfect stay x
Beautiful site
Thank you for a fantastic weekend!! Beautiful site and location. Very clean facilities. Extremely friendly staff. The use of a fire pit made it a perfect weekend for my granddaughters 3rd birthday. Will be booking to come again.
Beech Hut
We stayed in the Beech Hut for 5 nights and really enjoyed our holiday. The owners were extremely friendly and on-hand if we needed anything. The hut was cosy and had everything we needed for our stay. Bales Ash is in an ideal location for exploring Devon and Cornwall and we could have spent another week seeing the sites as there is so much to see and do. Thanks for a great stay - we hope to return in the future!
Beautiful and peaceful
Wonderful weekend enjoying the peaceful surroundings at Bales Ash. Warm welcome received from Debbie even though we were late.  Plenty of space and the opportunity to have a fire pit if required. Compostable toilets spotless and easy to use. Showers hot and free 😀 If you want to get away from it all give Bales Ash a visit.
Cracking site - spacious, clean, friendly, relaxed
This is a site with a few (3 I think) areas for pitching tents, in typically picturesque Devon surroundings. It is relatively new and as such the facilities are in great condition (best showers I've ever seen on a campsite). I've marked down one star because the organic loos could be better (too few, not enough privacy), but importantly they were kept pretty clean. The site had roughly 15-20 pitches over the late May bank holiday weekend and was nowhere near feeling congested - there was masses of room for everyone to have their own area. We were a large group of 5 families and inevitably made a bit of noise but the owners were super relaxed and the space on site probably helped. We had brilliant cream teas on one day too. Owners were also very helpful at all times. Firepits and logs provided (at a reasonable charge). Focus meant to be on tents, but I noticed they did let one large motorhome-style caravan onto the site while we were there.
Definitely one of the better campsites we've been to. Highly recommended, unless it gets too popular and they let too many in - the 2 loos would not cope for sure...

Brilliant!
We have just returned from a long bank holiday weekend at Bales Ash and I cannot sing its praises enough! So much space, great facilities (with the added bonus of it being eco friendly), dog friendly, beautiful views, fun days on the many beaches,  lazy evenings toasting marshmallows on the fire pit with the neighbours and extremely friendly hosts who make the most delicious lemon drizzle! We did not want to leave and cannot wait to go back...possibly the best campsite we have stayed at! 
Best Price Guarantee
Easy and Secure, with instant booking confirmation
Trusted for over 10 years
A chance to win a brand new Coleman tent!
Book campsites near Bales Ash