Beryl's Campsite
Beryl's Campsite, Beeson, Kingsbridge, Devon TQ7 2HW












A secret, secluded campsite with wonderful views down to Start Bay
The only clue to this campsite's existence is a hand-branded 'camping' sign nestled in a flowerbed. The site, which originally had no name and was known by locals simply as 'the one run by Beryl', has now been officially christened Beryl's by the campers themselves. The friendly lady in question describes the secretive site, hidden at the end of a tunnel of trees in Beeson village, as her 'unconventional camping haven'. Charming eccentricity is certainly apparent here, not only in the laissez-faire attitude to publicity, but also in the quirky names of the 29 pitches, such as 'Panoramic' and 'Snug'.
The 'haven' part of Beryl's description is equally apt for this lush little site, nestled as it is on a hill in the woods with a glorious view of Start Bay. Venture down the narrow access road and you're rewarded with a real sanctuary from which to explore the surrounding delights of the Devon coast. You can spy on birds from the hide looking over the local nature reserve's lake, watch sailing boats silently move across the bay, or take a walk around Slapton Ley lagoon just over the hill. The South West Coast Path is also easily reached, passing the award-winning beach at Beesands, just below the campsite.
Gallery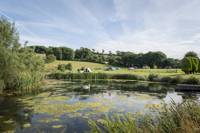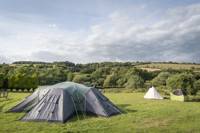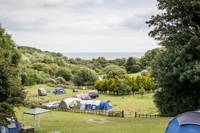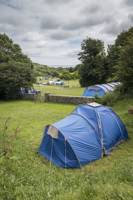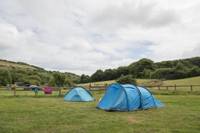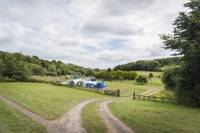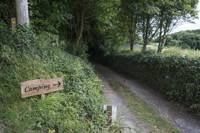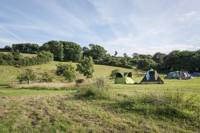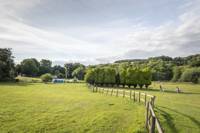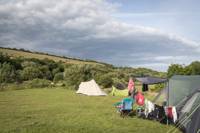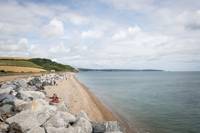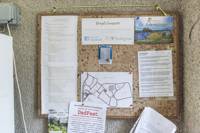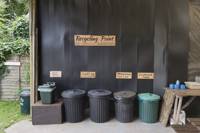 The Owner Says
Beryl's is situated in the heart of South Devon surrounded by beaches and rolling hills. It is a beautiful, rustic site, with pitches which are spread out and each have their own individuality, whether you like views, shade, morning or evening sun. There are showers, toilets, fridge freezers and washing up facilities plus a few hook ups if required. There is plenty do to offsite and numerous pubs/cafes to suit every taste all within a few miles.
Reviews
Add Your Review
Tranquil spot of Devon heaven
We stayed on the Snug pitch which was plenty big enough for our large 3 man tent, close to the facilities and benefitting from the shelter & screening of a grassy bank around it. The views across the pond to the sea were fabulous & it was wonderful to sit outside and watch or listen to the birds in the nearby woodland (including an owl, although not spotted sadly). We really appreciated attempts to make the site low impact with limited pitches, recycling bins & wild areas. Liz was friendly without being intrusive, helpful with booking details & clearly works hard to keep the facilities clean (and the thoughtful inclusion of fridges for campers' use was hugely appreciated in the heat). Glorious place, would definitely stay again.
Perfect for getting away from it all
We're just back from a four night stay at Beryl's. We originally booked the Panoramic pitch, which does have an amazing view across to the sea. We stayed there for the first night but then decided we wanted to be a bit further into the main campsite itself - the Panoramic pitch is right at the edge of the site. Liz was brilliant at finding us a new pitch and was really helpful with everything else too. The site is basic but has everything that you need. The showers are clean and hot. What's really nice is that there aren't too many pitches so you don't feel crowded at all. The village of Beesands is a short walk away that has a pub & a fish & chip shop - what more do you need! We would definitely go back!
Well thought out campsite in a lovely location
Good location not far from a couple of beaches (nearest is 4mins drive / 20mins walk..although we didn't walk!). Kingsbridge is about a 25min drive (for stocking up at morrisons and tescos etc.). View from the site is down a small treed valley leading to a view of the sea. Good shower block: 2 x showers which take 20p coins & 2 x newer showers which take tokens (buy for 20p each). 3 x communal fridges. Discrete electric supply points (if required). Friendly owner who is happy to help. Family friendly.
A beautiful, tranquil idyll.
We highly recommend Beryl's; it's a great little campsite. The pitches are well spaced, each quite individual, and each with plenty of flat space to pitch on despite the site being on a slope. The slope means you get beautiful views down the valley and to the sea, which you can enjoy in the blissful tranquillity of the site. The facilities are certainly basic but are adequate for the site and are kept clean, with plenty of hot water for the 20p/5 mins showers. Keeping in touch with Liz the owner was easy, and within a day after we booked online she sent us directions and a plan showing where our pitch was. We found the directions and little wooden signs easy to follow, having come in to Beeson from the North. Beesands is a short walk down the hill by the road (as we didn't have a map we didn't try the longer footpath route), where you can find an excellent but quite pricey fish and chip place and the Cricket Inn pub. We didn't have much time to explore the rest of the local area as camping was our base whilst we went to a wedding a few miles away, but we'd love to come back and stay at Beryl's with some more free time, and hopefully just as good weather, to explore a bit more.
Absolutely stunning!!!
Ive visited the area for years but this was my first time camping. As a first time camper I was worried about the camping experience but I fell in love with beryls campsite! Even the rain could not dampen our first family holiday camping. The stunning views, massive pitches and laid back site blew me away. We had booked the snug which is a small pitch tent wise but with so much free empty space around us for the kids and the puppy to roam it was perfect!! We will definately return again. Beryl and Liz have an absolute gem of a site and care for it perfectly. I did not want to come home, can't wait to be back!!!!
Wonderful location & tranquil environment
We had a wonderful two nights stay at Beryl's. The location is a hidden gem - we truly felt like we were going somewhere special driving down the narrow green lanes before arriving - and the pitches are well laid out and spacious. The best bits about the site? The location, the tranquillity, and the closeness to Beesands (we took an easy walk to get fish and chips on our first night. We sat and watched a seal in the bay as the sun was setting and really felt as if we had escaped real life.) Truly magical. The worst bits about the site? Probably the slightly too basic facilities for us. Not enough toilet / washing facilities / obvious systems in place in our opinion. The children didn't find it easy to know exactly how they should wash their hands when they were by themselves, when there was hot water available only from one sink, which sometimes was being used by other guests doing their washing up (fair enough, not clear where to wash hands, and where to wash your bowls!) This wouldn't stop us from returning, however, if a small investment on this front were to be made then we would definitely consider staying longer than our two nights.
Beautiful, relaxing site
We had a great time at Beryl's. I like the way they've planned the pitches so you have bags of room, and it is a lovely peaceful site. The sea views from the Panoramic pitch were fab! Facilities are fine - I think I only ended up queuing for a shower once, not bad. It's a brilliant location - Beesands beach was remarkably quiet, even at peak season, and we also loved East Portlemouth and South Sands (Salcombe) beaches.
Brilliant time at Beryl's
Just returned from a fantastic stay. The campsite is beautiful, spacious and quiet at night with lovely views. Liz and Beryl are lovely and helpful. The toilets and showers (need 20p but v lovely and hot) are clean. Great for kids and dogs and short walk to beech with lovely pub and fish takeaway/restaurant. Beautiful surfing beaches relatively short drive away - we had a lovely afternoon at bigbury on sea. South Milton sands is great for rock pooling at low tide. Lovely coastal walks. Great stay, hope to be back soon.
Win a £100 Blacks Voucher!
If you've stayed at Beryl's Campsite campsite, please take a minute to tell us about your experience. Every month, one lucky reviewer will be picked at random to win a £100 voucher, courtesy of our recommended retailer Blacks. Each review counts as one entry, so get writing!

Best Price Guarantee, with no fees
Instant booking confirmation
Trusted for 10 years
A chance to win camping goodies in our regular competitions!
Book campsites near Beryl's Campsite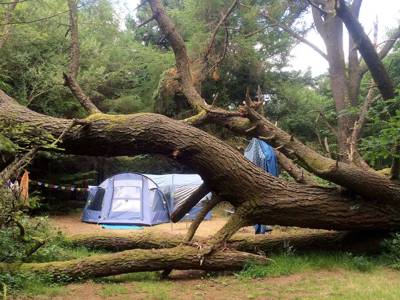 i
Campsites in Devon
Campsites in South West England
Campsites in England
Available:
3 Pitches
1 Tree tent
i
Campsites in Devon
Campsites in South West England
Campsites in England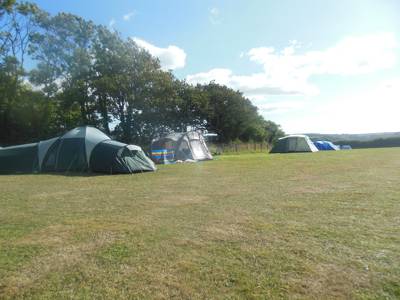 i
Campsites in Devon
Campsites in South West England
Campsites in England