A rural retreat in the heart of Cornwall, where time stands magnificently still
Ask ten different campers to explain their favourite thing about East Crinnis Farm and you'll probably receive ten different answers. Some like its peaceful rural setting, others might opt for the sparkly-clean facilities, while a few may even choose the tasty Cornish pasties, served along with a night of storytelling round the campfire. Whichever aspect of this family-friendly campsite takes your fancy, you will undoubtedly enjoy this rustic retreat in the heart of Cornwall, where time seems to stand magnificently still.
The range of camping experiences on offer is pretty impressive. Traditionalists can pitch on one of the large, flat, grassy spaces, which are secluded by hedges. For those in search of creature comforts, log cabins and geodesic glamping domes are also available. The domes are situated in an exclusive area of the site (catching the best of the afternoon sun) and come equipped with log burners. What's more, a six-metre transparent allows for unimpeded star-gazing come nightfall.
Although this is essentially a rural location, East Crinnis is only a short jaunt away from the beaches, ice cream kiosks and breathtaking scenery of the southern Cornish coast. It takes 45 minutes to wander the coastal path to Charleston harbour (of the BBC's Poldark fame), following the high cliff edges above nearby Crinnis beach, while cyclists will enjoy the moors and mineral trails inland. But it's not all about the Great Outdoors. The nearby traditional fishing ports of Mevagissey and Fowey both offer a pleasing variety of food and drink, activities and shopping, plus their very own summer festival season.
After a busy day discovering the ancient kingdom of Cornwall, switching off the car engine and wind down at East Crinnis is a joy. Despite the farm's wide range of facilities, the general ambience of this place is far away from the 'holiday park' vibe you might expect: as the night draws in, parents sweep up their offspring and head for a sing-song and snacks round the campfire. Glampers, meanwhile, head back to their geodesic cocoons to watch the skies in comfort. Whichever route you pick, this is camping as it should be, with a lovely atmosphere in a truly special location.
Best Price Guarantee
Easy and Secure, with instant booking confirmation
Trusted for over 10 years
A chance to win a brand new Coleman tent!
Gallery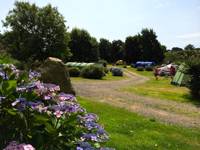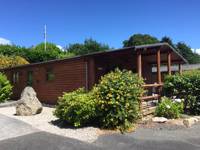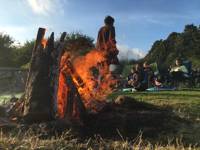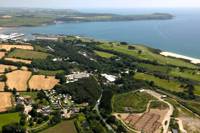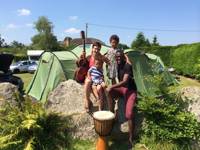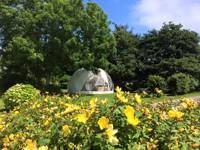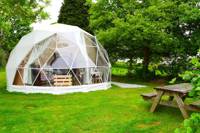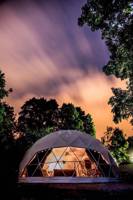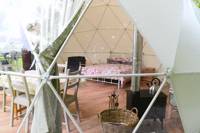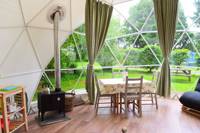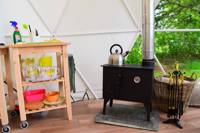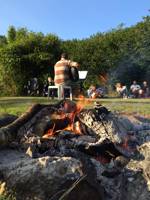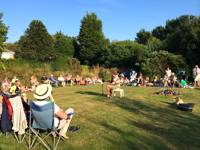 The Owner Says
A rural camping and glamping retreat in the heart of Cornwall, where time stands magnificently still. Although this is essentially a rural location, East Crinnis is only a short jaunt to the beaches, ice cream kiosks and breathtaking scenery of the Cornish coast. And the world renowned Eden Project is only 2 miles down the road!
Reader Reviews
Add Your Review
Lovely site
We stayed for one night and had a great time. The site is very well maintained and the shower blocks were very clean. Good facilities for laundry and dish washing. The pitches were large and level. It is well located just outside St Austell and a five minute drive to the beach. No complaints whatsoever with this site but be aware, it's very dark at night as the are no lights so a torch is definitely required.
Idyllic and convenient!
We just finished a relaxing week of camping in the Summer Meadow with our little one. We aren't seasoned campers so we were a bit nervous, but needn't have worried. The owner and staff are friendly and helpful, the facilities are spotless, the showers are warm, and there are microwaves, kettles, hairdryers etc. The shop stocks prosecco, G&T, local bacon and sausages and they make a good cappuccino as well. The pitches on the Summer Meadow are spacious, pretty and peaceful. We enjoyed the fireside storytellers on a Tuesday night. To top it all off, it is only a 20minute cycle ride to the Eden Project (there's a "green" discount if you leave the car) and Charlestown. The Fowey Regatta was good fun, and St Ives a reasonable car drive away. There are plenty of shops a short drive from the campsite, but you would never know it sitting by the fire next to the tent. We will be back!
Great little site in good location for exploring
Just back from a week at East Crinnis Farm, and all the family enjoyed the stay. Bathrooms were really clean and convienently located in the centre of the site, the pitch (no. 30) was the perfect size for bell tent and had a great outlook across the cornfields, and the kids loved the outdoor chessboard, small play park and grumpy's pond where they had a go at fishing. The location is great for exploring Par, Fowey, Charlestown and Mevagissy by car, and Newquay is only 45min drive away and even though the main road to Par is close by the traffic noise was minimal as it isn't too busy a road. The other campers and caravaners were all pretty chilled out and the owners friendly and accomodating and the shop (open in morning and afternoon in peak season) had a good mix of hot food and essentials, and the supermarkets in St Austell are only 5 mins away in car for anything more substantial. We will hopefully visit again as it ticked all the boxes for a family of 5 with 3 kids under 10. If your looking for more of a camping / glamping feel I'd opt for staying over on the Summer Meadow part of the site near to the field, yurts and pods.... but if you don't mind the odd caravan the pitches next to cornfield were great for a bit of peace and quiet.
Cute and convenient
Pretty campsite with really good facilities. Including access to washing machine, microwave and kettle. Very clean loos and showers with a fixed hairdryer in the women's - one in the men's would be appreciated for men with longer hair :) We were in the meadow with plenty of space for each tent/ group. South-facing and protected from wind. Nicely squishy and flat pitches. Loads of birds - Don't disturb the nest of wrens which is in the rafters near the communal outdoor sink :) - can spot the babies beaks cuuute! Convenient for exploring the area by car and using as a base just for sleeping but not much in the area. 20 min walk to Carlyon Bay and £10 taxi up to Eden (maybe 25-30 back but downhill). Having a map for both of these included with the welcome info would be great - just a suggestion! Lovely welcome and the onsite shop/ food place is very reasonable though would be fab if they opened in early mid-eve rather than just the morning so you could get beer/ milk/ bbq/ a cuppa/ a bacon sarnie on arrival after a long journey. Personally I prefer more remote sites (quite a lot of background traffic noise here) but will definitely use again as it's the loveliest site I've found near to so many things.
Great place!
We have just spend 4 nights at East Crinnis and have nothing to complain about, it's a very clean campsite with everything on site. The little shop provide everything from toothbrush to wine, and all the essentials if needed. Clean toilet and lots of hot water for the showers. Everyone makes you feel welcome straight away. It's the perfect stop for people who wish to visit the Eden project only 7/10 min drive away, around 20 min of Charlestown, Fowey, Megavisey all full of charms 😀 Highly recommend we would come again, no problem.
Book campsites near East Crinnis Farm