Remote, unspoilt, beautiful Cornwall – with coastal and countryside views a-plenty, you soon realise Tregarton Park just can't help being a cool place to camp
Lets not beat around the tent pegs here; at first glance Tregarton Park should be everything Cool Camping is not. Touring caravans are welcomed, pitches come well-manicured and there's a distinct 'holiday park' vibe that may ruffle some traditional camping feathers. But as you pitch next to a 17th century (Grade II listed) farm building, in the remote, unspoilt surroundings of beautiful Cornwall, with coastal and countryside views a-plenty, you soon realise that despite initial concerns, Tregarton Park is truly a cool place to camp.
The sprawling Tregarton Estate was built back in 1492, and today this 12 acre site is run by the welcoming Hicks family who remain determined to maintain the site's notable charm. All the walls have been constructed using traditional Cornish hedging methods, and the paving areas are laid with natural local stones including granite, limestone and sandstone. However, facilities here are anything but dated. Motion-sensor operated glass showers, excellent access for the disabled and Wi-Fi (across the whole site!) offer campers 21st century amenities that makes camping more comfortable.
And location? Well, as luck would have it, Tregarton is perfectly situated to explore the breathtakingly beautiful county of Cornwall and all its attractions. Nearby, the world famous Eden Project is one millennium project that appears to have been a success. Each football-like Biome takes visitors into a different region of the world; trek through a humid South American rainforest, or experience the dry deserts of Northern Africa. There's plenty going on in the Outdoor Biome too, with 13 hectares of garden containing almost 2,000 plant species.
Despite Tregarton's huge capacity (125 pitches), it never feels overcrowded. Each pitch comes generously sized and clearly divided with hedging and shrubs to ensure campers enjoy a sense of privacy and seclusion. If you're an 'old school' camper and still concerned that caravans just aren't cricket, then rest assured; you'll be too busy falling under the spell of Cornwall's tiny fishing ports, old smuggler's inns and never-ending coastline to care.

Best Price Guarantee
Easy and Secure, with instant booking confirmation
Trusted for over 10 years
A chance to win a brand new Coleman tent!
Gallery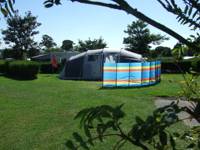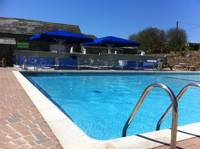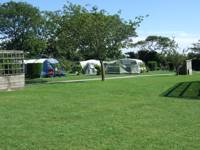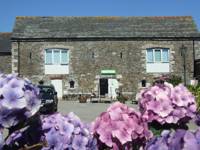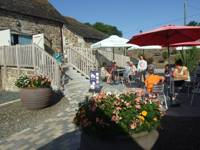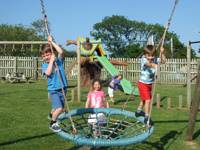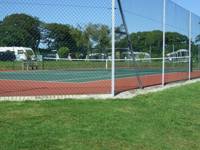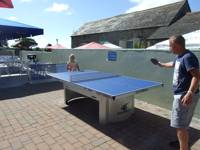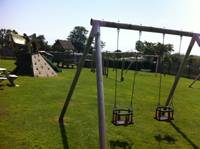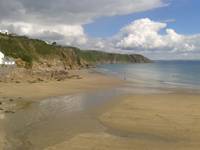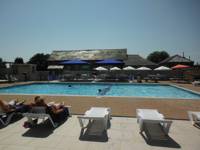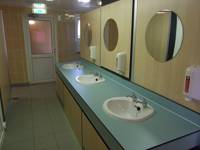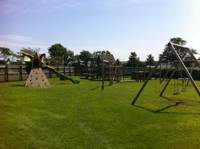 Video Tour
The Owner Says
An exclusive touring and camping park only 1.5 miles from the beach
Reader Reviews
Add Your Review
A variety of Gluten Free Food
This campsite was on of the best we have ever stayed at, and we've stayed at quite a few. The site was immaculate and the pitches spacious, even with a large tent. There was plenty to entertain the children and adults after a day on one of the nearby beaches. My son has Coeliac Disease, and the staff went out of there way to make sure he had a variety of gluten free foods to choose from in the take away.
Very Clean
This is a lovely clean campsite - immaculate shower and toilet area. Has a wee shop on site with bits and bobs. You can also order food from their take away menu. Oh and of course, there is a lovely swimming pool. It is also dog friendly however, you are not able to sit outside the shop/swim area where there are tables and chairs with your dog - so this is very restricting - surely you could change this rule as its just like sitting outside a pub in a beer garden - it should be well behaved dogs allowed and as dog owners we know if we can take our dog or not - just a thought - but best that future potential campers are aware.
Civilised but cool campsite
Being a couple that usually like the wilder side of camping, we thought we'd seek out a different experience and find a site with the all singing and dancing facillities, like a swimming pool! We didn't book, we just searched on the Internet and turned up. We were greeted by a very smiley lady, who struggled to find us a pitch but still managed to accommodate us, our 2 dogs and a camper van for 3 nights, even if it meant juggling pitches a little.2 nights on 1, 1 night on another, over the way. After staying at the most expensive site on earth for the past 3 nights, for standard facilities, we were bracing ourselves for the expense of this one, that had beautiful, clean facilities, lovely private pitches, site shop/takeaway and did I mention, HEATED Swimming pool?! 22 quid per night...Bargain! Free electric hook up, free awning/gazebo pitching. Impressed!
The site was busy and organised but never felt rowdy or too 'holiday park' like. Great facilities with huge sinks for dishwashing, dog exercise field away from all the pitches and a beautifully heated swimming pool, that on a sunny day, having to yourself was heavenly. It also had an impressive safety feature on the pool gate so as small children could not access or exit  the area alone. Had a lovely, friendly vibe to it.
Nearby we visited Porthluney cove, which has a small beach bar, serving drinks and snacks, overlooked by the impressive Caerhays castle. The beach is sandy with rock pools and caves, where we could let our dogs enjoy a good play. We walked to the cove from the campsite, which took about 40 minutes and was a really pleasant way to see the local countryside, instead of seeing it whizz past in a car, although there is a large car park there, payable to a man in a booth. Mevagissey is a really pretty harbour town which is worth a drive out to and is only 15 minutes by car to experience a proper Cornish working harbour.
Overall, we loved the area and loved the campsite. Keep up the good work and your competitive rates. You're in the right game! We would most definitely return and recommend. :)
Book campsites near Tregarton Park