This 260 acre, fully organic farm located between the ancient market town of Liskeard and Looe is positively buzzing with livestock and Cornish charm
Camping can be a surprisingly romantic experience. Picture the scene: two people sheltering from the elements in a snug wigwam, cooking fresh local produce on a simple fire, enjoying panoramic views of the Cornish countryside. And thanks to Penbugle Organic Farm, this bucolic blend is available to campers all year round. After all, in a cosy wooden room that's only a few feet wide, you won't need any excuse to get cosy with each other...
The brainchild of John and Lizzie Ridout, Penbugle (meaning 'shepherd's hill' in Cornish) is a 260 acre, fully organic farm located between the ancient market town of Liskeard and Looe, a small fishing village bursting with charm. Penbugle is very much a functioning farm and visitors are invited to sample its very own produce, including scrumptious pork sausages and fresh free-range eggs. On a site that's buzzing with livestock, expect to mingle with the locals including Red Ruby cattle (which calve in the every spring), pigs, ponies, and the cuddly South American alpacas who keep a keen watch for uninvited foxes.
There are three different camping experiences at Penbugle, the most luxurious being the wigwams (sleeping 4-5), which come with electric lighting, heating and mattresses. The two bell tents are found in a lovely grass paddock and pitched on wooden decking to keep glampers dry whatever the weather. And last but not least, traditional campers are welcomed with open arms. As there's room for only ten tents the atmosphere is intimate; you'll soon get to know your neighbours, be it dining al fresco or meeting on the way to the showers.
Should you decide to venture out of cosy-camping central, then you will no doubt stumble into nearby Looe. A settlement since the days of the Domesday Book, adorable Looe once prospered as a medieval port, before reinventing itself as a popular holiday spot for wealthy Victorians. Today, its valley walking trails, bucket n' spade style beaches (Millendreath, East Looe, and Second Beach) and plentiful water sport opportunities make Looe the ideal day-tripper destination.
Best Price Guarantee
Easy and Secure, with instant booking confirmation
Trusted for over 10 years
A chance to win a brand new Coleman tent!
Gallery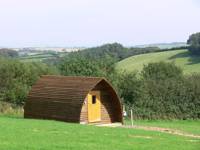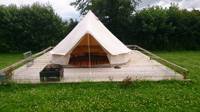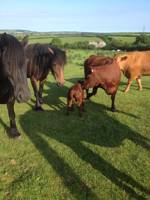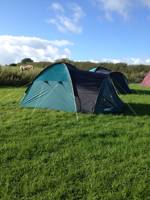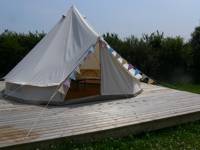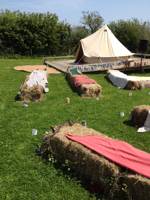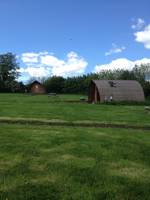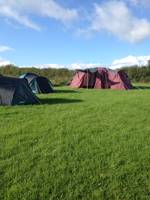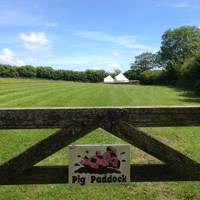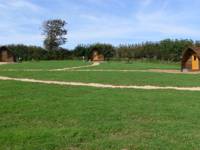 The Owner Says
Come and stay in an almost forgotten part of Cornwall. The South East corner hides much history of Cornwall's Mining Heritage, with the remains of engine houses on the south eastern edge of Bodmin Moor telling us of 19th century mines producing copper, tin and other minerals. They circle the dramatic Cheesewring quarry which eats into the dark grey granite of Stowes Hill. From here you can trail the Liskeard and Caradon Railway for much of its route to Moorswater from where first a canal and then later a railway carried the copper ore and stone to Looe for transportation by sea. Our doorstop village of Herodsfoot was one of the strong mining communities developed, where lead and silver were mined and explosives made until 1965, when this lovely little hamlet returned to it's agricultural identity.
In 2014 March and April is a busy time here at Penbugle Farm with Lambing time starting and of course Calving of Cows. So lots to see around the site and a new Wetlands area being created with thanks to Cornwall Wildlife Trust in May. For  anybody interested in this type of project volunteer work groups are being set up to help.
Keep in touch with us via our Facebook page and Website.
Hope you come and find and explore this lovely area soon!

Reader Reviews
Add Your Review
nice, nearby the sea
Stayed in bell tent for 4 nights, 2 adults and 2 kids (11/13). Nice concept with the bell tents lifted from the grass (bring wellies). Very good matrasses in the nicely decorated bell tents. In case of rain the communal kitchen is a hit (cooking, and eating). Picknick table provided, and nice fireplace. Some downsides: toilets/shower not very clean, bell tent leaking at the entrance, Can get muddy (bring wellies). Helpfull staff. Sea is at 15 mins, fresh bread 5 mins, supermarket 20 mins. Alltogether: nice concept, quiet, quite very basic and reasonably priced (compared to other organic farms where we camped).
Cornwalls Best Kept Secret!
One of the best sites we have ever stayed at. Lizzie and John are refreshingly honest with their farm and everything seems to fit into place to make this such a cute, organic, stress-free farm to stay on.
We stayed for three days over the bank holiday and we came home wishing we could have stayed longer. We were lucky enough on our last night to have the use of the site to ourselves but to be honest this didn't make any difference. The Pods were so private that when the door was closed you wouldn't know there was anyone there anyway (except the odd cow Moo).
Location: Lizzie and John have made the farm so idyllic (especially for us Londoners). The farm is situated near to between Looe and Liskaerd and was perfect to get around and about. There is even the Cornish Orchards close by (worth a quick visit). Plenty to do around and especially lots for the outdoorsy (or athletic - for runs etc) type.
Pods: More than big enough for us two - the bed was huge when we made it up! Plenty of space to mooch about! The wigwams held so much heat in and we didn't notice the blustery winds and rain (on one of our nights) at all - except on the run to the washroom block at midnight!
Facilities: The showers and bathrooms are perfectly clean and there was more than enough for the Pods they currently have. The Cookhouse had everything you would need to cook with when the rain makes an appearance. It was a nice touch by allowing you to purchase some of their organic farm goods including the eggs (amazing!) and of course their firewood for the Pod campfires outside each Pod (complete with picnic table) for the warm marshmallows! 
The farm was so lovely, and if you get a chance have a walk around the paddocks; we were lucky enough to get a walk through with the owners to see some of their farm and the animals which made it even more special.
Overall: an amazing stay and by the sounds of things Lizzie and John had some big plans for the future - we hope to be back to see them soon.
Book campsites near Penbugle Farm Wigwams