Book campsites near Maker Camping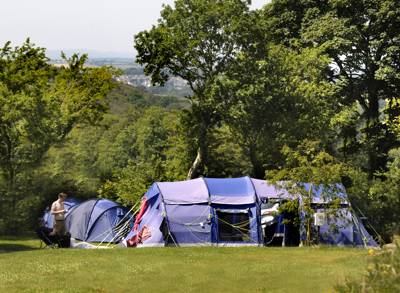 i
Campsites in Tavistock
Campsites in Devon
Campsites in South West England
Campsites in England
Available:
2 Pitches
3 Pods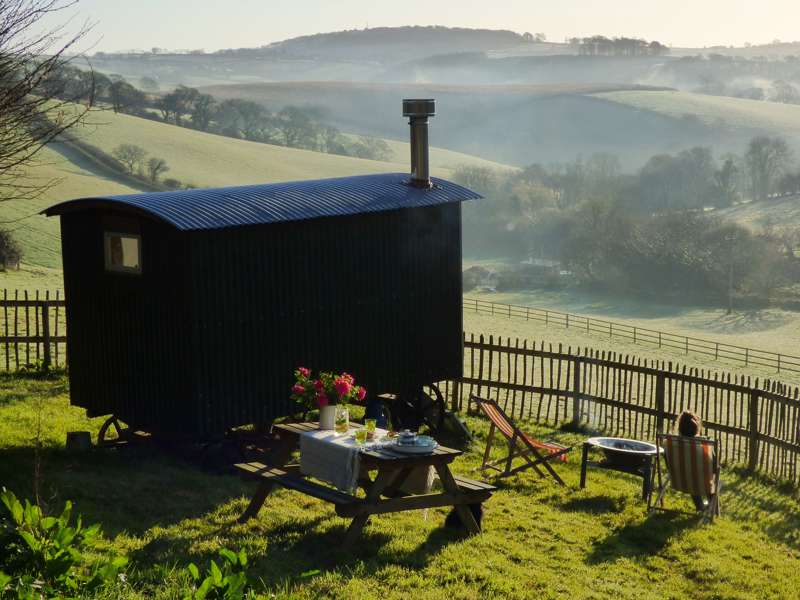 i
Glamping in Looe
Glamping in Cornwall
Glamping in South West England
Glamping in England
Available:
1 Shepherd's hut
Maker Camping
Maker Heights, Millbrook, nr Torpoint, Cornwall PL10 1LA

















Carefree camping with lush coastal views
When your children have grown up, all their most cherished memories of roaming free, having fun, making new friends and creating their own worlds will revolve around this site. But only if you take them there, of course.
If campsites were graded by how chilled their vibe was, Maker Camping would fall into the category marked Permafrost. To say it's laidback here would be like describing Michelangelo as a half decent painter-decorator, 'if you're into cherubs and that'.
An army barracks in a former life, there's now a certain hippyness to the way the Nissen huts at Maker's entrance have been reinvented as workshops and a café by various arty types and the 'rules are the province of squares and bureaucrats' ethos continues on the camping area itself.
Two very large fields – one set aside for families – sprawl over a hilltop blessed with alarmingly panoramic views of Plymouth, the sea and the under-explored Rame Peninsula. If things get busy, two more fields magically open up, so there's never any cheek-by-jowling. Kids love exploring the gun emplacements (their guns, happily, long since gone), bunkers and redoubts left here from the last war, or rushing off to make mischief in the woods. And if their parents can't muster the energy to put up a tent, there are four simply furnished and cheap-aschips yurts in which to crash.
The site's own shabby-chic bar, the Random Arms, opens on Friday and Saturday nights and a museum and alternative café have just been built. The camping land is owned by the groovy Rame Conservation Trust and managed by Maker Events; monies raised from the campsite go towards preserving the area for future generations, thus making those who camp here unwittingly virtuous.
Reviews
Add Your Review
Location, location, location!
Stayed here over the spring bank holiday week. Breathtaking views out to sea with clifffs, boats, ships and huge sky. Wonderful sunsets from the other direction. Great feeling of space here. Easy access to good walking in Edgecombe country park and coastal path. However, in my view, not worth 4 or 5 stars because let down by poor maintenance of facilities. : 1) Compost toilets are old, rotten and falling apart, with doors not closing properly, and many holes. Animals get in at night and scatter sawdust, toilet paper etc all over the place, creating a disgusting mess. Toilet block by main building is in a very shabby condition. 2) Showers, only 2 out of 4 were working during my visit, finally another one failed, so only one working for the WHOLE campsite!.. didn't see any sign of anyone trying to fix them. Could also benefit from refurbishment. 3) Grass in some areas was getting extremely long, wild meadow like. Whilst 'laid back' can be an attractive quality, this place is a little too laid back in regard to keeping services in a decent condition.! It's almost a wild camping experience, so as long as you don't expect great facilities, you'll have a wonderful time! In addition, Be careful about staying on a Saturday if you like a quiet night's sleep , because a live band may be playing in the main building, and on my visit was pumping out loud music ( which can be heard right across the campsite) until 1-30am! Despite these negatives, I would still return because of the truly amazing and beautiful location. But, it could be so much better..
Would definitely return, especially to stay in a yurt!
We loved our three night stay at Maker and would definitely return, especially to stay in a yurt! Our first two nights were spent camping, overlooking the sea. There was plenty of space everywhere even though there was an event on the Saturday. The real highlight of our weekend though was our stay in a yurt. It was big, with tables, chairs, cushions, fairly lights, candles, cooking & washing up equipment, a comfy double bed and a wood burning stove (with logs and an axe provided too). Basically, everything you possibly need! We went to sleep with the door open and a view of the sea and stars. It was absolute bliss. There is a very short walk to the adjoining villages of Kingsand and Crawsand which are lovely and have a few pubs (we liked the one on the beach in Kingsand) and the Maker Canteen on the site is fantastic, possibly the best cooked breakfast I've ever had! (I had it on two mornings just to be sure!). There was an event on which we enjoyed, it was nice to see a couple of bands and have one or two drinks on site, plus when we retired back to the tent it was plenty quiet enough to get to sleep. The only downside of Maker is that the facilities would benefit from a little TLC. They were certainly adequate, and wouldn't put us off staying again though. We're not into the thought of a family holiday park style campsite and more than happy to sacrifice pristine facilities for a more wild camping experience. In the interest of balance though I should say that when we stayed two of the four showers were out of order (we still never had to queue though). At one point unfortunately, of the male three toilet cubicles, one had no lock, one was blocked and one wasn't properly attached to the floor. On another day the main door handle had come off and a storm the previous had blown it shut, meaning you couldn't get in to the male toilet block at at all. However I mentioned this to one of the very helpful & friendly members of staff and it was sorted straight away, so no complaints there. Considering camping was £7 and the yurt was just £60, we really felt like we got a lot of value for our money and would certainly return.
Love Yurt!
A warm welcome to the cosy romantic yurt (yurt 1) from Linda with fresh flowers and a fire laid in the woodburner. Beautiful setting and furnishings. Such a peaceful bank holiday weekend spent on this unspoilt coast! Basic but nearby compost loos, a fire-pit and privacy provided by gorsebushes in full flower. On sute food from both The Thai Shack and The Canteen was wonderful. I highly recommend! !
Decades gone by.
Not exactly a review - rather reflections on how it used to be!
1961/1966 schoolboy at the then "East Ham run" holiday camp  for children at Maker
1972/1980 staff member at the then camp.
In the past, Maker Camp was a welcome escape from London's East End.
Boys in the officers quarters and girls in the Nissen huts. A recreation hall, standing on a plinth (sadly it collapsed one year) provided much of the entertainment: crude disco and playing musical chairs etcetera. Such innocent times. Visited the campsite in the mid 80's and it was in a state of terrible disrepair. Glad it's back in use - and we look forward to driving down there again, sometime.

Horrendous night's sleep, check your neighbours before pitching!
We camped in the family area, but suffered from two groups (sort of families) keeping us awake until 6am. We were disturbed mainly by a large group (also with kids, which they said justified their presence in the family area, but should have been on the group site). They played guitars and sang, played music through speakers, chatted, shouted and had marital arguments till morning. To their credit, security did come several times to ask them to stop all noise (as the family area has a 10pm curfew), but they were not successful in keeping them quiet, and were even threatened by the group if they came back again. Nice of them to try, but not acceptable for all the others camping around them that they didn't succeed. This is a great campsite in an amazing spot, but if you are thinking of staying here, you really need to take care about checking who you're next to before pitching tents. And also seriously consider the 'quiet area'. Families also camp here.... not only reserved for people without kids....  and it might be the best (only?) way to get a decent night's sleep.

Håll i hatten, mamma!
I stayed in a yurt with my kids: 10, 13 and 17 on July 29-Aug 1. It was real cozy and we had a great view, but the best thing of all was the wonderful service Tony gave us! 24/7 he would help us out. Makes all the difference in the world! 
Many thanks, Tony!
http://hallihattenmamma.blogspot.se

Best Regards,
Anette from Stockholm, Sweden 
Just love thi s place
Discovered Maker last year and returned this year, been home 3 days and want to be there again. Relaxed approach, how camping should be. Pitch where you want, fire pits for those lazy evenings and chatting to like minded people who want space and peace to recharge the batteries. The facilities are basic, which I love, no fussy stuff going on and the quiet field where we pitch is silent apart from the skylarks which are very vocal and the owls. This really is pure heaven. Nick, the Chef at the Canteen on site cooks the best food ever living up to his River Cottage training and echoing the ethos. We go early July before the schools break up and there is often only a few tents in our field, lovely. Hats off to the owners, cannot praise this enough and at £7 a night, what can I say.? 
Lovely yurt camping in spectacular surroundings
Just back from a night in a yurt at Maker. Other reviewers have covered all the practical aspects of the site and local amenities, but I would definitely recommend the yurts. Since we had just one night and not much time or energy for pitching and taking down our tent this suited us perfectly, and everything was thought of. The yurts are carpeted, simply decorated and homely, with comfy double bed plus mattresses for the kids and wood burning stove (with a sack of complimentary firewood) meaning we had a super toasty room to head back to on a chilly night after retreating from the campfire. There's a gas stove with kettle, pans, and all your crockery and cutlery, indoor table and chairs and outdoor picnic table. All just a few steps from the water tap, compost loos and bins/ recycling. Lovely low key site where you can relax among nature and the kids can run free. Spectacular views on all sides, unbeatable stars on a clear night, and a dawn chorus of skylarks. It can be windy at Maker, so remember your kite! Lovely.
Definitely not my cup of tea
I'm sorry. I have read other reviews about this camp site and yes, it's laid back, yes, it has amazing views and most definitely YES the cafe/restaurant onsite is amazing. 
However at £16 a night for 2 adults in a camper van I expect a clean and serviced toilet block, with, forgive me if I'm expecting too much, soap and some way to dry my hands. And we both decided we would rather not shower than use the disgusting facilities available.  I could barely bring myself to walk into the shower block so there was no way I was actually getting into the shower.  Thank goodness we had only booked one night!
Am I asking too much? Am I being a snob? I don't think so. We spent some nights in camp sites and some nights rough camping.  The public toilet blocks at the beaches at the end of a day were more welcoming than Maker.
Can't give no stars so the 1 star rating is for the view and cafe!

One of the most laid back campsites in Cornwall
My family and I have just returned from a two week camping tour of the UK, culminating with a 4 day stay on Maker Camping.
Kingsands is a place I have visited for many years and wanted to begin introducing my young children to equally happy memories.
The campsite's benefits are best expressed in list form so I do not miss anything in my testimonial:
Excellent views
Wide open site
Very relaxed attitude to most things
Yurt camping available - with most excellent sea views
Canteen on site - excellent Breakfast, Lunch and Dinner
Showers and flushing toilets
Easy access to the villages of Kindsands and Cawsands for beaches and Cornish Village life (please remember that driving into theses villages is not advisable, equally the access to and from the campsite is not for the faint hearted or lazy types)
A short drive to Torpoint for supermarkets and with 8 pubs and cafes to enjoy off site all within a 2 mile radius, you will not go hungry.
All in all a wonderful site, enjoying a quite area that benefits from a peaceful nights sleep, rare to find on UK sites of this scale. Friendly and accommodating staff, Tony is quite possibly the smiliest chap in Cornwall, even when cleaning out the loos.
Be aware that this site is a regular venue for musical festivals and can get quite busy, so calling in advance or going on their website would be advisable.
For those interested in mixing camping with live music and access to an outdoor bar, this is Nirvana.
Low points:
The shower block is very much a product of its 160 year old fabric, being part of a former military site, you should not expect sterile, pristine show room bathrooms. You do get however, payment and timed showers so do not forget to collect all the loose 20p and £1 coins you have at home before arriving.
For such a large site you only get access to a small fridge freezer that was not cleaned out of rotting fruit, but this was quickly fixed but if anyone in the area wishes to donate any unwanted fridges, I am sure they would be happy to receive.
This is not a site for the infirm or disabled due to no disabled loos or showers.
At £15/night for a family of four, you would be hard pressed to find an alternative site in this area of the country that manages to mix excellent setting, elevated sea views, access to a delightful corner of the county and for those of you that have recently booked a holiday cottage in Cornwall, £90 for a week's stay anywhere on the Cornish Coast is a steal.
If you want a coastal view from your tent, the sound of birds, insects and between Naval vessels leaving Plymouth Sound on manoeuvres each morning, very little noise - then this is the site for you. The distance some of our neighbours had travelled to spend time here proves just how much they enjoy their time here, we too will return each year. 
Simple & relaxed
Maker was the perfect campsite for my partner & I & our 5 year old at the end of last summer when we needed a quick and easy break.  We stayed in the beautiful bell tent which was nicely 'furnished' & very reasonably priced compared to others in the area.  The tent is set up & ready to go but I was glad we took our own camping lights, as the solar-powered fairy lights that were promised had been broken by previous visitors & anyway wouldn't have provided enough light after dark.  The booking process was easy & Linda was friendly & helpful from the start (& was even happy to post said light back to me when I realised we'd left it in the tent!)  The site is only a short drive out of Plymouth which was perfect to save travelling time, but felt like a real getaway, overlooking the city lights but feeling worlds apart.  We really liked the simplicity of the site, open fires with fire wood provided & compost loos.  The beaches are only a short walk away & we enjoyed spending time fishing from Cawsands as well as a pretty woodland walk around the coast.  Luckily there are nice cafes & a grocery store nearby too, as our fishing skills didn't quite provide the needed sustinance!  My only regret is that we couldn't stay longer to enjoy the on-site bar & live music.  We would definitely return at the first opportunity!
Splendid isolation
I think the Rame peninsular feels like a forgotten haven in Cornwall, as everyone else is rushing headlong down the A30 just slip over the Tamar and you quickly recede into quiet back waters and beautiful rolling countryside. Towards the bottom of the peninsular you will find Maker camping, a complex of fields reclaimed from an old military site. Straddling the ridge giving it superb views over Plymouth sound and out into the channel. The regular procession of ships in and out the harbour provide entertainment along with the plentiful wildlife in the local area.
Facilities are quite basic, you pretty much turn up , find yourself a pitch and someone comes and finds you to collect the pitch fees. There are very few rules to follow, fires in the pits provided, group to their own field and respect for the quite field seems to be about it. Showers and washing up facilities are up behind what I assume is the old barrack block along with the bar which is open at the weekend. If you feel the need for Flushing loo's they are here too, but the compost loo's are much more convenient and not at all unpleasant. The only downside is the wind which does tend to whip over the site from the sea but a bit of fore thought when pitching will alleviate this. Also the skylarks can get a little incessant, who would have thought it , bird song as noise pollution! 
There are good walks into the villages and several pubs,  take a torch is you expect to be back after dark. There is a co-op supermarket in Millbrook and if you do feel the need there are all the facilities you might want in Plymouth, which is only about half an hour away if you use the ferry.
all in all an enjoyable stay 
kool!
I really enjoyed my stay in May,7 days of peace and quiet and adventure.
The views from the site are amazing to behold!!
I was greeted by a lovely Lady who was very informative, enthusiastic,passionate about the site and area of Cornwall.
 I would whole heartily encourage people to visit this campsite,I know will ASAP!!
Stunning!
Maker is an absolutely stunning site, set high above the sea with amazing views. This is definitely the wilder side of camping - no hook ups, basic showers (take your 20ps!) and, best of all, a bonfire outside the tent at night. We camped in the family field and picked a reasonably sheltered spot – as other reviewers have said, it gets windy perched at the top of the hills, so we pitched up quite close to the hedges that run round the edge of the field to give us a bit more shelter. There is plenty of room and we had no problem finding a secluded spot in the height of the school summer holidays.
The site is very laid back and not for those who like an organised stay – there are no playgrounds or swimming pools, but our children could run around in plenty of space and loved building a bonfire at night. It's a 10-15 minute walk down to two lovely villages, where you will find a shop selling bread, milk, etc, plus sea front pubs that serve great meals. And it's a similar drive to the stunning Whitesands Bay, with a huge, family friendly beach. Our children also enjoyed watching the huge naval ships come in and out of Plymouth harbour daily from our view perched on the hilltops.
The site itself has a little bar, the Random Arms, which opens on Fridays and Saturdays. It's great, really friendly and well worth a visit. And over in the huts there is a not-to-be-missed cafe. This seems to be open most days and does a fantastic breakfast, lunch, whatever you want. The guy who runs it cooks everything from scratch and could not be more accommodating - and his food is delicious!
Next to the Random Arms is the 'washing block' where there are washing up facilities and showers - all basic and, yes, random, but perfectly adequate. Take a plug - there are a few sinks for washing up, but only one plug when we visited! There are a few 'smarter' loos here, too, as well as compost ones dotted around the fields.
Downsides? Not many at all! I would say it's difficult to find out where anything is on the site or in the area, particularly when you arrive, as there are no signposts, or indeed many people about, but we found that by asking the artists and musicians who work in the main house's workshops, we found out where everything was. We almost missed the cafe, but again, someone told us about it and it is definitely worth a visit. The only negative part of our stay was when we were keen to visit the Random Arms again after a great Friday night there, but found fences up and a huge private party instead for loads of teenagers, which carried noisily on until the very early hours.
It also says on its site that you can take wood from its huge woodpile, but they actually have bags of firewood for sale instead - fair enough, but at a fiver a bag, it can end up costing a bit over a week. We found plenty of firewood in the woods on the pathway down to the villages, though, so it wasn't a problem.
We left this site really relaxed and would love to return. It is well worth a visit – and probably has some of the most stunning views of any site in the UK. 
views
The views from this place are amazing – watching the ferries heading out to sea. Lovely pub on site for evening entertainment. Shame its not open all week. All in all a great campsite.
Not for everyone but very special...
This site is not for everyone. The hippy vibe and flushing loos in a fitted out container may not be to your taste but, when the weather is good it is bliss. Do bother to take extra pegs and guy down anything possible, the wind can get up suddenly and you need everything secure, particularly if you're leaving the site for the day.
Do not be put off by compost loos, they are brilliant and do not smell. In fact, they are far more pleasant than the average festival chemical loo!!!! Probably best to avoid time around their music festival preparation (solstice w/end) as there are lots more people around at the buildings and you can hear hammering and general 'people' noises in the distance.
The cafe on the military road on the other side of the peninsula looking towards Rame Head is brilliant, really lovely people and a good cream tea or English breakfast in the sun make for wonderful memories.

Maker Camping
We stayed here for 6 nights, we were originally going to stay for 4, and we could only just bring ourselves to leave. It was the beginning of April, it was windy(it does get truly blowy on Makers sometimes, so bring extra rope/pegs), and it was absolutely brilliant. If you go when its quiet, it feels like wild camping, you are alone with a full 360 view, and the peace and quiet is lovely. Wildlife abound, we had deer trespassing all around the campsite. Abundant birdlife, and a lovely sea and cornish village ten minutes walk away directly down the coast path. We found ourselves sitting and staring in a state of bliss alot. You are close enough to Plymouth to escape for a day if the weather really turns. There are yurts onsite, but we found the camping in the lower field perfect, with fire pits dotted around. The showers and washing facilities are fine, and clean. You will have peace, quiet, and a spectacular view, and Linda is very kind and welcoming. There is a sense of community here if you like to make contact with the locals, they are warm and there is a bar onsite that opens occasionally. A pair of apparent elves keep two horses onsite, and there is a hippie-esque vibe that sorely tempted us to up sticks to cornwall. We are already planning on coming back. This is not a campsite for anyone expecting astroturf, minigolf and somewhere to watch their neighbours beer guts redden in the sun, and we honestly couldnt recommend it more. Go along, and send our regards to Linda!
Maker Camping
Brilliant campsite with a stunning view. We (2 adults & 2 children) stayed in a Yurt instead of tent for a change and we loved it. But for those camping it offers some wonderful spots with amazing views out to sea - wonderful to wake up to, unless the fog has struck! Drinking water hose points around site, compost toilets located between upper and lower camping fields and main toilet block/showers/cleaning area located away from the fields past the reception tent. Showers £1.00 (one pound) for 6 minutes or 20p (twenty pence) for 1 minute. Will be back as it's a real gem.
Maker
'It is camping as it should be. Incredible scenery, friendly campers, freedom & wildness....' 'I knew instantly I would be returning to this wonderful camping ground. I highly recommend a few nights in the yurt...' Toby (Brighton) 'I first stayed at Maker Camp as a child in 1974, then 1975 & 1976 and stayed in touch ever since...a wonderful place to stay...' Lynn (Kent) Come and enjoy 'wild camping' at Maker. We have plenty of space to relax and unwind with stunning panoramic views. We are a short walk from the villages of Kingsand and Cawsand with beaches, pubs and shops and we have hot showers and new toilets! A shower, a loo....and an amazing view! If you like being all lined up in rows with power hook-ups then sorry we are not for you! Traditional Yurts with woodburners available at reasonable rates.