Small-scale camping and glamping on a 33-acre Cornish farm with separate meadows ensuring space, peace and privacy
Despite being less than four miles from North Cornwall's Widemouth Bay, the 33-acre Bakesdown Farm feels like a wild outpost in the back of beyond. There are just four pitches at the top of a farm-side meadow, each petering out into waist-high grass that's coloured with cow parsley and buttercups. No manicured lawns and regimented plots here; just a refreshingly understated setting and a whole host of chilled-out vibes.
In fact these prized tent spots, mown into the grass and accompanied by a campfire at every pitch, occupy just one of four different meadows hidden around Bakesdown Farm. A second is for 'exclusive camping' – a two-acre paddock for groups with its own compost toilet and a shower – while a yurt and a cabin also have patches of their own. It's these glamping options that perhaps most stand out. They exude the same rustic feel as the rest of the farm – hardwood floors, rugs, and wooden furnishings feel aged but not outdated – and offer the extra comfort of a proper double bed. Both also have their own private kitchen shack with a covered seating area, cooking equipment and a stove.
All of the different meadows around the farm share extra facilities in the main yard itself, a short stroll up the gravelly path. Here there is a proper flushing toilet and electric shower, along with a fridge, freezer and electricity points. The farmyard acts as a sort of gateway into the outside world, reminding you that modern life exists beyond the sanctuary of your private meadow. Beyond the little caravan shop, housing a colouring table at one end and a small farm shop at the other, the road to the outer world awaits. Not that heading down it is a bad thing – surfing, sun lounging and sand castling are all on the other side.
Best Price Guarantee
Easy and Secure, with instant booking confirmation
Trusted for over 10 years
A chance to win a brand new Coleman tent!
Gallery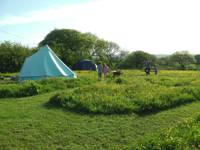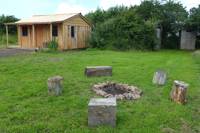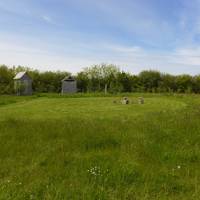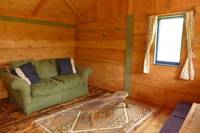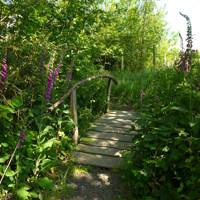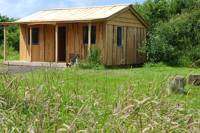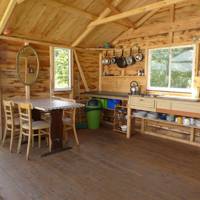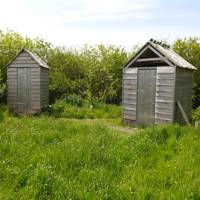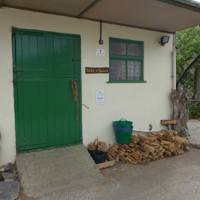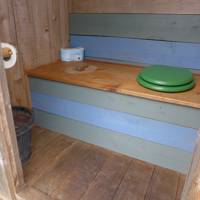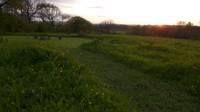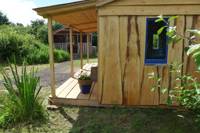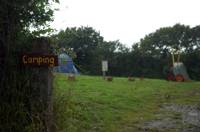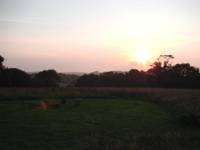 The Owner Says
Bakesdown Farm is a quiet, friendly 30 acre farm in the north of Cornwall. We are hidden away in the countryside, yet only 3.5 miles from Widemouth Bay. Spread across the farm, our holiday spaces include a small campsite, a beautiful yurt and a unique handbuilt cabin. Whether you're a couple looking for a quiet getaway, or a family wanting to spread out and play, we have the privacy and space for you.
Reader Reviews
Add Your Review
Beautiful , peaceful, non crowded camp site - Bliss!
Absolutely fantastic camp site! The pitches are well spaced, with only 4 pitches so you know the site won't become overcrowded. We loved the communal areas - our daughter loved the caravan with hot chocolates and plenty of colouring sheets. The shower and toilet facilities were clean and never too busy. There is a lovely little pottery shed with gorgeous items for sale. The site is ideal for site seeing around Cornwall - close to major roads and so easy to get around. One of the highlights for us was the swallows and the bats - amazing to watch their acrobatics. We loved the site so much we're returning next summer. Highly recommend to all!
Privacy, gas shower hut, child friendly
Great for a private family break, child friendly, can go blackberry picking, beautiful location
Lovely, simple and peaceful
We stayed in the simple campsite, just four mowed areas in the field so each had their own space with fire pit and logs to sit on. Nice hot shower and toilet just up the lane with fridge and freezer to use which was very handy over the hot weekend. Great campsite would definitely recommend for those who want a quiet site away from the hustle and bustle!
Amazing site - quiet, beautiful, serene, bliss!
What a lovely campsite - I had an amazing stay here and ended up extending my stay by a couple of nights. Located off a quiet country road, but only a 15 minute drive to the beach and Bude, this campsite has lovely views over the countryside. Each pitch felt private with the long grass separating us, and the facilities were immaculate with everything I needed - even including a fridge, freezer and charging point. The owners were really helpful but, after checking everything was ok, left me to enjoy my holiday. I couldn't recommend this place highly enough, and I can't wait for my next holiday!
Peace and quiet
Basic basic basic A perfect escape from humdrum reality Nice owners and helpful You get your pitch and what u put in it is up to you No extras for pup tents gassebo etc And a fire pit to boot 100% recommendation Just hope they are able to keep it this way With out going full on commercial caravan and camping club rubbish A little slice of paradise
A hidden gem
An absolute delight of a campsite. I arrived after dark on the Friday of the May Day long weekend, but received a warm welcome from Brad. I was in a camper, so had to camp on the parking area, but I had access to one of the pitches with fire pit. The next morning I discovered the mown pitches defined by the longer uncut grass filled with buttercups, with an outlook down towards through the rolling hills towards the coast. The facilities are very good, and are in the heart of this working farm. The warmth of the welcome and the overall feel of the site seem to give it a communal atmosphere that make it such a relaxing space. I didn't try the ice cream in the caravan-shop, but I imagine that that adds some fun for the kids. Excellent recycling facilities, a laundry line, and plenty of firewood are nice features of this well-thought through site design. It's just far enough out of the way, but not too far. I'll be back, and recommend you too give it a go.
Perfect
We stayed here for a week...only an hour from home, but felt like we were much further away. Certainly helped by decent weather for most of the week! We were a little apprehensive on seeing the facilities initially as we were worried that one toilet and one shower were not adequate. However, it was fine...( on a hot day when everyone for to the beach there are waits tor the shower, but it was not really a problem). The pitches were large and we certainly felt there was plenty of room to be private if we wished or chat with neighbouring pitches. The washing up sink was adequate- we boiled a kettle and took up to wash dishes. Being able to light fires is a bonus! The main down side is the narrow entrance to the field which is on a bend. It was a worry whether we would be able to manoeuvre int/ out of the field safely. That is our only negative! A fantastically peaceful site. We went to Wales last year, but all agree that this was much better! A visit to Lundy is worth it if you like unspoilt beauty.. a long day, but worth it!
Splendid!
Lovely stay! Very relaxing and surrounded by beautiful countryside. Highlight of our stay was the barn owl flying right over our heads! We will definitely be back!
Best ever campsite!
This is a fantastic site that we keep going back to.  It really has it all- super, quiet location, clean, well maintained facilities and really spacious pitches (in contrast to all the nearby overcrowded sites).  We love how it's different from most sites; you really get to camp, relax and play out in the wilderness, have a proper fire and common sense prevails over petty rules.  The novelty of the compost loo always goes down well with the children. The owners are really friendly and helpful too- coming to the rescue when I went into labour a few years back!

Book campsites near Bakesdown Farm