Polgreen Glamping
Polgreen Barn, St Mawgan, Cornwall TR8 4AG












There's something about heading down an unmarked lane into a Cornish valley that just feels so right. Polgreen's particular unmarked lane slides almost unnoticed into the Vale of Mawgan, a few miles north of Newquay. At the bottom, a sloping field sheltered by woodland and hidden by hedges is host to the satisfyingly retro sight of a scattering of cream-coloured bell tents.
Simon and Sarah, Polgreen's friendly owners, transform this little corner of their 40-acre farm into a glamping haven for just a short time over the school summer holidays every year. Six 5 and 6 metre bell tents are positioned on their own little plots of levelled ground with plenty of space around them perfect for those who enjoy a bit of privacy or yearn for a sylvan retreat. Each tent is furnished with a double bed, a double futon, an optional single mattress roll, a coffee table, a big hide rug, and all the pots, pans, crockery, cutlery, and so forth, that usually reside in a kitchen. Further living space is provided by two communal dining tents, a big hit with families.
The facilities, all stationed just the other side of a bridge over a tiny brook, are designed to strike joy into the heart of the eco-conscious camper. Four compost loos are housed in delightful little sheds replete with antiquated reading matter. The two bijou showers are illuminated inside with solar-powered lights. There's a raised bed from which campers may harvest salad leaves, and pots of herbs with which to garnish the cordon bleu dishes you've whipped up in the BBQ thoughtfully supplied with every pitch.
And there's really no excuse for not cooking up some mouth-watering food here. On site there is a small honesty shop selling freshly baked bread, local treats, camp cupboard essentials. They also have a range of gastro glamping recipe cards along with all the ingredients needed to make them. A 10-minute walk up a track leads to the Gluvian Farm Organics shop, where absolutely everything on sale has been produced on the owners' land (do ask for a taste of their yummy preserves). Barely any distance further away, in the village of Trevarrian, you'll find equally appetising fare at the Bre-Pen Farm Shop. Meanwhile, down in Mawgan Porth, there's a former petrol station – now called Cornish Fresh – that looks like the sort of place that sells seaside holiday tat, but that actually houses a deli with a wide range of ingredients destined to inspire all sorts of culinary greatness.
Polgreen is just a short hop from a clutch of Cornwall's best surfing beaches, as well as some of the most dramatic stretches of the SouthWest Coast Path, so grab your wetsuit or boots and get out there. After a day on the beach, children can help feed Polgreen's ducks, fish, pigs and sheep including the eminently strokeable pet sheep, Rosie. The kids can also keep a look out for the array of wildlife on the farm – from otters and roe deer to horseshoe bats, heron, snipe, and even the occasional bittern.
It's a bit of shame that Newquay Airport is just over the hill from Polgreen since it means that when the wind is coming from the wrong direction noise from planes and helicopters can impinge on the tranquility
of the site. However, most of the time all you'll hear is the wind in the trees, the calls
 of unseen wood pigeons, and, if you listen carefully at night, the hoots and toowits of owls patrolling the dark woods.

Gallery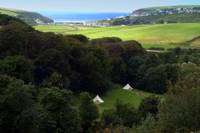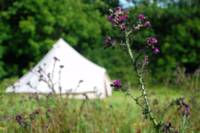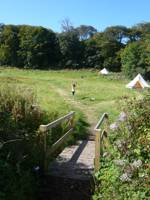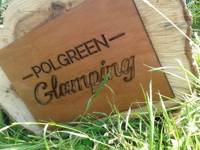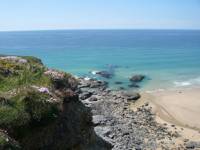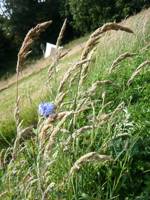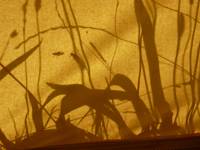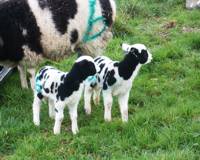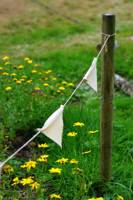 The Owner Says
Cool camping based in gorgeous Cornwall near the North coast.
Camping at its best... Think amazing countryside, endless nearby beaches, getting back to nature, beautiful bell tents and cosy comforts. Forget hustle and hassle, endless packing, fraught tent pitching and damp sleeping bags.
Sound good? Then it's time to try out Polgreen Glamping. Your gorgeous bell tent is awaiting your arrival. Your stay includes all of the home comforts (from real double beds to cosy rugs and quilts), essential glamping extras (from tea light chandeliers and bunting to BBQs and fire braziers) and use of our facilities (from a pick your own herb pots and central dining shelters to our lovely compost lavs and hot showers).
We are not a traditional campsite, in fact we don't really think of ourselves as a campsite at all. This is wild camping with a bit of added luxury. This is your chance to experience a welcome stay (no more 'get off my land!') in a beautiful and natural place. With only a handful of pitches our emphasis is on a great holiday for a lucky few.
We really hope to welcome you to Polgreen Glamping this Summer, we love this special place and know that you will too.
Simon and Sarah
Reviews
Add Your Review
A wonderful break
Our first time at Polgreen was truly memorable. From the moment we pulled up at the gate it was clear that this is a special place. There's plenty of other stuff on here about the facilities and so on, so I'll just agree that everything was first class and we couldn't think of anything that Simon and Sarah had missed. The tent themselves are lovely. We opted for a 6m bell tent which, given our two kids aren't so small anymore, was probably the right option. There's plenty to do in the area, a particular favourite of ours was the stunning Bedruthan Steps - but check the tides before you go! Loads of great beaches and you're really spoilt for choice when it comes to eating out. Not that you'll need to every time; you can easily prepare a meal back at your tent. There are few better things in life than sitting round a fire with your family and a glass of wine in beautiful surroundings, and this might just be my favourite place to do that. We'll be back for sure. Thanks Simon and Sarah for making us so welcome!
Heaven on earth
Our time at Polgreen was truly magical. Tucked away at the end of a beautiful Cornish lane we were treated to a gorgeous bell tent complete with vintage china, bunting and even a chandelier! The attention to detail was exceptional. Simon and Sarah had thought of everything we could possibly need to make our stay relaxed and comfortable. Wonderful hot showers and compost loos and the Polgreen pantry and salad patch proved a huge hit with the children who enjoyed picking salad for tea. They also adored the nature trail. Polgreen is ideally situated to explore the amazing Cornish countryside with ample walks down to the coast and also up the valley to the beautiful village of St . Mawgan. Sarah and Simon have managed to create a real oasis of calm in an otherwise busy world. The opportunity to sit back and enjoy the peace and quiet was much needed. I loved the simplicity of all; the sound of the stream, the sea in the distance, watching the children run with wild abandon like something from Swallows and Amazons and the big skies and stars at night. Polgreen was everything that I hoped it would be. Everyone should experience some Polgreen magic. I can't wait until next time. Thank you Sarah and Simon x
Vick
Lovely, relaxed campsite with friendly owners. The site is absolutely beautiful, with great walks nearby. Toilets and showers were kept extremely clean and the tent was very comfortable. Thanks Sarah and Simon for a great week!
Wonderful family camping
We had excellent directions from the owners on exactly how to get here- it's a good thing too as it is tucked away, down an unmarked, leafy lane. All is green and secluded and rustic-seeming but it is all extremely well thought-out and organised on site. This means that there is a magical air about the place, with the lofty white bell tents, hidden signs on the kids' nature trail, sweet decorations in the compost loos, bunting in the tents and solar lights that twinkle round the paths at night. This is balanced by the solid practicalities of hot showers, real beds and gas rings for cooking. One of the best things for a parent is the safe-yet-wild feeling of the site. Cars are parked in the next field and are kept segregated from communal spaces and there's very little traffic on the access road. The camping field is large, enclosed and partly mown so kids run all over the place, playing or visiting each other. The owners seem to have managed to limit nettles, thistles and brambles, those banes of camping life, to the edges of the field too, so kids are kept within bounds. Sarah, the owner, came and took all the children in the camp to visit her farm animals one morning and another day we got home to find that she'd left fresh scones for us all in the pantry. There's a well-stocked shop at the owners' house nearby, so even if you turn up with nothing, you'll still be able to eat. You really could turn up with just clothes, a toothbrush and your bed-linen as all the camping equipment is provided. There is wifi but phone reception is extremely poor, so get ready to really get away from endless phone calls! We visited in August with 2 kids and had a fantastic time. We were lucky with the weather and were able to go to the beach most days (bodyboarding is our new family obsession!) but there are lots of things to do locally if you do get rain.
Get away from it all...
Polgreen is a beautiful, peaceful, piece of heaven. A gorgeous campsite in a gorgeous location. Although a 'smaller' campsite there is plenty to do, nature trails, visiting animals, exploring, a perfect little beach down the road and a pretty village a walk away. The tents are fantastic, plenty of space for our family of 4, they are well spaced out for you to enjoy alone but close enough for all the children to play together and enjoy exploring! The site is very safe, the children could happily play without any worries from us. The toilets and showers were kept immaculate... The showers were hot too which is always a bonus!! The pantry on site is fantastic, it has all the essentials you need at reasonable prices... Also Sarah made some delicious cakes free of charge for everyone to enjoy! We are looking forward to returning next year... Polgreen Glamping is an absolute must! A big thank you to Simon & Sarah for all your hard work making Polgreen so fun, relaxing, welcoming (& much more!) it's perfect.
Really gorgeous place
We stayed a week at Polgreen this August (2015) and it was fantastic, we would go back. The site itself is just beautiful, rural with loads of space, the tents are spaced out brilliantly so you have privacy but kids have plenty of field space to meet and run about together. There are all sorts of exploration opportunities for the kids plus visits to the farm animals. We felt very 'back to nature' without sacrificing comfort and the site felt really safe. The tents are amazing, lots of space and sturdy (we had rain but the tents felt cosy and there was no leaking at all), with really nice decor. The loos and showers are impeccably clean. The 'Pantry' where you can buy all sorts of lovely essentials and treats is a god-send. The location is lovely, the local, sandy beach is gorgeous and very family friendly (plus surf lessons) and there are lots of other beaches within short driving distance. In short it's fabulous and Sarah and Simon do a brilliant job of making you feel welcome. 
Love this place!
We have stayed at Polgreen twice, in July / August 2013 and again in 2015 and love it.  Polgreen and the surrounding area has the perfect combination of 'Off the beaten tack' hideaway, back to nature respite, laid back cool surf, Eco credentials, farm excitement for the kids and plenty of great Gastro options when  a break from the BBQ is necessary.  Simon & Sarah are lovely people and the perfect hosts. Their passion for Polgreen is clearly evident in the attention to detail and their warm and friendly smiles.
We returned home to our busy city lives, relaxed, happy and rejuvenated.  
A fairytale week.
We stayed with Sarah and Simon in August (8th-15th 2015). The tent was lovely with a "real bed" for us, mum and dad, and a double futon for the kids. The site is well thought out with loads of room between the bell tents. In a lovely peacefully spot -  birdsong on a morning and shooting stars on a night- and yet within easy travelling distance of local beaches and Newquay. Already planning to come back in 2016.
Fantastic Cornish Glamping Experience
Stayed at Polgreen for 3 nights, early August 2015. This was our first time 'glamping' and it was simply fantastic. The site itself is amazing, with so much space for so few people in a truly beautiful setting. We hired a 5 metre tent, which was plenty big enough for our party (2 adults, 1 child).The facilities are great, and outside cooking was easy with the barbecue and 2-ring gas hob, along with all the cooking utensils. After long walks it was nice to come back to the warm showers too! The honesty shop onsite is really useful and supplies more than enough to make meals, along with wine and Cornish beer. My daughter loved the nature trail that has been created by the owners, along with the opportunity to visit the friendly farm animals with owner Sarah. The site is perfect for kids, as they can explore in safety, and all seemed to make friends. Bedruthan Steps (about 2 miles away) is stunning, and for us the best beach around. It was a pleasure to meet Simon and Sarah: they have created a very special holiday experience in this wonderful part of Cornwall.

The perfect Glamping experience!
We had a most wonderful 3 days at Polgreen this year. There is so much to do nearby, and the farm is a beautiful place to be. Simon and Sarah are the best hosts you could wish for, the site is set out so beautifully and every little detail is seen to. We absolutely loved staying at Polgreen.
Secluded idyll
Tucked away at the bottom of a quintessentially Cornish  lane Polgreen  never ceases to delight and inspire. A small number of beautifully decorated bell tents sit amongst wild flowers streams and mature woodland. Deer, owls and hedgehogs are frequent visitors. Full size beds, fire pits and a fully stocked pantry ensure all comforts are met. Delightful, engaging and genuinely helpful owners, Sarah and Simon, are the icing on the cake . Animals and woodland trails, body boards and games means the kids are kept occupied from morning to night . 2 minutes from the family friendly beach at Mawgan Porth and with a number of beautiful pubs and restaurants in short driving distance, not to mention the " local" which is a short stagger away means we are going back for the 3rd year running and can't wait. 
Cornish idyll
Having discovered Polgreen almost by accident we turned up not really knowing what to expect. We were immediately converted to glamping. Simon's can do attitude and permanent smile are perfectly balanced by Sarah's eye for design and attention to detail. The tents are incredibly well stocked with all the essentials, the addition of BBQs and fire baskets mean that there is no hardships. Sitting outside the tent as the night draws in watching shooting stars (if you are really lucky a meteorite shower) is just the perfect end to the day.
The site itself is beautiful and each year we have returned has been like coming back to an old friend. The abundance of wild flowers, carefully thought out nature trail and the incredible hill side setting make this a truly magical place.
This is the perfect place to explore some of Cornwall's prettiest coast line and there is no shortage of amazing beaches. The local beach is busy at weekends but not unbearably so and has a great coffee shop, nice selection of eateries and a really good supermarket / deli.
The children love coming here and have thoroughly enjoyed wandering around meeting the sheep, pigs, geese & horses that are around. They have made great friends and spent endless hours playing wild whilst we adults chilled out!
Cannot recommend Polgreen highly enough!
Best UK holiday ever!
My daughter and I stayed at Polgreen for a week in late August - it was a rather last minute booking but Simon and Sarah were very well organised and the paperwork, directions, list of what was supplied and what I should bring etc were all taken care of so packing was stress free. We arrived early evening and despite the recent rain, when I saw it the campsite I knew I'd made the right decision; it was everything I'd hoped for and more.  Simon helped get all our kit from the car to our tent, and we were soon settled in for the night.
Some of the highlights:  Rosie the sheep -my daughter loved her! And the other wildlife such as pheasants in the fields in the mornings, owls at night.   The honesty box system, and the fresh bread available in the pantry. The pantry shelves were well stocked although there were a were a few things that would have been handy to have, such as baked beans for that evening BBQ meal.   Bre-Pen farm at the top of the hill has a wonderful range of staples, local and fresh food, and I'm buying multiple jars of their raspberry jam next time I'm there.   Sarah's impromptu afternoon cake events.  Sitting outside my tent in the sun, reading a book and knowing that my daughter was off playing with friends she'd made on the campsite and knowing that I didn't have to worry about her safety.
We were there in late August and a lot of places were very busy (you even had to make reservations days in advance for breakfast at one of the Jamie Oliver restaurants, and we never braved Padstow) but we found plenty of other places were fine - the beaches at Mawgan Porth and Bedruthan Steps are fantastic, and there was plenty of room for everyone).  Evening meals at Fire, overlooking the beach at Mawgan Porth, were especial favorites for us.
I really appreciated things like the 'beach stock cupboard' full of body boards, shrimping nets etc that could be borrowed free of charge, and Simon and Sarah were always good at suggesting suitable beaches places to eat, places to visit.
I loved it so much that we are going back this summer, which is saying something as I very rarely go to the same place twice.
Win a £100 Blacks Voucher!
If you've stayed at Polgreen Glamping campsite, please take a minute to tell us about your experience. Every month, one lucky reviewer will be picked at random to win a £100 voucher, courtesy of our recommended retailer Blacks. Each review counts as one entry, so get writing!

Best Price Guarantee, with no fees
Instant booking confirmation
Trusted for 10 years
A chance to win camping goodies in our regular competitions!
Book campsites near Polgreen Glamping