Higher Pentreath Farm
Praa Sands, Penzance, Cornwall TR20 9TL







The view, the beach, the excuse that it's just too difficult to get back up that hill
In a county of pretty good beaches, Praa Sands is right up there, waving its blue flag with pride and cleaning its own sands every day with a gentle tide. Its wide, flat reach and safe waters mean it's popular with families; the reliable waves are popular with surferdads, while the athletic surfers and bronzed lifeguards are popular with the mums. Yes, it's a popular old place, but there's plenty of room for everybody. From its bird's-eye vantage point above all this hubbub, Higher Pentreath Farm surveys the day. It watches the crack-of-dawn surfers, the pre-breakfast dog-walkers and the café coffee-sippers. It watches the day-trippers come and go and the evening joggers to and fro. And as the setting sun lights the bay with the golden tones of summer evenings, those lucky campers at Higher Pentreath Farm need only to step outside their tents to appreciate this special cove. The three fields that form the site offer increasingly better views the higher up you go; but the payback of this hillside location is the sloping ground, so be prepared. It's also worth noting that the slope to the beach makes it quick and easy to get to, but exponentially harder to get back from. Better just to sit and watch it all from your camping chair. Another beer anyone?
Gallery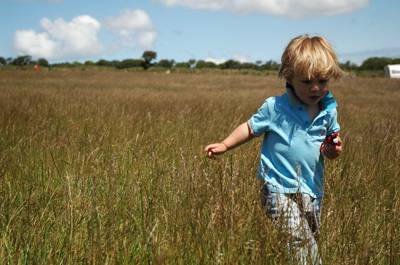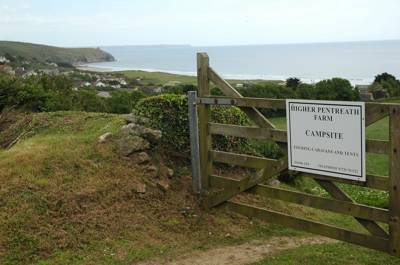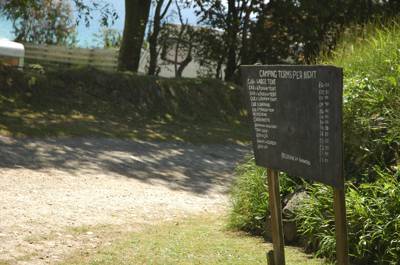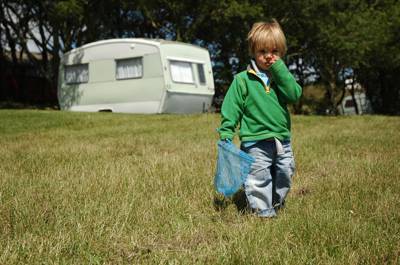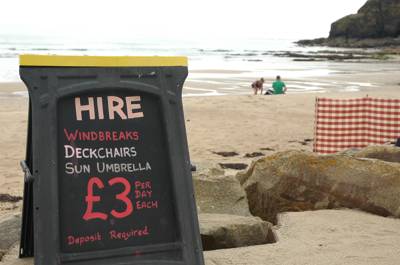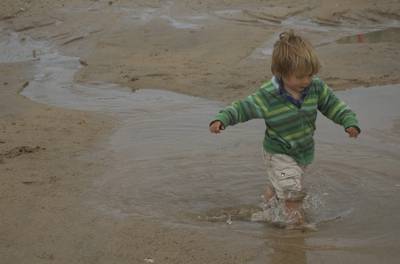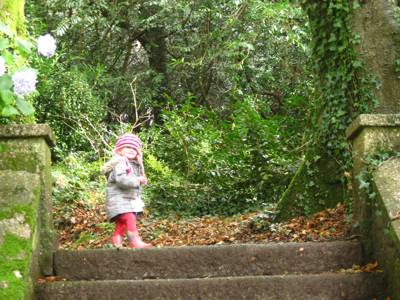 Reviews
Sign up or sign in to leave your review of Higher Pentreath Farm
Lovely place
Stayed there in August 2012 – two adults and two small children (then 5 and three) - loved it and came straight back the next year (2013 obviously) ! The first time, we took a taxi from Penzance train station which took about 10 minutes. The kids just loved the site instantly – there's three fields with lots of space to run around, race a soapbox down the hill, fly a kite or just play - there's always lots of the other children. Amazing views of the beach – you can check the tide (and the swell) from up the hill. It takes about 10 minutes to walk down to the beach, you can also drive but it's really close. The walk back up can be daunting, so you better pack your beach bags carefully in the morning!
There's a smallish restaurant at the beach – the Sandbar – and they have a nice terrace to sit and watch the waves from. The prices are ok but not overly cheap.  You can take surfing lessons and rent surf boards or body boards at the surf shop next door. The beach is good for body boarders and beginner surfers.
 A small shop at the campsite sells a few basic items – milk, crisps and sweets – and they will let you freeze your ice packs and charge your phone for a small fee. Mobile phone reception is very poor but this was a plus in our book. There's a petrol station about five minutes' walk from the site where you can stock up on bacon, bread and vegetables. If you need a supermarket, there's a Morrison's on the way to Penzance and a Lidl in town but you need a car for these. If you are into fishing, the angling shop opposite the petrol station sells the best bait. Shower blocks at the site are very basic but always clean and hot showers are free. There's a washing machine and also a tumble dryer. The owners are incredibly friendly. John even recharged our battery the second time around when our car didn't start – we were going to pay for it but he wouldn't have it.  
It can get busy over the August bank holidays but it never feels packed. The only caveat is the slope – most pitches are flat but some definitely aren't – you have been warned. Overall, it's a lovely site at amazing value and if we could we would definitely be coming back again this year! 
Brilliant!
We stayed here with two young (5&2yrs) children late in August 2012. Very impressed with the site and staff throughout our stay. Although considered basic, the facilities on site were all that was needed to fully embrace the spirit of camping. Showers always hot and clean. Beautiful view of Praa Sands beach from the campsite which is safe to let the little ones explore. Shop on site selling basic (very) supplies open twice daily 08:00 - 10:00 and 18:00 - 20:00. We met a few families which return to site every year and their children have developed close friendships from this. They welcomed our children and almost every night marshmallows were enjoyed by all around the campfire! Icing on cake - the price! With no doubt we shall be returning.
Higher Pentreath Farm
We loved this campsite. Although it is very basic and is really just a few fields and a shower block, this added to its charm. The people running it were really friendly and helpful and were happy to show the kids the animals when they wanted. Our car broke down in Penzance on the day of arrival and they were brilliant and refunded our pitch money now that we were a tent only family and not a tent and car. Showers and toilets, although basic were cleaned every day and the showers were hot.Location was great and the bus service although expensive was brilliant (luckily for us!!). The beach is perfect and the shop great, you can hire or buy bodyboards inexpensively which kept the kids entertained. The rock pools are lovely for exploring too. Both the sandbar and fish and chip restaurant were good for food and had friendly staff and good atmospheres. We will definately return (hopefully with a car!) as the site was magic.
Higher Pentreath Farm
This is a very 'rustic' campsite. It is basically 2-3 fields on a farm. There is a toilet block for ladies and gents- the ladies were okay but very rustic indeed and not the cleanest! The poor guys though had 3 showers- one of 'which was practically a shower tray in a corregated hut. Didn't see the owner much, but the shop/office was open a few hours early morning and 6-8pm in the evening (although we didn't venture in there). The fields are very slopy but bearable. On the upside, the location of the campsite is amazing and the views in the lower field where we were are beautiful, overlooking Praa Sands beach. Although the beach looks far away, you are higher up than further away. It is a steep climb back to the campsite from the beach but worth it! Beach was pretty much empty which was lovely and we hired kayaks from the beach store for only £15 a double kayak. They also rent out surfboards, wetsuits etc. It is only £3 to park there all day, which is a bonus. The 'Sandbar' was very nice, but not the cheapest drinks. Although food looked amazing! Overall, a very rustic campsite but worth the sacrifice for the stunning location and beach.
Best Price Guarantee, with no fees
Instant booking confirmation
Trusted for 10 years
Chance to win camping goodies in our regular competitions!