Bay View Farm
St Martins, Looe, Cornwall PL13 1NZ










A good base for exploring a less fashionable but interesting part of Cornwall (and all with a panoramic view).
You can tell that Liz and Mike, the proud owners of Bay View Farm, absolutely adore this place by the passion with which they speak about it and the care and attention that goes into its upkeep. For them, it's not a chore to run this campsite, but an opportunity to share this delightful spot with others.
When you see the view, you realise why. It's about as good as it gets on the south coast of Cornwall, with vistas across to West Looe on the far side of Hanner Fore. You can also see across the water to St George's Island, a remote island with no running water, electricity or other inhabitants. Previously owned by a schoolmistress from Surrey and her sister, they threw themselves into life on St George's and lived there for many years until they died. Thankfully, they turned down multimillion pound offers for the island from developers and it has now passed to the Cornwall Wildlife Trust who maintain it as a nature reserve.
Back at Bay View, Mike and Liz keep everything just so, from the eight brand new pods and clean, modern amenities block to the prize-winning shire horses in the adjacent field. It's not a massive site: there are around 25 pitches available to tents, motorhomes and caravans during mid season, which tilt at an increasingly steep angle towards the sea. Sleep the wrong way and you'll have blood rushing to your head, sleep the right way and you'll be able to enjoy the view in the morning without getting out of bed. Still worried about space? Well don't because during peak season, Liz and Mike magically open up their second field, which will give you another 40 pitches to choose from. If that still isn't enough, then treat yourself to a camping hug in the form of an insulated glamping pod.
Nearby attractions include Polperro, a quaint and picturesque fishing village with tea rooms, fudge shops and galleries in a car-free higgle-piggle of alleys and narrow lanes. You can also find fresh fish for your BBQ, or if cooking sounds too much like hard work, head to the oldy-worldy Three Pilchards pub by the quay for locally caught fish and tasty ales.
Gallery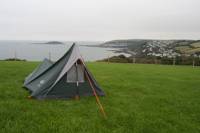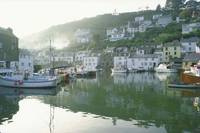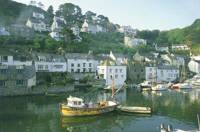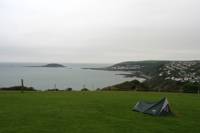 The Owner Says
Reviews
Sign up or sign in to leave your review of Bay View Farm
Beautiful Site
Fantastic location with amazing views. Great, clean facilities with plenty of hot water. Mike was very friendly and accommodating, letting us stay for free as we passed through on our LEJOG trip. Thank you
Too crowded
Lovely view and good facilities but they do ram them in seriously you could hardly move. don,t go if you like a bit of space
Great views, bit windy!
Stayed here in August 2010 for 5 days. The pitching was quite haphazard but not too crowded. The views were stunning but the site is quite exposed to the elements! The sanitary facilities were in a stable that was shared with the horses - bit disconcerting at times. The cleanliness wasn't right up to scratch either, but having said all this, we had a lovely time and the owner was very friendly.
Bay View Farm
Just returned from a 3 night stay here. This was my first camping trip since being a kid, so I have little to compare it too, but me and my girlfriend will probably return. The view is fantiastic, as per the pics you see on here and on their website, it's at the top of Looe Hill and is a short walk down to a nearby beach (BTW set Looe Hill in your sat nav and not st. martins, but if you do get lost, bay view farm is near the monkey sanctuary). We paid £10 per night for our tent pitch, it goes up to £12 from May throughout the rest of the season, plus a further £3 for electric if you need it. There were no allocated tent pitches, we just pitched where milke suggested. Only downside is with the view you get exposed to the elements, it was very windy for two nights, glad we packed the ear plugs! Wash-up facilities were fine, always seemed tidy just like the toilets and showers, although the these facilities aren't heated so did get chilly at night. Looe itself is great, I found a good butcher behind the jolly sailor inn pub on west looe in case anyone wants to get some good bbq food!
Bay View Farm
I must say that the views at this campsite are stunning, Mike is really friendly and nothing is too much trouble for him. He always asks how you are and whether you are enjoying your stay. Only downside to this campsite is that cleaning of the toilet/shower blocks and washing up area is practically non existent. I always went armed with cleaning wipes! If this could be improved I would give more stars.
Best Price Guarantee, with no fees
Instant booking confirmation
Trusted for 10 years
Chance to win camping goodies in our regular competitions!
Bay View Farm
Stunning views, clean plentiful facilities and friendly welcome. Only a one minus point, the information says there are only 16 pitches, but on the weekend we went there looked to be nearer fourty outfits on the field, so while when we pitched we had a good amout of space, when we returned from a trip out we were closely surrounded by tents and camper vans. I was a little concerned for fire safety in the overcrowded environment. We were told that the owner was away that weekend so maybe this is not the norm? Such a shame as the campsite we pitched on was perfect, exactly what we were looking for. They just need to know when to say that they are full. Otherwise a great find.