Knepp Wildland Safaris & Camping
Talk and squeak and squawk with the animals at this breathtakingly beautiful West Sussex conservation project – the largest of its kind in lowland Britain
It all started with a vision. The sprawling Knepp Estate – centred around a picturesque John Nash-designed castle – had been intensively farmed for arable and dairy for over fifty years. But with heavy Sussex clay not ideal for modern farming and Knepp struggling to survive, an ambitious new approach was needed. In 2000, owner Charlie Burrell turned his thoughts to ways of working with the land, rather than constantly battling against it and, inspired by conservation projects in Europe, hit upon the idea of using grazing animals to help return natural processes to the soil. In his words, 'We took our hands off the steering wheel, and let Nature take over'.
Now, over a decade later, the largest rewilding project in lowland Britain has transformed the Knepp Estate into a veritable Eden of biodiversity. Herds of free-roaming Exmoor ponies, Longhorn cattle, Tamworth pigs, and red and fallow deer rove the estate's 3,500 acres. Their different ways of grazing and selecting plants has stimulated a patchwork of interlinking natural habitats from wood pasture to water meadows, groves of willows and complex scrub. This unique environment is a magnet for nightingales, turtle doves, cuckoos and purple emperor butterflies.
The Knepp Wildland Project's expert ecologists offer a range of guided safaris around this sprawling site. So if you're batty about bats, or the bees get you buzzing, you can choose the tour that suits you best. Or if you'd prefer a more bespoke experience, the dedicated team here are happy to accommodate. What could be more awe-inspring than experiencing the wildlife up close? Camping here, that's what!
While the setting feels every bit as wildly exotic as the Serengeti, camping at the Knepp Estate is far from a primitive experience. There's a dizzying array of fabulous glamping abodes available, from shepherd's huts, yurts and bell tents of all shapes and sizes (think of it as wild camping, with a little 'w'). But we reckon for a true sense of getting back to nature, the off-grid camping pitches can't be beaten. And they allow campfires! And as for the key ingredients for that all important campsite barbecue, you can't get more free-range than the very livestock roaming this unspoilt, herbaceous hideaway, available to buy onsite.
Waking up to the sounds of nature is one of the great joys of camping. But the early-morning call of the resident beasts at Knepp Estate offers an added thrill – knowing that you're camping in one of the England's great mini-wildernesses, where nature reigns harmoniously.
Best Price Guarantee
Easy and Secure, with instant booking confirmation
Trusted for over 10 years
A chance to win a brand new Coleman tent!
Gallery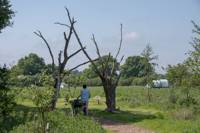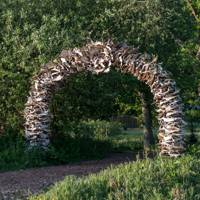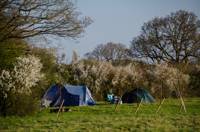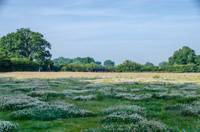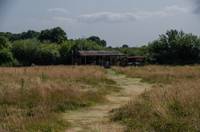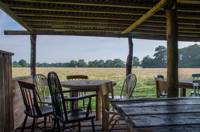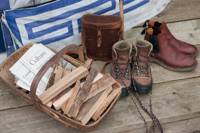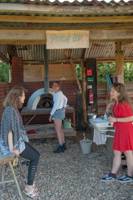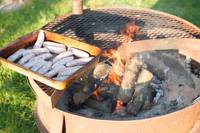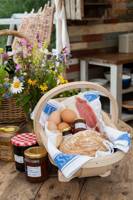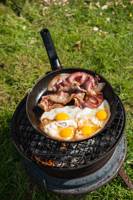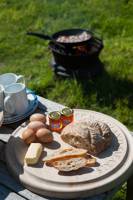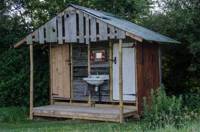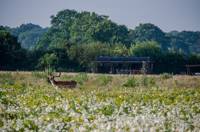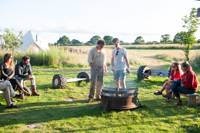 Video Tour
The Owner Says
Knepp – one of the largest re-wilding projects in lowland Europe Encounter herds of wild ponies, cattle, deer and pigs as they roam 3,500 acres of Sussex, driving the forces of habitat regeneration. Join us on one of our vehicle-based safaris or guided walking tours and experience our profusion of birds, mammals, butterflies, beetles, reptiles, plants and fungi in a setting that feels as wild and dynamic as the African bush. 'Pitch your own' in our exclusive Wildland campsite. You don't have to take one of our safaris to stay here, and you don't have to stay here to take a safari – though naturally we hope you'll be tempted to combine the two. For reasons of safety and to ensure quiet observation of our wildlife we operate a 12yrs+ policy.
Reader Reviews
Add Your Review
The peace here is amazing!
We (2 adults and 2 children aged 12 and 14) have just spent 4 nights here. We loved the peace and quiet, but also the friendliness of the place! We camped in the field and loved the fact that each plot is well spaced apart from the next - you can even disappear into the long grass on some plots. We loved the composting loos that were cleaned and looked after all the time and the lovely showers and toilets in the Go Down. To be able to have a cup of tea in the Go Down while sitting around the wood burner was lovely on the occassions that we didn't want to be by the tent. We made our own pizzas in the pizza oven at the Pitch up - which we loved and we also spent time at the Pitch Up playing card games and watching the sun go down. The walks around the estate are lovely and very managable - we loved the walk to the Castle and Lake and saw the most lovely sight of Fallow Deer, Exmoor Ponies and Longhorn Cattle all together intermingling in one field. At other times we came across the odd piglet on the path! Our children thought this was marvellous! The also liked the fact that they could charge their phones when necessary at the Go Down - this meant they didn't moan at us the whole time and were happy to come camping again at Knepp! What a wonderful place!
Amazing sized pitches
Loved our stay here! the pitches were really generous, it's beautiful, facilities are eco friendly without being grim, fire pots dead handy and is a perfect getaway from London for a couple of nights. Well be back!
Magical Place
We had such a wonderful time staying here, there is so much to explore and the facilities are amazing! The whole place is so impressive and well thought out, we particularly loved the out door bath and lovely organic products available to use.
Beautiful weekend
We stayed at this wonderful campsite in April and had a lovely weekend exploring the gorgeous landscapes of the Knepp estate. As seasoned campers we were greatly impressed with the spotlessly clean facilities, especially the kitchen and bathrooms, and a peaceful evening was spent warming ourselves by the fire pit. It was an especially relaxing stay knowing that our visit had as minimal impact on the local environment as possible due to the campsite´s ethical and environmentally protective philosophy. The staff we meet, a very knowledgeable Rachel and Ryan and Penny, were able to give us some great recomendations of trails to follow and a visit to the local pub, as they suggested, was an afternoon well spent. We will certainly be returning for a (weekend or hopefully longer!) to relax and take in the perfect surroundings..
Blissful
We stayed here for five days in order to unwind after a particularly stressful time at work. It was perfect! We stayed in the Turtle Dove Yurt which was spacious, and cosy. Very comfortable bed. Every day we took a different walk around the estate and was lucky enough to encounter a lot of the wildlife including all of the 'Big 5'. We found the whole experience fascinating and very relaxing. Loved the Camp Kitchen - we used it a lot to cook a simple supper of meat reared on the estate. The outside bath house was one of the highlights - wonderful to have a hot shower outside, with the birds singing all around. Rachel and Ryan were excellent hosts - always around to answer any questions. Can't recommend the place highly enough. it was wonderful - and we look forward to visiting again to see how the estate develops
Excellent campsite!
This was an excellent campsite, our first camping trip together and it was perfect! We didn't want to leave!
The reception & toilet area was spotlessly clean and manned by two lovely girls who answered any questions we had. The shop was well priced with food (meat, some veg, biscuits, jams, beer, cider, wine), wood and complimentary cool boxes, icepacks and tea & coffee.
The grounds were tidy without encroaching on the natural vegetation. The permanent residences looked really well kept but we stayed in the camping meadow in our own tent. We were lucky enough to be near the wood area where there was a wild stag who came to investigate the meadow a few times, which was a brilliant addition to our visit.
There are a lot of grounds to explore, more than we were prepared for in fact! Next time we will bring our walking boots and go a bit further!
The communal kitchen & sinks were excellent, really clean and the compost toilets were very clean, well stocked and did not smell! Be aware the energy saving light may just switch off!
We would recommend this to anyone who enjoys peace and quiet, nature, walking & campfires! We can't wait to go again!

Book campsites near Knepp Wildland Safaris & Camping