The Sustainability Centre
Droxford Road, East Meon, Petersfield, Hampshire GU32 1HR












With eco-credentials this high, what's not to like?
The Sustainability Centre sprang to life in 1998, in a former naval communications base in the South Downs. with a vision to educate people about economical and environmental reform. Nestled among 55 acres of woodland and natural chalk downs, the campsite lies on the route of the spectacular South Downs Way. The tipis and yurt are located in the main campsite, divided by bays of brambles and trees. The tipis smell earthy inside, enhancing the site's natural concept.  The yurts, Rose and Olive, are furnished with rugs and cushions, a table and chairs, a log-burning stove and two double futon beds, or double and single. In the bays you'll find four individual camping bays, Forget-Me-Not, Willow, Hazel and Yew – surrounded by nothing but trees, it really is a magical setting. Whichever canvas space you choose to spend the night in, you'll find the cost of your stay economical, which is always a bonus.
The Earthworks Trust, which owns and runs the centre, is independent and funded in part through the income generated by its campsite, yurt, and two tipis. Various onsite paying courses (in the likes of permaculture, natural building, forest management, food foraging, herbal first aid and willow basket making) are scheduled throughout the year and conducted in a rather grand outdoor eco-classroom. Course participants can learn how to draw on conservation craft and natural remedies that could aid a healthy and sustainable future.
Gallery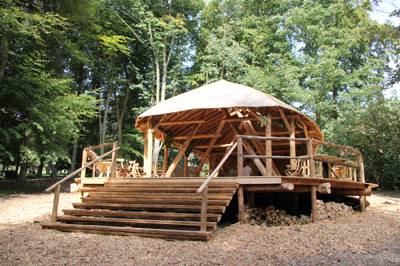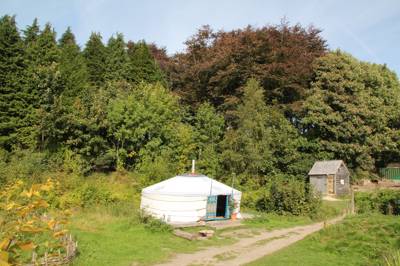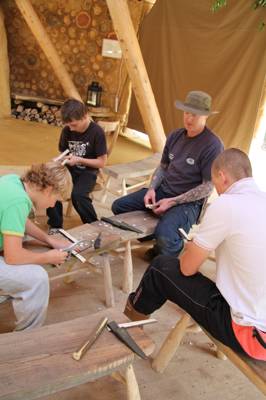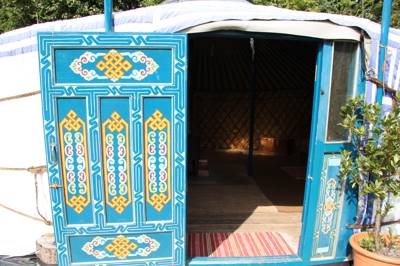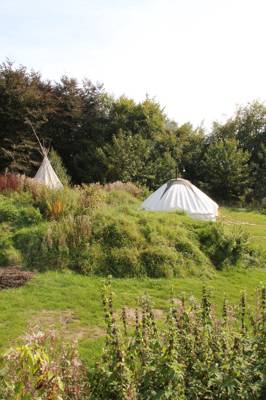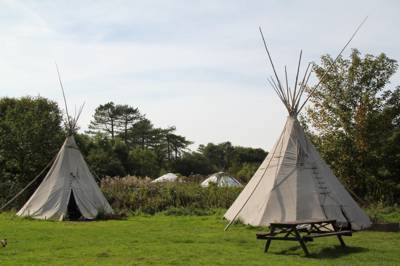 Reviews
Sign up or sign in to leave your review of The Sustainability Centre
A lovely, small and interesting campsite, great for families
We have camped here for 2 years in a row now with small children (2 under 6) and done different variations of camping with our own tent, camping with a dog, hiring a tipi and hiring a yurt with friends.  I can't recommend this place enough - but shouldn't really as otherwise everyone will book it out!  The staff are really friendly and you can easily buy bags of logs for campfires and cooking.  The camping pitches are nicely bordered so you don't feel you are in other people's faces and there is a lot to see with the sustainability centre and also the local area (quick trip to Portsmouth on a rainy day for the children to see the HMS Victory).  If you want a quiet, family friendly, small but accessible campsite hidden in the countryside this is the place to go.
Beautiful, well equipped campsite
A beautiful small campsite that is well equipped with solar showers, cooking and washing areas. The yurts on the campsite are really comfy and location is good for some nice local walks. Will visit again.
Fantastic site
My partner and I had the most fantastic stay here last summer. We enjoyed the unique experience of staying in a beautifully painted Mongolian Yurt and exploring the surrounding woodlands. I also learnt how the yurts were constructed by volunteering to help when I saw one being constructed on site! Fabulous May bank holiday.
The Sustainability Centre
First camping trip with our two young daughters. We found the private bay to be a bit too secluded from other campers, and our neighbouring bay kept us awake until 2.30 am with their revelry. Staff pretty friendly. The no car policy proved a bit of a pain in the end as carrying all the equipment down from the car park to the bay was quiet tiring. Don't get me wrong, the place isn't bad. It's just that on reflection it's not for us. 
Good and bad - recommended for groups, thought perhaps not for peace and quiet.
This campsite has 10 tent pitches. The main grass area has 6 pitches for tents and 2 large tipis. There is a large fire pit in the middle of the area. This area is not large - we were about 3 feet away from the next-door tent and 10 feet away from the fireplace. We were there with the other pitches taken by 2 groups. Both behaved entirely reasonably, just talking, no music, but due to the small space their children played within a foot of our tent and we could hear every word of the conversations until 12:30am, when the last group finally went to bed. There are 4 individual bays (each holding 1 tent) behind earth banks, which may well be quieter and are certainly quite private. The surrounding woods and grassy areas are very nice and our children enjoyed running around them - safe and fun. The main field has a compost loo in the corner, which was clean and had a light in the hut that contained it. There was no basin though, just a tap outside about head-height for a child, so it wasn't possible for children to wash their hands without getting soaked. Hopefully in the future the centre will put a map of the site on their website and make it clear to people where on the site they are staying before booking - it was only after we arrived that we found just how close we were going to be to two large groups. Also adding a basin at the loo would be very useful. So I would definitely recommend this site to groups who want to chat and enjoy being together. For people wanting quiet though, make sure you are in an individual bay or come out of season.
Best Price Guarantee, with no fees
Instant booking confirmation
Trusted for 10 years
Chance to win camping goodies in our regular competitions!
The Sustainability Centre
We visited this site with our toddler and will certainly be regular visitors in the future. What is not to love about this site? You have the choice of tent pitches in the more open top field, where there are two fantastic indian style teepees and a yurt (fantastic fun for the children which are also for hire if you don't fancy taking your own tent) or the lower part of the site which has been divided into more private bays by greenery covered earth banks. Cars are not allowed to stay by the pitches, which enhances the "get away from it" feeling, but you can drive right up to the pitch area to drop off your things if you don't travel light (like us!). Just a note that (on the bottom bay area, can't comment for the top field) the top layer of soil seems quite thin with some serious rocks below the surface so take short pegs or be prepared to knock your tent pegs in at a steep angle to get a good purchase. Some of the lovely staff of the Sustainability Centre live in yurts on the site with their children and our son was made instantly very welcome to join in with their games and share their toys. It is a very friendly site. The Sustainability Centre ethos means that even the shower block building is an amazing straw bale and lime render construction with fabulous solar heated showers (the heat is stored so you still get a hot shower even on a cloudy day!) to the point that we actually reported the showers as being TOO hot for our little one, virtually scalding, although the sun was especially hot that day. The staff quickly sorted it out and to be honest, if you have very little ones, you are better off standing them in the big reclaimed belfast sinks for a quick sloosh down with the provided jug. There is one large shower room with a big shower tray and plenty of space for an adult and a couple of children to get dressed in, and two more smaller ones on the other side. The composting toilet is really civilised. You don't have to hover over a hole, there is a proper loo seat, decent loo roll, and no, it does not smell. Honestly! Sawdust is provided to chuck down instead of flushing and it is all a great deal more pleasant an experience than I was expecting it to be! The loo is up in the woodland area slightly back from the main site but apparently this is so that the root network of the trees helps to take up the, err, extra moisture. The trees look pretty healthy on it! That said, it is a bit of a schlep with a small person in tow, and it is unlit. So, take a torch (and/or a potty for those "Muuuum, I need a wee" calls at 2am!). If you really can't be without a flush, there are loos in the main centre which can be used during the day. There is an on site cafe which is open selected days and serves a really wonderful array of hearty meals and treats (with as much as possible grown on site) with plenty for vegetarians and vegans to choose from too. On a rainy day it is a godsend and there is a childrens corner with some books, jigsaws and toys for babies. The cafe doesn't officially offer a "take away" option to campers, but if you fancy a lunch time off from cooking your own, take your own plates up there and ask nicely and the staff are very happy to oblige. They make their own bread on site and the guy that does the baking is obviously really skilled. My other half is also a baker and total bread bore so when he says the sourdough is outstanding, I believe him! If you are up for DIY pizza making, there is even a wood fired bread/pizza oven in the campsite area too. There is nothing officially set up here for children but it is very child friendly. It isn't really a plastic swing set and trampoline type place, but in my view this place is child heaven. No fast cars, total freedom, very few hazards and lots of fallen trees to clamber over, make dens and places to explore. Natures playground. One thing to point out while you are exploring through: Part of the The Sustainability Centre is also the South Downs Woodland Burial site. There are rows and rows of woodland graves, hundreds of them, right down at the lower reaches of the land. We found it a very peaceful place to wonder through, but I appreciate it is probably not everyones cup of tea to go and commune with the dead on an afternoon stroll. Burial ceremonies/funerals do take place here in the open sided building also used for educational events but other than the time of the ceremony being put on the notice board at the main centre entrance (which you would not need to walk through if you are camping), there is no great fuss made about announcing them which meant we didn't realise that we were disturbing a party of mourners as our toddler charged past at volume with us hooning along with him until a staff member made us aware. No-one made us feel bad or anything, but just be aware these things happen in that building and you'll be fine. The building isn't right near the campsite, but you walk past it on the way to the cafe. Firewood and kindling is available to buy from the duty site manager who comes round several times each day to make sure everyone is ok. Camp fires are encouraged in fire bowls or braziers. If there isn't one on your pitch, don't worry, there are a whole pile of them stored just behind the shower block. All in all, we LOVED it here. We are even thinking about getting married here. Imagine that! A cool camping 'wedstock' weekend. Bring it on...
The Sustainability Centre
Fantastic campsite! Set in a really beautiful woodland location where you can have a real campfire in one of the fire pits. Facilities are clean with great showers compost loos do take some getting used to however. The site has a real community spirit and so reasonably price. Would highly recommend we did not want to leave and plan to go back again some time soon.