Kitts Cottage Campsite
Freshfield Place Farm, Sloop Lane, Scaynes Hill, West Sussex, RH17 7NP













Back to basics, camping au naturel. Ditch the iPod speakers and lace up your walking boots.
James, the manager of both the local affiliated gastropub, the Sloop, and Kitts Cottage campsite, is a wry chap; he looks as if he might have been a highwayman or pirate in a former life, so we're not sure whether or not to believe him when he points to the campsite's eastern treeline and says there's a ghost of a lady who sometimes walks through there from the woods. Certainly it's an atmospheric spot, and on creepy nights, as the north wind wraps its teeth around your guy pegs and whistles at your door, you might wish that we'd never mentioned it. To be honest, though, there's nothing faintly spectral about Kitts Cottage – indeed the story (coupled with James himself) just adds to the site's charm.
Sandwiched between Lewes and Haywards Heath, the 18-acre site takes its name from a house that used to stand here hundreds of years ago. There are no style awards or glamping brownie points being won here. Kitts is all about bowling up with your tent and doing all the hard stuff like pitching up and cracking open your cool box, as well as stoking the flames on one of the many designated firepits. Essentially it's a huge meadow bookended on two sides by alluringly ancient woods and bordered by sheep-grazing fields; there's an area for families shaded by mature oaks, a section for groups further away, and the remainder is left for couples and singles.The eastern treeline is always kept free and uninterrupted for aesthetic purposes – an arboreal canvas that might have come from the brush of John Constable.
James runs it this way to keep things in balance, just like the unspoken eco-agreement with the nearby forest critters. Your side of the bargain is not to gather logs, or any kindling whatsoever – it's provided to you on arrival. And, in return, the creatures leave you alone. Fires are positively encouraged, though, as part of the site's back-to-basics ethos.
The site sits on a slight elevation, giving great views from the top of the hill. Gazing across the woolly backs of sheep and rusted ploughs, you have to pinch yourself when you remember you're less than an hour from London. The surrounding woodlands are criss-crossed with public footpaths, one of which leads directly to the much-celebrated Bluebell Railway, which provides a journey into yesteryear with a fully working steam railway system. With its old-fashioned stations peppered with nostalgic signs, octogenarian conductors, and steam billowing from Thomas the Tank Engine funnels, it's a delight for even the weariest cynics. The footpaths from the site are perfect for getting back to nature and, if you don't fancy walking, then bring your bike to explore the woody glades, sunburned fields and pretty hamlets.
The local Cuckoo Trail is a cyclist's paradise – 11 miles of disused railway track, choking on wildlife and woodland as it meanders gently through quiet hamlets, monuments, and the best of Sussex countryside. It starts in Polegate and zigzags through Hailsham, Horam and Heathfield. There are plenty of places en route to stop for a cheeky cool pint or a snack, as well as various sculptures in wood and steel to look out for. In May, keep an eye out for the Orange-tip butterfly, and orchids growing near the path.
Gallery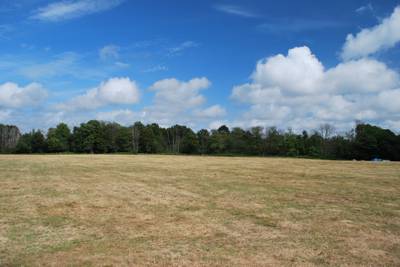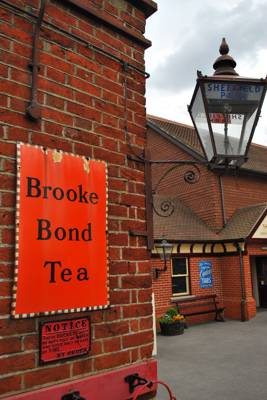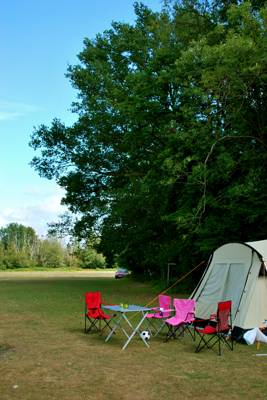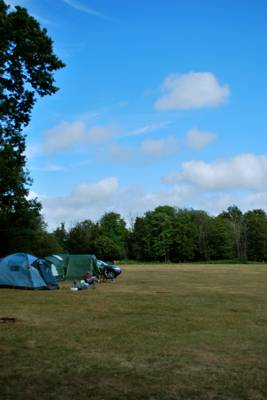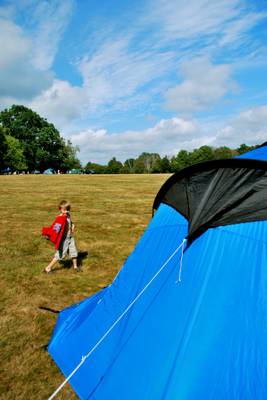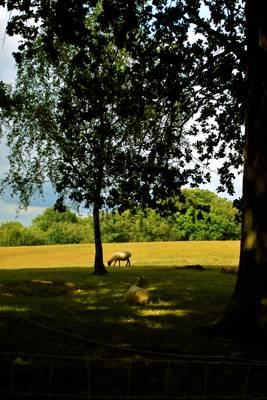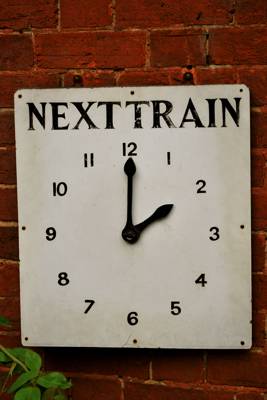 Reviews
Sign up or sign in to leave your review of Kitts Cottage Campsite
Overall not great
Pleasant surroundings but overpriced and lacking in basic facilities. Solar powered hot water, so runs out pretty quickly. Not a single bin on site, no recycling facilities, inadequate toilet and shower for the size of the site, poor outside lighting at washing block. I'm really happy to camp in a field with no facilities but with a family of 5 and the associated cost I expected much better.
Loud and rowdy during the night
The host (James Butcher) was unwilling to conceded that being kept awake by a large group of teenagers/young adults till 3 am (playing football and swearing) was not worthy of ONE nights refund of the 3 nights we stayed. After an awkward discussion and an accusation that I wanted a free holiday. He agreed to reduce the fee by 50% for the last night. However, we were also kept awake the night before but chose to "let it slide" and moved to a different part of the site. I was very disappointed as we normally enjoy the tranquility of camping I live in a small country cottage in which I am never rudely awoken. I felt his response was very ignorant and I shan't be returning. Lastly, the field is nice although very overpriced (£81) for 4 showers with no lights and 6 toilets and 6 sinks.
Response from campsite owner:
Hi Emma, having bent over backwards to try and help when you locked your phone, keys and money in your car, commiserating after the resultant 3 days of no-speaks with your partner and having spent ages ringing various recovery organisations, (to no avail because you twice gave me the wrong provider), I was pretty flabbergasted when you threatened me with a bad review unless I gave you a free night of camping. Well here is it!
Anyway, I'm glad you liked the site!
Love it!
Stayed here for X1 night on a whim due to having a couple of days off work, we got stuck in awful traffic so didn't arrive to the site till 8pm! James was awesome, really accommodating and helpful, he left us wood by the barn for when we arrived due to it getting late. Loved the site, other than us there was only one other tent so it was peaceful and quiet. Toliets were nice and clean, simple and all that was needed. Definitely will be going back! 
Too expensive but great location
Pros- James the owner is friendly and helpful, the site is a great cleared wood and the walls surrounding are picturesque
Cons- little to no hot water 
No recycling facilities or bins
No adults only field
Noises and over run with kids
No design, structure or anything that would make this campsite stand out from a cheaper camping basic field.
Commendable for the solar power but it is insufficient to service the camp.
The site has so much potential for an adults only field, nature education structures encouraging care of habitat(which children don't care about riding bikes over plants, destroying trees and leaving plastic water balloons everywhere) and recycling facilities could be easily installed(even for composting). 
A real let down and at £25 for 2 adults pn outrageously expensive. Would not go back
Nice big site.....shame about pub closure.
Stayed for two midweek nights this week so it was wonderfully peaceful. Plenty of space and the solar shower/toilet barn is good. There are many fire pits dotted around and James provides a bag of firewood for £6. Washing up was tricky as the three designated sinks had two plugs which fitted none of them. The area is sweet with good footpaths, one of which heads to the Bluebell Railway.
My major disappointment was that the advertised classic country pub, an 8 minute walk along a footpath was closed for a refurb and had been for some time. We took a walk past The Sloop and it did not appear to be close to re-opening. As this was a strong factor in choosing the camp site I was disappointed that the web site did not mention the temporary closure of the local pub. I mentioned this to James who responded by saying that there is another pub within a half hours walk. 
Best Price Guarantee, with no fees
Instant booking confirmation
Trusted for 10 years
Chance to win camping goodies in our regular competitions!
Fun times
My boyfriend and I stayed here for two nights in June 2015.  Our first night was a Saturday and the site was buzzing with activity from various groups of campers which provided a fun atmosphere.  Our second night was on Sunday and the site was so quite it was very peaceful.  It was a shame that the Sloop Inn pub was closed, which is a pleasant walk through the woods from the site.  The toilets and showers were clean and had hot water - albeit with only three toilets and two shower for ladies and the same again for men, there might be quite a queue during busy times!  We had a fire pit by out tent and we thoroughly enjoyed making fires.  
Dont believe the 5 star hype above
We stayed over August Bank Holiday this year. The open-ness of the sight is great but given the cost the facilities are woeful. James the owner posted some odd comments above about these. 
We are fully insured and therefore ask those who want fires to buy at least one bag of wood from us to help defray those extra costs. Surely what we pay "helps" with your insurance!! Why do we have to buy your over priced stingy bags of wood? Is it a charity?
The design of our shower block is based on a traditional field barn and is hand-built, using green oak and (real!) oak cladding Not really bothered if the oak cladding is "real" or not I just want showers with enough showers and hot water!
It contains 4 hot water showers   4! 2 for men 2 for women. Not enough.
Solar does struggle with washing up water, but we were pleased that everyone who wanted them seemed to enjoy the hot showers throughout the weekend. Solar system certainly does struggle. I didnt have 1 hot shower over the weekend and the last one the water was a dribble and then just stopped. Like the green oak wood - great for the environment that its solar powered but if it cant cope what's the point? Are we supposed to not mind because its solar powered?
but we were pleased that everyone who wanted them seemed to enjoy the hot showers throughout the weekend. Not true!
A footpath does run through the site, but we regard this as a huge advantage because it gives our guests immediate access to the amazing walks in this designated Area of Outstanding Natural Beauty. But that beauty is also the reason for our rubbish dilemma and we have chosen to ask people to take away what they bring. Most people understand why we don't want to sully the beauty of Kitts, some people grumble but hopefully understand  !!! No I dont understand! Doesnt make sense at all. I have been to far more beautiful campsites and none have ever asked to take your own rubbish away! Totally ridiculous especially on the last day with a full car.
To sum up I think the lack of showers, lack of hot water, overpriced wood (that we are kindly asked to buy for some charitable reason) and lack of reasonable rubbish collection facilities are all excuses for the owners to not spend any of the large amount of money we pay. If you don't want to supply these things charge less.
We wont be going back. Wowo next door is great and somehow manages to cope with all of the above and more!
PS: The Sloop pub through the woods also owned by James serves mushy veg, overcooked meat and the worst cheesecake I've ever tasted. When I mentioned it was just cream cheese the barmaid said "yes the chef does sometimes forget to put the vanilla in - well it is expensive!" !!!
Responce from campsite owner:

Thank you for such a comprehensive review.

Our insurance premiums are higher because we offer fires, but we certainly don't insist that people buy their wood from us. The wood that we sell (in bog standard sized nets) is Ash, which is a hard wood and far superior to anything you can buy on a garage forecourt or DIY store - and nearly 20% cheaper per bag than in Homebase for example.

We are really sorry that our showers didn't meet your expectations. We are "off grid (which means that we have no electricity) and while our solar system is very good, the exceptional weather meant that water pressure throughout our local area was quite low over the bank holiday weekend - too many people filling paddling pools apparently.

There are many different points of view regarding our rubbish policy, many of which have been discussed in well thought out arguments on these pages. You say that you don't understand why we don't want to sully the beauty of Kitts with commercial rubbish bins. Well, we don't welcome them because we don't believe they have a place on a rural meadow, they are ugly, they come in horrible colours, they are smelly and they attract vermin.

Notwithstanding all the other points that can be made for and against, I would like to ask you at what stage you expect us to accept ownership of the rubbish that you generate. After all, you are responsible for buying it, you are responsible for bringing it and you are responsible for generating it, shouldn't you be responsible for taking it away?
We love the campfires
A few cycling friends and I have just come back from our third annual weekend at Kitts  Cottage. We thoroughly enjoyed ourselves in the simplicity and space of Kitts Cottage.  There is so much room to pitch your tent around the fire pits. James is a totally charming host who is always welcoming and helpful. It is a great place to cycle from, with quiet country lanes all around the campsite.  The Sloop is a great pub but is currently closed for refurbishment and due to open next spring I think. The other local pubs are a short drive away. Looking forward to our next visit already.
Kitts camp Great Place
We just got back from kitts after a 2 night stay with 2 camper vans , 4 adults, two 5 yr olds, and two young babies.
We had a great time, we had the choice of pitches after a good chat with James about what we wanted, and as he said ( I will always try to accommodate your needs if I have the space) which he did.
I read the reviews posted before and I have to say James is polite, extremely funny, great with the kids and very very helpful!
The campsite is lovely, great pitches with lovely views , some in the trees and others dotted around the field.
Facilities are basic , clean , warm showers and good wash up, what more do you need.
If you want a club house and a bar then go elsewhere, this place is about proper camping with good clean facilities and I for one love it.
The kids could roam free and more importantly they could be kept an eye on from a distance.
The fact you can have a fire is amazing , you can have a fire anytime of the day is great as we used ours for cooking aswell as the evening warmth.
James drove round each evening to offer us more fire wood which was well priced for a big bag of wood which burnt well and lasted us through the night, no hard sell just what we needed.
In all a great couple of days with a superb host , if you want to stay somewhere clean with good showers and toilets and want to spend time getting back to basics with camping then kitts is great.
The cost is as I think relative to area and the fact is less than an hour from London and 30 mins from the coast. I don't think is expensive and I have stayed elsewhere and paid more for places that are awful compared to this gem.
The rubbish thing is fine, just either take it with you when you pop out or bag it up and take it in one go as you leave it's not the end of the world and it's clear on the website and as you pull up ! 
Great weekend
Just come back from my sisters hen weekend that we spent at kitt's campsite. We had plenty of space so I don't think we bothered the other groups around us (we weren't too raucous though!), and the campfire was perfect to gather round in the evenings to keep us warm. James was very welcoming, cheery and laid back, and the sloop pub is so nice and the food was great. I think groups and families are more than able to camp and eat harmoniously together at Kitts and the sloop pub! The only thing that was slightly annoying was the lack of bins (not even in the loos) . But I would definitely come back with friends or family, and next time make use if the beautiful wood walks around.. 
Kitts. Pros and cons.
  Pros
Beautiful site surrounded by woods. Flat pitches with close water standpipes. Toilets and solar powered showers which were maintained and cleaned daily (but not regularly enough.) Child friendly. Fire pits. Dog friendly. Walking distance to child and dog friendly pub with good food and beers, which is owned/run (?) by Kitts Cottage Campsite owner 'James.'
Cons
Even though James does not charge for dogs, gazebos, etc., Kitts Cottage Camping is comparatively pricey. We don't mind paying above average for good camping amenities but felt that the "No rubbish to be left on site as we do have the facilities" rule was not (as advertised) a Green issue but a money saving/time saving one. James should provide recycling and waste disposal on camp for the price.
James was very pleasant and accommodating when we arrived. We felt very positive about the site but as the week progressed and more campers arrived we experienced, witnessed and heard stories of how James was short tempered, stressed and rude to arriving guests. He was really very unpleasant to various people including ourselves in the latter part of the week. He sometimes apologised, giving the excuse that he was stressed out, but several campers told us that they wouldn't be returning solely due to his "unwelcoming attitude" and "bad vibes". What a shame. We think more staff might lighten the load and improve customer satisfaction?

Kitts Cottage Campsite - June 2014
We just got back from a great weekend at Kitts.

The site is spacious and green and surrounded by woodland - some nice local walks.
The pitches are generous and spaced out - they try to keep groups, families and couples happy by spreading them out, so if you do not want to be close to large groups then just let them know when you book and they will try to place you accordingly.
Its great to be able to have camp fires - it really makes the evenings cosy - firewood available from the owner, who calls in every day to see if you have what you need.
The showers/loos are basic but clean and perfectly functional - frankly, if you expect hotel standard bathrooms you probably shouldn't be going camping... really not sure what some people expect... 
We found James to be welcoming and very helpful - he got us a great pitch that was perfect for our relaxing weekend away from London. He made sure we were happy and had enough firewood.
James also helped us to get a  table at the Sloop - friendly staff and good food - though follow his recommendation on the best ciders at your own risk - they're delicious and likely to cause hangovers... definitely a time to leave the car and take the short, pleasant walk through the woods to the pub.
We had a great time and will definitely be going back.

Kitts - Way Too Expensive
Agree with the positive reviews, in that the Kitts provides nice fields and freedom with open fires but the cost is unbelievable.  £15 per adult and £10 per child, but 13 over were expected to pay adult prices! .... meant our group were paying £60 a night for family of 4 and minimum 3 night over bank holiday meant £180 for weekend even though staying 2 nights and not 3.  Basic facilities - No toilet paper, luke warm water and people having to take rubbish offsite (many dumping at neighbouring Wowo site)  The only staff we saw was the owner driving around collecting cash.   
Response from campsite owner:
Many thanks for your comments and I am pleased that you enjoyed the space that we provided over the bank holiday weekend - and the camp fires of course. The rates that you refer to are our well-publicised Bank Holiday fees, so I am sorry that you found them such a shock, but I am relieved that wasn't because of any hidden extras. We do not charge for Cars, Gazebo's, Pup Tents, dogs or infants. However, like many other businesses, we charge teenagers like adults, on the basis that from 13 upwards, most of them are already far bigger than their parents! 
We do have a 3 night minimum fee over bank holidays and a 2 night minimum fee over normal weekends (when our charges are £12.50 per adult  and £7.50 per child) because  most people want to stay for the whole period, so it makes little sense booking scarce space  to those who want to stay for less time. 
There is definitely a relationship between the number of Campers on a campsite and the prices that are charged. At Kitts, we choose to have fewer visitors and charge them a bit more. Other sites choose to have lower prices, but have many more visitors. Our goal is to provide uncrowded, spacious camping and while we are delighted you enjoyed that aspect of your stay, we are really pleased that you mentioned the feeling of freedom that Kitts seems to create. We have large areas that we keep tent-free, we never camp anyone in the middle of the meadow and only ever allow a specific number of visitors on site - no matter what the demand might be. The many hundreds of potential visitors that we had to refuse that weekend, can bear witness to that! 
This owner, who you fondly imagine was languidly collecting his ill-gotten gains all weekend, actually felt like he was forever racing to clean the loos and showers (which he assumes were were acceptable because there was no complaint) and to re-supply the constantly dwindling rolls of loo paper. He can only apologise if he fell short on some occasions, but does promise that it was not through lack of trying. Like-wise the warm water. Our solar system did struggle in the rain, but I do know that those who picked their moment had some lovely showers..... I heard them say so, while I was re-plenishing the loos! 
We do appreciate that there are some aspects of our attempt at a sustainable, back to basics approach (particularly concerning rubbish) that are not everyone's cup of tea, but all in all, while I am happy that you agree with the comments made by other positive reviewers, I am truly delighted that you recognised the freedom that staying at Kitts seems to create.

My favourite campsite in the UK!
Absolutely love Kitts!
I have gone every year since it opened. Great facilities with hot showers and flushing toilets - all solar powered.
Dogs are welcome and you can have open fires which really makes the experience.
There is a fantastic country pub an 8 minute walk through bluebell woods which serves a great selection of wine and beer and does tasty food.
The owner James is lovely and doesn't cram lots of people to make the most money per square metre that he can like so many other campsite owners do, so you always have space and privacy which is great. 
My favourite campsite in the UK!

Wow perfect campsite
We stayed here on the May bank holiday just gone with friends , this is truly a wonderful campsite. Great for families, beautiful local pub a 10 minute stroll through the most amazing blue bell woods I have ever seen. Owner lovely, peaceful & perfect setting. Looking forward to returning. Would highly recommend. 
Can highly recommend this site
We stayed here for the early May bank holiday and had a fantastic and relaxing time. The campsite is in a beautiful location with lovely woods to venture through on either side. James was really helpful and friendly and visited us daily to deliver wood and kindling for the fire. It is great to be able to have a proper camp fire (quite hard to find sites that allow it these days) and it really added to the camping experience.
This is a back to basics site but that is what makes it so charming. It isn't too overcrowded and tents are only places around the outside of the fields so there is plenty of room in the middle to play ball games etc. The shower and toilet facilities were good and cleaned regularly.
This is our favourite campsite by far and we will definietly be going back. A real find.

Kitts Cottage - a beautiful relaxing haven
Just returned from a three night stay over the may bank holiday 2014 at Kitts, having had a fabulous relaxing time (for the adults) and days of exploring and adventures (for the children).
James went out of his way to offer us a choice of areas to pitch - we chose an extremely tranquil spot in the first field with masses of space between us and the other groups either side.  The children loved that they keep the central part of the field completely free of campers so there was loads of room for them to play frisbee/ball games etc.  However, they spent most of their time playing in amongst the trees and woodland on the site itself and also further afield in the surrounding woodland, building dens and basically having the space to play in the way we used to when we were children (sadly few places that feel safe enough to allow them to do that nowadays).
The spot where we pitched was perfect for both sunrise and sunset.  The sunrise through the woodland across the grass with morning dew was as stunning as the sunset over the fields towards the site entrance at the end of the day.
Proper camping has to be around a campfire in our opinion and sites where this is allowed are fairly few and far between.  Campfires are actively encouraged at Kitts and it was lovely that James popped by each day to check all was OK and give us a chance to top up our firewood.  We found prices very competitive (and we did do our research!) and you get the added  bonus of hardwood logs delivered to your fireside, and only need to buy what you need each day.  We did ask James if he could deliver charcoal for bbq's but he didn't want to be too "commercial"… we think it would be a good idea though!
Having to take your rubbish home with you is in all honesty a bit inconvenient but it encourages you to think about what you throw away and leaves the site free of ghastly wheelie bins overflowing with rubbish and attracting the flies.
There are showers with wonderfully innovative plumbing housed in a beautiful wooden building, three washing up sinks, toilets and hand basins.  The water wasn't boiling hot, but was certainly adequate for our needs.  Toilets were cleaned at least twice a day, enough loo roll etc. and because they don't squeeze loads of people into the space on the site, there were no queues for loos or showers that I saw.
Nice touch was water taps and fire points strategically placed around the field so never too far to walk to top up water.
We loved it here.  If you want on-site entertainment, shops, concrete shower blocks and electric lights blazing throughout your campsite then this is not the site for you...
But if you want to wake up to no sound other than the birds singing from the woodland surrounding your tent, the space for kids to explore and the chance to sit around a blazing fire at the end of the day (having exhausted yourself with the many wonderful walks you can take straight from the campsite) then this is the place to stay.. definitely our favourite site in Sussex.
Overpriced given poor facilities
We had a nice time camping here, but we won't be returning.

On the plus side, it was nice to be able to have a camp fire - something not always allowed.

However, its just too expensive for what it is.
- poor facilities (two showers in a shed for the entire field)
- no hot water for washing dishes
- no bins, so rubbish is hanging around campsite
- footpaths running close to tents (sometimes with rowdy people walking along them).
- fires are allowed, but its 12 pounds for the wood from the owner (one bag kindling, one fire wood).

This is very expensive (10-15 pounds a night per person) for what feels like back to basics camping.

This seems to have been glossed over by presenting a "cool campsite" image, in reality though, its a field with some woods around it and some basic facilities in a shed.

There's a nice walk to the Sloop Inn. Its nice for a drink, but i'd recommend eating elsewhere (overpriced - 14 pounds for a main meal of poor quality).


Response from campsite owner:
Thank you for taking the time to review Kitts Camp and I'm really pleased that you had a nice time and that you enjoyed having a camp fire. The reason that so many other sites don't offer fires maybe a combination of "health & safety" fears and high insurance premiums. We are fully insured and therefore ask those who want fires to buy at least one bag of wood from us to help defray those extra costs.
The design of our shower block is based on a traditional field barn and is hand-built, using green oak and (real!) oak cladding. It contains 4 hot water showers, 5 flushing loos, a separate urinal, 6 wash hand basins and 3 large washing up sinks, which are all connected to the solar hot water system. Solar does struggle with washing up water, but we were pleased that everyone who wanted them seemed to enjoy the hot showers throughout the weekend.
A footpath does run through the site, but we regard this as a huge advantage because it gives our guests immediate access to the amazing walks in this designated Area of Outstanding Natural Beauty. But that beauty is also the reason for our rubbish dilemma and we have chosen to ask people to take away what they bring. Most people understand why we don't want to sully the beauty of Kitts, some people grumble but hopefully understand, and we do canvas our campers and will re-visit this again.
Our well-publicised tariff is £12.50 per adult per night and £7.50 per child, while children in nappies are free. We are obviously disappointed that you found it expensive, but we do not charge hidden extras, such as for cars, dogs, pup tents or gazeboes.
Perhaps more importantly, we also strictly limit the number of visitors that we allow on site, so that everyone can enjoy the space and tranquillity that we offer and we believe this to be a rarity in campsites. We appreciate that you may not have meant it as a compliment, but we are pleased that you discovered the back-to-basics feel at Kitts because that is exactly what we are trying to achieve. We are just sorry that it was not totally to your liking.
kitts cottage
Great campsite, lots of space to run around and play. Campfires, short walk to a pub and no long list of rules when you arrive. What more could you want. Going back for my step dads 50th in May xx
Kitts Cottage Campsite
We loved our stay at Kitts!  It's quite back to basics but having stayed at Shell island with only portaloos in close proximity we found the flushing toilet pure luxury!  Toilet roll and hand soap was restocked every afternoon. My husband braved the shower once and the water was very cold and it had been a sunny day so I'm not sure the solar panels are really adequate (the campsite wasn't that busy either). He and other gents from the campsite had to take a few minutes to psyche themselves for the inevitable freeze!! However, apart from that, James is very friendly and helpful and we got a very nice pitch with its own firepit.  
The woodland walks are delightful, full of bluebells and brimming with wildlife. The camping fields are very flat and were great for an impromptu football match that we had with our campsite neighbours. You can walk to the Bluebell Railway within 1/2 hour, well worth a visit and then the National Trust Sheffield Park gardens are only about another 15 min walk from there.  
We walked to The Sloop pub on the 2nd night, along another lovely woodland path, and had very tasty scampi and chips. Only negatives was that the smell from the septic tank was quite pungent outside in the garden and even started drifting into the pub by the time we left.  Plus, we weren't offered an evening menu even though we arrived nearly at 7pm so as we ate our scampi and chips, people around us were ordering fancy starters and steak which we would have preferred.
I would highly recommend Kitts but I'm not giving the full 5 stars just because it would be nice for the showers to be a few degrees warmer and £40 a night for a family of 4 is a little steep.

August 2012
We stayed two nights over an August weekend in a family group. The camping areas are very nice and James gave us a choice of locations giving us the chance to pitch away from a large group and also families with very small children. He does a good job in ensuring every group is well spaced and other than that is relaxed about how you pitch. The fieldis nice and the surrounding woods hide you away from the world. That was the good bit. It is an expensive site, £90 for a family of 4 for the two nights as my 13 year old counts as an adult. I would be happy with this if the facilities were a bit better. If you are going to do something do it properly -the homemade shower block does the job, but only just. It was generally clean, but the bare wooden toliet cubicle walls and sink surrounds would be impossible to clean properly as are the rope flush pulls on the toliets. As the block is relatively new it was OK, but I wouldn't like to revisit them in a year. I hope this block is a temporary measure. The showers were tepid at best, which was OK as it was the hottest weekend of the year, and the flow from the holes in the copper pipes was so weak it was difficult to rinse off! The washing up area would benefit from a light as many people need to washup in the evening, and it was impossible to get dirty camping equipment clean in tepid water. As with other reviewers the lack of bins or recycling was a real issue, it would be more eco friendly to provide recycling facilities and get people to take home other rubbish, as it was difficult to sort your rubbish and bag it all up to take home. On such a hot weekend also pretty unpleasent to have it hanging around. I would not recomment staying more than 2 nights here due to the lack of facilities.
Kitts Cottage Campsite
A lovely campsite in a beautiful and very rural location. We've stayed here several times now with all our friends and their assorted children and we simply love it. The huge field is surrounded by beautiful woodland with a small wooded area in the middle with a further small field inside that, all rather hard to discribe but very charming and very pretty. The new oak barn, housing the lavatories and showers, is very attractive but relatively basic inside. However the showers are hot and the loo's are clean, so it definitely gets the thumbs up. There is a seperate covered area for washing dishes to one side also providing hot water. The field is very peaceful as it's a long way from any road however it is only a short walk through the woods to the Sloop pub which is family friendly and the foods great. The bluebell railway, also a walk through the woods away, is definitely worth a visit too. James who runs the site is very nice and gave us all the help, not to mention logs, that we needed. Things are quite simple but thats what we love and with acres of space for children to play and peace for the parents I guess its no surprise that we've just booked ourselves in for this year.
Kitts Cottage Campsite
Too expensive & lacking in basic facilities.

Negatives:
Expensive.
Toilets/Showers - No bins, hand soap or paper towels.
No recycling or Rubbish disposal so we lugged 2 days of nappies and food waste back home with us.. Disgusting!
No reception office or shop with camping essentials
No much for children to do.
You have to pitch where they tell you and we were pitched next to a noisey group with poor sunlight.
When we arrived it was dark and we couldn't find the water stations. There isn't much in the way of info around the site. When we asked the guy who greeted us at the gate he told us we can fill up drinking water in the gents toilets! There are actually stand pipes around the but it was dark they dont have any signs saying its actually safe to drink.
the near by Sloop pub is NOT very child friendly...
Positive
Lots of space.
Warm shower.
Nice walk to the sloop pub through forest.
Finally... I sent a polite email to the owner (as a customer) giving constructive ideas on how they could make this site great and asking why it was so expensive when they don't offer any basic facilities as rubbish bins and hand soap. I was told that's the way they operate and if I don't like it go elsewhere!!
That bit of advice I will be taking. Thanks James.
Kitts Cottage Campsite
Had a great stay at Kitts. To add to the reviewer above, there is a good toilet and washing up block and it was very clean for the 1 night that we stayed. A couple of powered sites for small campervans would be a great addition though. The owner James was right there to meet us when we arrived mid afternoon and although we did not have a booking he was able to fit us in. Not that the site was cramped in any way. I was surprised at the lack of people, but that is how James appears to like it, so that everyone is comfortable. We were offered wood for the fire pit also. The Sloop Inn is about a 10 minute walk through the woods, and what a great little pub it is. They had a local ale (that is changed regularly I am told) as well as the other standard real ales. The staff were very friendly and the food was brilliant, and well priced. We will definitely be back here.
Kitts Cottage Campsite
We camped on this site for just less than a week and it was much nicer during the week however at the weekend it was a bit of a nightmare. At the weekend the site was dominated by large groups wanting to party. The noise went on well into the night and not only included singing, shouting but also drums!
There is a new toilet block which has very unique showers made from some copper pipes with holes punched in them. They worked better than we thought and the solar heated water was at a good temp which was just as well as you can't adjust the temp. The toilets need to be cleaned more often. I think they were only cleaned once or so during our weeks stay and even at that they were not cleaned properly. The toilets would also benefit from some towels and soap too.
Despite this site promoting itself as an eco site, there are no bins ( including feminine hygene bins in the toilets) or recycling. We were told to told to take our rubbish and deposit it in the local supermarket bin - not what I consider to be eco friendly!
The public footpaths run throughout the site are great for going to the pub etc however they also made us feel a bit vulnerable. There was a regular stream of joggers and dog walkers going past our tent.
I don't think we will be visiting this site again as on top of everything else it was not exactly cheap at £30 a night for 2 adults and 2 children.
Kitts Cottage Campsite
Stayed at Kitts several times last summer, mostly when Wowo (more or less next door) was fully booked. It is not quite as nice as Wowo: it doesn't have the river running through it, there are less rope swings for the kids, it's way smaller and didn't have showers (although I walked through there last week and it looks like they have built a shower block), but as Wowo is normally fully booked for the whole summer from way before Easter, it is a really good alternative ... ... and it is closer to the pub :)