Canal-side camping for adults on a rustic Oxfordshire pig farm
When Dean and Sara first moored their narrow boat here in 2007 it was a drastically different place. The land still sloped gently down to the canal-side, green and inviting, but otherwise it was little more than a simple cattle pasture, blotted with the odd molehill and a scattering of buttercups. Today, however, it has truly been transformed. It has become the sort of place you hear about several miles down the canal; a whisper between boating folk who feel they each share this local secret. Chug around the bend and the banks are now a manicured carpet of grass and decking, split into segments and dominated by pig pens, and duck and chicken coops. "STOP", the sign reads, "Farm Shop".
We don't need asking twice, though plodding along with a tent and sleeping bag it's not a mooring spot we're after. Welcoming campervans, caravans and the humble tenting camper, The Pig Place is open to all and it's signage sums up the general atmosphere. The focus here is not on plush camping pitches with power-showers and strings of wooden clad chalets, no, first and foremost this is a simple, yet delightful small holding and only after the animals, the farm shop and the mouth-wateringly good food van came the campsite.
The resulting ethos is fantastic. The camping is wonderfully rustic – there is one portable toilet and no showers on the site – but that certainly doesn't mean it is neglected, with Dean and Sarah always on hand and inviting you over when it's feeding time to join in and see the pigs. It's inclusive, but not overbearing, and their conscious decision to keep everything small-scale and low key, makes it a sociable and thoroughly relaxed place to pitch.
The food, of course, is an obvious selling point. Their farm shop, selling meat, free range eggs and veg, is truly enviable – though if you envy it too much you may end up buying a couple of hens to take home with you – and the cooking trailer (The Pig Stop) is opened up each morning to serve an unbeatable home-reared breakfast. It may just be a ploy. The wafting smell of bacon is so good you can imagine that somewhere, in a lock, several miles down canal, there are already folks on board their boat sniffing at the air and tracing their way in your direction!
Nearby, the town of Banbury has enough independent shops and restaurants to keep you busy and the immediacy of the M40 means seemingly far off towns like Oxford and Warwick are actually just 40 minutes or so away. The motorways ever presence in the landscape may be unmistakeable on the map but its treed flanks do a surprisingly good job of shielding any noise, leaving the Pig Place to retain its unmistakably rural charms.
Best Price Guarantee
Easy and Secure, with instant booking confirmation
Trusted for over 10 years
A chance to win a brand new Coleman tent!
Gallery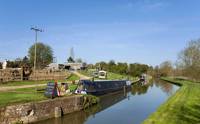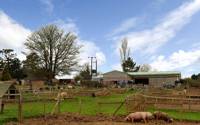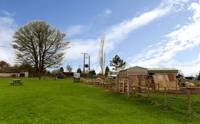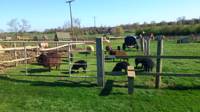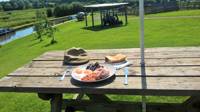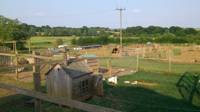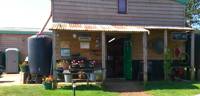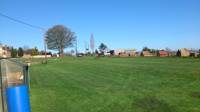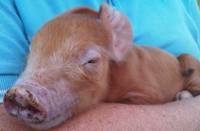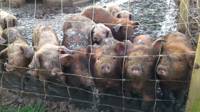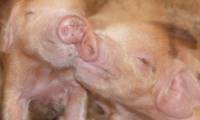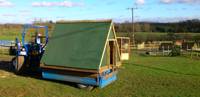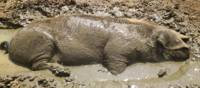 The Owner Says
If we're your kind of place, we look forward to meeting you. Our camping areas are 'child-free' and cater for motorhomes, caravans, campervans and tents. Being canalside you're welcome to visit by narrowboat too.
Our breakfast is unrivalled. Fabulous food with a fantastic view over the Oxford Canal and Cherwell Valley - what's not to like?
Reader Reviews
Add Your Review
Fantastic relaxed campsite
This was a last minute booking for us for the 1 night. We stayed on Good Friday and it was not full but pleasantly alive with friendly campers and staff. The animals were all so cute and great to watch around feeding time. I was surprised there was no 'farm' smell in the campsite. Best thing was the sofas and horse trailer bar which was open until 11pm with a chimeny fire keeping us warm. The portaloos were clean and tidy as were the sinks for cleaning dinner plates etc. The farm shop is also open until 9pm with a basic camping needs as well as fresh produce from the farm and local beers and wine from the area. It does not have a shower which was ok for 1 night for us, that's all we needed. I'd really recommend this campsite for adults wanting to get away from everything and just relax. Best prices too and food for dinner and breakfast were ideal!
The most relaxing weekend
The campsite is relaxed, there isn't much flat ground but the site is well kept and really tidy. The portaloos and kitchen sink are all clean. The best part of this campsite is the outside sofas, the pig trailer bar and catering cafe. This means that it's a really social site with a point for everyone to get to know each other or not if you prefer. The shop is cute as and really well stocked with local produce and pork and eggs direct from the site. Loved it. Thank you.
Charming
Thank you. All the staff were very friendly. We loved the pigs, ducks, chickens, dogs and sofas! The food was amazing, Sarah cooked an amazing Balti for us. The drinks van was very well stocked. Love the canal side location, just which we could turn off the sound of the busy road during the night. The lack of sleep was soon forgotten when presented with such a tasty breakfast.
The pigs and the bar!
We had a wonderful one night stay at the Pig Place and can highly recommend. The food is amazing, the bar area with the sofas is also great to sit and relax while listening to the pigs scuffling about. Really would love to go back for longer next time.
Wonderfully quirky
Loved the relaxed atmosphere, access to long canal side walks and chilled (romantic) fire pit evenings. If you want to be super lazy, Breakfast can be available and I definitely recommend you try it! We loved it here and the owners are extremely accommodating. One word of warning..... check your tent/camper for stow away chickens, they are extremely bold and friendly !
Brilliant place to stay!
Two of us stayed here for the weekend and had a brilliant time! The pigs are super cute and can provide lots of entertainment. They are also hire tasty (sorry pigs!) and would recommend getting some of the sausages from the farm shop or for brekkie from the food truck on site. There are chickens and ducks and cats and dogs as well and they were all very friendly and well behaved. The site itself is beautiful and fun. Really loved the old sofas and fire pits by the canal. The bar in the little horse trailer was great as well! I enjoyed the local ale and we also gave the rhubarb gin a try. Delicious! As others have mentioned in reviews, you can hear the low rumble of the motorway but it was hardly a distraction. I will definitely be booking this site again! Thoroughly enjoyed our stay.
Animals, canal views and breakfasts on site!
A fantastically unusual campsite, small and cosy with lots of friendly animals around the place. As a canal boat owner it was lovely to sit and have a beer on the bank (for a change!) from one of the many canal facing sofas from the horse box bar in the evening, before heading for the tent, and in the morning have breakfast in the sun! Lovely stay, really would recommend it, great place to stay for a special occasion too.
Quirky, rough and ready luxury (I know, that's odd... but this place is, in a lovely way)
I've been intrigued by this place for a little while, and just needed an excuse to be I the area. How could you not be attracted by a canal-side location, with rare breed pigs and poultry, a farm shop, breakfast wagon, bar and hot tub? The Pig Place offered even more than we expected. There's a few vintage vehicles on site, including the lovely 1960s Austin van they use day-to-day (think Wallace and Grommit). And a beautiful view across the canal. The wet spring has meant they're having to be a bit careful where to park up vans, and the ancient ridge and furrow land means you need to think carefully about where to pitch (and use levelling ramps if you've got them). Wherever you pitch, the pig pens will probably be in sight, and the piglets are adorable. It was a beautifully sunny evening, so the lure of the outdoor sofas and horse-trailer bar was too much to resist. The prices are very reasonable and the range of drinks is impressive, wherever possible sourced locally (including beers, cider and gin). Had we visited in a larger group, I'm sure we would have made use of a fire pit near the sofas too, and really made a night of it (gloriously child-free, unlike most pubs).The owners are very friendIy too. I can't lie, you can hear the rumble of the M40 and passing intercity train while sitting out by the canal bank, but the local birds do their very best to drown them out. I certainly wasn't aware of the traffic noise once I turned in for the night. We are generally very self reliant camper-vanners, but this was an excuse to have a morning away from the frying pan and let someone else cook up a full English for us! The only flaw in the plan was that there was a large (but very respectful and quiet) group on site ... and they beat us to placing breakfast orders. The breakfast took almost an hour to get (as they seem to be limited by cooking space and the time it takes to cook their lovely sausages), and we were warned that there was a backlog! Thankfully, we had time to sit around and soak up the sunshine and birdsong. The breakfast was worth the wait - don't cut corners and order a butty, go for the full fry. It's very generous - two sausages, two bacon rashers, two eggs, two rounds of buttered toast, mushrooms and a choice of tomato or beans. Oh, and if you like a bit of spice, add Oxford sauce instead of brown! If you liked the breakfast offering, there's obviously lots more piggy products in the farmshop, and there's food on offer in the evenings too, but that'll have to wait for another visit to try. Yes, the facilities are a bit basic, but they tell you that before you book, and the price takes that into account. As the site is not on the mains (for water or waste) there's no shower and the three loos are festival style to preserve the borehole water that they triple filter to ensure it's drinkable. The loos have sensor controlled lights for late night visits, and there's big outdoor sinks for washing up... plus an electric kettle and microwave for campers - fabulous for those in tents - more should do this. We didn't do The Pig Place justice by stopping by for a single night... so a full weekend will be planned in the future!
Motorcycle Friendly relaxed campsite
We spent a couple of nights at The Pig Place and it was fabulous. From the minute we rode our motorcycles into the site we felt very welcome. The views were picturesque and the surroundings were beautiful. The pigs were very friendly and allowed us to stroke them.... As did all of the other farm animals. A very relaxing stay and one with nature. The toilet was extremely clean throughout our stay and our needs were constantly met with a farm shop on site and a cooked breakfast available on request.. Do try the sausages, bacon and duck eggs which are all from the farm as they were lush. We will definitely consider returning to The Pig Place in the future. Thanks again. 
Book campsites near The Pig Place Campsite