The Real Campsite at Park Farm
Back to basics boutique camping in Oxfordshire. No frills, no gimmicks and no hefty price tag, just a simple meadow with endless views of the Cotswolds.
After a number of years running one of England's most highly rated glamping sites, Park Farm, on the doorstep of the Cotswolds, has returned to its real camping roots and given the site a name to match. There are no more frills and gimmicky thrills on the farm these days, just simple, back-to-basics camping with stonking great vistas of the unfolding land beyond.
In fact, what they've really crafted is a site that brings out the best of both worlds. A campsite it may be, but they've still taken a very boutiquey, individual approach to its creation, restricting the numbers to just eight pitches and providing each spot with its own private toilet. Nevertheless, there's still a genuine feel of wild and simple authenticity about it all, with campfires crackling late into the evenings and the bleating of young lambs waking you softly in the morning.
The meadow itself is set on a 370-acre mixed arable and sheep farm, nestled just on the edge of the picturesque village of Littleworth. Today it is run by Lindsay and Alan, but it's been farmed by Lindsay's folks for four generations and there's a warm, beaming enthusiasm radiating from the whole family. It's clear that Park Farm is a labour of love. From their helpful, personal approach, you can see how proud they are to keep the family tradition alive, and the extra activities, such as Lindsay's felt-making workshop, are a great way to bring visiting families together.
The land is home to 400 ewes, and if you visit in April or early May, you might be lucky enough to see the newborns taking their first wobbly steps. There are also two mischievous pygmy goats, and a chicken coop where campers can collect eggs for their morning breakfast, fried over rekindled flames. Peep from your tent at the right times and you can also spy less pre-determined critters – hares, buzzards, red kites or deer.
Perhaps one of the finest features, however, ever present and ever changing through the year, is the view. Each pitch boasts a spectacular vista stretching out from the Upper Thames Valley to the Cotswolds beyond. After enough time spent ogling, it eventually draws you out, either on foot or in the car. Head towards the historic market town of Faringdon or the Thames-at-Radcot, both within a leisurely half-day stroll. Alternatively, take to your wheels and wind your way to Oxford for days spent lounging in the sun as you drift along in a punt.
Best Price Guarantee
Easy and Secure, with instant booking confirmation
Trusted for over 10 years
A chance to win a brand new Coleman tent!
Gallery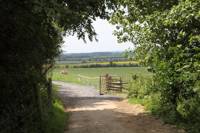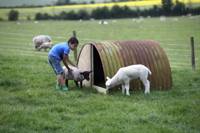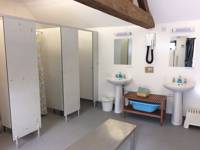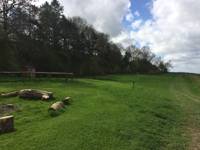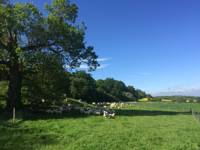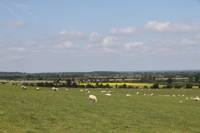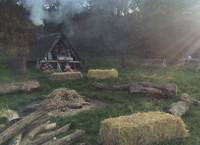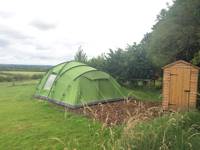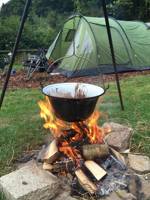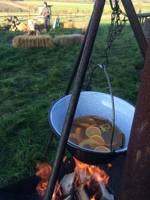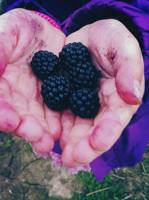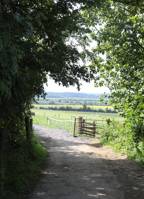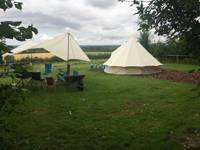 The Owner Says
The Real Campsite at Park Farm is proper, real tents only camping, how it should be​: a small site with large spacious pitches, stunning panoramic views, campfires, your own private toilet on your pitch and no cars on site making it safe for children (and adults!) to run around, play and explore.
This is real camping but it isn't pitching your tent in a crowded field, 6inches from your neighbours, tripping over guy ropes on the midnight toilet trek. This is 'boutique' but it isn't a yurt or log cabin, with electricity, hot tub, and a glamourous price tag to match.
Our eight individual designated pitches boast stunning views across our 380 acre working sheep and arable farm and on over the Thames Valley to the Cotswold hills in the distance. Relax, walk, build dens, spot wildlife, collect eggs from our chickens, make friends with the pet goats – you might never want to leave the farm! But if you do there is lots to see and do: we are close to the Cotswolds, the dreaming spires of Oxford and we are just a few minutes drive from some of the best wild swimming spots on the Thames.
Reader Reviews
Add Your Review
Best camping site we've visited
We had the absolute pleasure of staying at park farm last week, beautiful views and friendly owners! The owners gave us a recommendation for rove farm and it was the most amazing little petting farm! We were allowed to help ourselves to the chickens eggs and make friends with the goats too! This was brilliant as we have a 4 year old! My daughter also helped the owner feed the chickens which she absolutely loved! We will most certainly be staying at this campsite again! We'll be bringing our friends too! Really clean facilities and hot showers! They have a fridge and freezer which you can use for free! The honesty shop is a brilliant addition to the farm too!
Best campsite ever (Ssshhh!)
We stayed at Park Farm over the May Bank Holiday weekend. Having a toilet and fresh water tap on your pitch is a huge luxury. It's also very refreshing (literally!) to be able to use their fridge and freezer facilities for free. Each morning we enjoyed a wander around the rapeseed, wheat, woodlands and sheep. One morning my children had a lovely chat with the Farmers Wife who was tending to the chickens. They very excitedly collected fresh eggs on several occasions, which we quickly cooked and enjoyed. We had a truly rural experience. Park Farm is an amazing campsite, and I'm super reluctant to leave a review on here because I want to keep this place a secret!!
Take your breath away campsite
Visited Aug 2017, wet start but got a lot better. As this is a working farm be aware that you are left to your own devices. This is a little gem of a campsite, all the pitches have spectacular views over the valley. Each pitch has a wood chip all weather pitching area and a very sweet toilet shed, with a real toilet and basin inside. Behind the shed is a tap for water. The Honesty shop is a little room stocked with all sorts of things. Lindsay and her family couldn't have been more helpful or friendly, as they are also a farming family trying to raise crops and sheep. Sitting by the fire looking over the valley as the sun sets recharged our batteries. Lindsay and Alan have made a great campsite, our twins ran around and had great fun looking for eggs. Sad to say that as the word spreads about this gem it will only get harder to book a space. Fantastic place! Thank you!
A truly idyllic campsite
We went for a mini-adventure as we only live 20 minutes drive from Park Farm but we were certainly transported to another world! What a lovely campsite - not much to add to the description and the other reviews, other than to say that words alone can't illustrate how special this campsite is and how friendly and welcoming Lindsay and Alan were. The views across the Thames Valley from each pitch are really amazing, especially watching the weather flow across the landscape, while sitting by a campfire, while the sheer luxury of having your own toilet shed is indescribable! The little animal paddock was a great hit with our kids, who raced off each morning to check for newly laid eggs, and to feed clover to the two friendly goats and a ewe. We also did an easy walk through the fields to Faringdon and the Folly, visited a cafe and a very popular butchers for some supplies. On the way back we can across a field edge that was full of fossils in the plough rubble (corals and shells!). We also did a wet-felting workshop with Lindsay that was brilliant fun and we made some mementos of our time at this wonderful campsite. Only downside is that it gets booked up very quickly but we are aiming to go back in September!
Perfect Escape
Visited The Real Campsite at Park Farm at the beginning of October 2016. I'm slightly begrudged to leave a review as I'd love to keep this little gem a secret, but all the best things need to be shared! Location - 5/5 - Close enough to main roads that it's easy to get to by car. It's always a bonus when you don't have to trek down miles of dark, narrow & muddy lanes. There is a nice peaceful walk along public footpaths into Farringdon which is has a couple of nice pubs and coffee shops. Facilities - 5/5 - Shower room is very well appointed (heated floor was a treat in October!) and kept very clean. Cleaning room has a box for each pitch and our pre-ordered wood/food etc. was ready for us upon arrival. The little shop (honesty box) is useful for a few last minute items, and there's also a fridge and a freezer in there with separate spaces for each pitch. Pitches - 5/5 - There are only 8 pitches on the site so I imagine you'd need to book early in the summer months to guarantee a space. Pitches are large and could sensibly take 2/3 tents. The tent area is all covered in woodchip and has a membrane beneath which helps with securing pegs and having a nice flat pitch. There was a small firepit and a large picnic table on our pitch and also plenty of grass around and a row of bushes between the adjacent spaces. The view to the front of all the pitches is a beautiful landscape of farmers fields and towards RAF Brize Norton in the distance for any plane spotters. The toilet on-pitch is very useful! and was very clean with running water (watch out for spiders in the dark though haha). We picked fresh eggs from the coup on the Saturday morning and there was plenty to go between the site and they were lovely once we'd fried them up. Car parking is about 150-250 yards away depending which pitch you're on and wheelbarrows are provided so no issues there. Overall, I love the idea of only having 8 pitches on the whole campsite and you obviously pay a little extra for this, but it is more than worth it. I can wholeheartedly recommend this campsite and am looking forward to visiting again soon.
Can't beat it
We had an amazing week at Park Farm with 4 adults and 2 children on one pitch but there was still lots of space. The view is breath taking and we were treated to a gorgeous sunset every night. It was lambing season as well so this made our stay even more special. Each pitch, the shower block and the honesty shop are all really well maintained and the hosts couldn't be more friendly. We certainly wouldn't hesitate to go back here again.
Camping tranquillity
We visited in August whilst they were baling and transporting the hay a couple of field away, which was great to watch whilst sat down by the firepit with a nice cold drink. The pitch was excellently maintained and HUGE allowing you loads of room to relax, cook on the open fire or play games without intruding on anybody else and separated from the next pitch by a line of bushes allowing privacy. On each pitch there is a large woodchip area which allows loads of space for large tents, a firepit, picnic bench, standpipe and a shed enclosing a plumbed flushing toilet and sink which are perfectly clean. In the honesty shop there's half a shelf allocated in the fridge for each pitch, a freezer to help refreeze any ice blocks and the ability to buy frozen meat and other basic supplies of things you may have forgotten (No bread but we were cooking our own over the fire). The shower area was great and clean with hot water throughout the day. We received an email from Lindsay & Alan a week before our visit which has loads of useful information on the area including walks and trips out but we decided just to stay on the farm with a few walks around the fields and collecting a couple of eggs from the hens in the morning. Two great additional options that we included were the locker with an electrical socket and a 'late checkout' on Sundays which meant that it feels like you are adding an extra day to your holiday as was no rush for us to pack up on the final morning and it allowed time to add in a nice relaxing walk and lunch before leaving. Such a great site that we will be going back twice next year PS – For the kids a new Pokemon would appear on the pitch hourly!
Probably camping at its best!
We had 8 days of luxury,simple camping! Hugh pitch with toilet shed (genius!) campfire circle (yay!) and beautiful views. We watched the harvest, the sheep, the sunsets, the planes. The showers are lovely and the fridge & freezer makes the simple camping very easy. The information provided by the lovely owners was great and we used it to go walking and cycling. Had great fun wild swimming too! The site is friendly, private and peaceful. Lindsey and Alan deserve success with this venture..
Perfect camp site
I love this campsite. It has everything you need and nothing more. It is stylishly created, you are left to your own devices and you want for nothing. It was clean, well organised and has fabulous views over Brize Norton. We went with our 1 and 3 year old and the loved it. The nearby town of Faringdon has a fantastic butchers, a great Lebanese cafe and a good farmers market. We also visited Buscot Park (NT) which has wonderful gardens for the kids to rush about in.
Excellent
This is a super site. It's a great mix of the comfortable ("en suite" sheds, great hot showers) and the basic (just a few pitches, no cars, great views over the countryside, fire pits). The pitches are huge, good privacy from your neighbours and a very friendly set up as shown by the honesty box shop. Do book the breakfast pack, it's well worth it. We'd definitely go again.
back to basics
we loved our short stay at Park Farm. It really is the real campsite! Its.so very rural and we felt we we had gone overboard with all our everyday accessories. We loved the peacefulness of the farm life and the friendly chickens who made yummy eggs for breakfast. How nice to do a whole lot of nothing for a weekend. The owners were super lovely. We've booked again with lots of friends .....cant wait. Xx

Gorgeous site
Just back from a weekend at Park Farm and it was truly fabulous. Some real care and thought has gone into the setup from the individual lavs, the bark chip pitch, the picnic bench and the animal pen with access to the freshest of eggs. Beautiful view and a real farm feeling even while having a bit of a luxury element. We spent a fair bit of time wildlife spotting and the kids loved it. Really god site and we'll definitely be back.
My only quibble would be the wheelbarrow trips to get all our stuff down to the pitch though I appreciate having it car free is beneficial too. W
Thank you for a wonderful weekend
Just got home after a lovely weekend at Park Farm. We had three pitches for a group of friends to celebrate our 4 year old's birthday (about 15 of us altogether, adults and under 5's). The site was a treat. The pitches are huge, the view is gorgeous and each pitch has its own (pristine) toilet shed. There is a also flat woodchip bit on each pitch, which the owner explained, is so that, if it rains, you don't get boggy mud right outside the tent and walked inside. It was easy to pitch on but we didn't have any rain so we didn't really give it a good test run!
The kids loved the farm. We spent ages with the animals. This morning we've been collecting the eggs from the chickens. The adults loved the campfire and we can recommend the tripod and cookpot. The little honesty shop is pretty well stocked and the showers were clean and hot.
The owners were very accommodating, even though we were probably a bit demanding because we had a big group to organise. They even cleared out the felt making barn to use for our birthday tea if it had rained.
Thank you very much for a lovely stay! 
Amazing
We have just come back from a weekend at a park farm and our visit was amazing.  We happened to be the 1st guests to this site and I must say Lindsay and Alan have done a great job.  Having a toilet shed with the addition of an outside tap on each pitch was a great touch and having a shower block with ample cubical space and under floor heating was so nice.  Each pitch has plenty of space and is nice and private so you not literally on top of your neighbour, they have provided each pitch with a picnic bench and a space for a campfire.
They have a lovely honesty shop which also has a fridge with a space allocated in it for each pitch along with a freezer to store ice packs.  Also in the pot wash room there is a good size locker for each pitch which has an electric plug socket to enable you to charge a phone if needed (dont forget a padlock)
 The views are outstanding and although we had planned to do a walk and visit the area it was so nice just to take time out and totally chill.
Lindsay, Alan and all the animals made us feel do welcome, can't wait to go back!
Hope you enjoy your stay as much as we did 😊
Best Price Guarantee
Easy and Secure, with instant booking confirmation
Trusted for over 10 years
A chance to win a brand new Coleman tent!
Book campsites near The Real Campsite at Park Farm
i
Campsites in Oxfordshire
Campsites in South East England
Campsites in England