Book campsites near Swiss Farm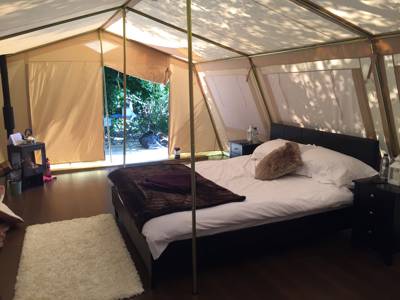 i
Glamping in Berkshire
Glamping in South East England
Glamping in England
Swiss Farm
Marlow Road, Henley-on-Thames, Oxon, Oxfordshire RG9 2HY









Full of fun for kids – swimming pool, indoor games, play area, rabbits to chase, lake to fish and loads of space. All an oar's length from regatta-hotspot Henley-on-Thames.
At first glance, Swiss Farm seems worryingly commercial and a little too large-scale to feature in our book. But first impressions can be deceptive, and once you've spied the spacious adventure playground, the outdoor swimming pool and the still waters of the willow-fringed fishing lake, your reservations will soon evaporate. Just outside the quintessentially English town of Henley-on-Thames, this site is a great place to stay during the festivities of the summer's Royal Regatta, an annual event launched way back in 1839. In those days it was all about the rowing races, watched by moustachioed, straw-boaterwearing Victorian gents, who stood on the river banks clapping genteelly. Nowadays the crowd is quite a bit more raucous and the races seem to play second fiddle to days of riverside fun and frolics in the sun. At quieter times of the year, Swiss Farm is simply a great place to come and relax by the lake, a base from which to explore Oxfordshire's countryside, hills and interesting towns. And in the evenings it's a place to enjoy family BBQs in the dusky evening glow.
Reviews
Add Your Review
Proximity to Henley On Thames
We were camping with friends who we don't get to see very often and I'm afraid Swiss Farm didn't help make it the enjoyable time together we should have expected. We were camping in a campervan while our friends had a tent. The site would not pitch us together because 'tents go on the tent field and campervans go on the touring field.' This was simply a case of the staff being jobsworths. There were two free pitches next to ours that could have sited a tent. We also saw a van just as large as ours parked next to a tent on the tent field. This site is expensive; We paid more than £150 between us and ought to have expected more to be done to accommodate a simple request. Very disappointed. Copy of this review emailed to the campsite elicited no response. They just don't care.
Great for kids
We have been going to Swiss Farm in Henley for years, it's one of our favourite campsite. Every year there seems to be more new paths, plants, trees so the campsite is always looking very nice. There is a large area for caravans but you only walk through it on the way to the swimming pool (heated) or shop. Lovely small playground in a middle of tent area, also lake with ducks & geese. It's a short walk to the edge of the farm so we go & look at their pigs, cows & goats every morning, kids love it!
Nice and clean, we will be back again!
Swiss Farm
We went here at the beginning of July 2010. We wanted to try out family camping (tent)with our 3 year old and wanted fair weather, not too big a journey, quiet but clean facilities. The weather map showed Henley as the only sunny spot in the UK for the 4 days we could do, so off we set.

It was the week after the famous Regatta, so we had plenty of space, midweek before school holidays. However it was the week of Henley Festival, so little one pelted across tent as the amazing firework display went off just as we had all settled down to sleep.

Pitch was just placing your tent somewhere in a field. This field sloped down a hillside, but at the top of field or at the bottom there were various flat pitches. The field was enclosed and felt safe with oodles of space to play and run. Interest was added by the spectacular swoops of the Red Kites (birds) in the sky above. There were limited electric hook ups but that didn't bother us as we didn't need it. Pigs in the field behind and horses in the next field meant that there were some lovely short wanderings on site. But best of all was the outdoor swimming pool which we had completely to ourselves one lovely warm and sunny afternoon.
The shop on site provided adequate supplies and would freeze our ice blocks for the cool box for a small charge. But for food it was a 20 minute walk into the town to a choice of Sainsbury's local or Waitrose.
There wasn't a huge amount of things to do... more your free-fun... walks along the river, picnics, and just enjoying camping. Some family-friendly pubs for tea by the river. Wash-up, washing and showers were clean and adequate, though I can imagine them being a bit busy with queues during peak season or at weekends. If you go in festival week you can have the sounds of orchestras, opera singers, wafting over the wind direct to your tent and a fantastic firework display every evening. It would be a very different experience in Regatta week. There is a small bar with some TVs to ensure important sporting fixtures aren't missed and a pool table or something for entertainment, but it is all very low key.
A fantastic site for a long weekend's camping or a week's camping holiday but I maybe wouldn't choose it if it was the only holiday we were having that year as it is nice to get to the coast. We will be going back there though.