Book campsites near Elmley Nature Reserve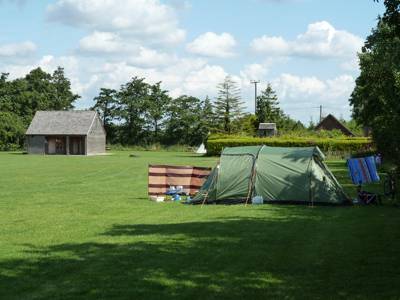 Campsites in Sittingbourne
Campsites in Kent
Campsites in South East England
Available:
27 Pitches
1 Bell tent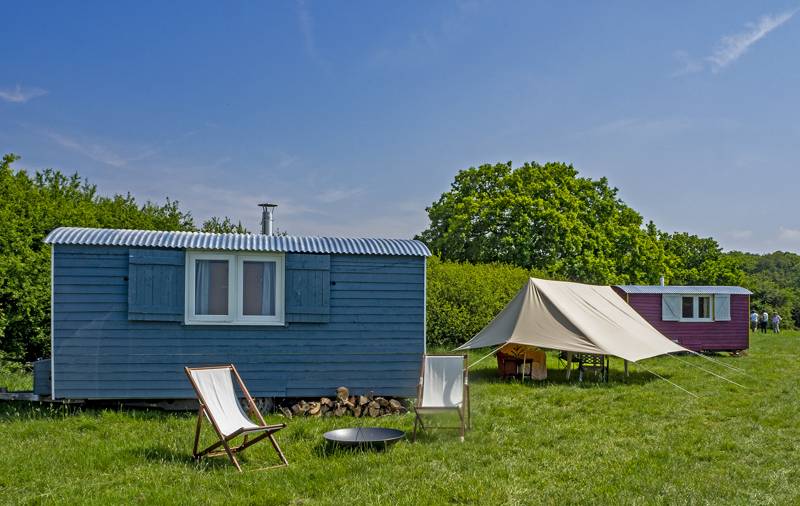 Glamping in Whitstable
Glamping in Kent
Glamping in South East England
Available:
3 Shepherd's huts
2 Bell tents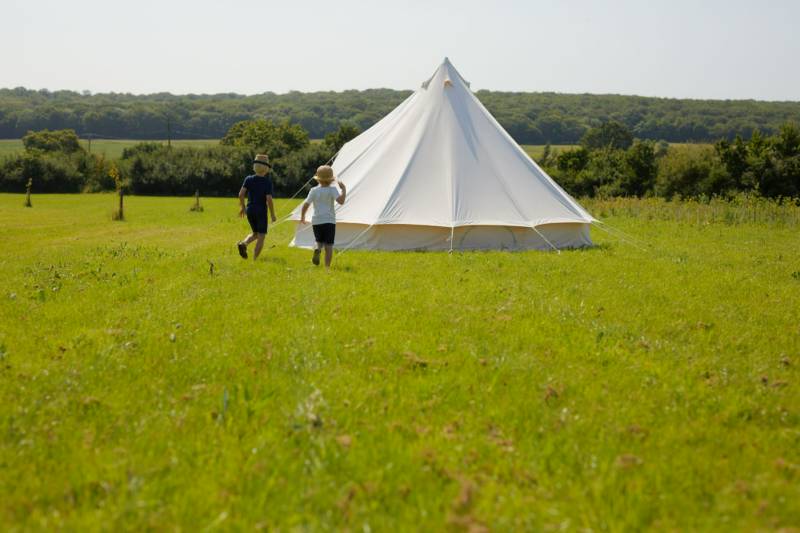 Glamping in Canterbury
Glamping in Kent
Glamping in South East England
Available:
1 Pitch
3 Bell tents
Unbeatable views and wildlife on the only farmer owned and managed National Nature Reserve in the UK
Elmley Nature Reserve is a painter's paradise. From your perch on a bank of raised ground in the middle of the marshland, eyes wander across swathes of meadow grasses, catching every colour of the morning sun. In the distance, yachts glide slowly up the Swale channel, their movement silent and serene, while the foreground is a peppering of geese and wildfowl, who frolic in the reed beds that front an endless mass of tidal streams and marshland. For the more amateur hand it's little short of a nightmare... To capture it seems simply impossible.
Thankfully, from inside one of the reserve's six handcrafted shepherd's huts, the windows do the work for you; 'Little Owl' and 'Samphire' have pretty picture windows, 'Vanellus' has a long, floor-to-ceiling glass panel, while 'The Ferryman's', 'The Saltbox' and 'The Damson' have a vast pane as an entire end wall of each hut. They seriously let the outside in, achieving a sense of true abandonment in the middle of the wetland landscape, while a lovingly decorated interior and deep cosy beds still ensure that cosy, hide-away feel. Be you painter, shepherd, or hapless London-escapee, you'll feel at home here.
Nestled on the edge of a quaint Victorian farm, Elmley's secluded glamping site is a rare and wonderful thing. Despite being a National Nature Reserve, an SSSI, a Special Protected Area for birds and a Ramsar site (wetlands of world importance), it's all still owned and run by the central family farm, under the current tenure of Georgina and Gareth Fulton. The result is not only a reserve with board-walks, bird-hides and informative visitor signage, but also a strikingly diverse business, both with it's continued farming (expect to slalom through cows as you drive the two mile entrance) and the glamping accommodation itself, unusually privileged to be permitted on such an important landscape. There are a small number of rules as a result – you can't go right down to the waters edge, you must stick to the marked footpaths and public visitors are also welcome on the reserve by day – but such protection of the wildlife is precisely what makes the place so special. To stay here is to immerse yourself in the natural environment.
The accommodation, though, is far from an afterthought. Located loosely around the central farm buildings, the six shepherd's huts have their own private patches and all the wares inside to feel wonderfully self-sufficient All come complete with piping hot, gas-powered, en-suite showers and flushing toilets, while The Ferryman's and The Saltbox have outside showers, too. The Damson, meanwhile, is the cream of the crop, with a gorgeous outside vintage bath tub, where you can sit and steam as you watch the geese fly home to roost.
Within easy walking distance of the huts, a tall Victorian pitch-pine barn houses a communal space with board games, comfy sofas, honesty bar, tea, coffee and freshly baked cake. You could chill here all day if the weather is bad. After all, it's up to you to discover what sort of holiday you are after. Watch for wading birds in one of the hides and cycle through the historic local villages, or go on a wildlife safari tour with Gareth across the reserve in his 4x4. Alternatively, simply hide yourself away, enclosed in the romantic setting of your hut as you watch the sun rise through the dawn mist and drift off to sleep to the sound of barn owls hooting softly across the marshes.
Details
Facilities
Vanellus, The Saltbox, The Ferryman's and The Damson all have a gas burner, while Little Owl and Samphire feature wood burning stoves with a hot plate top (plus the gas burner). For Little Owl and Samphire there's a communal outdoor kitchen. For Vanellus there's a handy gas stove just around the side of the hut, and for the other 3 huts cooking can be done from the grill, oven and hob inside the hut. All the huts have all the cutlery and utensils you need. There's a fridge in the barn, along with cool boxes in each hut. Each hut has a gas heated shower and basin. Each hut also has a loo. In the huts there are board games, cards and books, plus a set of binoculars. A high-powered telescope can also be hired for £15 per day. In the barn, there are more games and books. Extra wool blankets and hot water bottles are also provided in winter and there are fire pits for campfire use. Guests should expect to be truly immersed in the wildlife, with nature all around from dawn till dusk and through the night. As the Reserve is protected for conservation guests are not permitted to roam freely across the marsh but must stick to the allocated footpaths (maps provided).
Suitable For
Glampers only; couples and families – yes. Tents, campervans, caravans and pets – no.
Nearby
There is plenty to keep guests busy on the Nature Reserve. Wildlife trails lead to four different bird watching hides and a collection of other footpaths lead you to the old Victorian ruins of a former village where the remains of cottages, hay-lofts and barns can still be seen. Walk to the furthest hide with a hamper to rest and refresh yourself before the walk back! There are also organised tours, walks and wildlife photography should you choose. Off the Reserve, there is sailing and watersports available at nearby Barton's Point Coastal Park (07909 994196), or for more nature and walks watch raptors from RSPB Capel Fleet (01227 464898). It's a 25-minute drive to the historic town of Faversham and the same journey time to wonderfully well-preserved Leeds Castle (01622 765400). Canterbury is around half an hour in the car and makes for an excellent and full day-trip. Closer to home, Sheppey is a historic island and has some fascinating places to visit, including Bluetown with its splendid Georgian Naval Terrace in Sheerness, Queenborough Harbour (01795 662051) and several excellent and secluded beaches.
Food & Drink
Tea, coffee and fresh milk are provided in each hut. Breakfast can be delivered straight to the hut for £8.50 each, with a choice of bacon, egg, halloumi, tomato or avocado sandwiches with a pot of tea or coffee. Dinner can also be booked to be delivered to the hut for £22pp and lunch for £10pp. Special occasions and surprises can be catered for. Brambledown Farmshop (01795 877977) is a 10-minute drive away – a proper rural farm shop, great fruit, veg and meat. For fresh fish visit Queenborough Harbour in the early morning to get the catch of the day. Pub-wise, the 2-mile gravel entrance means everywhere is at least 10 minutes in the car! The Ship (01795 520881) in Conyer is the closest. This delightful pub with good food overlooks a pretty marina. It's located just over the water from the campsite but is a 20-minute drive around the Swale. A little further away is The Three Mariners in Oare (01795 533 633), which is a 25 minute drive away. Located near to Oare Marshes Nature Reserve, this cosy pub has excellent food, booking is recommended.
Open
All year.
Family Friendly
Elmley is a wonderful wildlife experience for children but please be aware that the ponds are very deep and can be dangerous. Parents must be aware of the risks and be with their children at all times. Life rings are located with the huts.

Location
Contact Elmley Nature Reserve, Kingshill Farm, Elmley National Nature Reserve, Kent ME12 3RW
Getting There
From north: Take the M2 south and turn off at Junction 5 onto the A249 toward Sheernes. Take the turnoff signed Iwade, Lower halstow before the large bridge – there is also a brown sign for Elmley Reserve. Go straight over the roundabout off the exit and carry on over a low bridge for another mile. Turn right at the brown sign for Elmley Reserve. 50m on turn left on to a gravel road and go straight on. The Reserve starts at the top and the farm is 2 miles further down. The nearest station (3 miles) is Swale Halt (train to Sittingbourne from
London Victoria
, Sittingbourne connection to Sheerness, stopping at Swale Halt) and the nearest bus stop is 2 miles away, at the entrance to the Reserve. Taxi's can be booked to take you from Swale Halt to Elmley, or if departing from Sittingbourne, there's a taxi rank outside the station. Please note, that during the months of and, walking and cycling is not permitted down the 2 mile entrance track, due to the disturbance that can be caused to over-wintering and breeding birds.