Redrock Glamping (Adults Only)
Bell tent glamping on a working farm, where crumbling castles lie just around the corner and rare-breed animals dot the surrounding Kentish fields
Despite being just an hour from central London, Redrock Glamping is an undeniably rural escape. Down the lanes between the Kent Downs and the High Weald, its setting, on a working farm, where lambs bounce in spring and chickens lay fresh eggs for your morning breakfast, is about as far from the big smoke as you can be. Well, not quite. Perhaps the tip of Scotland would be wilder. Though, with Hebridean sheep and the farm's own herd of Highland cattle, Redrock still competes.
Comprised of just three fully furnished bell tents (along with a trio of 'pop-up' unfurnished options), Redrock blends traditional camping under canvas with the added luxuries of home. Inside there's a double bed (linen and bedding included), a wooden table and chairs, a chunky wooden chest and a deep, cosy bean-bag, while, under the tent's canvas porch, a rustic kitchen block has everything you need for cooking. Choose from sizzling your sausages on the gas burner provided or go back to basics and cook directly over the campfire instead – cleverly repurposed washing machine drums act as excellent firepits.
While the tents are luxurious and convenient – particularly for those looking for short breaks from the city – Redrock Glamping still hasn't lost its sense of place. Up-cycled pallets have been use to create the flat decking beneath each tent, while the base of the bed and side tables, too, are built from recycled wood. It all feels wonderfully fitting within the agricultural surroundings of the farm.
Rummage through the bell tent's box of tricks – past playing cards and board games – to the local OS map provided, then plan a route through the surrounding countryside. Wander along footpaths within the 180-acre farm and out into the land beyond. The English Heritage-owned runs of Sutton Valence Castle, built in the mid 12th century, are within easy walking distance and there's a trio of good pubs in the same village, too. If you make it back from the boozer before dinner, meanwhile, you can even buy some of the farm's own home-reared meat. A little more campfire cooking anyone?
Best Price Guarantee
Easy and Secure, with instant booking confirmation
Trusted for over 10 years
A chance to win a brand new Coleman tent!
Gallery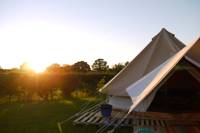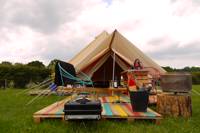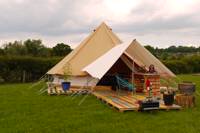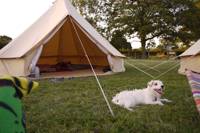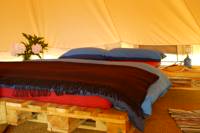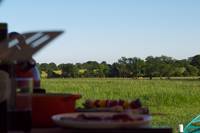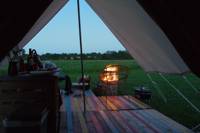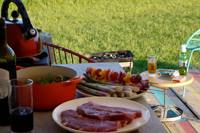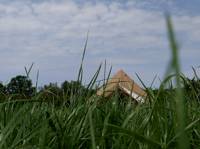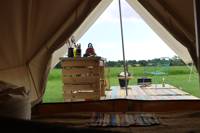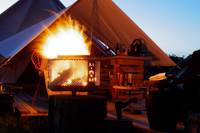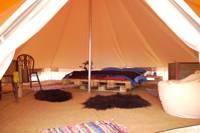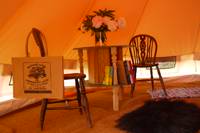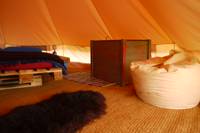 The Owner Says
Are you brave enough? Dare you face the challenge of (drum roll, please) going off-grid? Let's just examine the hardships that you'll have to put up with. No television. No mobile phone charging. No wifi. Very little to do of an evening, except lighting the campfire, opening a few drinks, chucking some steaks on the barbecue and… oh, well actually this off-grid lark is starting to sound like a pretty decent idea.
Yes, it is actually possible to turn your phone off for a while and rediscover the lost art of conversation over here at Redrock Glamping. It's not on some remote island either – this place is eight miles from Maidstone and only about 10 minutes' drive from the M20, mighty handy if you need a mini escape from London life.
Sorry kids, you're staying elsewhere as this one's adults only (nothing personal, it's just that grownups need a little bit of quiet space sometimes). Aside from a handful of fellow guests, your neighbours on site will mainly be the Highland cattle, Hebridean sheep, pigs and chickens that live here all year round. You may also be joined by some passing wildlife in the hedgerows and wildflower meadows around the place.
Your tent may be devoid of electricity but you'll soon find that both survival and comfort are entirely possible. You'll have a barbecue and gas hob for cooking, a coolbox for food storage, a firepit for keeping warm and plenty of battery-powered lanterns and torches. Other provisions include a basic larder (tea, coffee, oil and spices), crockery, cutlery, bedlinen and towels. Logs, firelighters and charcoal can be picked up at the farm.
For the ultimate in low-food-miles feasts, you can buy your meat directly from farm owners Ruth and Norman to take back to the barbecue on your pitch. Make sure you pick up extra provisions for a big breakfast the next day out on your private deck – nothing beats the smell and sound of an alfresco sizzling sausage of a morning. Other bits and bobs you might need can be acquired at the supermarket three miles away.
A short walk from your tent there's a toilet block and showers block, with proper flushing toilets and hot showers.
So… how does going off-grid sound to you now...?
On your door step are some of Kents finest attractions including Leeds Castle, Bedgebury Pinetum and the historical towns of Canterbury and Rochester.
Reader Reviews
Add Your Review
Everything I wanted
Everything about redrock was perfect. I went away to get some head space and this beautiful place did the trick. The facilities are great, everything you need is there; clean, comfortable and sweet little finishing touches. Loved learning about the animals and the farm too.
Outstanding relaxation
This was mine and my partners first experience of Glamping. From the minute we arrived to the time of departing,we were made to feel extremely welcome and part of family. Loved the tent and the amenities. Pete and kas were the perfect hosts and went out of their way to make sure we had a relaxing time. We will be coming back for another stay very soon and are recommending redrock glamping to our friend's. A 5 star breakaway.
fun, beautiful, romantic, peaceful, tasty food!
What an amazing stay we just had at Redrock Glamping! The bell tent was awesome, really cosy! The bed is raised on pallets so it's much more comfortable. I booked 3 nights stay in the bell tent with the decking outside with a small outside kitchen, it was so well eqiuped and well thought out. We loved cooking on the BBQ (the meat we bought straight from the farm, tasted so good) and sitting out till late with the fire pit roaring! Most the woodwork you see has been made by Peter, carpenter by trade and what an amazing skill he has! I got to feed the lambs at 9pm they were so cute! What made this different to any place I'd been to, is the hosts have set up a bar you can socialise at and they organised a few things you could do if you like joining in, such as the lamb feeding and the beer and bun night. I have never been somewhere so relaxed and the hosts were so friendly and were always checking things were ok, which they were! We bought more fire wood from them which came with everything you needed to make a great fire, we used all the first set they gave us free which was a lovely gift! They also have a woodland that has pretty lights that come on in the evening and makes a romantic walk. I also found a trampoline there, which I could not resisit. I was glad there was no wifi and electric to the tents because it made you switch off modern life and live for the moment, enjoy being back to basics and being woke up by nature and sunlight was far better than an alarm! The farm has just put brand new toilets and shower facilities, however we preferred the outside shower as it was more fun and made you feel that it was part of the glamping experience, but for luxury go to the others. There is also additional portable toilets outside closer to the tents that were convient and a washing up sink. It seemed the host have a great vibe for outside living and almost a festival feel to the place! The animals were so cute and allow to roam, which was so refreshing to see! I could go on and on about how much I loved this place, but I should draw to an end. My friend has already tried to book and found it busy so book in advance! I forgot to add it's a great location being next to Leeds castle and Delting show ground. Not far from London or the coast. No kids but dogs allowed.
Beautiful break from the city
Stayed for two nights in one of the bell tents with a group of friends. Great location, easy to reach from London but feels like a world away. We did some lovely walks, got very lucky with the weather and had such a nice time. Hosts very welcoming, and bottle feeding the lambs was a real treat! It was just perfect and so relaxing.
Five star experience.
Everything from the hosts (Kazz and Pete are extremely hospitable) to the tents, the views and the area was perfect. I could not recommend this place enough.
Book campsites near Redrock Glamping (Adults Only)