Shepherd's huts, tipis, bell tents and more offer both a convenient escape from London and a pleasant rural location in the Garden of England
As scouts, Mark and Ami have spent many a night camping under the stars and loved every moment. However as they got older (and wiser) they discovered there were many ways to make the great outdoors experience more comfortable, and soon decided to open their very own site. The result? Kits Coty: a small, peaceful glampsite located in the Kent Countryside, which makes a perfect getaway for couples seeking a cosy break, families in need of a hassle-free holiday and regular campers who fancy trying a touch of luxury. Scouts honour.
Fascinated by what makes a dwelling a 'home' rather than simply a place to sleep, Mark and Ami offer a selection of romantic, traditionally built abodes. Every possible need has been considered – each themed bell tent has been decorated with rugs, cushions, throws and lanterns, whilst a charcoal barbeque, cooking rings, and pots and pans are also present so guests can rustle up a feast. The luxurious 'shower cabin' is also worth a mention, where complimentary toiletries and fluffy towels await. These two wet-rooms come fitted with under-floor heating, showers, flushing toilets and hair dryers, whilst the cabin also houses a washing up area containing two sinks, a freezer and local information boards.
Venturing from your accommodation, the rolling countryside of Kent opens up before you. There are plenty of pretty footpaths in all directions, tiny traffic-free lanes for you to cycle on and homely country pubs to stop in for a pint of local ale. Historic Aylesford (3 miles) is a charming and picturesque little village on the north-east bank of the Medway, whilst Kit's Coty House and its neighbour, Little Kit's Coty House, are the remains of two megalithic 'dolmen' burial chambers. Both sites make for lovely walks, with fine views across the Medway Valley and North Downs.
Kits Coty is not just a peaceful place in an Area of Outstanding Natural Beauty – it's the result of Mark and Ami's passion for camping and the countryside. The family have lived in the area for four generations. "We love our home and surroundings and believe our glampsite is a little gem just waiting for you to discover" say the affable hosts. We're pleased to agree, given Kits Coty manages to retain the outdoors essence of Mark and Ami's scouting experiences.
Best Price Guarantee
Easy and Secure, with instant booking confirmation
Trusted for over 10 years
A chance to win a brand new Coleman tent!
Gallery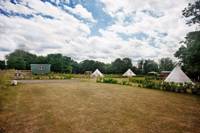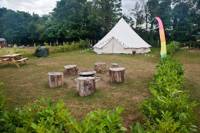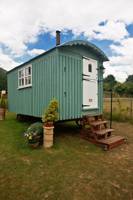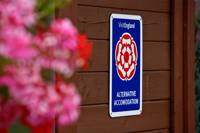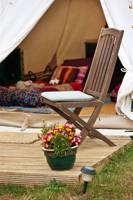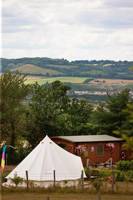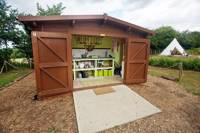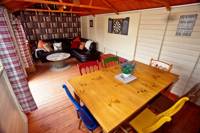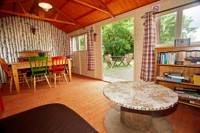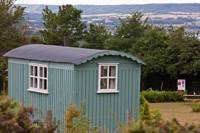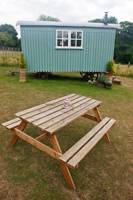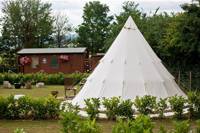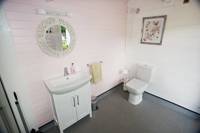 Book campsites near Kits Coty Glamping