Small Grass Pitch with use of a fire pit.
The Owner Says
4 person maximum per pitch, only one bedroom tents.
As a basic rule we say if you can stand up comfortably in your tent or have more than one bedroom then you will need a large pitch.
Personal fire pit
SMALL tents are suitable for the first field, the woods and the new 'under the Oak Tree' area, where large tents cannot be pitched.
Gallery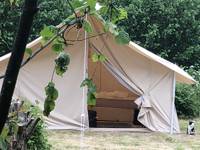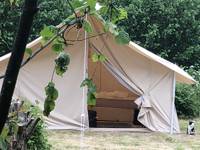 About Welsummer
Suitable For
Families, couples
Nearby
Leeds Castle (3¾ miles) – sheer stone-fortress perfection; 01622 765400. Biddenden Vineyards (11 miles) – wine tasting and 22 acres of vines to admire.
Food & Drink
The Pepperbox Inn (Shepherd Neame), Windmill Hill, nr Ulcombe (¾ mile) – food comes highly recommended (no U14s allowed inside, but there is a beer garden); 01622 842558.
Family Friendly
A little site that's ideal for little campers. Even the owner used to camp in the woods here when she was a child. And with trees to climb, dens to build and eggs to collect, it's easy to see why.
Site Reviews
Add Your Review
Rated ★★★★★ over 16 reviews
Rustic Charm
We stayed for 2 nights and the owners Laura & Med were happy to switch our booking at short notice to a woodland pitch after we found out how hot the weekend was going to be. The site is not huge which suits us and has nice little 'meadows' which take just a few tents each. The wood is nice and secluded even though you could see other campers and each pitch had it's own fire pit. The toilets and showers are clean and well maintained plus keeping with the eco feel of the site with small bars of hand made soap and cut-up old towels for single use hand drying - great idea and beats having paper towels or hand dryers. The reception, wash up area and bathroom have a quaint, rustic and somewhat mediterranean feel and it is perfectly charming. Looking forward to going back
A lovely, pretty csmpsite
I really loved staying here. The bell tent was set up beautifully. The owners were lovely and the kids loved it that they cut some willow branches for them to toast marshmallows on the fire.
Star Gazing, Den Building & Smore Eating
The children loved playing in the woods & building their den, 'Zela'. Also enjoyed star gazing & they were very excited to discover the brightest 'star' was infact Jupiter. Making Smores on the camp fire. Lovely campsite with space for them to play. Facitilities are limited, but functional with a lovely little shower block full of character. Owners were very friendly & always happy to help.
Camp-fire and Bluebells
We camped for 2 nights in a small (which was not so small) secluded woodland pitch. We were surrounded by nature, a carpet of heavenly scented bluebells and trees. We had our own fire-pit, bought wood from the owners for a very reasonable price, and had a wonderful fire both nights, and cooked on it the second. Med and Laura are lovely people, friendly and accommodating. The facilities are basic, but adequate and very quirky. We loved it, our dog loved it, and if you like 'proper' camping, you will love it too!
Mooie, natuurlijke camping!
Welsummer is een mooie, natuurlijke camping. De campingplaatsen zijn ruim, de camping is sfeervol en met liefde voor de natuur aangelegd.
See all reviews at Welsummer
Location
Welsummer is located at Chalk House, Lenham Road, Kent ME17 1NQ
Getting There
Exit at Junction 8 of the M20 and follow A20. From the A20 turn right (from the west) or left (from the east) onto Chegworth lane. At the junction turn left on the Lenham road. Continue for 1.2 miles where you will find our discreet entrance with double gates on your right just after a narrow section.
Train station: Lenham or Harrietsham (both 2 miles) – Maidstone to Ashford line. No onward bus service.