Traditional family camping and bell tent glamping on a working fruit farm, two miles from the beautiful inlet town of Sandwich in Kent
The team behind Fallow Fields in Kent certainly have an eye for what's cool in the world of camping. They've successfully been running a 'Glampervan' hire company for years now, renting out über-retro campers from the 60s and 70s, and it's with genuine excitement that we discovered they've now opened a campsite with a similarly classic vibe. If you like the old-school image of camping – campfires, starry nights and not a caravan in sight – then this is the place to go.
Set a couple of miles back from the coast, in a four-acre field on the bucolic Selson Farm, Fallow Fields is a place with a 'less is more' attitude. Facilities are on the basic side – toilets, showers and campfire pits to hire – and there's a small shop selling essentials (along with some of the farm's own produce).
Above all, though, it's camping's more natural pleasures that will fill your time. Pitches are nestled between pear, apple and cherry trees, ripe for picking during summer stays, while spring campers can try asparagus and freshly grown veg. Space is ample and kids can run wild, getting muddy knees and throwing frisbees around, gradually wearing themselves down for a good nights sleep.
Those seeking the same laid-back holiday but wanting a few more comforts can try one of ten furnished bell tents available to rent. Inside, they feature comfortable double beds, and two sofas that can also fold out into extra sleeping space if needed. They sit alongside thoughtful touches, like hot water bottles, bedside tables and camping lanterns.
However you choose to pitch up though, the location is a happy constant. On the eastern edge of the North Downs, the farm is surrounded by fantastic local footpaths and a 25-minute walk will take you into the town of Sandwich, situated along the banks of the River Stour. The town's pebble beach, a little further east, is particularly pleasant and backed by a large nature reserve, while nearby Broadstairs and Ramsgate beaches are perfect for sand-seekers.
Best Price Guarantee
Easy and Secure, with instant booking confirmation
Trusted for over 10 years
A chance to win a brand new Coleman tent!
Gallery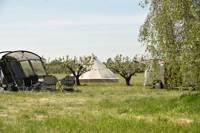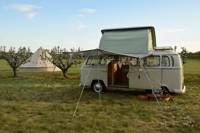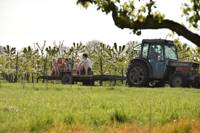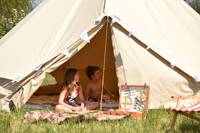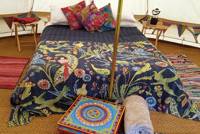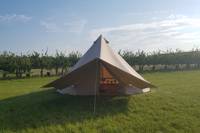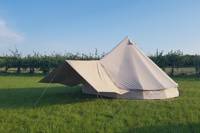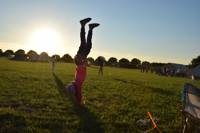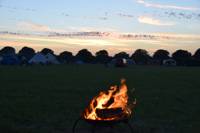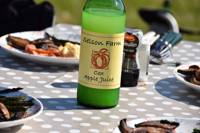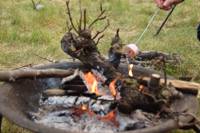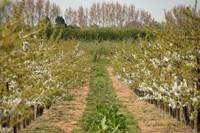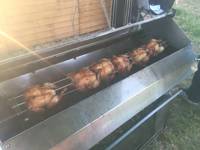 The Owner Says
It won't be long before reality seems a million miles away at Selson Farm. Sitting in a gentle valley in the North Kent Downs you're surrounded by fruit orchards and asparagus fields. Bring your own tent, or if you fancy a bit of luxury stay in one of our bell tents kitted out with beds and bedding, we also throw in fairy lights and bunting! Or if you fancy something a bit different, there's also retro campervans available to hire. We all remember the great camping trips, and the campsite normally has a lot to do with it; the vibe of the place, where you're pitched, the surroundings, the facilities, the local area. You come back exhausted, grubby, but you've loved every minute, you have felt a million miles away from reality, you have a smile on your face and are already planning the next trip. That's what we call the Fallow Fields Feeling: A handpicked site in a great location with more than enough room for everyone. Campfires to cook on by day or keep warm by night. A retreat area to escape, have a cup of coffee, play games. A shop stocked with local produce & camp basics. Local food vans on Friday and Saturdays to give you a break from cooking
Reader Reviews
Add Your Review
Proper camping
Loved our stay at Fallow fields, camping at its best. Stunning, relaxing location. Staff were super friendly and helpful. Facilities were clean and all in working order. We are newbies to camping and Fallow fields is exactly how I imagined proper camping to be like, just perfect for chilling out with friends and family, we will definitely be back.
Great for groups with slightly older children
I think Fallow Fields would be a great choice for larger groups with children, especially kids who are 6+. The older kids seemed to be having a ball riding their bikes around the large, flat main field, playing games, flying kites, etc. The added extras like Saturday kids' movies, being able to buy breakfast/supper etc, came in handy. The staff were very nice. The apple trees in the orchard were charming. All that said, we found that it wasn't for us. We are a family of four, with two young children, and it was way too busy for us. We enjoy camping for the back-to-basics experience - being able to sit around the campfire at night, look at the stars and hear nothing but the natural world around you. This is a busy and popular site, so it was certainly not quiet at night, although most of the other campers tried to be respectful of everyone else. A few weren't so thoughtful, and didn't see the need to follow the ban on amplified music. It might be helpful if the staff could walk around the site a bit more and be more pro-active about asking campers not to play radios. It would also be great if they could look at installing a family loo area, as we found it tricky fitting our two kids into the small loo stalls with us. The Fields Kitchen and other added extras were great, but the flip side is that they made it feel a bit more commercial. That isn't a criticism - obviously it's a business, and a successful one - but it just isn't quite up our street in terms of the atmosphere we hope for when we go camping. Do consider it as a very good option though if you're a larger group with slightly older kids.
Lovely field camping with lots of extras
Lovely field camping, very green and well kept, pretty flat even ground. Great added extras like meals from the field kitchen, kids tent, movie night etc. Yoga on Sunday morning was great (thank you Stacey!)! Only one block of showers, toilets and washing up facilities, but they seemed enough and were clean, hot water, did the job. Water tap was closer. Great place if you have kids to run around and play games until late. Open fires in fire pits allowed. Sunset over the orchard was beautiful. You can drive on to your pitch to unpack and pack up, but otherwise cars stay in the parking lot, which is good. Pitching was a free for all, but people seemed fairly considerate and kept a reasonable distance despite busy bank holiday weekend.
Beautiful campsite, friendly and helpful staff
We spend two nights at Fallow Fields with our toddler. It was mid-week and before the school holidays so the campsite was very quiet and we had loads of space. The site itself is beautiful and the staff were really nice and helpful. Very nice area too. We'll definitely come again some time.
Nice surroundings and location....
Fallow Fields is set in a lovely part of the Kent countryside. There is a nice shop onsite that sells essentials, a kids play tent and outdoor activities also for the kids. The hire of the fire pit was underwhelming, old and rusty with a broken leg stand and broken grill (that was the better one of the two available). I would highly recommend investing in a small, cheap off the ground bbq of your own and taking it with you. It's obviously complete pot luck where you can pitch. We managed to get a lovely spot by the apple trees but unfortunately ended up getting surrounded by 3 large tents who all knew each other so it kind of ruined the relaxation/quiet part of the experience. Their kids were also running around until 10.30pm and kept running into our tent or over the peg lines they couldn't see in the dark which unpitched our tent - once or twice is not an issue but when it's going on for a while it's annoying and the parents didn't see it as an issue (it is however acknowledged that this isn't something the site owners can control). The site was very full so the communial toilets and showers weren't in great condition (tip: head the the showers as close to after 6.30am as you can as this is when they are cleaned) but this was more due to the people staying there and not staff at the site as they are cleaned regularly. All in all, if you want relaxation and quiet, this is not the site for you (and in fairness, the sites website clearly outlines this is for families).
The Beams
Absolutely fantastic! Everything we could want from camping and more. Can't wait for next year! Thank you.
Nicola Aburto
Awesome!!! Despite the rain we had a fantastic time. There were loads of activities for the kids. A large communal tent to meet up, play games and stay out of the rain! Lovely loos, very clean and nice warm showers. Lovely little shop for all the essentials and fires!!! Will definitely go again. There was such pride from the organisers in their site and all the little details made it special, very welcoming and helpful. Lovely :0)
Nicola Aburto
Awesome!!! Despite the rain we had a fantastic time. There were loads of activities for the kids. A large communal tent to meet up, play games and stay out of the rain! Lovely loos, very clean and nice warm showers. Lovely little shop for all the essentials and fires!!! Will definitely go again. There was such pride from the organisers in their site and all the little details made it special, very welcoming and helpful. Lovely :0)
Sublime vibes
Our second time camping. First night came alone with my 6 year old, followed the next day by mummy and our 2 year old for the rest of May bank holiday weekend. They have well and truly hit the spot here.... Not crowded, immaculate facilities, so much thought and effort put into everything-in fact, everything you could possibly need is stocked in the little shop tent-right down to the bubbles for the kids.  The fact the owners had family camping camping on site too meant no hiccups at all! The vibe is set when you arrive - my daughter was introduced to the other kids her age as soon as we arrived, and the way the communal chilled feel is fostered is priceless. Plenty of hot showers, nice loos, all cleaned four times a day so immaculate.  Never a queue, beach nearby. In fact it was so good my sceptical wife is now so enthused we are buying our very own tent so we can return regularly! We stayed in one of the beautiful bell tents. Thank you to folks who created this wonderful place! 
Book campsites near Fallow Fields Camping