A stunning, family-friendly campsite on the stunning, family-friendly Isle of Wight
Poised in the southeast of the aptly nicknamed 'garden isle', Ninham Country Holidays is a campsite with a secluded rural feel, yet one that remains a short distance from one of the nicest resorts on the seafront. With its functional new town and quaint, thatched old town, Shanklin has been a popular part of the Isle of Wight since tourism began here. Where its cluster of houses merge into the woodland beyond, anyone with a good eye will spot the potential for fantastic campsites to be found. And, no sooner have you hopped, skipped and jumped into the green, inland countryside, then Ninham appears in the grassy midst, a family-run camping park ideal for exploring the island.
Although admittedly a large site, Ninham Country Holidays thankfully has none of the commercial atmosphere you might expect. This is a family-owned and family-focused site based around the original farm buildings. The site's 230 pitches are also divided across two separate fields, split by a wooded valley and surrounded by mature deciduous that provide shelter and shade on warmer days. This secluded, countryside feel is only accentuated by the long, private drive that takes campers down to the site, cutting them off from any road noise whilst also acting as a speedy cycle path back to the outside world.
Campers have a choice between two fields: 'Orchard', the larger of the two with ultra-modern eco-facilities that do clever things with solar and rainwater-harvesting technologies (and which happen to include an extremely handy family room with specialist showers and a baby bath), and 'Willow Brook', with its own separate facilities that – although more basic – are functional and well-kept. In both camping areas, pitches are kept mostly to the edges of the field, providing ample room in the centre and ensuring campers aren't crammed together in the 18 acres of space. Those still wanting more from their pitch can even ask for the 'XL' option so motor homes, awnings and cars can all easily be accommodated in one spot.
If the weather turns, wander back to the main reception block and you'll find a welcoming indoor games room with a pool table, air hockey and more, along with free Wi-Fi and space to relax with a coffee or ice cream, served onsite. Outside, Ninham also boasts a sports area and a heated swimming pool – ideal if the weather is a little too nippy to enjoy the sea at nearby Shanklin Beach.
The best way to explore the island is on two wheels. Surrounded by mature woodland and rolling countryside, there is a fabulous network of footpaths and cycle routes that lead directly from the campsite across Ninham Farm's sprawling 120 acres. Those who head south can link up with the famous Shanklin Chine, a twisting pathway with steps leading down into a mossy gorge, enlivened by the sound of a cascading waterfall. Meanwhile, by car, the rest of the island is open to experience, its plethora of attractions and summer festivals providing all with an entertaining itinerary, whatever your taste.
Best Price Guarantee
Easy and Secure, with instant booking confirmation
Trusted for over 10 years
A chance to win a brand new Coleman tent!
Gallery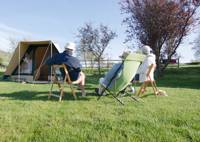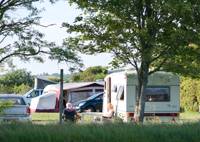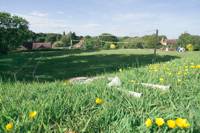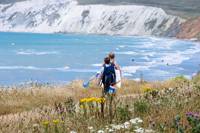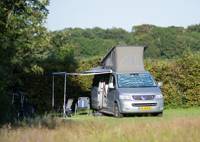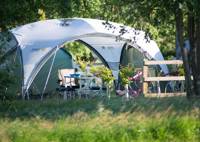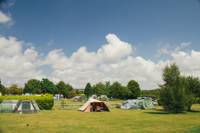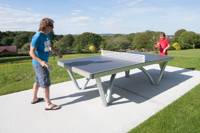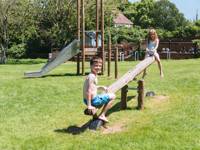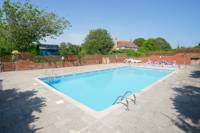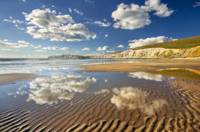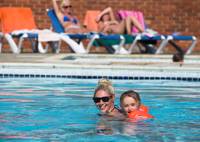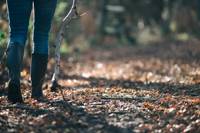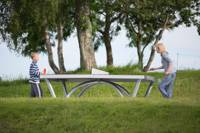 The Owner Says
Award winning family run camping & touring site surrounded by nature
An emphasis is placed on the countryside code & recycling
Reader Reviews
Add Your Review
Odd customer service- spoiled what would have been a pleasant stay.
pros: Long driveway makes you feel that you have escaped from it all Large flat grassy pitches Pool and playground, small bouldering wall, Impeccable shower block, very well kept and spotless. Really useful family shower cubicle with baby bath Eco credentials Nice footpaths/bridleways to enjoy- and pop to neighbouring site for an icecream Cons: Overflowing bins Pretty mean, inflexible checkout process with officious reception staff Allocated pitches with very specific pitching rules We arrived an hour or so early and were allowed to pitch straight away which was welcome given we had chosen to camp during a heatwave. We were allocated a pitch, which was a bit of a shame as in hindsight it would have been ideal to choose a shadier location. The campsite looked barely 1/8 full. A tent in 30 degrees of full sun and 3 young children is hard work. We also found the pitching rules a bit draconian (tent/or caravan to left of the space with car alongside to the right only) and were unable to choose how to use the pitch space to suit our needs. The site was well kept, with clean modern sanitary facilities. The swimming pool was really welcome- a bit tired and no shade whatsoever which was a shame and a bit odd in such hot sunny weather. Its concrete block - no flowers/plants, feels dated The check out process was really disappointing. The leaflet stated check out by 10am prompt. We were packing away a large tent + paraphenalia in 30 degrees with 3 young children which meant we were running behind. Given the site was almost completely empty, we asked if we could extend this to 11am. After much computer checking, we were begrudgingly told that as no-one else was using our pitch later that they would allow this, on this occasion. Once packed, we then asked if we could cool off quickly in the pool as we were all hot and exhausted. This was refused and we were told to leave. Had the place been heaving, we would agree it would be completely justified, but we really could not understand why they were so reluctant to make an exception under the circumstances on the 'rules'. Pretty stingy thing to do - felt very much like 'we've had your money now go'. I tried to explain that I had 3 young children, it was 30 degrees and we had just packed everything up and were too hot and sweaty and really needed a quick dip. I was met with a very cold and curt response about the rules. Won't be returning - would prefer to camp somewhere where the owners/staff prioritise their customers and didn't have such a computer says no attitude.
Awesome
Glorious sunshine for the whole two weeks. Location was magical and the staff and owners are lovely and always looking to make your stay as comfy as possible. Will be going back every summer, the kids loved it.
Perfect for bank holiday
We just got back from a lovely bank holiday stay at Ninham.  It was my partner's first time camping, and I think I've convinced him to go again with me.  Despite the few rainy days, we did have a few sunny moments spent at the campground and elsewhere on Isle of Wight.  I found the shower and toilet facilities to be suberb, probably the best of any campground I've ever stayed.  It's set back and very quiet, and also picturesque.  We didn't have an opportunity to check out the pool, but maybe next time, I would definitely visit again!
Just ideal in every way!
We were a little cautious when booking as this is a sizeable and semi-commercial site. We tend to shy away from the campsites with row upon row of little white boxes.
We needn't have worried. The place is stunning. Set in woodland, the camping fields are large, but don't feel that way as they offer lots of shady areas and are divided by large hedgerows and fruit trees. Most with hook-ups and water (ideal for campervans)
The location is down a seriously long private drive. Makes you feel like you've really left the road behind. Large lake, in a lush setting (rabbits everywhere in the evening!). My wife was able to put a couple of 10k runs in (down to Shanklin and Sandown) and the cycle paths are ideal for exploring the area.
The facilities are first rate. Large shower facilities and toilet blocks set in a rustic eco-friendly cabin (with benches outside, it's that good you want to sit *outside* the loo!)
Swimming pool area is fab - straight out of a continental site. Small kiddies play area and games room (which was being refurbed when we visited) We went in June, so missed the school holiday fizz (and the staff did say it's very different in the high season).  There's a big supermarket (Morrisons) just a couple of hundred yards up the road (no shop on site, but none needed).
One of, if not *the* best site we've visited.

Superb campsite in picturesque setting with outdoor heated swimming pool.
-    welcoming & friendly owners & staff

-    marvellous, secluded outdoor heated pool:  O, the heavenly bliss!
-    reasonably priced tent pitch:  v. quiet & peaceful
-    best coffee on IoW!
-    dog-friendly
-    space-age shower block: ultra modern, clean with piping hot showers 
-    very pleasant 20 min stroll to Shanklin, shops &c

Book campsites near Ninham Country Holidays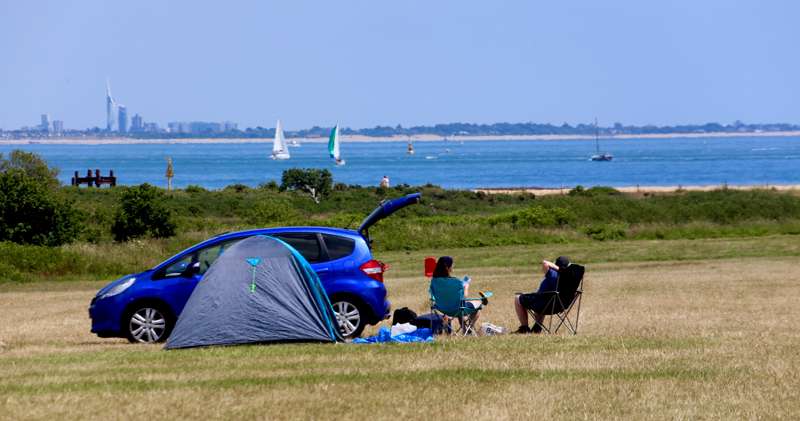 i
Campsites in Beaulieu
Campsites in Hampshire
Campsites in South East England
Campsites in England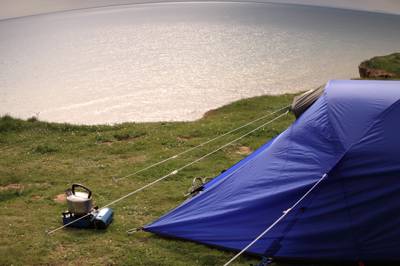 i
Campsites in Isle Of Wight
Campsites in South East England
Campsites in England
Available:
8 Pitches
1 Pod