Lee Valley Almost Wild Campsite
Nazeing New Road, Broxbourne, Hertfordshire EN10 6TD










Enchanting riverside wild camping hidden within a few miles of London
Wild camping this close to London seems wholly improbable. Impossible even. Yet, less than five miles from the M25, this magical riverside collection of woodland glades and hidden tent pitches is very much the real deal. Campfire smoke wafts its way through a leafy canopy and canoes rest, rolled onto their sides, against tall, native trees. Many campers arrive by bike, pedalling the 16 miles from the towering stadium in Stratford's Olympic Park, others hop on the train and ride the 30-minutes from London Liverpool Street. However short the journey, though, once here the campsite certainly still feels a million miles away.
Created by Lee Valley Regional Park, this 'almost wild' campsite has been specifically left untamed and untouched to allow everyone, from escaping urbanites to out-of-towners, the chance to get back to nature. There are only 17 pitches and facilities are little more than a composting toilet, a clean water supply and logs for your campfire. Other than that it's up to you to use your imagination. Hammocks swing between trees where some hardy campers have decided not to bother bringing a tent and a chatty coupe nudge a canoe into the water, setting off for the short paddle to the local pub. It's a serene scene. And while some choose to bring the bear 'expedition' essentials, the campsite is still an thoroughly approachable place, with families and friendly groups, too, occupying the larger clearings.
The real joy of this campsite is the escapism that hiding away in the woods allows. It's easy to come here for the weekend and never real leave the fireside, save for a brief evening lying silently on the riverbank hoping to catch a glimpse of an otter. If you do venture out, though, the Lee Valley Park has plenty to offer. Covering a vast swathe of countryside either side of the very river that even Adele sings and reminisces about in one of her famous pop songs, the park encompasses a collection of reservoirs and pools set aside for wildlife. On the largest reservoirs there's still place for people to play, too. Sailing and kayaking are popular and there are several nearby activity centres, while the Lee Valley White Water Centre is renowned as one of the best white water locations in the country. That's right, despite the flat, edge-of-London location they've even managed to craft some of the UK's best white water. Improbable? Impossible? That seems to be what wild camping in the Lee Valley is all about.

Gallery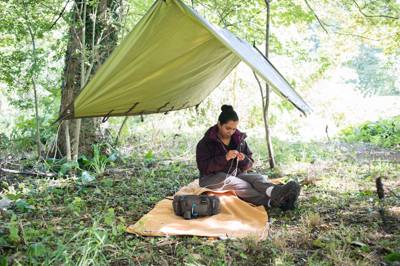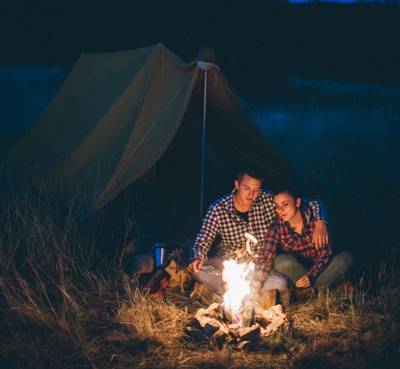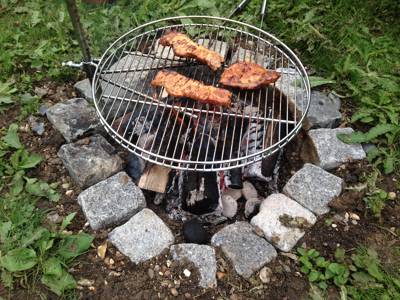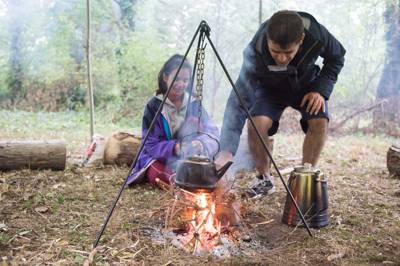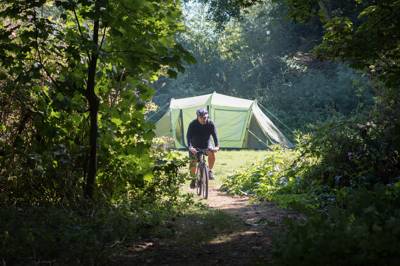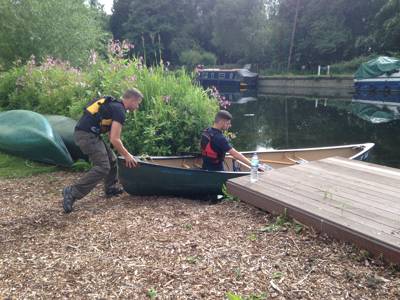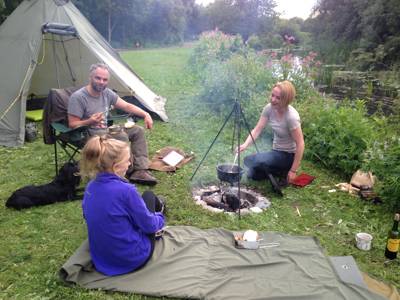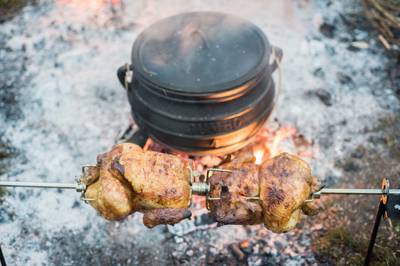 The Owner Says
Lee Valley Almost Wild Campsite on the borders of Hertfordshire and Essex is your chance for a wilderness adventure with an all new wild camping, back to nature experience. Embrace Mother Nature in this rugged, natural setting nestled among mature woodland and a grassy glade which is surrounded by water on three sides. With none of the trappings of more commercial campsites you'll be able camp out under the stars, hang a hammock from the trees and light an open fire in one of the fire pits provided.
What we mean by almost wild camping...
Solar powered, motion sensor lights around the toilets limit light pollution
Composting toilets
Cold water tap
These facilities complete this unadorned campsite of just 17 pitches and ensure that you get that truly wild camping experience.
Reviews
Sign up or sign in to leave your review of Lee Valley Almost Wild Campsite
Perfect campsite
We stayed here for one night on the weekend and had the perfect camping experience - loads of room in our pitch, in built fire pit for our BBQ, amazing toilets and very wild woodland setting (considering its proximity to London). Loved every minute. Will be back!
Exactly what we've been looking for...
We've been looking for a woodland campsite near London where we can have a proper fire and practice some bushcraft skills. Almost Wild is almost perfect. The woodland sites are well sized and fairly secluded. We used a tent although a hammock setup would be ideal. It rained near constantly but we strung a tarp high up over the fire, so had a good space to hang out. Staff were very knowledgable and friendly. The composting toilets are clean and modern, but the slamming doors need to be fixed. Overall, the whole thing was beautifully simple, well thought-out and peaceful. We'll definitely be back.
Perfect camping so close to london
Wonderful simple site an easy drive from London. Firepits as standard with great wood available to buy. We had pre-ordered it and it was already waiting at our pitch when we got there. We had great privacy on a huge end of row riverside pitch. Excellent compost toilets that were clean and the best i've come across with no nasty smells. Overall lovely set up and surroundings with friendly and enthusiastic people looking after the place. Will definitely be re-visiting!
Fantastic getaway
Had a brilliant time at Almost Wild Campsite! Firstly, the staff were welcoming and personable and went the extra mile to make sure we had everything we needed. Secondly, the setting was beautiful, clean, fresh and located next to a gorgeous canal. We had decided to book this specific campsite due to its close location to London. From Liverpool St station it was a mere 45 mins and then a 5 min walk to the site. I could believe it had taken me under an hour to get there!
Another thing I'll mention is how lovely the toilets were! Because they are natural compost toilets they didn't smell at all and were kept immaculate. We did a brilliant two hour lesson on how to make fire which was so interesting and fun! When my friends had suggested we did this I secretly reluctantly agreed because I thought it might be a bit boring but I think I enjoyed it more than everyone else!! Highly recommend doing the bush classes. Overall, a 10/10 experience. We are already planning our next trip back!
Do it! The perfect break from London life (and you can get there with your Oyster)
This was less time than my commute to work, cost less that a bottle wine at my local and was one of the best weekends I have ever spent! Our pitch was HUGE, the site itself is surrounded by water, with a peaceful canal on one side, theres also a little canoe dock thats perfect to sip your coffee on in the morning! Each pitch has a fire pit, we went with friends and cooked two meals each day (you can book a grill for your fire and I couldnt recommend doing this enough! made everything so easy!) Theres local shops about a 20 min walk away so you can just stock up each morning for the day ahead. We took a bushcraft skills course on Saturday morning, these are £10 each for the hour and we learned soooo much!! You just head up to the main tent and you can speak to staff about when classes are on. Everyone on site is actually incredibly helpful, theyll leave you to it so you get the wild camping feeling but are also there for any questions you have and really friendly! What I love about this place is you get wild camping buzz with out having to travel far if you live in london. We had looked into a city break for the weekend but booked this on a whim and I am so glad we did!! There is nowhere else I could have gone to that easily where I got to enjoy lush surroundings, learn how to make fire and have so much to do nearby (the surrounding area is so beautiful we had a long walk on Saturday afternoon, theres also Lee Valley activity centre nearby so you can canoe etc). We spent wayyyyy less than a normal weekend in London but had an unforgettable time. It would be great for people travelling through London as well as you can cycle/ drive/take train super easily. I cannot wait to go back! Other bonuses were; the toilets are composting toilet which are also well lit at night and really clean, theres a very eco friendly washing up station, fresh drinking water and you can pre book your firewood so when you arrive its waiting next to your fire pit.
Best Price Guarantee, with no fees
Instant booking confirmation
Trusted for 10 years
Chance to win Vango camping goodies!
Peaceful riverside site
This site is small, pretty and the staff are friendly and helpful. We made good use of the firepit at our woodland pitch, and the logs for sale were appreciated. The launch makes river access easy and this stretch of the Lee is lovely. There's a decent riverside pub which does food, the Crown, about 15 - 20 mins walk away, or via the river (one lock in between, slightly tricky to find a good entry / exit point for a paddleboard on the pub side of the lock, but do-able). There's also a boat hire centre opposite the pub.
Perfect site for wild camping
This site was an amazing introduction to wild camping for someone who had never really done it before. To cook and sit by the campfire was a great experience and the site itself was incredibly peaceful despite being not too far from a small town. The staff were really helpful and the limited facilities were perfect, adding to the wild camping feel of my stay.
Perfect retreat from city life
Stayed at the Lee Valley campsite for one night, and can't wait to return! Very friendly, helpful staff. Gorgeous riverside pitches, which feel right in the heart of the countryside, and everything you need from basic facilities - 2 clean compost toilets, a cold water tap and washing up bowls and soap provided in a separate area. Each pitch also as a fire pit, perfect for the summer evenings. Ideal for a 1 night break or longer if you wanted.
Fantastic place to get away.
Didn't know that such a beautiful and peaceful place could exist so close to normal busy life. It was very relaxing sitting round our own campfire listening to the wildlife. Was really quite and have a great night sleep. Highly recomend and i will be returning very soon.
Amazing escape from London
Highly recommend this campsite, especially if coming from London. I cycled out here with camping stuff in my bike saddle bags. Stayed for the one night over the weekend and really enjoyed it. A proper break from the city rush but within very east reach. We will return!