Camping alongside one of the most beautiful British railway lines with views across the Hampshire countryside
Hum overhead in a helicopter and there's a place in central Hampshire that seems to have all the qualities of a well-arranged children's playroom. The kids have rolled out one of their flat countryside play mats, dotted with green trees, square fields and a couple of winding roads. A railway line skirts along the edges as Thomas the Tank Engine, coupled to a string of gleaming carriages, chugs towards the newly painted platform. On its flanks are a dotting of symmetrical storybook houses and an ancient station building, slightly out of shape ever since it got gnawed by the family dog.
Strip away any giant poochy tooth marks and reshape those abnormally angular fields into a mismatch of random natural shapes and this entire scene comes to life-sized proportions at Watercress Lodges. And yes, that does include Thomas the Tank Engine. The Heritage Steam Watercress Line Railway runs alongside the 300-acre Dean Farm, the latter hosting a campsite with a truly unique atmosphere and a host of sparkly new facilities to boot.
The camping field is as level as the playroom floor and the lodges have a perfectly proportioned toy-like make up, all knitting together to make a lovely family site in the rural heart of Hampshire.

As storybook as we may paint this site to be, it still has the reality of a campsite crafted for a 21st century audience. Opened for the first time in 2014 the facilities are, as you'd expect, clean, modern and built with families in mind, including a baby changing space and full disabled access. There is a large freezer for ice-packs (make sure you remember to stick your label on them) and an undercover dishwashing space in one of the yellow lodge-like buildings. The lodges themselves, each named after a railway station, are fully kitted self-catered abodes, very much of the non-camping variety!
It's the railway line, however, that really breathes life into this young new campsite. Despite its modern feel and new facilities, the Watercress Lodges & Campsite is very much in keeping with the heritage of the railway station at Ropley. In fact, each of the lodges are named after stations on the old British rail line between Alton & Winchester.
Not the chirp of birds but the choo-choo of steam trains acts as your dawn chorus as you peel back the tent flaps to reveal a full-sized Thomas the Tank Engine parked up on the Ropley Station platform. When the wind blows in the wrong (or right?) direction a misty cloud of steam can even puff across the camping field, dissipating beyond the meadow as the engine begins to chug away. There's no fat controller though; we're not sure whether he's gone on a new-fangled diet or if he's just disappeared into Ropley's local pub, perhaps the more likely of the two, since the grub there's not half bad and the portions are on the plentiful side!
Best Price Guarantee
Easy and Secure, with instant booking confirmation
Trusted for over 10 years
A chance to win a brand new Coleman tent!
Gallery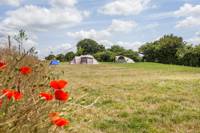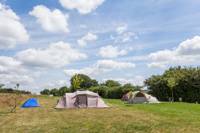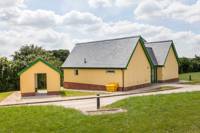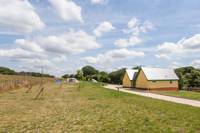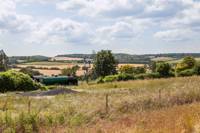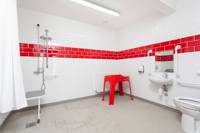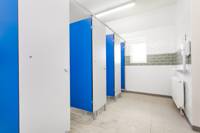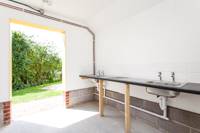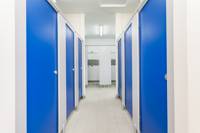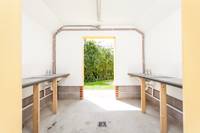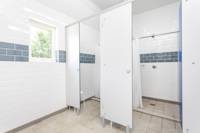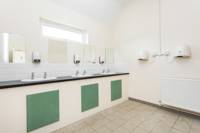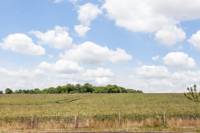 Video Tour
The Owner Says
GLAMPING
Watercress Lodges are proud to offer 2 x Safari Tents. 
These new tents are very luxurious offering the camping experience with but with home comforts. These will be a memorable experience for all ages.
Watercress Lodges and Campsite is based next to the Historic Watercress Line in rolling Hampshire Countryside. The Railway offers many events from Real Ale Trains to Thomas the Tank Days. You can watch the Steam Train's from the comfort of your tent.
Our tents are Open Planned with a veranda area offering seating and a kitchen preparation area. They are fully furnished with comfortable King Size bed, hot showers and flushing loos are based near our newly built Shower Block Facilities. Each tent has its own fully equipped barbeque area with outdoor seating. The washing up area is also close by.
The tents measure 4m x 5.4 m and are erected onto raised wooden platforms which offer insulation from the ground. Exterior and interior canvas/linings are fire retardant to British Standards. Each tent is open planned, a King Size bed and a Sofa Bed. Bed linen is included and there is electricity . Should you wish for extra room a Festy or Tipi Tent can also be hired (fun for the children or for extra space). There is a well equipped kitchen area with good surfaces for food preparation, a gas hob, fridge with the essential ice tray. There is a Wood Burner which keeps the tent cosy but also can cook using the oven or heat up on top. One basket of logs is included and should more be required they can be purchased from reception. The front opens onto a deck which has a kitchen area and seating to relax on.
CAMPING
We opened our Campsite in 2014
We are based in stunning Hampshire Countryside and Ropley is one of the highest points in Hampshire. There is easy reach of both London and the South Coast. If you time your trains you can leave Waterloo and arrive at Ropley by Steam Train. We also have good bus routes.
This is a great location with new facilities and lots going on in and around the area. You can either bring your own tent or hire one of our Festy/Tipi Tents which are 4 meters in diameter.
Book campsites near Watercress Lodges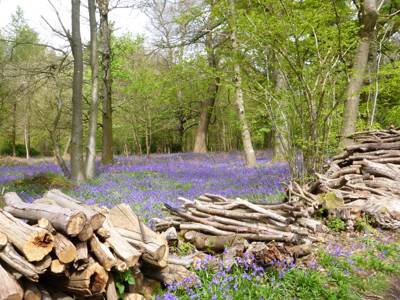 i
Glamping in South Harting
Glamping in West Sussex
Glamping in South East England
Glamping in England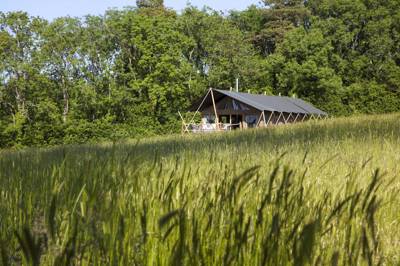 i
Campsites in Petersfield
Campsites in Hampshire
Campsites in South East England
Campsites in England
Available:
2 Safari tents