Book campsites near Watercress Lodges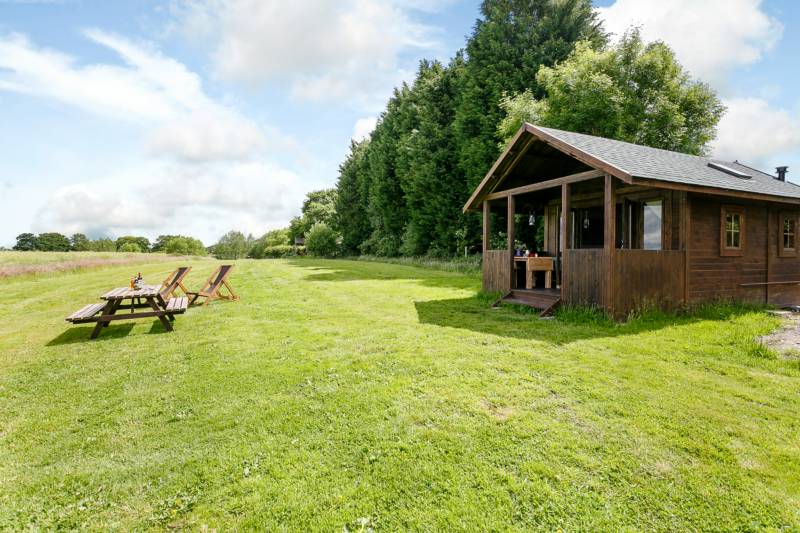 Glamping in Alton
Glamping in Hampshire
Glamping in South East England
Available:
1 Safari tent
1 Cabin
Camping alongside one of the most beautiful British railway lines with views across the Hampshire countryside
Hum overhead in a helicopter and there's a place in central Hampshire that seems to have all the qualities of a well-arranged children's playroom. The kids have rolled out one of their flat countryside play mats, dotted with green trees, square fields and a couple of winding roads. A railway line skirts along the edges as Thomas the Tank Engine, coupled to a string of gleaming carriages, chugs towards the newly painted platform. On its flanks are a dotting of symmetrical storybook houses and an ancient station building, slightly out of shape ever since it got gnawed by the family dog.
Strip away any giant poochy tooth marks and reshape those abnormally angular fields into a mismatch of random natural shapes and this entire scene comes to life-sized proportions at Watercress Lodges. And yes, that does include Thomas the Tank Engine. The Heritage Steam Watercress Line Railway runs alongside the 300-acre Dean Farm, the latter hosting a campsite with a truly unique atmosphere and a host of sparkly new facilities to boot.
The camping field is as level as the playroom floor and the lodges have a perfectly proportioned toy-like make up, all knitting together to make a lovely family site in the rural heart of Hampshire.

As storybook as we may paint this site to be, it still has the reality of a campsite crafted for a 21st century audience. Opened for the first time in 2014 the facilities are, as you'd expect, clean, modern and built with families in mind, including a baby changing space and full disabled access. There is a large freezer for ice-packs (make sure you remember to stick your label on them) and an undercover dishwashing space in one of the yellow lodge-like buildings. The lodges themselves, each named after a railway station, are fully kitted self-catered abodes, very much of the non-camping variety!
It's the railway line, however, that really breathes life into this young new campsite. Despite its modern feel and new facilities, the Watercress Lodges & Campsite is very much in keeping with the heritage of the railway station at Ropley. In fact, each of the lodges are named after stations on the old British rail line between Alton & Winchester.
Not the chirp of birds but the choo-choo of steam trains acts as your dawn chorus as you peel back the tent flaps to reveal a full-sized Thomas the Tank Engine parked up on the Ropley Station platform. When the wind blows in the wrong (or right?) direction a misty cloud of steam can even puff across the camping field, dissipating beyond the meadow as the engine begins to chug away. There's no fat controller though; we're not sure whether he's gone on a new-fangled diet or if he's just disappeared into Ropley's local pub, perhaps the more likely of the two, since the grub there's not half bad and the portions are on the plentiful side!
Details
Facilities
A newly-built shower block includes disabled facilities and hair dryers in ladies toilets. There is also a separate wash house with a freezer. A small gauge railway is due to open in 2015. No campfires but BBQs are allowed off the ground. The adjacent Watercress Steam Railway Line runs for 10 miles along the northern border of the South Downs, between New Alresford to the west and Alton to the east. There is a shop for souvenirs in the Ropley Station and the small café is open for special events.
Suitable For
Tents and groups (by prior arrangement only) – yes. Caravans, motorhomes, dogs – no.
Nearby
Based next to the historic Watercress Steam Railway Line (01962 733810), campers can watch the trains from their tent. Camping here also gets you some handy 2 for 1 vouchers to go on the steam trains, an inevitable must for anyone. Diesel locomotives run throughout the year, with special events, Sunday lunches, fine dining trains and even a famous real ale train. It is always worth checking to see if they have anything on during your stay – the likes of Steam Galas and Thomas the Tank Engine days. Elsewhere, historic Winchester boasts a famous cathedral (01962 857200), abbey gardens and the ruined Wolvesey Castle (08703 331181). Before you get there try the INTECH centre (01962 863791), ideal for a rainy day. This futuristic-looking building just outside the city encourages a fun, hands-on approach to science with over a hundred interactive exhibits, from wind tunnels and sound waves to flight simulators and a how to create your own vortex guide.
Food & Drink
There is a small café based in the Ropley station and a shop, both are run by volunteers and are mainly open weekends and for special events. The Ropley Pub (01962 773826) is a 15 minute walk away and many pubs and restaurants can be found in Alresford. The Bell (01962 732429), The Globe (01962 733118), and The Swan (01962 732302) are all excellent places to eat. The Ropley village community shop (01962 773666) is based in the village and sells lots of local produce approximately 5 minute drive.

Open
All year.
Location
Contact Watercress Lodges, Watercress Lodges & Campsite, Dean Farm, Bighton Hill, Ropley, Alresford, Hampshire SO24 9SQ
Getting There
Watercress Lodges can be found off the A31 in Ropley. If coming from the direction of Alton on the A31 as you come into Ropley you will see a signpost for Bighton Hill, proceed up this hill you go over a railway bridge and the campsite is on the left where signposted. If coming from Winchester direction, go through Ropley and you see a signpost saying Bighton Hill, proceed up this hill and you go over a railway bridge and the campsite is on the left where signposted.