Chapelfield Camping at Godshill
A popular, pop-up New Forest campsite with campfires permitted and a pub within walking distance
Down a narrow, tree-lined lane and opposite a former Methodist Chapel that inspired the meadow's name, this pop-up campsite is a peaceful, no-frills affair. Open for just 28 days each summer and helmed by affable hosts Graham and his wife Tracy (incidentally, the pair are good friends with the site's much-loved original founder, Sarah), Chapelfield Camping is a true New Forest Camping scene; a patchwork of colourful tents and idle bicycles, speckled by families gathered round campfires. In the north west of the national park and within strolling distance of the local pub, it's an ideal basecamp for New Forest adventures.
Tents reign at Chapelfield (save for the odd campervan that's willing to do without electricity), so campers young and old are free to roam and play, unencumbered by bulky caravan rigs. There's a choice of informal pitches, with large family spaces and separate spots for couples. The New Forest pastures make for easy peg bashing and the meadow offers mostly level terrain with plenty of spare space, while at really busy times a neighbouring field is opened up ensuring you'll never feel too crowded at Chapelfield. A small pop-up shop also sells a handful of essentials you may have forgotten – pegs, matches, marshmallows for an evening feast. Otherwise, facilities remain on the basic side but are more than adequate and, moreover, immaculately clean and available 24 hours a day.
Follow the lead of the other campers and bring bikes on your camping holiday. You won't regret it. The surrounding national park is a paradise for such non-motorised transportation and anyone with a bike, horse or just a pair of walking shoes will end up forgetting about the car altogether. It's certainly no bad thing. It's a five-minute walk to the pub, a little further to the riverside, and not too far to charming Fordingbridge. All in all, the relaxing vibe of Chapelfield suits the leisurely life you're able to lead here.
Best Price Guarantee
Easy and Secure, with instant booking confirmation
Trusted for over 10 years
A chance to win a brand new Coleman tent!
Gallery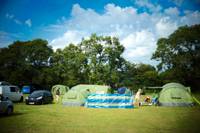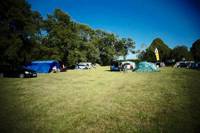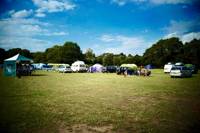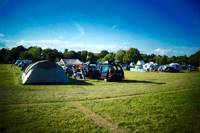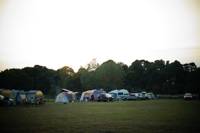 The Owner Says
Chapelfield is a much-loved camping field set within the New Forest National Park in the village of Godshill near Fordingbridge.  We are open for four weeks from 31st July until the August Bank Holiday Monday.  We are a in very peaceful location but near to local amenities and and our aim is to provide you with good facilities and a great relaxing break.
Reader Reviews
Add Your Review
1st camping trip
This was our first ever camping trip. A group of mums with the kids.  We could not have felt more welcome. The owners went out of their way to be helpful; fixing a broken tent and jump starting our car to name a few incidents!
A clean site in a perfect location.
Excellent
We stayed at this campsite at the end of May (bank holiday weekend). What a fantastic site, they had thought of everything and the little extras were a great touch. The pitches are massive and the campsite still had a place for the kids to play without bothering other campers. Toilets and showers were spotless all weekend, even when they were fully booked on the Saturday evening. Overall a fantastic campsite that we are happy to recommend. We will be back.
Lovely Site
We spent the late May bank holiday here and booked the August bank holiday the day we got back, so there's a recommendation. Booking was easy and checking in was straightforward. The reception area also serves a little shop which was invaluable when we realised the tomato ketchup was running low. The bowls of free fruit and sweets were a nice touch.
The pitches are really big and allowed us to fit a campervan and awning, a two man tent and a car and still left room for us all to sit round the fire pit without feeling cramped.
There was enough space between the rows for the kids to play football and cricket. The site was fully booked on the Saturday night and had a nice busy feel without feeling cramped.
The toilets are the festival style portaloo which were kept spotless all weekend and include toilet paper and hand gel and a little battery light. The showers again are clean and do what they are designed for.
There's a pub within walking distance which is on the boundary of the New Forest if you fancy a walk or cycle.
Overall a lovely site which I'm sure we will keep visiting and excellent value.

a lovely quiet family campsite
we have just returned from our first camping experience with our three children, aged 9m7 and 5. we chose to go to chapelfield for the bank holiday weekend as we wanted somewhere peaceful, without caravans and a party atmosphere. it was brilliant! sarah, who runs the campsite, and her friends who help out were so accommodating. nice big pitches. great and hot showers. well organised washing up spots with washing up liquid and brushes provided. the loos were spotless (and had plentiful loo roll). a few items are available to buy at their little shop. and freezer packs can easily be refrozen free of charge. we loved it and will be back!
Lovely Campsite
We have just returned from a weekend of camping at Chapelfields and a fantastic time (4 adults / 4 children / 1 dog). A really well run site with hot showers and washing up water. The porta-loos are kept really clean and plenty of them. There is not a bad place to pitch, all are good.
Sarah the owner is really helpful and runs a little shop in the mornings for fresh croissant's and eggs etc.
Can't recommend highly enough, really great camping with roaming donkeys on your doorstep (not in your field!)
Great location, peaceful site, very friendly!
We stayed here (2 adults, 2 children) for 3 nights and all loved it! The facilities are good, with porta-loos dotted about the site (do not be put off by porta-loos - they were spotlessly clean with battery lights for night). The showers were also very good, in a porta-block, but again spotless and powerful (more so if not many were using them, but still fine if busy) They had a washing up area, with washing up bowls, dish scrubbers, drainers and liquid supplied! Couldn't have asked for more. The owner (and the chap we met) were very friendly and the reception area has leaflets giving information about things to do in the local area. They also supplied sweets and fruit in bowls for the children (or adults!) to take when they visited!
The pitches are marked out and are plenty big enough. They also  had a 11.30pm quiet policy and a no music policy and it was fully adhered to every night (if not earlier!)  The owners gave us info about the site on arrival  and it states that they will ensure this happens and if you have any issues to go to reception.(there is a chap that seems to sleep in the caravan at reception each night) That was peace of mind, but not needed at all. The local area has a great pub with an outside play area for children 5 minutes walk away, as is the open forest. The ponies are hilarious and we often found many of them standing on the steps of the village hall or queuing at the pub gates, waiting to get in!. We had a great stay and would highly recommend! - Just one more point - we could not find a cheaper site than this in the many sites we looked at in the New Forest, so all around, win win! We'll be going back!
Great campsite
We stayed at Chaplefield in our motorhome. It was fantastic, very child friendly. Fantastic location in the New Forest. Close to local pubs and Sandy Balls holiday centre which facilities you can use.
Facilities are nice and clean (plenty of hot water). Sarah the owner is lovely. Ice pops for kids and fresh fruit at check-in.
Brilliant for dogs, even a free doggy treat from the owners dogs.
Can't recommend highly enough. Good old fashioned camping.
Book campsites near Chapelfield Camping at Godshill